Unless you've been living under a (moon)rock, you would definitely have heard of the global frenzy caused by last year's Omega x Swatch MoonSwatch collaboration which had crowds swarming Swatch stores worldwide to grab a hold of the Bioceramic MoonSwatch collection, an 11 piece tribute to the Omega Speedmaster Moonwatch. 
Released on 7th March, the Mission to Moonshine Gold is possibly even harder to get a hold of than the previous MoonSwatches. Similar to the previous collaboration, the watch is only available in-store at selected Swatch retailers, only this time, they've been extremely picky with the locations, with only four cities selected for the launch. That's not all, the timepiece was only available for one day. 
But, there's still hope if you're hoping to acquire the MoonSwatch Mission to Moonshine Gold. Here's all the information we could gather about this elusive timepiece:  
There are hints of Moonshine Gold coating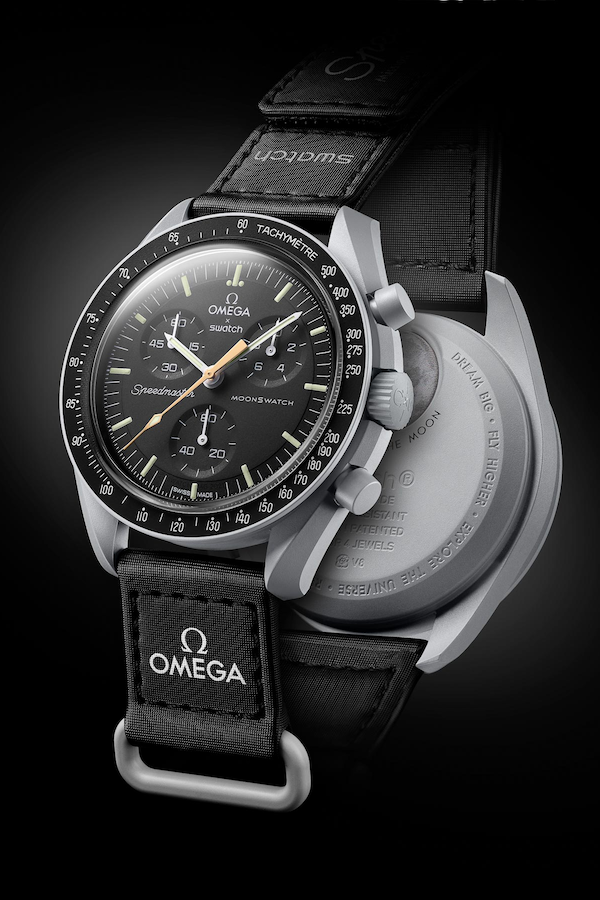 As gold was hinted in the teaser, rumours were swirling of a MoonSwatch that would most likely come with a gold-toned bezel or dial or case. Instead, the only gold is on the seconds' hands. Made with Omega's innovative Moonshine Gold technology, a kind of 18k yellow gold alloy. It may not be the gold-toned case fans were wishing for but the little glimmer of gold adds a touch of luxe compared to the previous models. 
It's slightly pricier 
With the addition of Omega's Moonshine Gold, it comes as no surprise that this model retails at a higher price than the previous collaboration. But by a mere RM123 more, we think this is an acceptable price hike for the (approx.) RM1,347 piece. 
The gold was hand-coated during the full moon in February 
You read that right. The Moonshine Gold coating was actually applied during a full moon. There's even a certificate to authenticate this fact. Regardless of how superstitious you are, no doubt this little fact will excite all the watch geeks out there. 
Locations are known for their connection to gold 
Omega and Swatch didn't randomly select London, Milan, Zurich and Tokyo to launch the timepiece. Each one of the locations has strong ties to gold. 
Not exactly limited-edition
Swatch made it clear that the MoonSwatch is not a limited-edition collection, but as the Mission to Moonshine Gold was only available for one day at the selected stores, in that sense, they are kind of limited. In regards to how many pieces were produced, "not enough" was the official statement released by Swatch. 
More MoonSwatches in production? 
If you haven't noticed by now, this whole thing is shrouded in secrecy.  No information has yet to be revealed if there are plans to release the watch in other countries or if they're waiting for the next full moon to apply the next batch of Moonshine Gold. But we think it might be best you start tracking the dates of full moons for the coming weeks.