After a decade and 10 million viewers, Malaysia will witness one of the world's finest odes to Frank Sinatra, Dean Martin, and Sammy Davis Jr. at Hilton KL this July.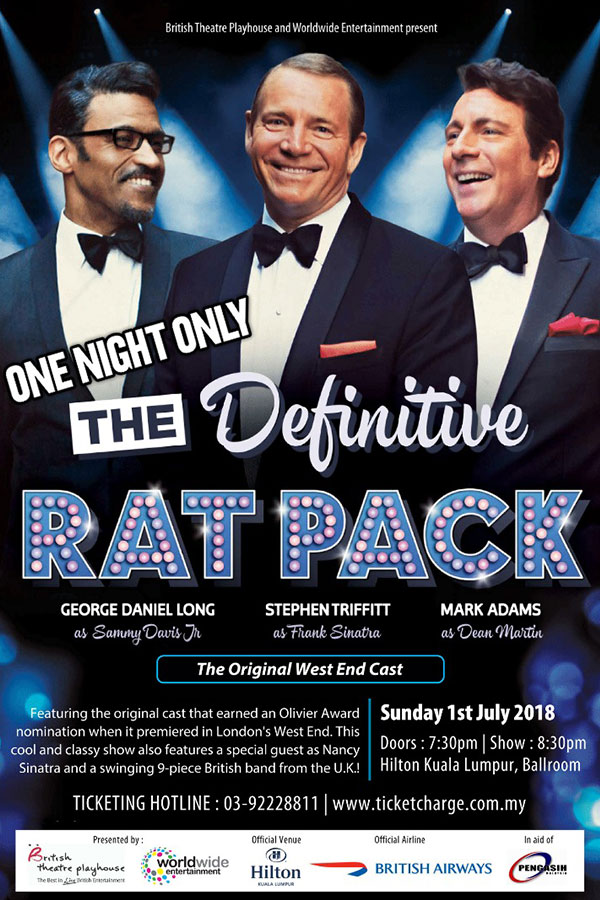 It wouldn't be too far fetched to say The Rat Pack defined the sound of the 60s. Their impromptu shows always sold out, causing a stir whenever certain iconic singers were on stage together. Some of us may have fond memories of the times and tunes – others only know these Rat Pack artistes as music greats.
Come Sunday, July 1 2018, you could relive that golden era in a one-night only treat to The Definitive Rat Pack. Nine West End musicians from the UK are set to take you on a nostalgic journey with hits like I've Got You Under My Skin, Fly Me to the Moon, Sway, That's Amore… the list simply goes on!
Seasoned theatre actors Stephen Triffitt, Mark Adams, and George Daniel Long are set to recreate the glory days of Frank Sinatra, Dean Martin, and Sammy Davis Jr., complete with the electrifying charm that made them The Rat Pack.
Hailed as finest interpreters of their ilk, these gentlemen traveled the UK, USA, Canada, and Europe for over 10 years, making numerous TV and orchestra appearances (including with the BBC Concert Orchestra and Metropole Orchestra in Amsterdam). That's more than 10 million eyes on The Definitive Rat Pack throughout the decade!
Triffitt, Adams, and Long are part of the original cast of 2003, when the show premiered at London's West End. Critics have called their embodiment of Sinatra, Martin, and Davis Jr. "uncanny" and "brilliant together".
British Theatre Playhouse will be bringing the entire Olivier Award-nominated cast down to KL in collaboration with WorldWide Entertainment UK. They are stopping at Singapore first on June 26 & 27, and heading to Dubai after on July 3 & 4.
Check out a short visual preview here:
The Definitive Rat Pack goes live this July 1 at Hilton Kuala Lumpur.
Tickets are priced at RM 188, RM 288, RM 388, and RM 488. Charity tickets are RM 5,000 per table of 10, including pre-show sit down dinner. Proceeds will go to Persatuan Pengasih Malaysia's United Nation's International Day of Drug Abuse fundraising campaign.
Get your tickets before June 1 to qualify for a 10% early bird discount. Call 03 92228811 or log on to the official ticketing site.
Images: British Theatre Playhouse