24K gold, glow-in-the-dark paint, sacred wild herb paper… these are just some of Master Yun's special touches that bring his feng shui exhibition 'The Colours of Prosperity and Elegance' to life.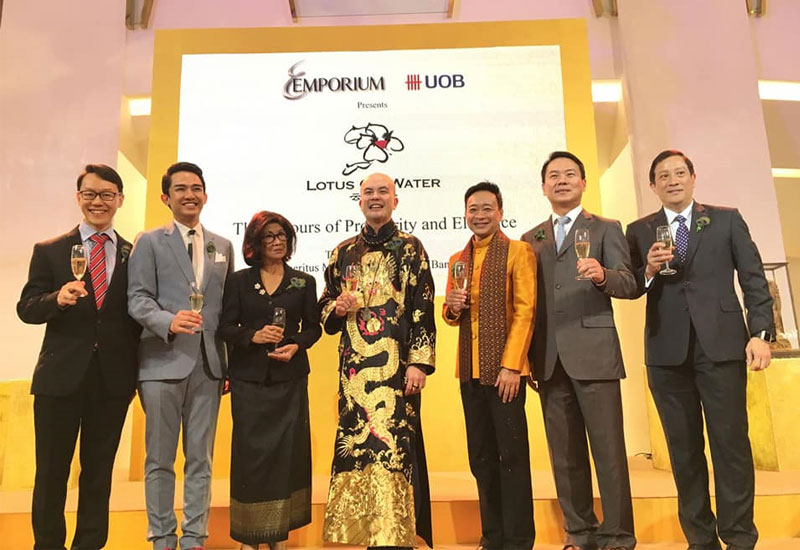 Feng shui was brought to life in the form of vivid visual art last weekend, at the Bangkok leg of The Colours of Prosperity and Elegance exhibition at Emporium Gallery. Singaporean feng shui Emeritus Master Yun Long Zi presented 108 pieces inspired by one of nature's most elegant animals: the peacock.
This Malaysian-born feng shui master paints every day, describing it as not only therapeutic, but in line with his generational practices. "When we appreciate and create art, we are connected with God. The Chinese call it the union of heaven, earth, and human. This happens both in feng shui and art, so I believe feng shui should be done in a beautiful manner," he shares.
Combining visual, spiritual, material and metaphysical worlds, here are five ways Master Yun Long Zi turns his feng shui teachings into visual art.
Multilayered sacred paper
"All my paintings begin with three layers of colour splashes," Master Yun divulges. Each painting consists of 8 to 18 layers, which can be a lengthy process as each layer must be left to dry. Symbolic to the colours of life, his paintings represent the vibrant canvas of life, even from birth.
Besides rice paper, Master Yun paints on dong ba paper from the shamanic tribe of Lijiang. The shamans have their ways steeped in feng shui. They hand-make this paper with wild herbs, which slows down its biodegradability for up to a thousand years. The language and paper of these shamans are considered sacred, which leads Master Yun to believe, "Whatever we write is sacred. Are we going to prophesise positivity or negativity?"
His choice is clear in the poetry he calligraphs onto his paintings. Deviating from the traditional tone of ancient Chinese poems, Master Yun only incorporates positive poetry that elevates the value of his paintings.
Peacock as the 'I'
The Colours of Prosperity and Elegance largely features peacocks painted into themes of happiness, love, prosperity, and hope. Only after the layers of colour splashes does Master Yun decide where to place the peacock, which represents the 'I' or 'self'.
"With the given situation and conditions, where am I going to place myself so that I can put myself in the best light?" he explains. It also serves as a reminder to live life artistically, bringing beauty and peace wherever you go.
One of the standout aspects of this collection is the use of phosphorescent acrylic paint that glows in the dark. It emits absorbed light over extended periods, glowing intensely under UV radiation.
"The peacocks in my paintings become living metaphors for attraction. Their feathers glitter gold under bright lights, but when the lights are turned off and ultraviolet light shone on them through the darkness, you will see celestial stars," shares Master Yun.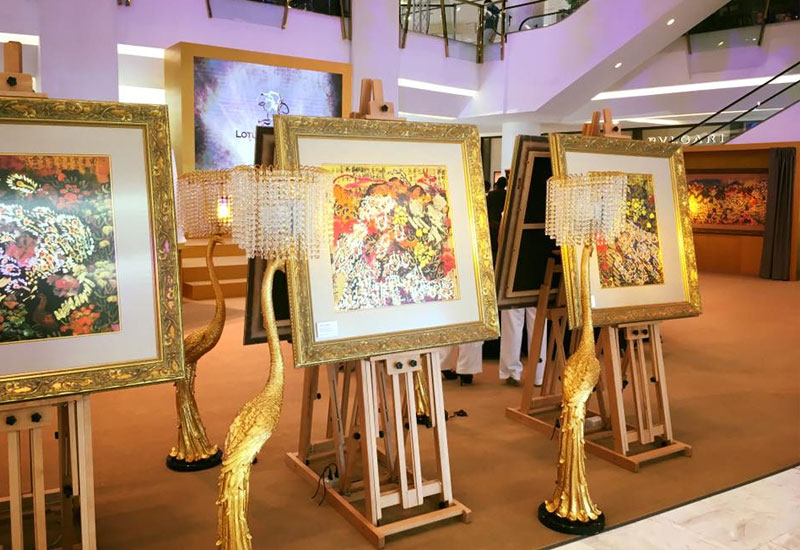 Precious natural materials
The rich tapestry of his paintings embody prosperity quite literally, featuring precious natural materials like 18K and 24K gold, silver, and bronze. Each of these bear significance in traditional Chinese feng shui beliefs.
"Gold is lasting – it doesn't fade under the sun, lose weight in fire, or rust in water. Feng shui is supposed to help attain beauty, rarity, and durability," Master Yun explains. Similarly, silver is believed to ward off evil, while bronze and copper were used in ancient weaponry, thus representing control over one's life. Together, these rare elements lend a subdued yet powerful touch of prosperity in elegance.
Prosperity in elegance
Master Yun combines his knowledge and experience of Eastern and Western art in his own expression; the former informed by his lifelong commitment to feng shui, and the latter from his boundless exploration of the artistic universe from a young age.
Through his paintings, crystals, and pure jadeite, Master Yun seeks to educate his clients on creating wealth through down-to-earth, metaphysical means. A scholar of Chinese language and cultural studies, he was also mentored by a Chinese etymologist.
"Prosperity is possible and we can achieve it in the most elegant way. Ultimately we do not live for prosperity, it lives for us," he says, illustrating how this ties back to finding meaning in a life we can be proud of.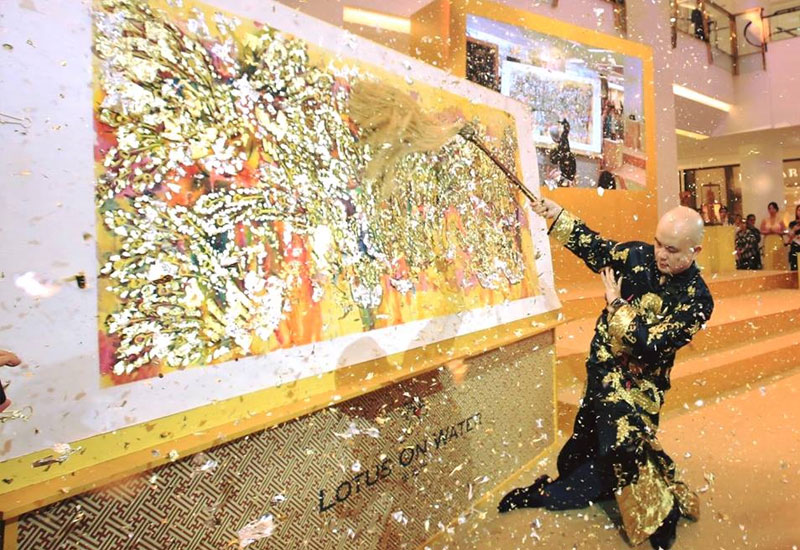 "Be like lotus on water"
Master Yuns often speaks in metaphors, and seems comfortable in a long Manchurian frock that I've frankly not seen outside Eastern dynasty shows. His commitment to his calling could even give skeptics something to ponder on.
"What is higher than a goal?" he inquires back when asked about the next game-plan for his art. "It is purpose – with this you may achieve a goal that you have never expected before. I do things I really have conviction in, and it makes my life meaningful."
In Master Yun's words, this is living like lotus on water – receiving the sun, emitting fragrance, and showing off colour to make the world that much brighter. "Some are poor and stuck in their ways – they are like lotus in the mud. Others may practice feng shui but hide it – this is lotus in water. Be like lotus on water because that is real wealth," he advises.
Master Yun Long Zi is proud of Chinese culture and the power of feng shui, and has made it his life's work to share through various platforms – like a lotus blossoming on water, its beauty radiant for all to see.
Pieces from The Colours of Prosperity and Elegance are available at Lotus on Water's Singapore gallery. For more information, visit the official site of this award-winning feng shui brand. 
Images: Flame Communications