As far as facelifts go, the 2019 Mercedes-Benz C300 has nipped and tucked what matters, and let trusted technology take care of the rest.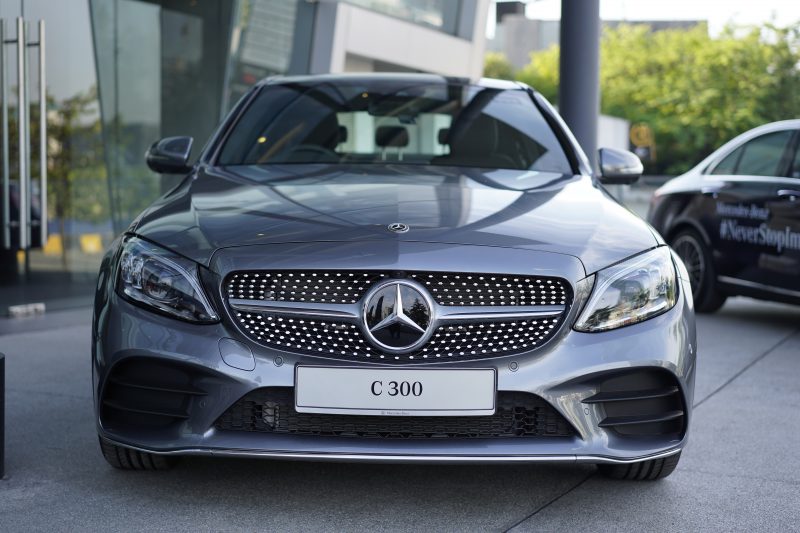 We first drove the 2019 Mercedes-Benz C300 up the winding roads of Cameron Highlands, which truly gave this model a chance to shine. However, it wasn't till our urban encounter weeks later that we became convinced – this facelift goes beyond the surface.
The locally-assembled C300 debuted here late last year, and we've since seen a few Malaysians flaunt it on the road. And trust when we say, this beauty is easy to envy.
Imagine, for starters, our vehicle of choice: it is pearly-white, with a silhouette that exudes quiet confidence. Inside, red seats are a bold punctuation, framed by flawless, open-pore ash wood trim. Compact and sporty (for a sedan), yet with an undeniable touch of class that German design delivers ever-so-sensibly.
Makeovers matter…
Mercedes-Benz has done little to change the C300 aesthetic, and honestly, why would it? Instead, the C-Class sedan's body is nipped and tucked where it matters. For starters, there's the new diamond chrome pin grille. It carves out a grin not unlike the C43's, highlighting a gently-lifted facade.
Along the bottom of the front bumper, an AMG-signature chrome strip differentiates the C300 from the C200. Its eyes – multi-beam LED headlamps – are unmistakably C-shaped now, matched with refreshed tail lamps. The chassis sits on 19-inch alloy wheels, like those seen in the C43.
This baby has also got quite the back – sleek and sexy in an understated manner, the new powered boot opens to reveal the same amount of space as the outgoing model. On its flip-side, though, is an altogether more sensible 40:20:40 rear configuration.
Oh, and feel free to bury the car key deep in your briefcase, handbag or pocket – it's sensor-activated, and rather accurately at that.
… But it's what's inside that counts
Particularly the new M264 engine delivering best-in-class output, with the power of 13 more horses than its predecessor. This power-train is a turbocharged 2-litre twin-scroll that lets out deceiving grunts in Sport and Sport + modes. To talk figures, 258 hp and 370 Nm torque output marks a sedan capable of a century sprint in under 6 seconds. Its (recommended) top speed is 250 km/h.
Response and handling are commendable as always, save for the jumpiness when you pedal the metal in Sport + mode. This can be avoided by using paddle shifters instead, to utilise the smoother manual transmission. Unless you're driving your Mercedes-Benz C300 on the track, though, there's little reason to opt out of its improved 9-speed G-TRONIC auto set-up.
Everyday driving convenience? Check. Safety assistance? Blind spot warning, lane keep assist, traction control are go. The only thing that's missing is adaptive cruise control, but there's a neat gliding mode to fill that void. In this case, the gearbox would disengage from the engine for as long as you're coasting.
Cabin, control, clarity
Though fans of the badge's greatest rival, we would be sorely remiss to not pay credit where it is due. Up there on Mercedes-Benz's list of strengths is ride comfort and fuss-free optimisation via stellar interface, all of which are highlighted in the latest C300.
Here's a looker that's eager to boast its new tech – central of which are the 10.25-inch display screen and 12.3-inch digital instrument cluster. We gleefully toggled between Sport, Classic, and Progressive skins on the latter, each serving in the right time and place.
While not touch-screen, the display screen is mighty user-friendly – but this might not be an instant universal experience. Non tech-savvy folk may struggle with controlling the knob or in-steering scroll while driving, but rest assured that each become effortless with a little familiarisation. Then, you can customise anything with just a few purposeful swipes on the flat-bottomed steering. For those wondering, the system is compatible with both Apple CarPlay and Android Auto.
We entered the C300 with the full knowledge of its compact identity, and ended up appreciating the narrow cabin – but larger-built drivers may not share this sentiment. Granted, this is a C-Class we're talking about. Size was never its forte.
For all we can say about the Mercedes-Benz C300, its cool-executive factor shines the brightest. It's a ride for professionals climbing the career ladder; a statement of having what you want, when you want it. Even better if they're the kind of driver who'd appreciate ambient lighting in 64 colour options.
The 2019 Mercedes-Benz C300 is priced at RM 304, 888 with all the usual accompaniments. Visit the official Mercedes-Benz Malaysia website to book & explore.
Images: Mercedes-Benz Malaysia