Recently Tanes Jitsawart swerved the corners with Audi's latest coupé and it's a ride he won't be forgetting for a long time.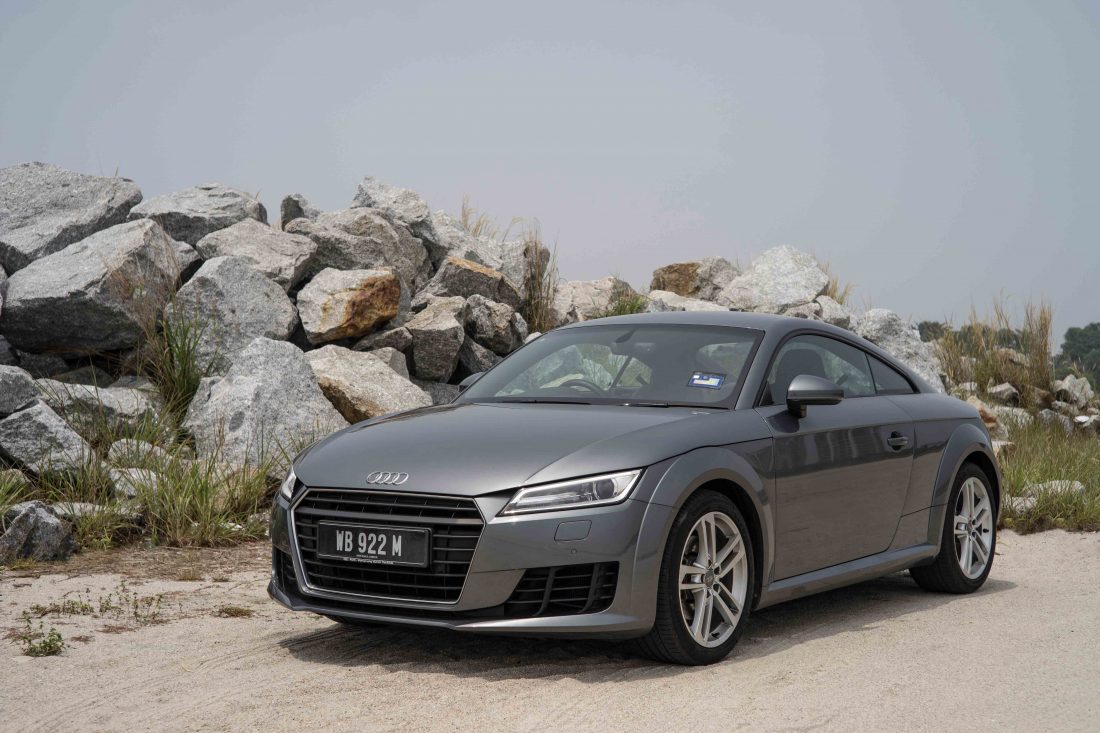 RIDE & PERFORMANCE
Audi's approach to designing and engineering vehicles can be aptly summed up in two words: manic brilliance.
One thing you should know about the completely redesigned Audi TT Coupé is that Audi – though best known for workhorse sports sedan A4, luxury SUV Q7 as well as the unapologetic misfit R8 – went in for on the TT, in every sense of the word. To put it simply, this third generation example of the TT heritage is sharper and quicker, thanks to its world-class technology.
Over a couple of sips and some cigars, Audi explained that this car's engineering structure was to be a 'mini R8'. Anyone who knew their cars in and out would think that a bold declaration, considering the actual R8 was the fraternal twin of the Lamborghini Huracan. Regardless, both these supercars would leave you breathless.
BODY & SOUL
Now, back to the new TT. It comes with Audi's 2.0-liter TFSI, four- cylinder turbocharged engine with 230 horsepower and 370nm of torque. Imagine all this bottled up in this package that weighs just barely over 1.4 tons, yet this beaut, according to Audi, hits the speed charts with a record of going from 0 to 100 in 5.9 seconds.
Although people call it "the new TT" just for namesake, the vehicle is a perfect blend of the new and old. The first-generation model had set a standard for its precise design, starting from a visual balance to its tight gap tolerances. That TT was great eye candy, no doubt, but the first version's staid driving dynamics didn't exactly sparkle as an outright sports car. The second-generation version, however, changed all that by pulling the TT roadster much closer to the sporting impression promised by the term "coupé". Unfortunately, that resulted in that TT not being much to look at, at least compared to the trend-setting original.
With the current TT, you'd find that it combines the best of its predecessors and sets a new tone for Audi's line of sporty cars. The large single frame grille, gaping air intakes, sharp headlights and sleek hood all bear a strong familial resemblance to some of Audi's fastest and most exciting vehicles. The interior gets better; let's start with the party piece right in front of the driver: the Virtual Cockpit. Replacing a standard instrument cluster as well as a centre-mounted infotainment screen, Audi designers have installed a large high-resolution screen directly behind the steering wheel that controls every essential system, be it the speedometer, radio or navigation.
But the Virtual Cockpit is not the only jet plane-inspired part to the new TT; the dash itself is part of it, too! From above, the dashboard resembles the wing of a jet plane, with three central air vents mimicking turbines. Like the rest of the car, the air vents are more than cool to look at, especially when they've been cleverly designed and integrated with climate controls such as air temperature and fan speed.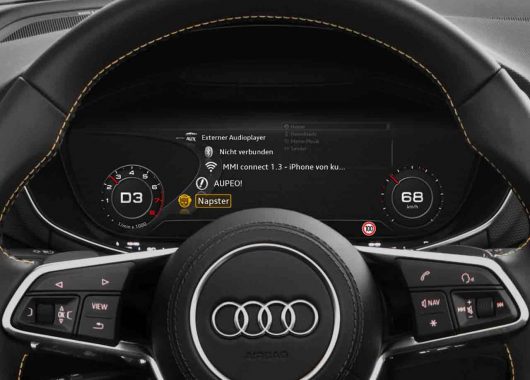 TECH SPECS
Model Audi TT 2.0 TFSI
Engine Four-cylinder in-line petrol engine with direct fuel injection and exhaust gas turbocharging & Audi valvelift system
Transmission Six-speed S tronic
Power output 230hp/4,500- 6,200rpm
Top speed 250km/h
Acceleration 0-100km/h in 5.9 seconds
THE VERDICT
Needless to say, the sport seats are the essential parts to any driving experience. In the new TT, drivers won't feel like they're sitting on the ground and forced to reach up to the steering wheel as they had in past TT models. Instead, despite this being a short coupé, Audi designers have left plenty of head- and leg-room for even the tallest drivers. Think of it this way — it's all done in style, speed and simplicity that has never been seen before in the automotive world. Truly, this TT Coupé cannot be appreciated without you driving it personally.