Atrue Penangite at heart, Kim Hock Su is the chef-patron of Penang's one Michelin-starred Au Jardin. After stints in the UK and Taiwan, Kim Hock finally returned to his hometown to set up the highly celebrated Au Jardin, setting a new standard for fine dining cuisine on the island by bringing tasty Franco-Asian cuisine to new heights. 
My earliest memory of food is a street side 'tok tok noodle' or widely known as wonton noodles in Alor Setar, Kedah. At some point in my life, my dad was based in the government hospital in Jitra. On his days off, he would drive us to Alor Setar for a casual meal. The memory is still vivid until this day: from the smell of the boiling water and lard to the fumes of the exhaust to the bustling sound of the heavy traffic. 
Fried egg was the first dish I learned to cook. I remember my brother showed me how to fry an egg. I would make it with crispy edges and have it drenched in soy sauce and finished with white pepper.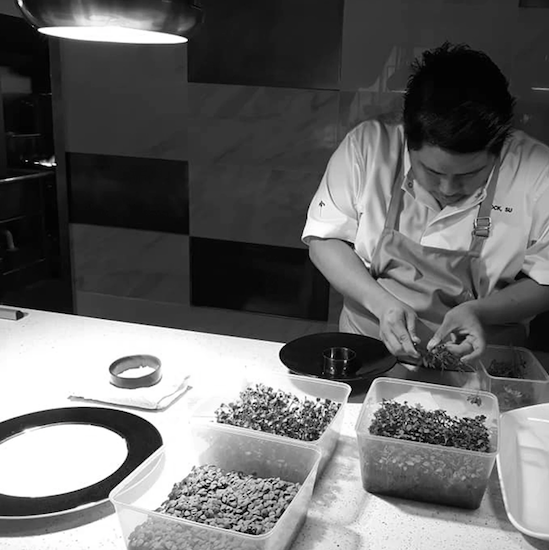 The one dish I would love to learn to cook is a traditional Teochew dish, the koay chiap. It is a dish that is made out of thick flat noodles and braised pig skin in soy with a thick duck broth. 
On feeling stuck. I think it's about self-management. I will normally take a step back, take a good rest and re-evaluate what I can do to make the situation better. It's always competing against yourself. 
The one dish I'd prepare to impress someone is Instant noodles. I think I can cook an almost perfect bowl of instant noodles. From the consistency of the broth to the texture of the noodles to the perfectly poached egg.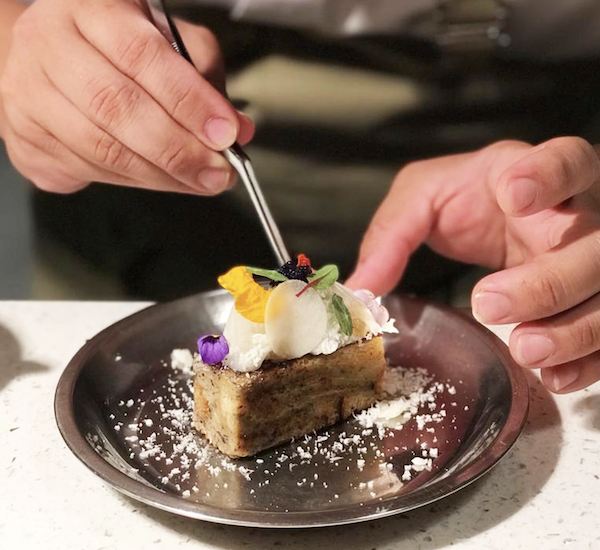 My ultimate guilty pleasure is really dark chocolate ice cream. Or McDonald's Filet O' Fish with extra tartare sauce, cheese and caviar! 
My favourite ingredient to cook with is local seafood! We are blessed with the abundance of seafood on this island and it is a never-ending journey to try and perfect it. 
My dream dinner party guests are my mentors—those who trained me in the past. A nod from them is the greatest testament to what I have done and achieved so far.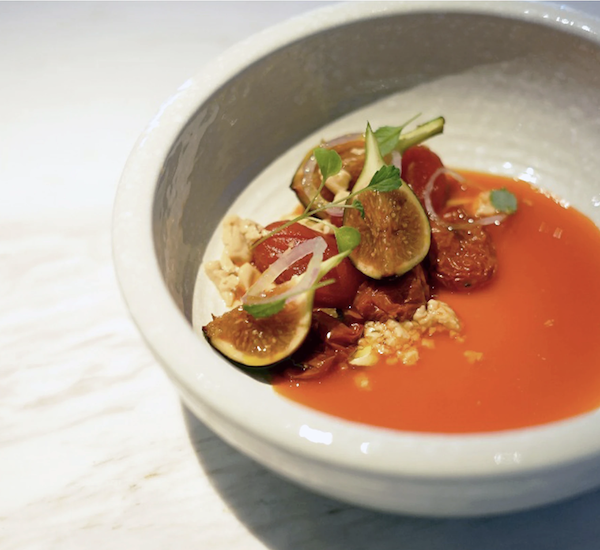 My greatest extravagance is food. I spend a lot of money dining out with my family. I think every penny spent is well worth its value when I get to eat with my loved ones. 
I feel the most content when I see the people that used to train with us from a junior position climbs up the hierarchy. Not only in our restaurant but also in other established restaurants. It's definitely a proud dad moment for me! 
For reservations at Au Jardin, click here.
Picture credit: Au Jardin