Home is the new haven in this pandemic age.
After doing up our home offices and creating your perfect bedroom sanctuaries, complete the package with the finishing touch of scented candles – the new home status symbols.
If you're looking for something that does the environment good at the same time, AIR BLVD takes those commitments into utmost account, being the base upon which the company is founded. Zero-plastic packaging and all-natural vegan ingredients make AIR BLVD's candles a luxury that's also sustainable and eco-friendly.
"Candles are something people buy and use as a form of aromatherapy. Regardless of what product or service we had in mind, we wanted to avoid harming the environment or add to Earth's ever-increasing amount of waste," share co-founders Clifford Khong and Shanisha Kumar.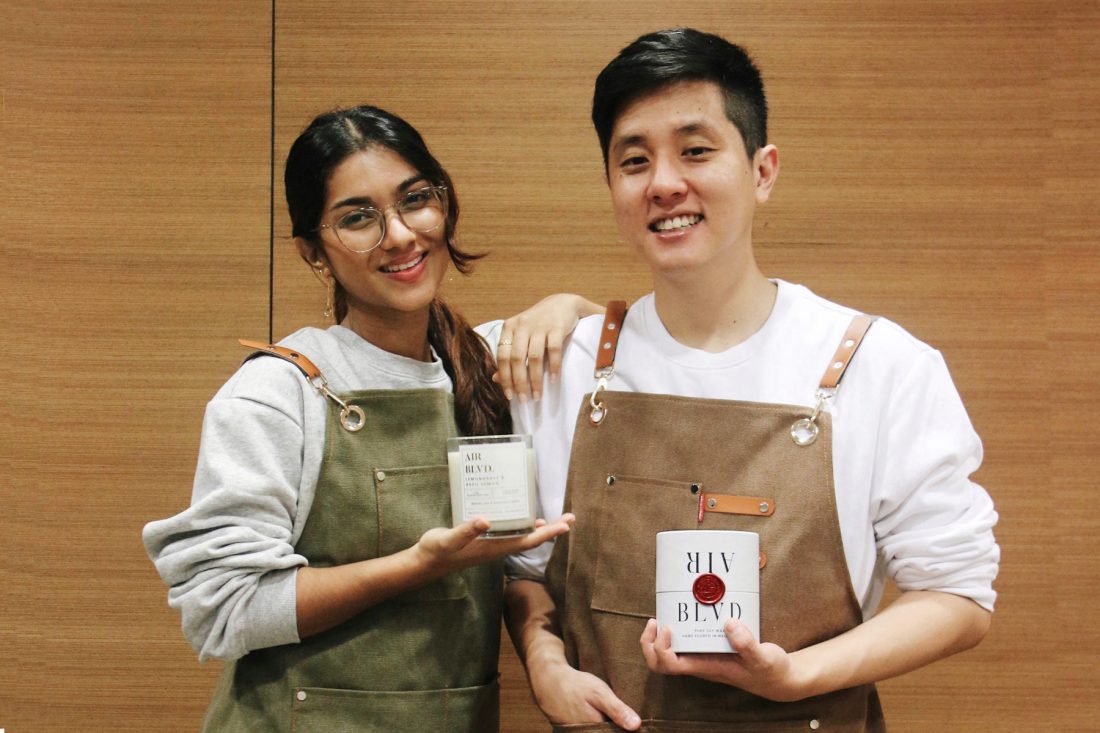 A chance question of "Hey, how do we make candles?" led the pilot on furlough and student of law respectively to  discover a gap in the market for what they were looking for – luxury balanced with eco-friendliness. After multiple trial and error and a personal injection of business capital, they established and launched AIR BLVD in 2020.
"AIR represents our desire to see a world with less or no pollution. We strive to create less or little waste to reduce garbage in landfills by encouraging more recycling and less consumption. Boulevard (BLVD) is a wide street lined with trees or surrounded by nature, "a promenade beside a rampart" in French. By combining the words, we want to instill the feeling of walking down a street with clean air, surrounded by nature," they explain.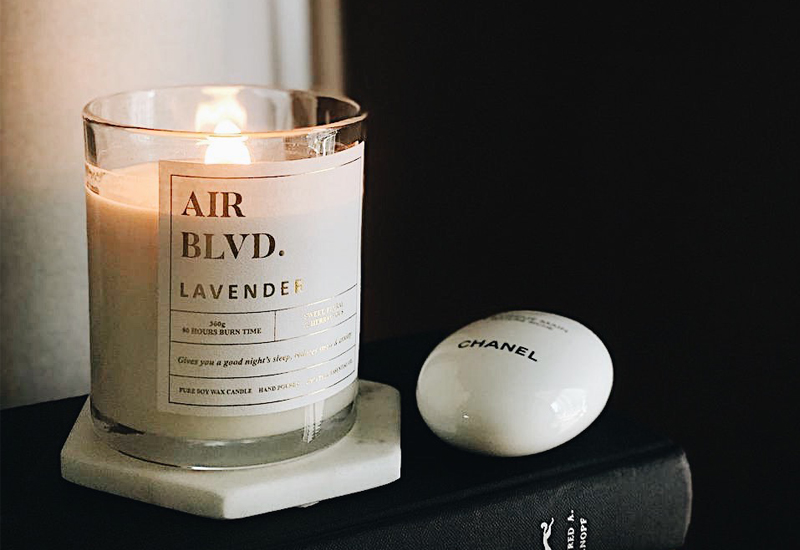 Scents for home and planet
An initial research into candle-making unearthed a vat of nasties to Clifford and Shanisha.
"Many brands tend to use paraffin wax, which is harmful to both the environment and health. On top of that, low-quality fragrance oil, which may be used in candles, can cause a series of health issues. The nail in the coffin was the amount of plastic involved when these candles are purchased," they reveal.
Reluctant to buy into the horror, they started formulating and pouring their own.
"We were blessed with supportive friends and family who gave insightful advice. It was a long shot considering the market is full of competitors," they open up.
Production, research and development and final photography are seen to by Clifford. Shanisha handles the marketing, purchasing, customer service and social media. Together they took the business online beginning with an Instagram page, even before a dedicated e-commerce website. Today, AIR BLVD can also be found on Shopee, flying off virtual shelves particularly well in the days leading up to special festivities like Mother's Days.
AIR BLVD has also found its way into the hearts of celebrities and royalties.
"Before AIR BLVD launched, we collaborated with Cha Cha Kombucha for a special Mother's Day event and Innersejuk for a COVID-19 Resistance Care Kit for Malaysia's royalty and celebrities. These events provided exposure to our brand," Clifford and Shanisha share.
As of current, AIR BLVD stocks only its own brand, but it looks forward to sharing its platform with other local brands so long as they share their values of being eco-friendly, recyclable, reusable and come with minimal plastic in packaging and product

Business with a purpose
Business has been steady since its launch. Three signature scents grew to include nine more as clients start ordering from as far away as Singapore. However, expansion also comes with new challenges.
"Sourcing materials locally was definitely the biggest challenge because Malaysia is still far behind in producing and providing eco-friendly, biodegradable, recyclable products," the dup tell. "We try our best to support local vendors, especially during this pandemic. However, we had an unfortunate setback when our local packaging supplier delayed production by two months, which in turn delayed the launch of our product. Since we had already put down a large deposit, we decided against using another supplier. Ultimately, not only was this costly, the packaging's quality was not up to our standards when it finally arrived. In the end, we managed to find a solution to make our packaging work."
In the long run, they remain hopeful as they are keen to not only sell candles, but also educate a generation.
"In general, Malaysians are well educated on environmental issues, but there aren't enough local businesses that value and practice eco-friendliness. Through our platform and business model, we found that we were able to educate our customers on the difference between paraffin wax and soy wax, essential oil and fragrance oil, and biodegradable packaging and plastic," they divulge.

Both Clifford and Shanisha are strong allies of the environment, a sentiment that spills over into their products.
"We have strong feelings against the use of plastic. As consumers, we realized that plastic waste has increased exponentially during the pandemic owing to the boom of online shopping and takeaways/food deliveries. Thus, we wanted to create a local brand that shows others how it is possible to be successful with little to no use of single-use plastic," they say.
They hope to do so by being inclusive, beginning with their price point: "Many luxurious, vegan, eco-friendly brands are on the more expensive scale, so we wanted to create a brand that that has those characteristics while remaining affordable. Everyone should be able to enjoy luxurious products without burning a hole in their pockets."
With each candle they send out to a buyer, they hope its effects cause ripples of environmental awareness.
"We all benefit from cleaner, healthier products. Sustainability improves the quality of our lives, protects our ecosystem, and preserves natural resources for future generations. Going green and prioritizing sustainability is not only beneficial for companies but also maximizes environment-related benefits in the long term. Being sustainable makes sense: to quote Wendell Berry, "The earth is what we all have in common," they conclude.
Shop AIR BLVD at the official website here. Keep updated on new products and more at the official Instagram page @airblvd
(Photos: AIR BLVD)