During these difficult times, livelihoods have been affected, businesses are disrupted and dreams, diminished on a global scale. FirstClasse, in collaboration with Newswav, wants to help provide some much needed publicity to local businesses going through tough times with this latest #SupportLocal series. Visit our #SupportLocal page for more information.
---
The Scentses + Co subscription service was made for the everyday explorer of scents and lovers of luxury fragrances.
Scent is more than just the way you smell. With the right combination of notes, you can enhance or completely transform your character based on your mood. Scents are also memory, linked to bittersweet moments of the past or joyous memories that continue to linger in the mind. And it's thanks to the wonders of perfume, where we can access and revisit these memories from a single bottle.
When it comes to buying perfume, it's often seen as a sort of commitment. One 50ml of designer perfume can easily cost an upwards of RM500, and is typically reserved for special occasions. On normal days, we could easily turn to another scent – or none at all, which eventually leads to perfume hoarding or forgotten fragrances left around to slowly degrade. This is an issue that the sisters behind Malaysia's 1st perfume subscription service, Scentses + Co, wish to ease.
Scentses + Co is the brainchild of Sadira Yeong, a pharmacy graduate from Universiti Malaya, who was previously running an e-commerce startup for book comparisons. It was during the MCO period when she was inspired by a video made by the founder of another perfume subscription service that's based in the US. Sadira then saw the opportunity in bringing this concept to Malaysia.
"I saw a gap in the perfume industry in Malaysia, and that's how we realised that what this company does actually fit into the local market as well," tells Sadira.
How Scentses + Co works is for a RM49.90 monthly fee, you're able to choose a different fragrance for each month based on your curiosities, and then receive a travel-friendly 8ml decanted atomiser of your selected fragrance. With 3 sprays daily, each bottle can last up to a month of use. For the first month, you're also gifted with a matte black travel case for storage, and a minimalistic refillable case to complete your perfume atomiser. The perfumes are all 100% authentic and original, and are supplied from an authorised distributor.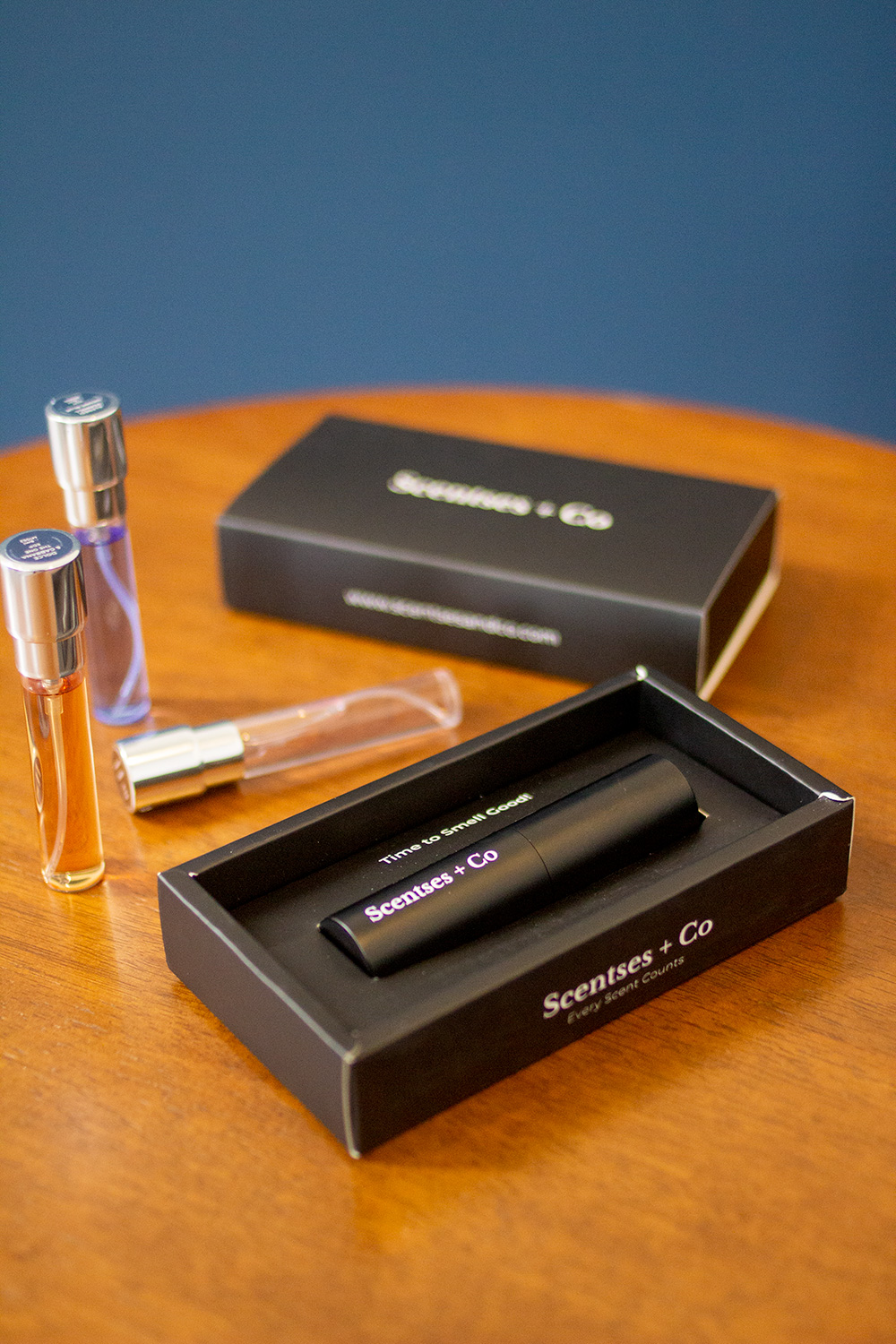 Sadira mainly runs Scentses + Co with her sister, Sabreena, who takes the lead for marketing and operations. It actually didn't take much badgering from Sadira to convince her sisters to join her new project, as all three leapt at the chance to help perfume lovers all over Malaysia to discover more fragrances without the commitment.
"The problem we try to solve is that when people buy an expensive full-sized perfume, we usually only end up using it on special occasions, and then the perfumes are left sitting around for years and years, or we get tired of the same scent," Sadira explains.
Through this monthly service, Scentses + Co allows its subscribers to explore an array of luxury perfumes, colognes, or eau de toilettes of their choice without having to be tied down to one fragrance. Think of it like dating, but with perfumes.
The brand also encourages its subscribers to build their fragrance wardrobe. The atomiser that's delivered every month comes in a sleek black box, that when turned over, has three round slots to fit an atomiser. Subscribers then can mix-and-match fragrances for different occasions or moods, such as a daytime set, or a trio dedicated to special date nights.
Getting personal
It goes without saying that one of the best parts of working in a perfume subscription service is being able to sample various perfumes – something that the Scentses + Co sisters bear no shame in admitting.
"Working together has helped us bond and understand each other better."
"We love to try them out of course! And if we love a particular scent, it will actually get featured as our 'Scent of the Month'," Sadira explains. "Not all of our subscribers know about perfume, so most of the time they'll choose the Scent of the Month' just to try things out."
With the heart of Scentses + Co as fragrance, it's the brand's people that power it. In order to develop the customer relationship, Sabreena is in charge of a community-based Instagram page that's dedicated to new subscribers or people who have trouble choosing what scent to go for. It's through this page where different fragrance recommendations can be given, alongside reaching out via live chat on their website or the usual Instagram DM.
A story of sisterhood
"Honestly – and don't get offended!" Sadira quickly assures her sister when asked about what it was like working together with Sabreena. "Before this business I wasn't close with her. At the time she was studying in Johor, and I was based here, so we didn't have much in common to talk about. MCO actually forced us to become closer, and when we started this business together, I also realised that she is actually a very compatible business partner."
"So far, there have been no arguments – right?" Sadira cheekily shoots Sabreena a hopeful look, to which the latter gives a reassuring nod.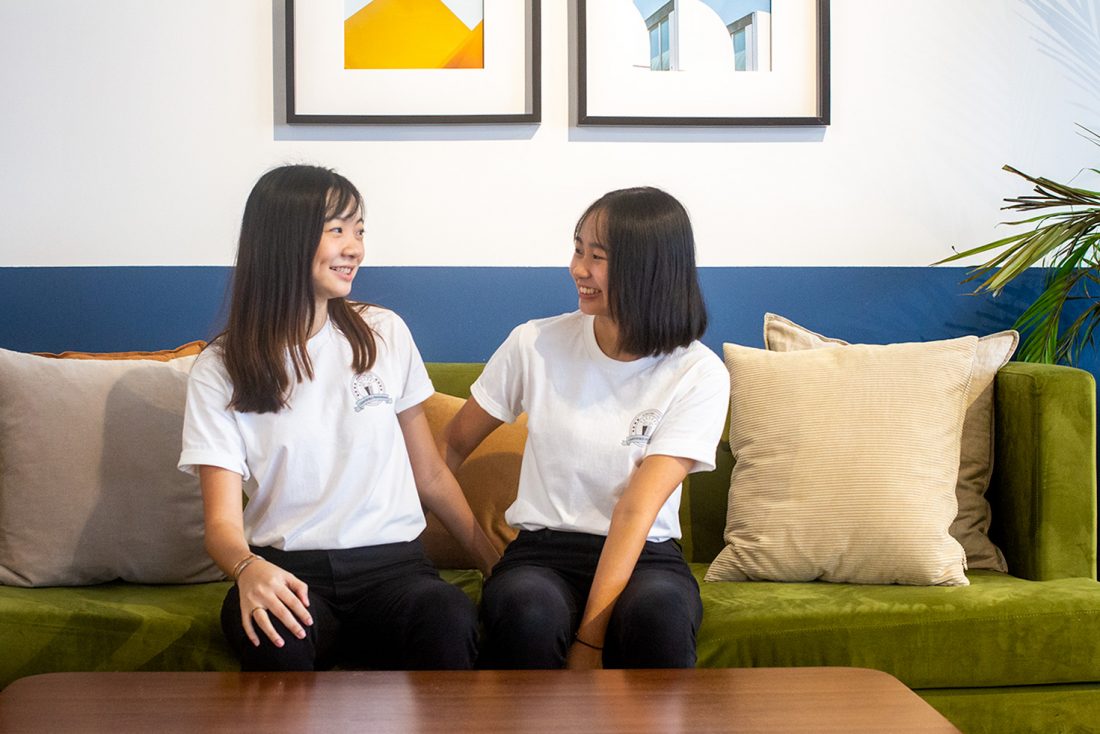 "We're only 2 years apart but we did have this gap between us," Sabreena agrees. "Our business has made a lot of improvements to our relationship, as we used to have a lot of misunderstanding. Working together has helped us bond and understand each other better."
It's this close sisterly bond that has helped Scentses + Co to thrive ever since its inception, and Sadira owes their company growth to her trusting relationship with her sisters.
"I have confidence and faith in what she does," she says of Sabreena. "I think that's very important because I don't have to micro-manage her."
It hasn't always been joy and roses
Probably the biggest challenge Sadira and her sisters had to face in starting up Scentses + Co is funding, especially since this entire project is admirably self-funded straight out of their savings. From the design of the packaging and case to the website construction – it's all courtesy of the siblings.
"There were some investors who approached us, but we chose not to take them on right now because we want to do it on our own," explains Sadira. "It's also a way to force ourselves to really push for something worthwhile. We kind of see third-party funding as a comfort zone, so we want to be able to constantly motivate ourselves to do something new or perform better."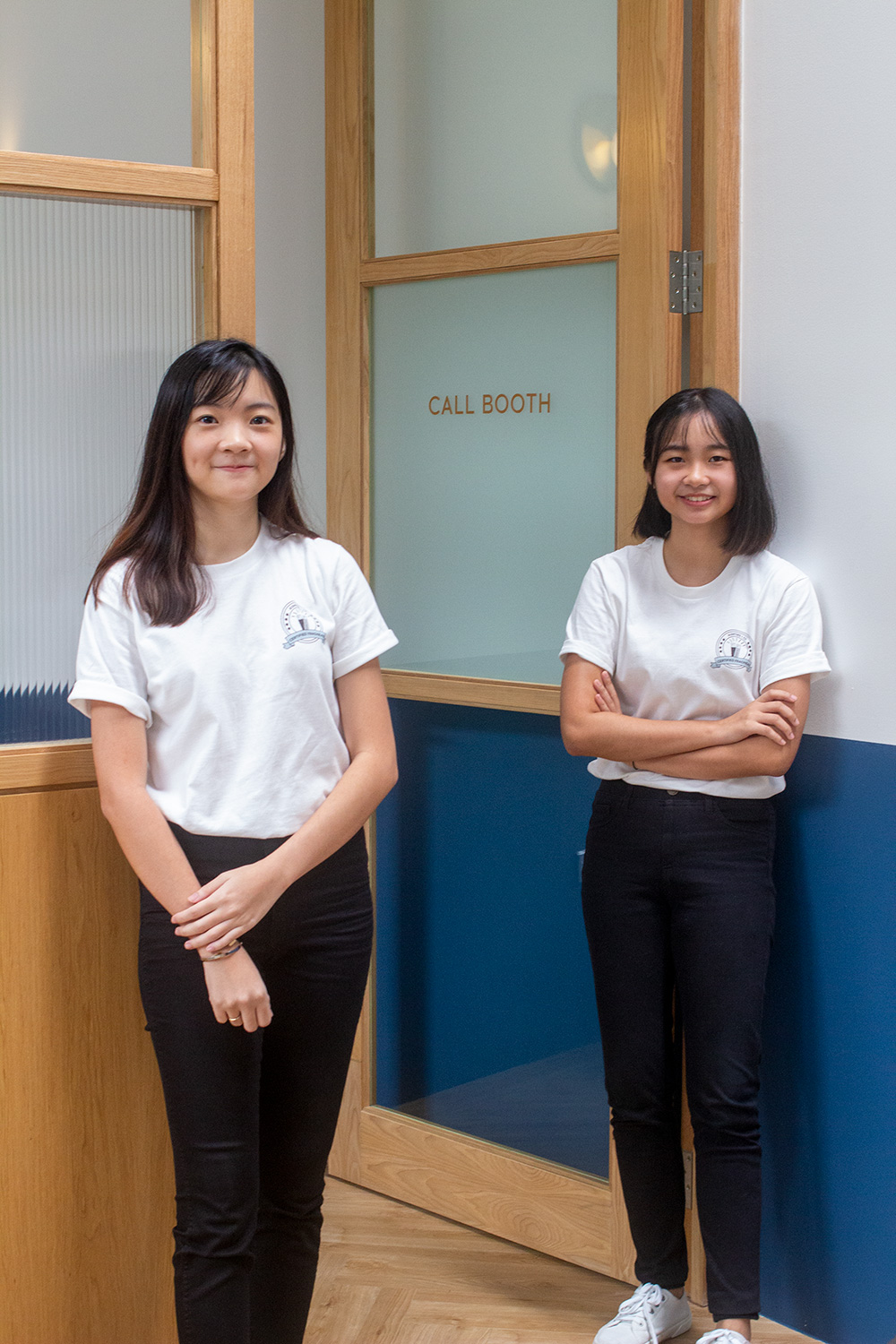 The founders of Scentses + Co are not only young, but they are also venturing into a project that has brought about its own fair share of criticism. Decanting perfumes is nothing new in Malaysia, but it's not always done in a safe and controlled environment. On top of that, these transactions are usually done via a DM to a Facebook page. That's why when Scentses + Co came into the picture, it definitely left a negative impression on these shadier enterprises.
"We launched with our own website, fragrance line-up, and legitimate payment gateway, and it led to some people feeling threatened," Sadira recalls. "They actually started bashing us on Facebook, and that really took us by surprise – because it's not like we were directly taking their product."
"What we want to bring to Malaysians – and not just perfume users – is that even though we are young, we are still able to build what we want."
However, that didn't dampen the sisters' strong-willed and passionate spirit. Instead, they were reminded of their greater goal in fulfilling the greater mission of building the fragrance community and helping to raise the profile of our local perfume decant industry.
"Our subscribers love what we do and the community has been very supportive," Sadira muses gratefully. "They always send us such lovely messages and also let us know that they have recommended our service to their friends, family, and colleagues."
Girl power
As a young, female-owned company, it comes as no surprise that empowerment is something the Yeong sisters wish to embrace and spread to the community.
"What we want to bring to Malaysians – and not just perfume users – is that even though we are young, we are still able to build what we want," Sadira expresses passionately. "It's basically women empowerment as well. We also wish to highlight this mentality and fighting spirit that if you have set your heart on a goal, you can achieve it. And of course, we want people to start embracing perfume more often into their daily lives, and use fragrance as not just part of their grooming routine, but also as a form of self expression."
If you're someone who enjoys discovering new fragrances and wish to try out Scentses + Co, you may visit their website and subscribe here. You can also reach out to them via their official Instagram page or community page for any queries.
Photography: Anson Siau