During these difficult times, livelihoods have been affected, businesses are disrupted and dreams, diminished on a global scale. FirstClasse, in collaboration with Newswav, wants to help provide some much needed publicity to local businesses going through tough times with this latest #SupportLocal series. Visit our #SupportLocal page for more information.
---
Founder of Malaysia's first ever cloud kitchen and co-cooking space, Huen Su San talks about how COOKHOUSE is the next revolution in developing the F&B industry in the country.
What if you, a food entrepreneur, could rent out a space to support your business from conceptualision to marketing – without having to make a heavy investment?
This is where COOKHOUSE steps in. Founded by businesswoman Huen Su San, she has created a truly revolutionary concept to lend a hand in building up Malaysia's growing F&B industry – especially in a time when help and community are needed the most. While COOKHOUSE is essentially open to everyone, it's primarily built specifically for those in the food industry – whether they be a start-up or an established business.
Lower costs, lesser risks, maximum gain
While many people discovered new interests in baking and finally starting up their own passion projects, that wasn't the case for Su San and COOKHOUSE. Planning for the infrastructure and renovation of the concept had already been in the works for the past year or so, and it was actually about 2 years ago when the idea was first born.
The first thought of building COOKHOUSE came at a time when Su San had her own halal and non-halal central kitchens for her Korean restaurants, which were essential support for her business. However, like any businessperson, heavy capital investment was something that could take absolutely ages to ponder over and calculate.
"It was then I realised that if there was an option to actually rent a central kitchen so that we could free up cashflow for expansion for more outlets, that'd be great," Su San says. "At the same time, there was also a boom in co-working offices. The trend was people were really moving and taking on this new concept. They found a lot of value in the community as well as sharing the office space, while bringing down rental."
"I just thought, yeah, let's do one!"
The biggest difference between co-working spaces and kitchens is that the latter is more capital intensive, due to the specialised equipment required and its maintenance. Knowing that, Su San knew that the model of a shared kitchen space would actually bring about more value to entrepreneurs and businesses compared to a co-working space.
"I just thought, yeah, let's do one!"
As an entrepreneur, it comes as no surprise that she would enjoy conceptualising, creating, putting together COOKHOUSE and transferring it into reality the most. Making sure that it was a space that ticked off all the boxes a food business or startup would need, however, was another story.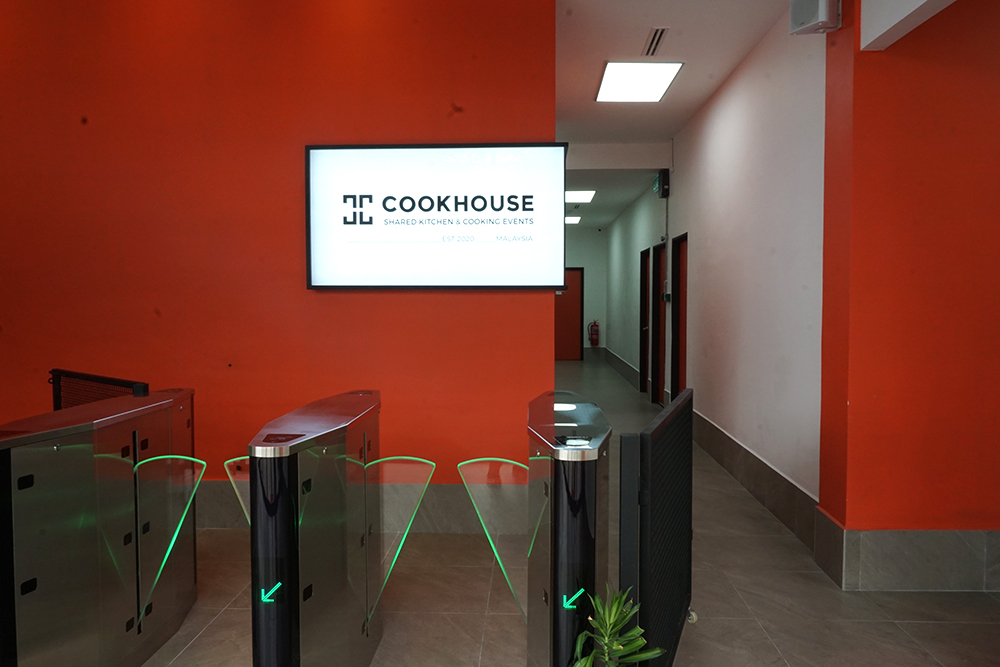 The COOKHOUSE Lobby
The COOKHOUSE Lobby
Shared kitchens at COOKHOUSE
Shared kitchens at COOKHOUSE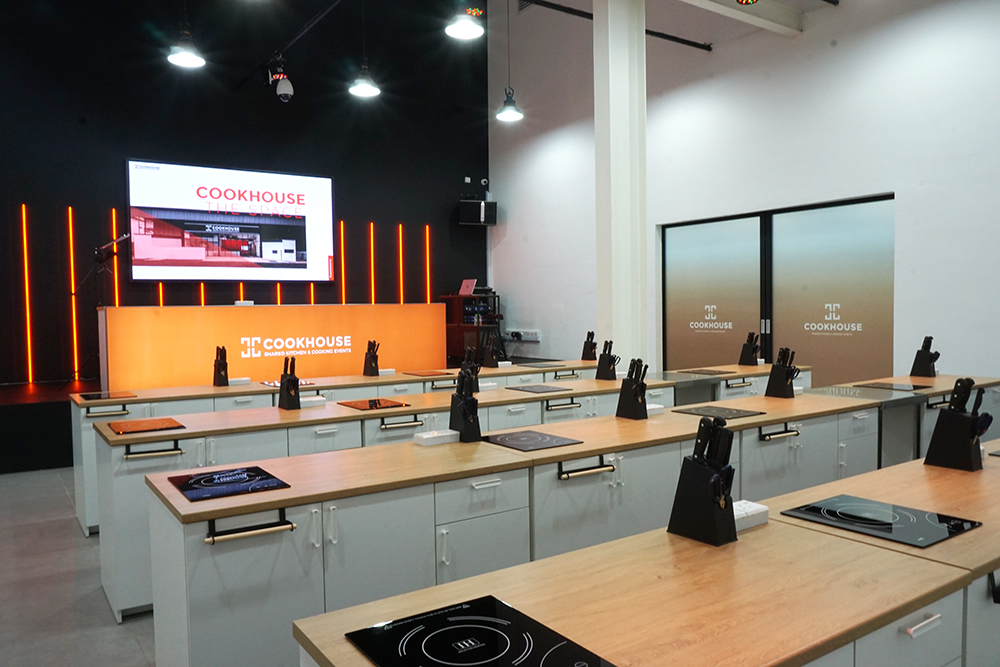 The Events Arena for your own Masterclass showdown
The Events Arena for your own Masterclass showdown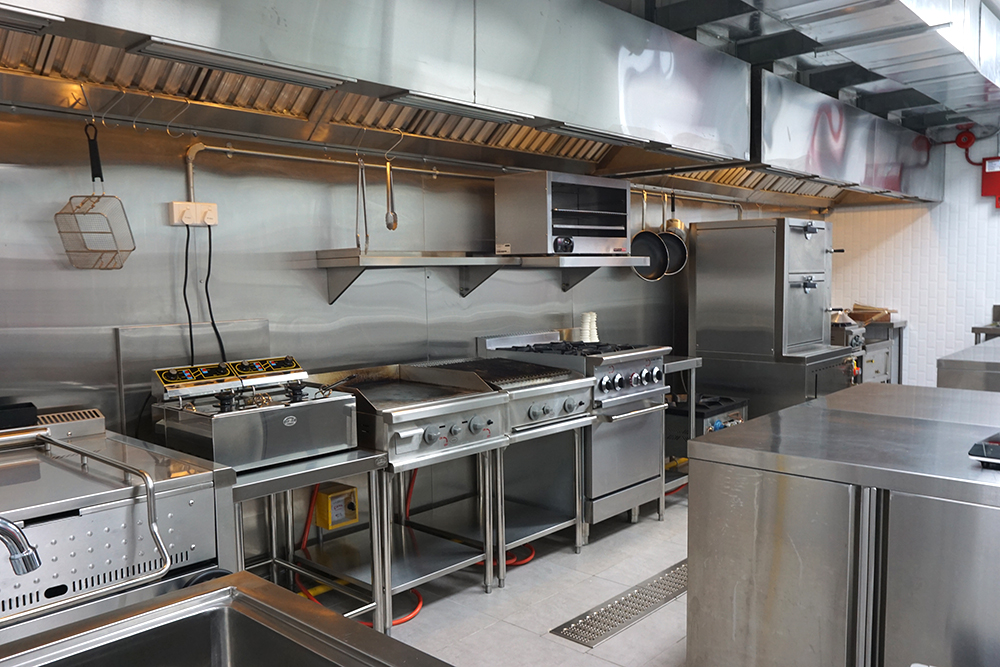 Shared kitchens equipped with all the essentials
Shared kitchens equipped with all the essentials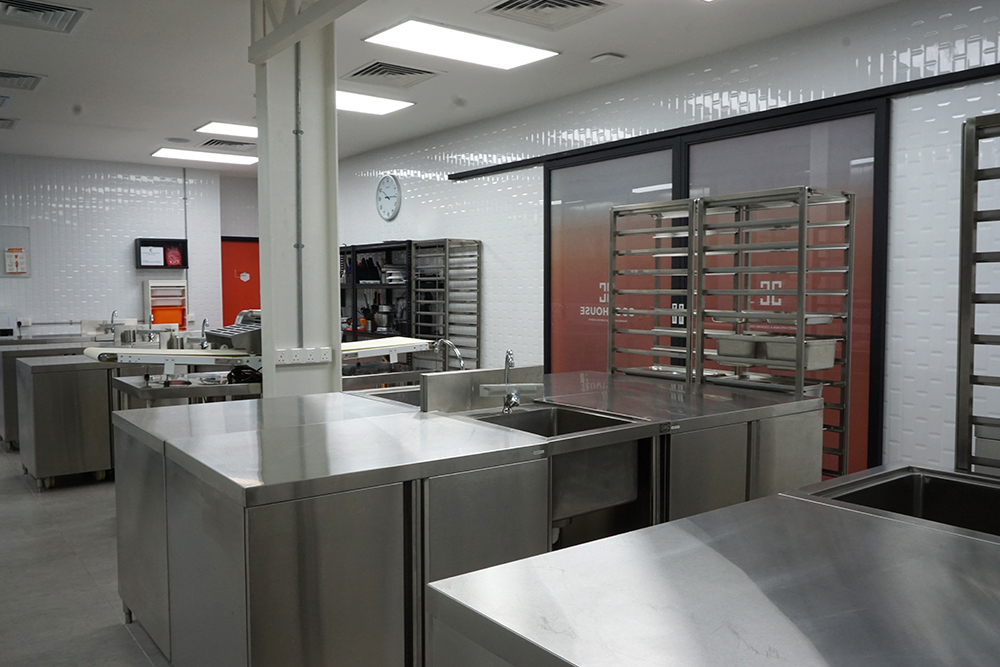 One of the benefits of sharing a kitchen is collaboration and being a part of a community
One of the benefits of sharing a kitchen is collaboration and being a part of a community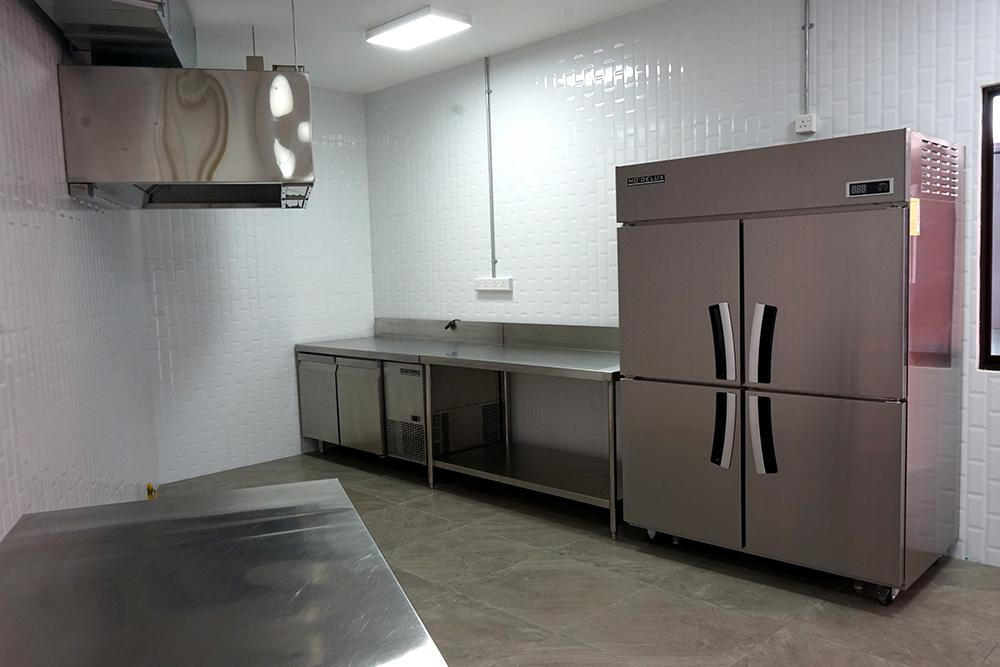 COOKHOUSE has storage and chilling needs sorted
COOKHOUSE has storage and chilling needs sorted
(Swipe left for more)
COOKHOUSE is a 10,000 square feet home that's completely decked out with everything you need to support an F&B business. The facilities include:
Designated Asian and Western kitchens
A prep kitchen
Walk-in freezers and chillers
Dry storage and packing facilities
A loading area and food delivery pick-up stations
A shared baking production
Five private kitchen studios
Co-working office and meeting space
Cooking events arena and demo area
Food photography studio
"Of course the challenge was to fit everything into one building!" Susan laughs. "But I think we managed in the end!"
T"he whole idea of the community coming together is what I feel is going to really unlock the true value of COOKHOUSE."
When it comes to supporting the F&B industry in Malaysia, Su San talks about how it's a balance between the ecosystem and infrastructure. Food entrepreneurs can benefit from the latter in terms of equipment, facilities, and basically everything they need to run their businesses without having to renovate or make hefty investments themselves. As for the ecosystem, COOKHOUSE provides a unique community and partnerships specially made to support its residents and food businesses – whether it's contacts with logistics partners, ingredients suppliers, tech and app developers, bulk purchasing, and the like.
The COOKHOUSE space is truly one-of-a-kind in Malaysia. Community is at the heart of the concept, armed with topnotch facilities that encourage supporting one another and the sharing of experience and ideas. Private kitchens become temporary homes for individuals who prefer to their own space of focus, and the shared kitchens are a hub for a never-ending flow of creativity and knowledge. Then there's the iconic events and demo arena – for those who fancy a little more competition or flair.
While the events arena and demo area at COOKHOUSE are perfect for hosting your own Masterclass sessions, these events spaces aren't just limited to third party events.
"People and our residents can actually book the spaces to host competitions, product launch, or even media events related to the food industry," Su San explains. "But at the same time we would also be hosting events such as in-house corporate team building and kids' parties for families, so everyone can experience and enjoy the space."
"If I could do it better or faster – what would have assisted me?"
Though there are currently no lavish events in the near future for COOKHOUSE due to the ongoing COVID-19 pandemic and Movement Control Order, Su San is certainly on the lookout for future projects that could benefit those in the food industry.
"We're currently looking at partners for workshops," she says enthusiastically. "Through these kind of workshops we aim to actually increase everyone's skills, where everyone can share their experiences and knowledge with each other. The calendar's just not ready yet!"
So what does it mean to be a resident at COOKHOUSE?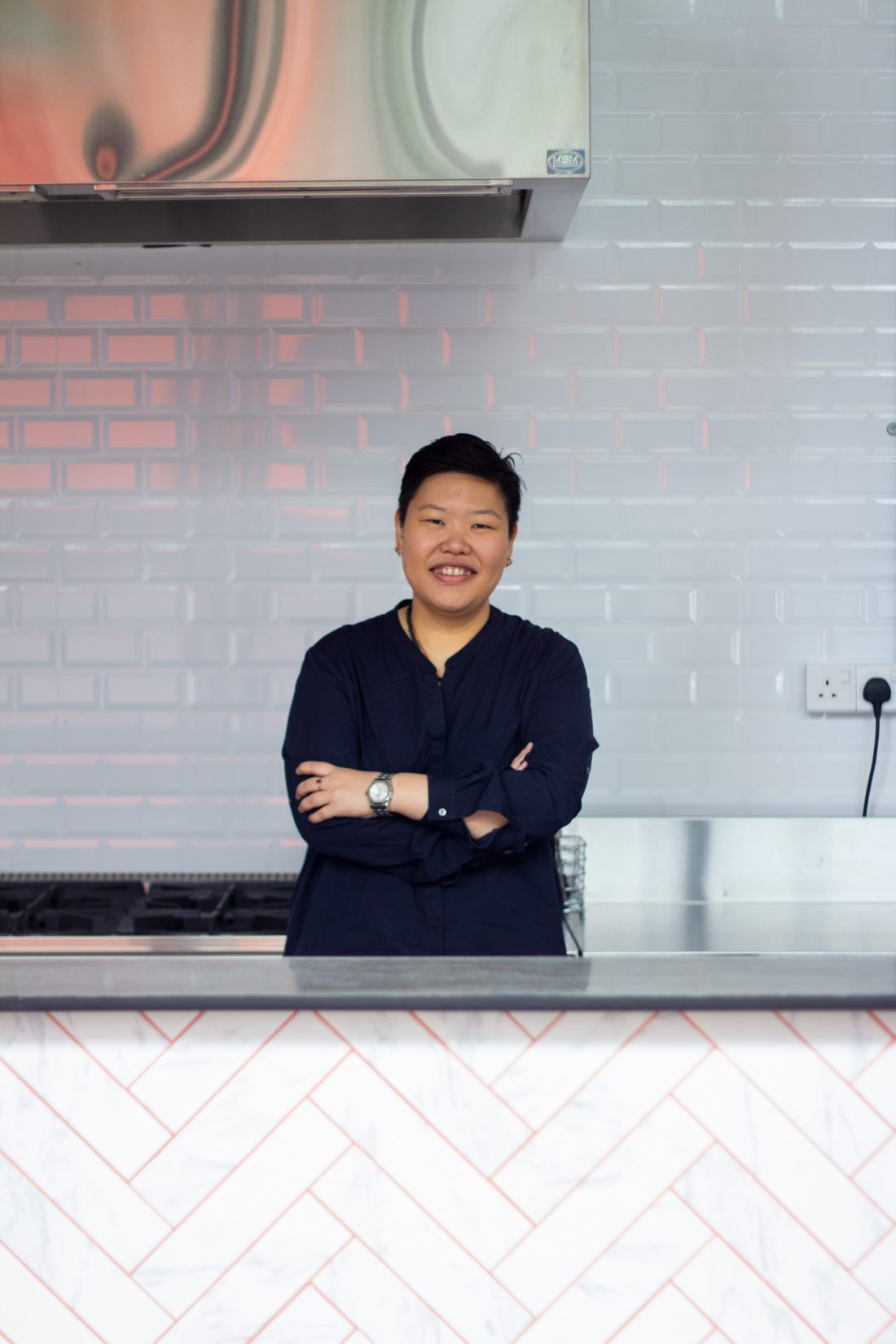 Aside from the nitty gritty and business development, Su San is also passionate about helping budding chefs and entrepreneurs to advance their learning – a luxury she had to earn for a long time.
"It's about being part of our community," she says passionately. "They can expect support form our team and partners, mostly to support not only their business needs but also looking to shorten the learning curve for food entrepreneurs. In my own journey, I had to learn a lot of things myself. I built the COOKHOUSE infrastructure and community from the point of view where 'If I could do it better or faster – what would have assisted me?' I'm trying to bring all those elements together and make it available to new startups."
The fact that COOKHOUSE features its shared kitchens also allows for residents to experiment, learn, and build faster with lesser risks and costs. Today, Su San is already seeing these interactions between the residents.
"I'm really happy to see the residents collaborating amongst each other," she expresses with a beam. "Because the whole idea of the community coming together is what I feel is going to really unlock the true value of COOKHOUSE."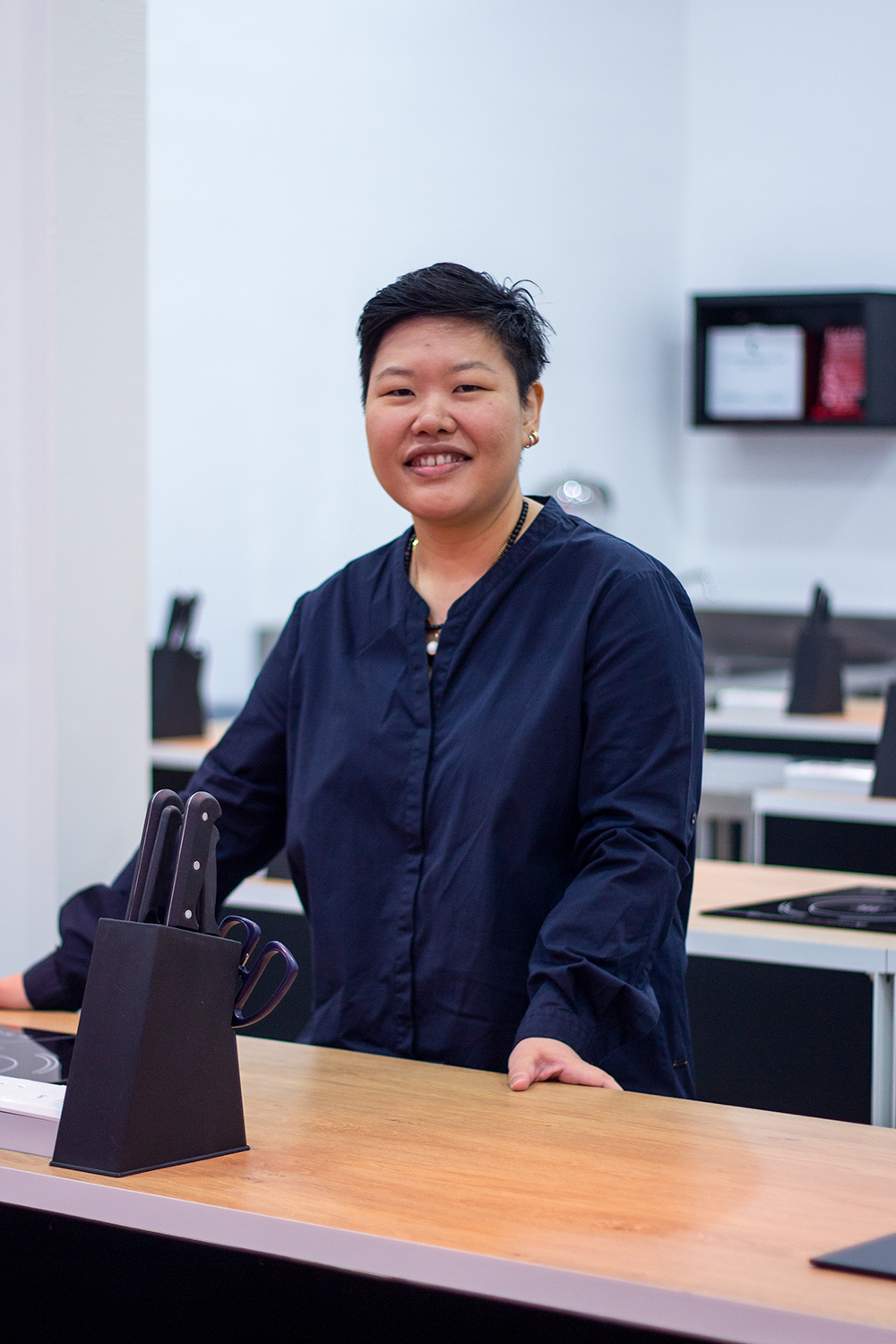 While many business owners or entrepreneurs would talk about launches and success stories as their most memorable moments, Su San's favourite memory comes as a surprise to many.
"It was when MCO hit, actually!" she admits with a laugh. "When MCO hit obviously we had to stop the finishing works even though we were about 95% complete. Then when MCO came about I decided to launch the website and tell everybody what we've built. I wasn't sure how that would be like, since we didn't tell anybody about it at first. It's like – you launch something, but no one can come see it now! But in a way it also seemed like the perfect time to tell the world about what we've accomplished – what we've built and the facilities we provide, so that we can also see how food entrepreneurs will take to the idea."
While the future for a lot of us continues to be uncertain, Su San and COOKHOUSE show no signs of slowing down, with plans in the works for 10 outlets by the end of the year, all based in Klang Valley. The first COOKHOUSE in Taman Medan will remain as the flagship, while future outlets will just be cloud kitchens.
"It's pretty much similar to what you saw in the private kitchen. There won't be an event space or office space – but they'll have the facilities for cooking. The residents will still be part of the community, so they too can enjoy everything we have to offer."
Photography: Anson Siau