For many, if not all of us, the Covid-19 pandemic served as a wakeup call to seriously take care of our health. We're not merely referring to hand hygiene or wearing face masks here, but building up our fitness while watching our nutrition and mental health. If you haven't already done so, this MCO 2.0 should be a time for you to consider a healthier lifestyle – and your diet is a good place to start.
Who better to speak to for advice than Davina Goh, plant-based lifestyle advocate and Healing Diets diploma student, who has devoted much of her time to creating Malaysian-inspired vegan recipes in between performing and open water swimming?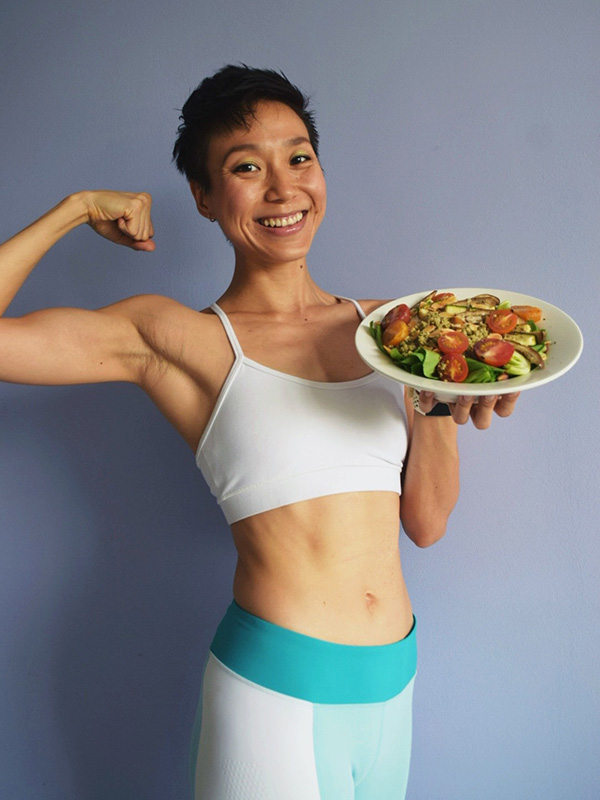 "The MCO forced me to be frugal, which meant letting go of my organically-grown grocery preferences and instead picking up regular produce from the local markets. It wasn't a big deal for me actually, because it connected me to the local market community which I was happy to support," she shares on how the lockdown has changed her usual eating habits.
"The blessing in disguise that MCO brought was teaching me to be more self-sufficient," she adds on a positive note, "my bread-making skills improved; I now make my own milks from nut and soy, brew my own kombucha, ferment my own kimchi, and tend to a small herb collection on my balcony."
While not all of us can jump on the vegan/vegetarian bandwagon as easily, Davina has a few tips on how to ease yourself into it on your way to a healthier body that's also kinder to the environment.
Eat the rainbow
View this post on Instagram
"It's cliched, but still an extremely helpful rule that even I continue to fall back on. Each colour in the grocery aisle represents a unique set of phytonutrients, vitamins, minerals and antioxidants. Diversifying the colours in your basket ensures that you'll be getting a wide range of nutrients. This applies to other foods too, like beans and grains. In my pantry, I currently have three colours of rice! Brown, red and black."
Read ingredient labels
"This practice has changed by life. There are a lot of products on supermarket shelves which look vegan, but are actually not, and the other way around too. There is also the concern of artificial additives like preservatives, colouring and E numbers. When I'm not familiar with an ingredient, I do a quick internet search on the spot to check what it is and what kind of reputation it has. Reading labels is not just a tip for vegan living, but for anyone who wants to start taking charge of their health and what they put in themselves."
Think local
"A lot of people believe that going vegan is expensive because all they think of are the fancy vegan restaurants and imported products like dairy-free cheese and plant-based meats. If all Malaysian vegans ate like that every day, their savings would dry out within a month! The key is looking more at what we already have available closer to home. My partner and I love banana leaf, vegetarian chap fan [mixed rice] and supporting small local businesses offering affordable plant-based options."
View this post on Instagram
Salads can be fun too!
"Sure, you have yourself a bowl of lettuce and a squeeze of lemon. But you can also throw in couscous, roast vegetables, chickpeas and dairy-free pesto, and it instantly becomes a filling meal. You can 'Malaysianise' it and add rice, ulam and local sauces like sambal and kuah satay. You can also experiment with your leafy greens – I have recently found baby bayam [spinach] and bok choy to be great substitutes for lettuce."
View this post on Instagram
Start from a place you are comfortable with
"Allowing yourself the time and space for your body and mindset to adjust to a plant-based lifestyle is crucial to success. Start with one day a month, every two months, once a week, a plant-based meal every morning – anything that works for you. Then, whenever you're ready, bring it up a notch. Even something as simple as reducing your overall meat intake will be beneficial to your health in the long term. Going plant-based has been one of the greatest gifts of health I've given myself and I hope it will be for you too!"
View this post on Instagram
To learn more tips, recipes and information about a plant-based lifestyle, visit davinadavegan.com. Follow her on @davinadavegan for more updates.