Three Michelin starred cuisine with modern jazz and a side of Martell cognac? Only at The St Regis KL.
Always going above and beyond when it comes to exquisite dining experiences, The St Regis KL is proud to announce the return of its Guest Star Chef Series, this time with a special focus on modern jazz.
What does that mean? Simply that it has carefully curated a playlist of American Jazz classics to accompany a crafted course dinner by the guest chef of the hour – 3-Michelin starred Chef Thomas Bühner of Germany this time.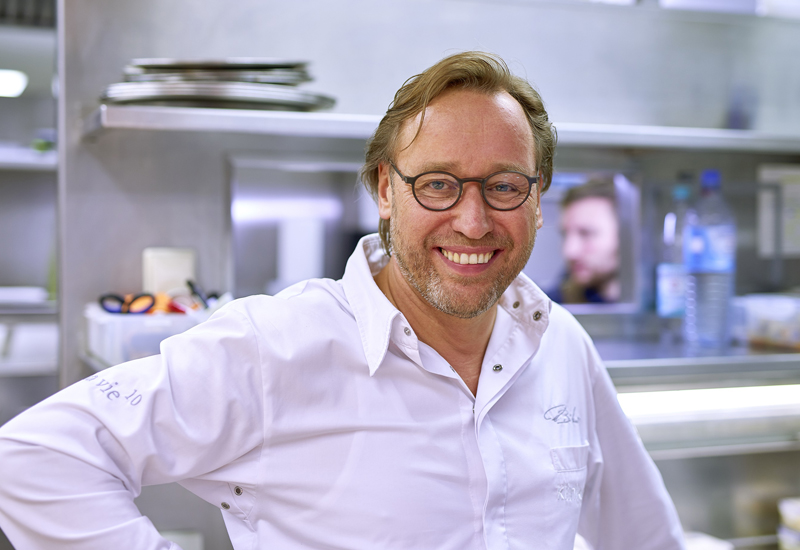 Describing his cuisine as "neither more an authentic nor intense an flavour, than the original, pure flavour of an ingredient", he has stolen the attention of the gastronomy world with his penchant for low-temperature cooking and three-dimensional aromatic cuisine that are a symphony for the tastebuds.
Further elevating the experience is a partnering with the House of Martell, Maison Perrier-Jouët, and Lillet for an exquisite pairing of fine wines and spirits with Chef Thomas' cuisine. Here's what to expect:
First course: Wagyu Tenderloin with Wild Cod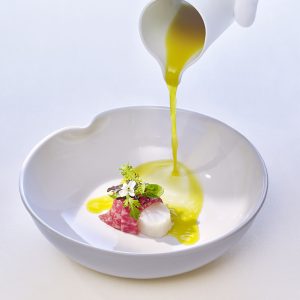 Paired with "Compare to What" by Roberta Flack, 1969
Wild Potion cocktail
Chef Thomas' rendition of the classic surf and turf comes with sashimi style wagyu tenderloin slices blanketing a fillet of wild cod , a pair so tender, you can scoop bites of it with merely your soup spoon. The tenderloin is as creamy and buttery as the fish, with the red meat lending game to the sweetness of the white. Tying it all together is the cod consommé that also lends the whole dish a herbal touch as well as dazzling colour with golden saffron infusion.
Second course: Red Mullet in Spiced Oil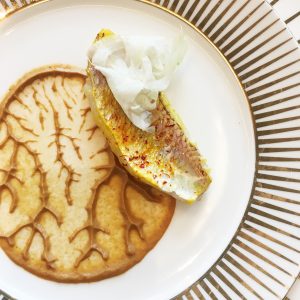 Paired with "Summertime" by Ella Fitzgerald & Louis Armstrong, 1957
Perrier-Jouët Grand Brut
Chef Thomas shows off both his propensity for low-heat cooking and multi-dimensional flavours here with a delicate fillet of red mullet. It is poached in 55°C spiced oil so not only does its flesh retain that bounce of fresh sashimi, it takes on the flavours of the spices for explosive bites. Its sweetness of the ocean is intensified by tomato and sea urchin cream, which  layers the sweetness of the fish with a veil of tartness followed by a lingering umami bitter tail.
Third course: Red Gamba Confit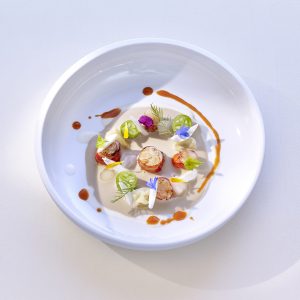 Paired with "Struttin' With Some Barbecue" by Louis Armstrong, 1927
Lillet Rosé
Juicy red Gamba prawns are preserved in peach juice for this dish, resulting in the fruitiest prawns you'll try. A thick cream sauce (also made with a slight hint of peaches) grounds the fruity flavours to help the prawns stay the savoury seafood confit it is supposed to be, while chunks of preserved peaches intersperse the eating experience occasionally for refreshing bursts of cured sweetness.
Fourth course: Potato Foam and Pumpkin-Curry Ice Cream
Paired with "Koko" by Charlie Parker, 1945
The Oriental Lillet
Get ready to have your palates boggled with this hot-and-cold, sweet-and-savoury dish. The potato foam is silky smooth and warm on the lips, reminiscent of the heartiest comfort food. In the middle however, a dollop of pumpkin-curry ice cream waits to serve you a plot twist: It is sweet and savoury, with creamy pumpkin made exciting with the unmistakable punch of curry powder. Had together in a spoonful, potato foam and pumpkin-curry ice cream stretches all your knowledge of the spicy and milky profiles.
Fifth course: Duck Magret in Exotic Sauce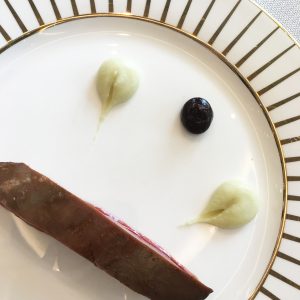 Paired with "Come Fly With Me" by Frank Sinatra, 1958
Martell XO Cognac
Chef Thomas' love for low temp cooking is again put to the test with this duck breast cooked sous vide in 65℃ for 16 minutes. The result: a juicy, pillowy duck breast that has sauces oozing out of it at the slightest prod. The breast impresses with its natural game but really blooms with its marinade of exotic sauce, which we learned is the local kicap manis mixed with soy sauce. Adding a veil of fat is cabbage and celery cream for a well-rounded red meat dish.
Dessert: Cube of White Chocolate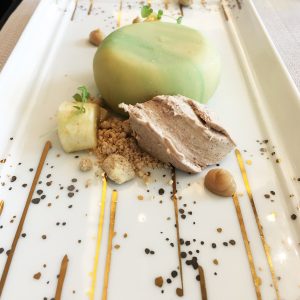 Paired with "At Last" by Etta James, 1960
Martell Cordon Bleu Cognac
Words like 'dessert' and 'white chocolate' typically bring to mind a sweet ending, but Chef Thomas challenges the status quo by serving a salty dessert that isn't even in the shape of a cube. Who knew banana would pair so well with salted pecan nut ice cream? Break open the white chocolate shell, and banana milk cream and custard reveal themselves, also salted for a milky delightful end that is, curiously enough, immensely satisfying.
This 6-course menu is available for dinner at The Brasserie at The St Regis KL only until 18 August 2018. It is priced at RM498 per person for food only, and RM798 per person with alcohol pairings.
Should you miss this opportunity, worry not, as a string of guest chefs have been confirmed for the upcoming months. Chef Andreas Caminada (Switzerland) will be doing a stint in November, Chef Sergio Meza (Colombia) in January 2019 and Chef Kana Otowa (Japan) also in the next year. Keep a lookout as we'll be posting updates as and when we get them.
For more information or reservation enquiries, please call +603 2727 6666 or email thebrasserie@stregis.com.