To celebrate the launch of its Viva collection, Salvatore Ferragamo has released a new campaign featuring a cast of six young, strong and dynamic cultural creators.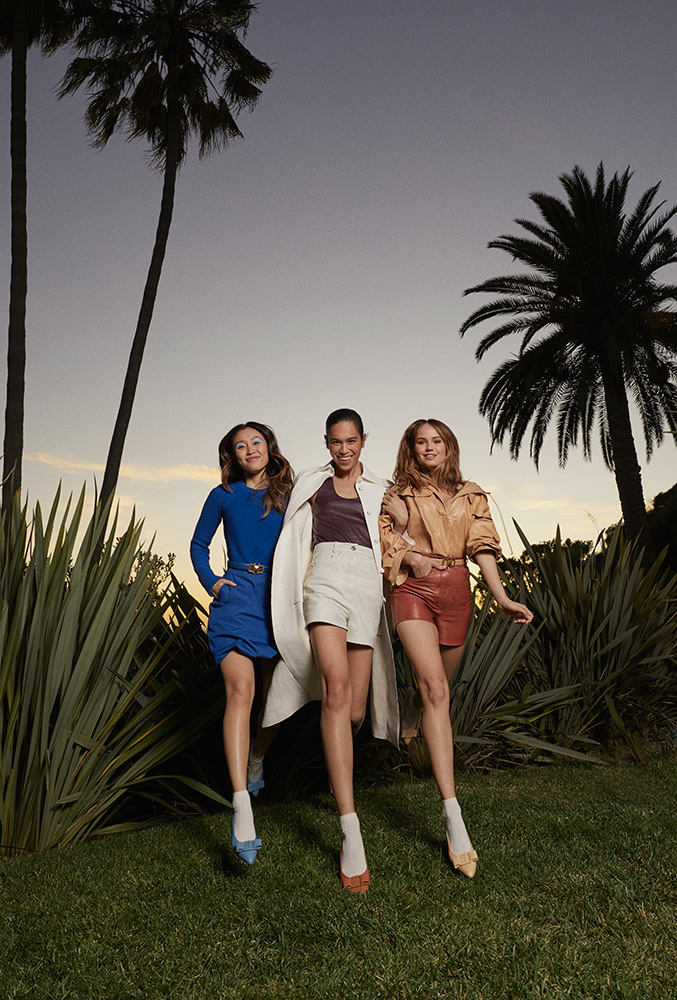 You know the Vara and Verina, now meet Salvatore Ferragamo's new house icon shoe: Viva. Designed by creative director Paul Andrew with the needs of the upcoming generation in mind, the Viva embodies a fresh style that incorporates a modernised take on the iconic Vara bow.
Drawing inspiration from his favourite artist, Richard Serra, the designer reinterpreted the Viva heel as a sculptural block form. Linking the Maison's past with its present and future, the bow is made larger and bolder than the original Vara, embodying the audacious confidence of women today and in the coming generations.
"The starting point was the realisation that while each new generation is distinct, individual and shaped by its time, every new generation also begins in a context created by that which came before it. That is why we have embraced and reimagined the signature emblem of arguably Ferragamo's most iconic shoe – the grosgrain bow on the Vara – and built an entirely new and modern design around it," Paul says of the latest creation.
"Viva is an encapsulation of Ferragamo's future, one that is inclusive, dynamic and progressive. It is also rooted in the best of what we as a family artisanal house have long worked to be."
Launched last month, the collection will be available in a variety of styles, colours and fabrications to meet the diverse tastes of modern women. The styles include classic or ruffled, with two heel heights – mid or low – and three different materials: leather, denim or linen canvas.
To celebrate the launch, the Maison has released a new campaign under the visual direction of Tommy Dorfman, featuring a cast of six young, strong and dynamic cultural creators that reflect Viva's contemporary spirit. Meet the faces of the campaign below:
Camila Mendes
Best known for playing Veronica Lodge in CW's teen drama Riverdale, Camila Mendes is an up-and-coming American actress. She is a firm advocate for body positivity and democratic participation, using her platform to voice out on these issues.
Dara Allen
After studying fashion journalism, San Diego-born Dara Allen moved to New York as a stylist turned breakout model for Fall 2017. As a transgender model and activist, she is fearlessly reshaping the industry by representing the transversal community.
Debby Ryan
Since the age of six, Debby Ryan has made a name for herself as an actress, starting out in professional theatres where she was discovered by Disney Channel. The 26-year-old actress turned singer has also recently starred in the Netflix series, Insatiable, and appears alongside Alison Brie in Horse Girl.
Kiersey Clemons
Kiersey Clemons is a multi-talented actress, musician and producer who has starred in numerous films and television shows including Dope, Lady and the Tramp and the upcoming remake of Zorro. The California-based new-gen star has also worked with DJ Snake Pharell Williams, among others.
Olivia Sui
Chinese-born American actress Olivia Sui is known to be a regular Smosh cast member since 2015. She is famed for her irreverent, provocative comedic talent, and is also professionally trained in ballet and contemporary dance.
Paloma Elsesser
You may recognise London-born New Yorker Paloma Elsesser from her recent movie debut alongside Adam Sandler, Julia Fox and The Weeknd in Uncut Gems. The plus-sized model has appeared on the covers of British Vogue and Vogue Arabia, unapologetic of her figure and personality.
The campaign photos are set to launch across all platforms beginning February 2020.
Discover the Viva collection on the official website here and visit your nearest Salvatore Ferragamo boutique to shop the range.
Photos: Salvatore Ferragamo