Welcome to the TikTok era. Facebook, who?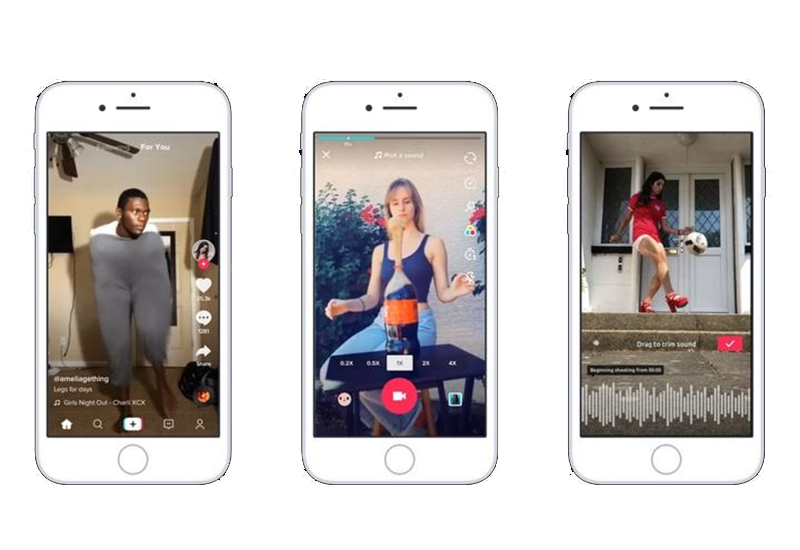 Last year, you may have come across a viral clip of a cat "dancing" to the tune of The Chordettes' 1954 hit song, Mr. Sandman. Maybe you didn't know the cat or its owner or the song – but it was amusing, at least for a while.
Then earlier this January or February, you may have noticed a few friends posting videos of themselves dancing to some hit pop song. Or impersonating one of the Kardashians. Maybe you found it entertaining, maybe you found it annoying or maybe you couldn't really be bothered at what people chose to do with their time.
At this point, however, it's virtually impossible to avoid videos watermarked with the words "TikTok" on any of your usual social media platforms – or even the news.
Whatever your sentiments are about this new app, there's no denying its rising popularity – especially amidst COVID-19, when everyone is looking for a way to cope with either boredom or anxiety while being quarantined at home.
According to analytics firm Sensor Tower, TikTok downloads in the US rose by 27% at 6.2 million from March 1 to 23, compared to 4.9 million in the first 23 days of February. Global downloads also increased by 5% to 84.8 million for the same 23-day period in March versus February.
The fact that many countries across the globe – including UK, Italy and Malaysia – went into lockdowns or similar movement control orders beginning March is a highly probable explanation for the increase in TikTok users.
Even global organisations and businesses are taking to the ByteDance-owned platform to share educational, entertaining or marketing content. With 800 million active users today, here's how TikTok is impacting the world in the age of the coronavirus.
Giving healthcare professionals a voice
To curb the dissemination of fake news on COVID-19, the World Health Organisation set up a TikTok account to serve as a resource for expert medical information and tips. It has released several videos, including the #SafeHandsChallenge to educate consumers on how to practice proper hand hygiene.
Other healthcare professionals have also used the platform to keep users calm and well-informed through various means. One Miki Rai, a 23-year-old registered nurse from San Francisco, paired trending dances with coronavirus facts to get the message across.
"When you think about how you want this message to get across, you have to use a method that [young people] can understand, so that's why I started learning all these random TikTok dances," Rai told MTV.
Saving jobs and creating new opportunities 
As non-essential businesses are forced to shutter, employees are left with much uncertainty about their paychecks – or if they'll even have a job to come back to.
Though it will take collective effort from the government, companies and organisations to avoid lay-offs and pay-cuts, TikTok's parent company, ByteDance, is doing its part by opening 100,000 jobs. Thanks to its booming popularity, the tech company is able to hire and support new staff.
At the same time, the platform has allowed brands to reach new audiences. This gives creatives such as social media marketers and advertising agencies different pitches to explore, potentially saving jobs.
Currently, brands like Levi's and Fenty Beauty are owning the TikTok game. The denim company has reported success in boosting sales via TikTok campaigns (although it didn't provide specifics), whereas Rihanna's beauty label has amassed more than 7.7 million followers on the platform.
Inspiring creativity and new experiences 
Since TikTok's platform functions in a way that feeds users content based on algorithm without having to "follow" or send a friend request to someone, it exposes users to a greater variety of topics. Think along the lines of the Explore feed on Instagram or the Trending page on Twitter.
Users are then able to bounce ideas off each other and recreate videos or challenges in their own ways. From creating a pop dance cover of Megan Thee Stallion's "Savage" (see the Biebers' rendition below) to making Dalgona Coffee to exercising to the beat of "Hit Yo Rollie", TikTok is filled with cool new things to try.
Detroit musician Curtis Roach even created a new TikTok anthem, "Bored in the House" with rapper Tyga, which instantly garnered hits on the app. You can say it was boredom that inspired the beat, but it was TikTok that turned it into a totally-not-boring sensation. And that, in turn, inspired a train of creative videos of what people are up to while bored at home.
Fostering social ties amidst social distancing 
One distressing psychosocial challenge of COVID-19 is being separated from our loved ones and banned from social gatherings. With social distancing in place, weddings, festive celebrations, sports events, proms, graduations – you name it – have all been cancelled or postponed.
As a result, people are relying on social platforms to stay connected. TikTok challenges like the #DontRushChallenge have bonded beauty enthusiasts to plan and create their own makeup tag video. Some families are also spending more time together with their own spin on group dance covers and funny videos. Take a look at a few of our favourite Malaysian-made TikTok videos, for instance:
On the other hand, certain users find comfort in sharing real-life unfortunate events. Videos of pregnant mums possibly giving birth without their loved ones around and teenagers living through their parents' divorce while social distancing have surfaced, with viewers sharing their similar experiences and words of encouragement in the comments.
Whilst coronavirus goes on, life and all its other hardships does too – but it helps to know that you're not alone in the struggle. Life's not perfect, and TikTok users aren't afraid of being real about that.
Offering all-round fun, witty content
At the end of the day, we're all struggling to differing extents due to COVID-19. For some, perhaps more than others, TikTok is a means of escape – to stay positive, to pass the time, to have a good laugh.
There's a category for whichever escape you're looking for, and meme-style content is a big one for those who appreciate humour. We'll leave you with a few picks from some local celebrities just for kicks…