You're not going to find more adorable looking dim sum anywhere else particularly where pieces are meticulously shaped to resemble an entire zoo of animals.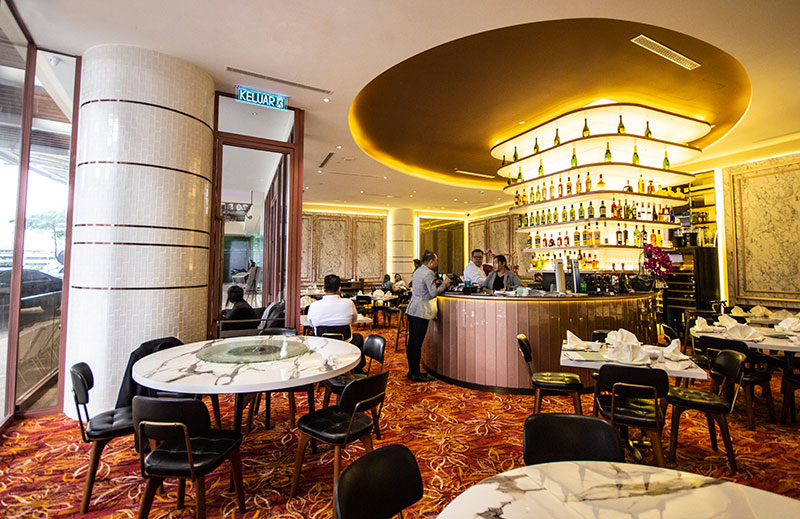 Dim sum on its own is already one of the most delightful things to bite into. Yu by Ruyi just did the impossible in making it even more delightful.
The latest modern Chinese establishment from serial F&B entrepreneur Lyn Siew at The Gardens Mall continues with Lyn's spirit of innovative offerings but with a brand of its own.
You're not going to find more adorable looking dim sum anywhere else particularly with its XXL Steamed Dim Sum Basket in which an array of dim sum (all pork-free by the way) awaits, some meticulously shaped to resemble an entire zoo of animals.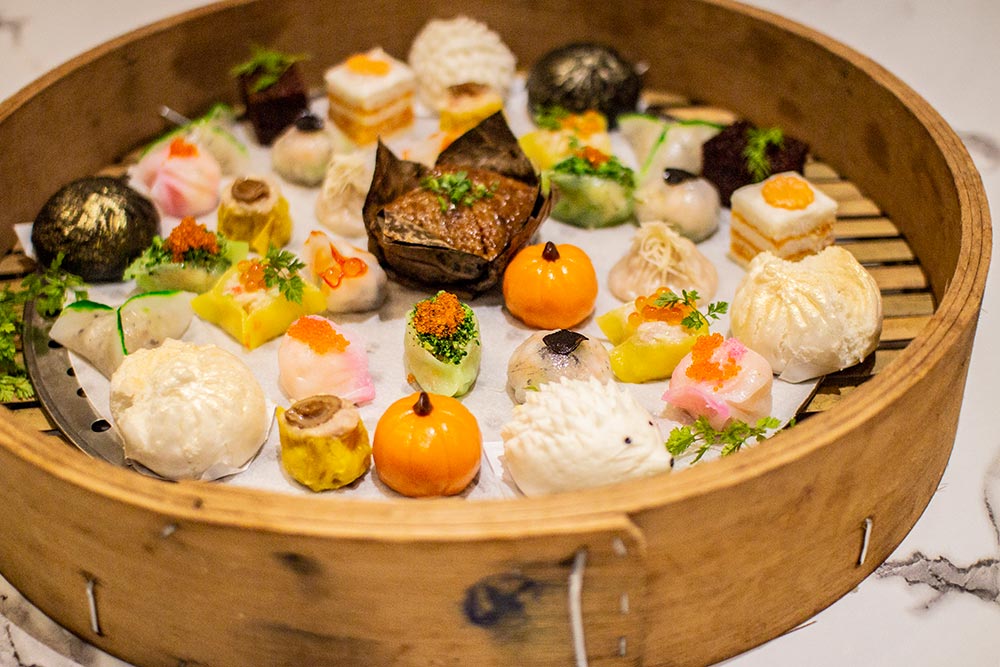 A little porcupine steamed bun hides delicious creamy lotus paste and salted egg yolk within; a baked pastry of a buffalo crunches into chunky bits of marinated beef; while a graceful swan hides inside its crispy golden body tender shredded duck.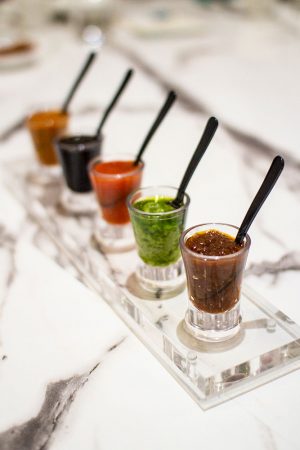 It's not just all about looks although that is served aplenty. Chef James Ho brings on the indulgence with signature creations like Golden Foie Gras Puff where thick creamy foei gras bursts in the mouth when you bite into the light and flaky puff. The classic siew mai is given a touch of luxe with abalone folded into it while the hargao also gets dressed up with a small dollop of ebikko egg roe. It's all your favourite dim sum classics but made cuter, bigger and more indulgent, complete with an array of sauces made in-house.
The XXL Basket is only available from 11am-4pm however but fret not. Outside of those hours, the ala carte menu is available and looks just as enticing.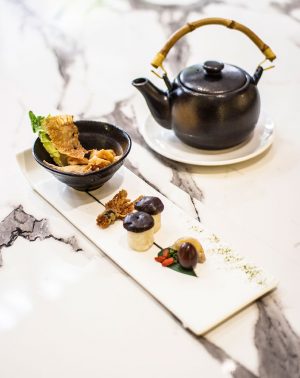 If unsure of what to order, we totally recommend the Chic Kut Teh, Chef James' rendition of the popular local bak kut teh, made without the pork for a more inclusive experience. It retains all the herbal goodness of the original version, blooming with the sweetness of tong guai and qichi (dried wolfberries) with each sip. It is served ingeniusly with two bites of fragranced oil rice topped with black mushrooms to stay as true as possible to the classic. Pouring the soup out of a clay teapot complete with bamboo handle is only half the fun of this very aesthetically pleasing dish; eating it is the other. You feel like you're assembling your very own exclusive bowl.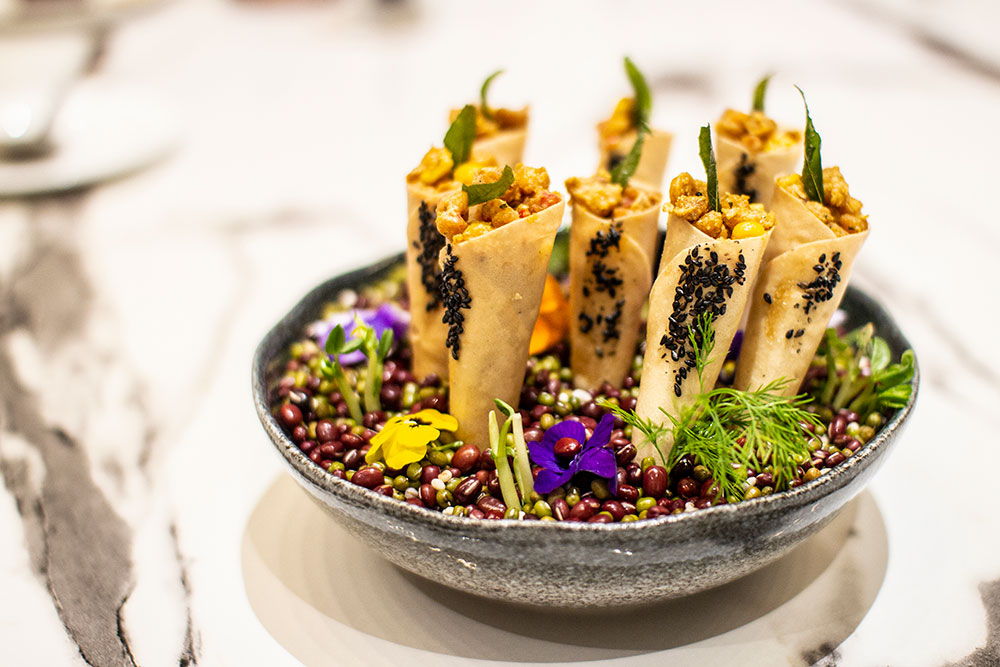 If it's something crunchy you're looking for, the Crabby Corn will delight on taste and texture. Served in convenient bite-sized cones of crispy popiah skin, juicy corn kernels and chunky crab meat are tossed in salted egg yolk for a snack that is the perfect mix of sweet and salty, crunchy and chewy.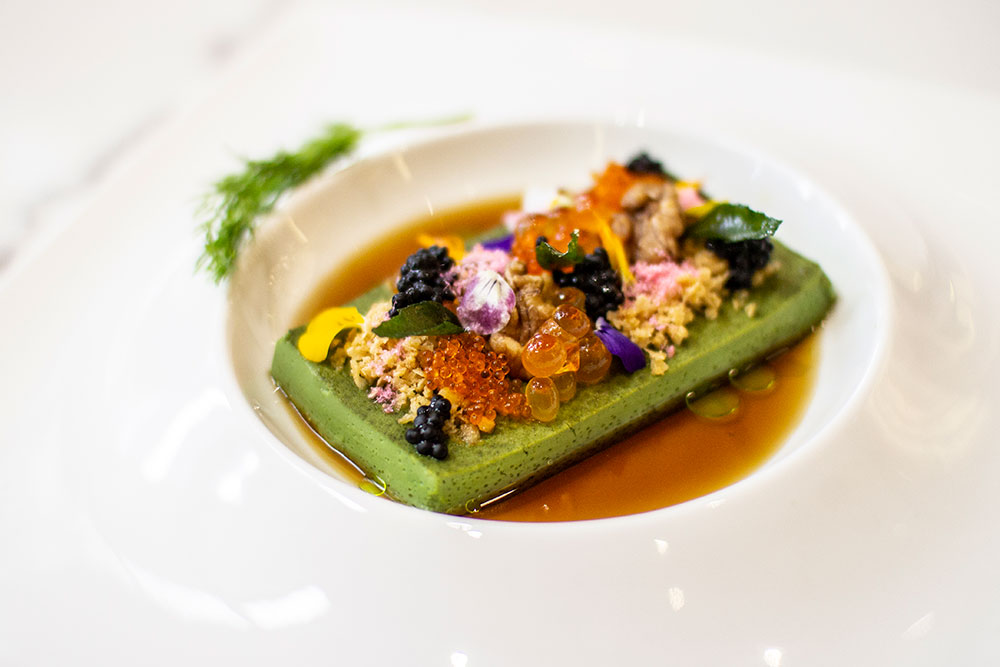 Those on a low-carb diet will delight in the Flower Pillow. Tofu infused with green tea serves as the bed for a selection of different roe "flowers". Prawn, salmon, heron and crab roes make for a colourful salad of eggs, made even more colourful with real edible flowers. The result is light snack that's not at all light on flavour, toeing the perfect balance between healthy yet indulgent. It's a salad made for the most ardent seafood lover.
Drinks are equally innovative and Insta-worthy here. Whether you're looking for a light tipple or something to really knock away your stresses, something will tickle your fancy.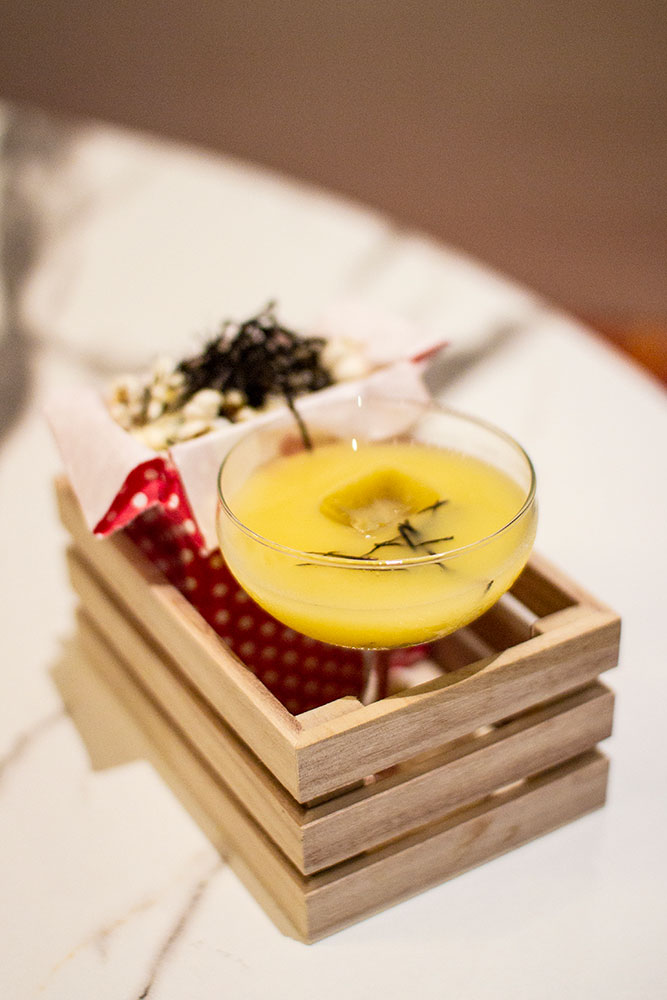 Corny Couple
Corny Couple
Who knew corn and vodka would go together so well as this cocktail - the sweet creaminess of corn is brought to the forefront with the top bitterness of vodka. Most intriguing is the slightly salty tinge to the body thanks to truffle oil and a sprinkling of roasted nori. A small side of popcorn also lends a nice crunch as you sip on it.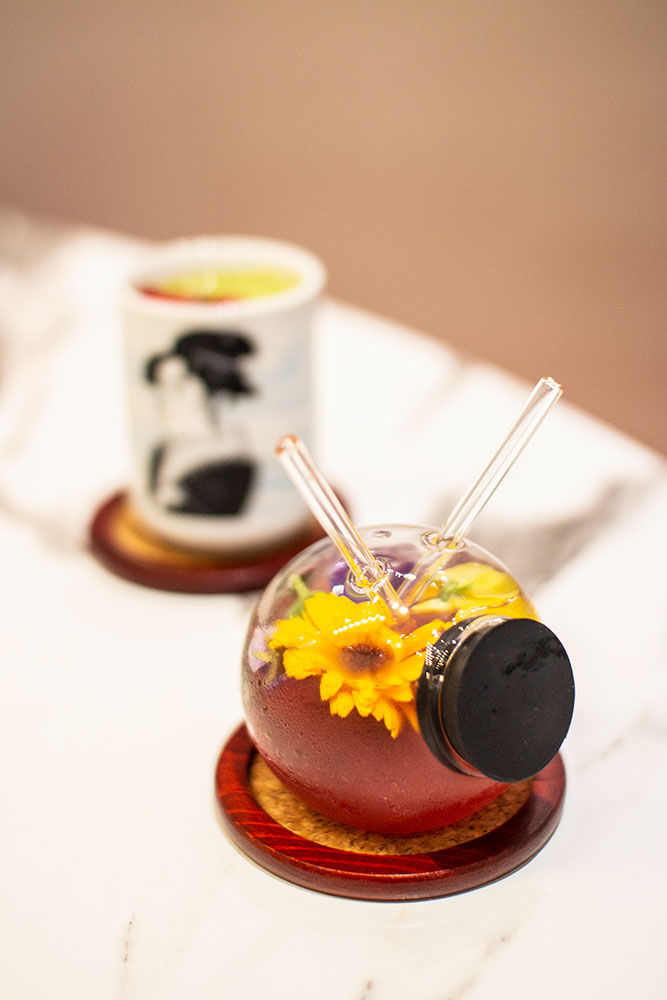 God is a Woman
God is a Woman
Paying homage to all things feminine, sweet, citrusy flavours are put front and centre in this cocktail with mangosteen juice, thyme syrup and lime. Vodka and Cointreau orange liqueur lend depth to the tangy profile while flowers give things a celebratory touch.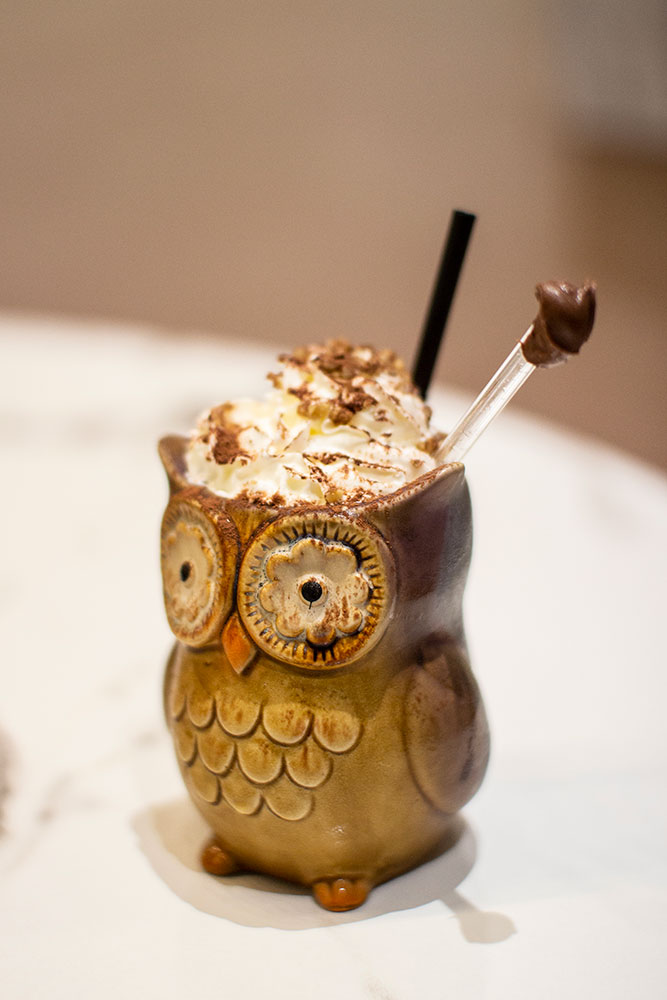 After Hour Caffeine
After Hour Caffeine
Why opt for a boring espresso when you can indulge in this version of a pick-me-up in which Caribbean spiced rum and Frangelico hazelnut liqueur are made super delicious with Nutella, chocolate, espresso vanilla syrup, whipped cream and crushed roasted walnuts? It is sweet, it is milky, it is chocolatey, with a touch of spirit for that much needed buzz.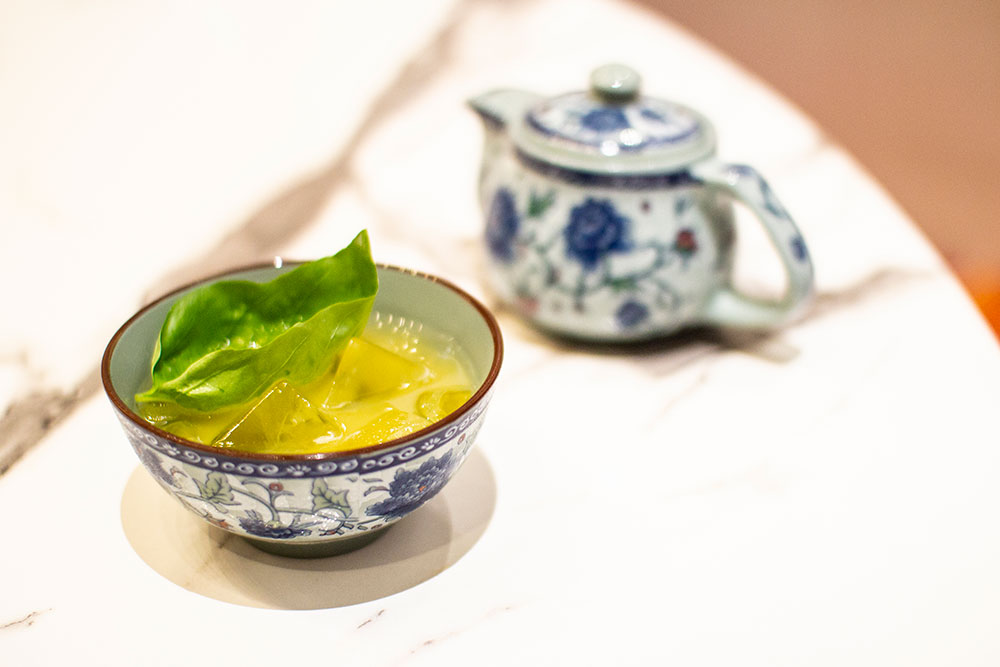 Bruce Lee
Bruce Lee
Be like water with this Oriental concoction that tips its hat to the legendary kung fu artist. Jackfruit puree is given a bittersweet-borderline-herbal depth with basil, lime, marachino liqueur and Licor 43 for a treat that is as invigorating as it is easy to drink.
(Swipe left for more)
Yu by Ruyi is now open for lunch and dinner daily at The Gardens Mall. For more information or reservation enquiries, get in touch via their official Facebook page here.
(Photos: Gan Yew Chin)