A fashion and culture staple since the 19th century, Vogue magazine defines itself by its ability to be thought-provoking, relevant and influential. Anna Wintour, industry icon and Vogue's global editorial director, said that "Vogue empowers and embraces creativity and craftsmanship".
Driven by the same spirit of optimism and artistry as its namesake, Vogue Lounge KL in Bangsar South offers guests a uniquely fashionable take on the dining experience, characterised by its inventive menu and modern, detailed decor.
Vogue Lounge KL opened its doors in 2019, joining an international line up of Condé Nast Restaurants that include establishments in Shanghai, Istanbul, Moscow and Riyadh. Post MCO break, the restaurant and lounge makes its return to dine-in with new dishes, chic cocktails and a luxe atmosphere that reflect a continual celebration of fashion.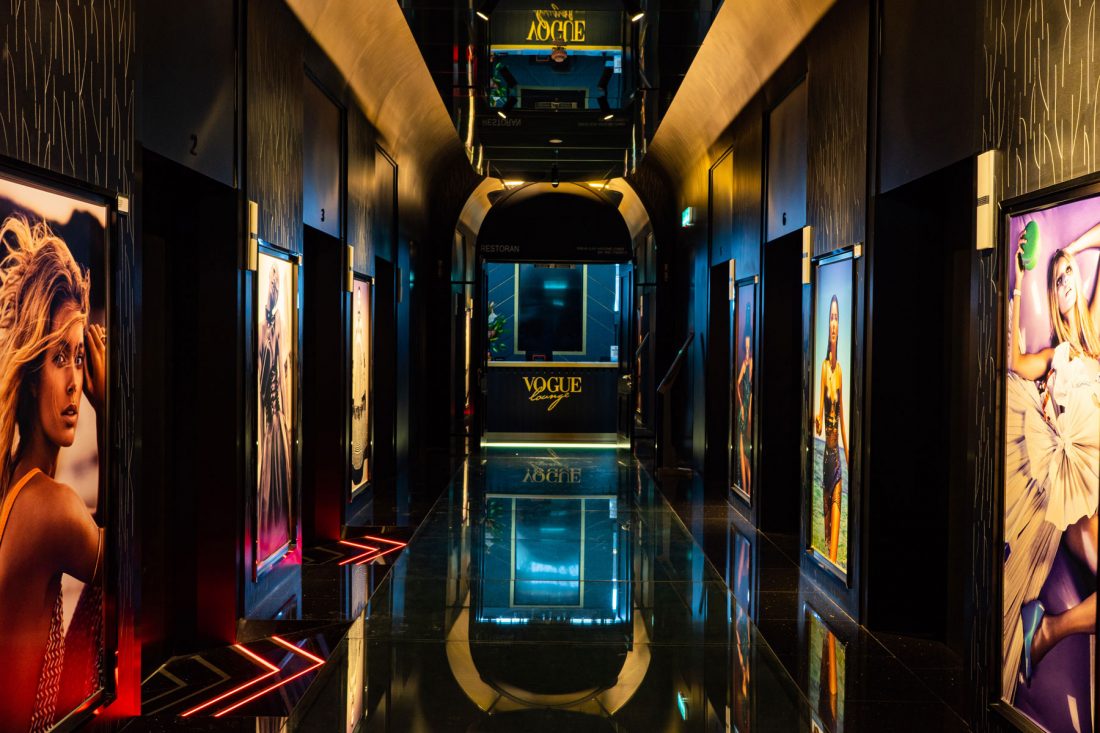 Vogue Lounge entrance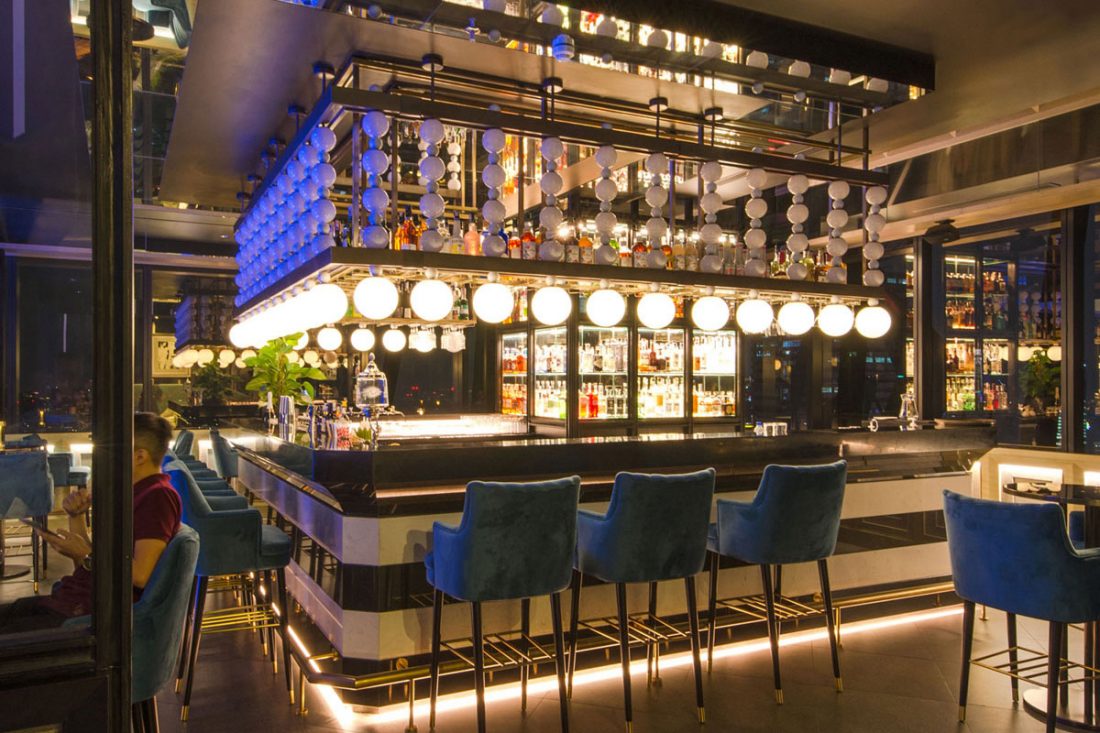 Lounge bar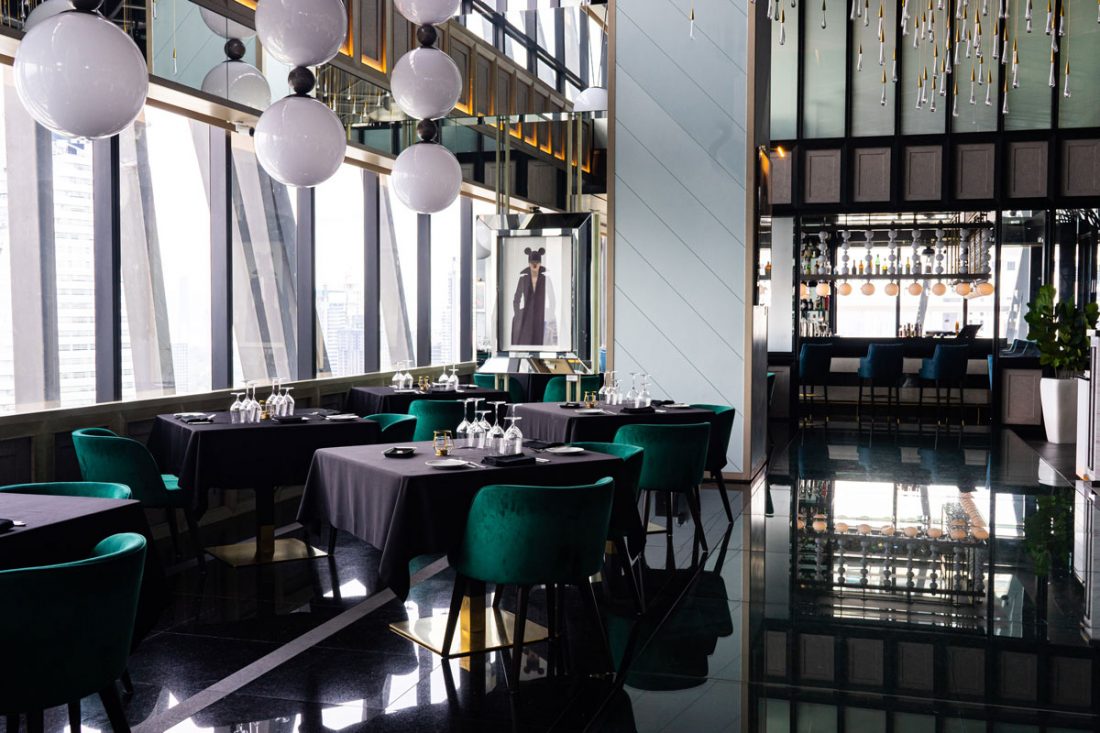 Dining lounge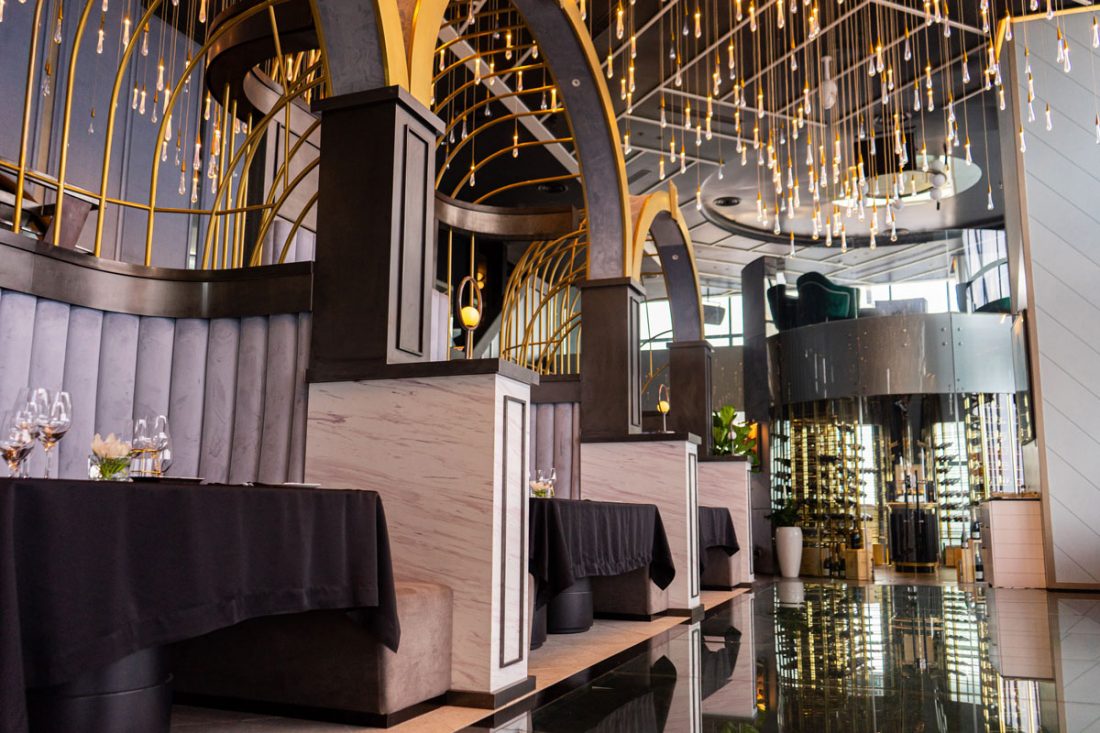 Dining booths
(Swipe left for more)
Arriving at Menara SuezCap, guests are first ushered to an elevator that will take them up to the 38th floor where Vogue Lounge resides. The doors open to a stylish, dark panelled hallway, lit up by glamorous Vogue portraits of internationally recognised models along the walls. Without warning, diners are plunged into a world found only in glossy print pages.
Below their feet, the bright LED platform resembling a runway leads guests to the restaurant's entrance, where another screen showcasing catwalk footage and Vogue videos plays on a loop, mimicking the energy and buzz of the ever-moving sartorial world.
Inside, rich shades of green are complemented by gold touches in the decor. Gilded accents in the arches, light fixtures, and panels in clean, defined lines give the interior a composed, quiet opulence that never crosses the line into gaudiness.
A comprehensive cellar stocked with fine wines and premium spirits stands on one end of the first floor, directly facing a cosy bar area across the room, where a string of softly illuminated lights invite diners for a refined round of drinks.
For their meal, diners can choose to sit by the floor to ceiling windows for a grand view overlooking the city, or in one of the plush, wide booths bookended by marble separators. Alternatively, private dining areas are also available and particularly ideal for special occasions and larger groups.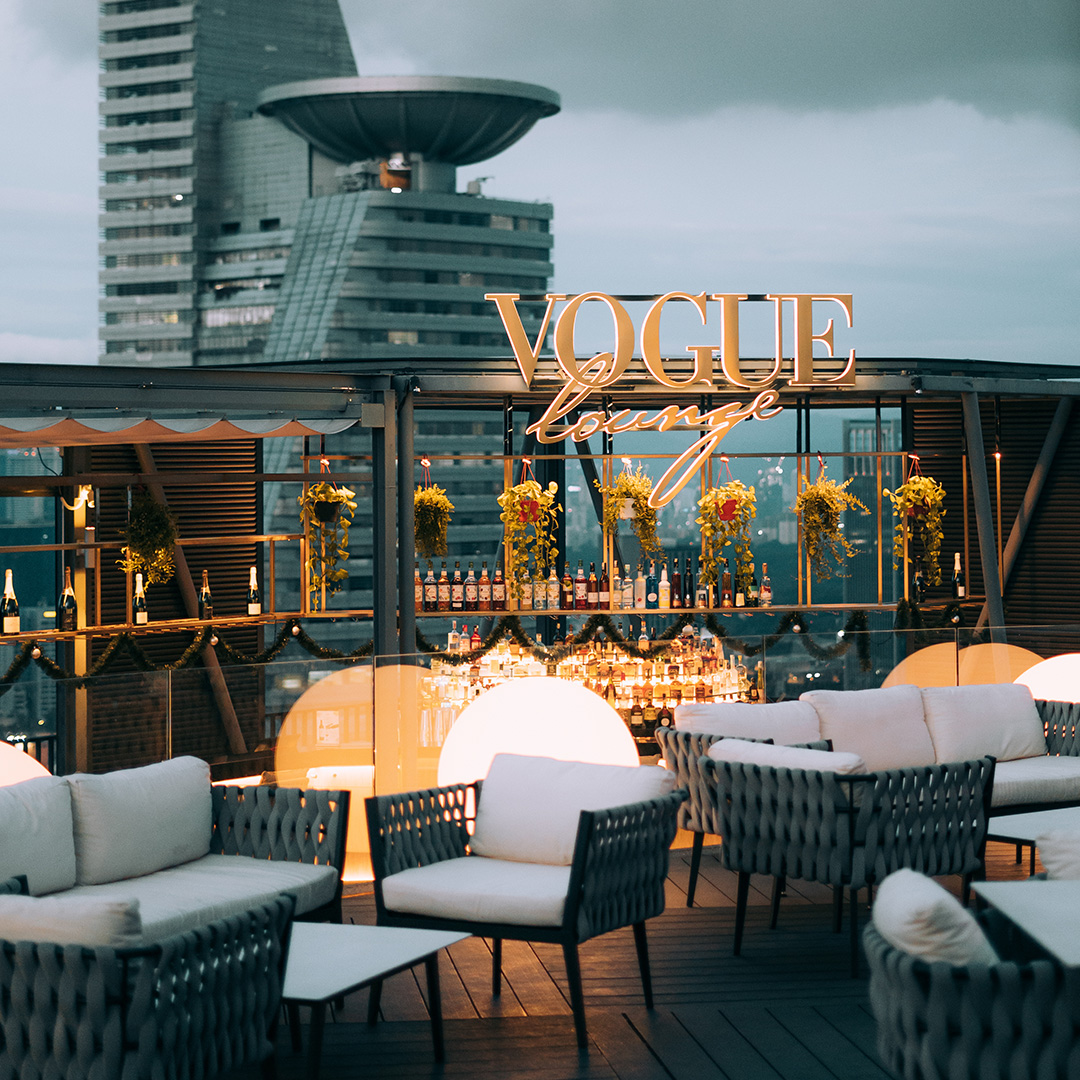 Heading up to the rooftop, guests will find a wide platform with 360 degree views that peek over Subang Jaya and run all the way to KL city centre.
Set against the glittering cityscape, a brightly lit bar offers a catalogue of signature Vogue cocktails specially tailored to asian tastes. Popular choices include the Lady in Pink with vodka-soaked strawberry, mancino rosso and prosecco, the Tokyo Fizz with whiskey, and earl grey syrup, and the East Village with gin, lychee and prosecco.
Crafted by Executive Chef Steve Ariffin, the menu fuses contemporary European and Asian dining to fulfill the restaurant's promise of providing 'food for the fashionable'. Like the future-facing industry of fashion that innovates and pushes boundaries at a breakneck speed, Vogue Lounge's culinary offerings hint at a sense of adventure in its pursuit of new ideas, flavours, and combinations, while maintaining its timeless sophisticated flair.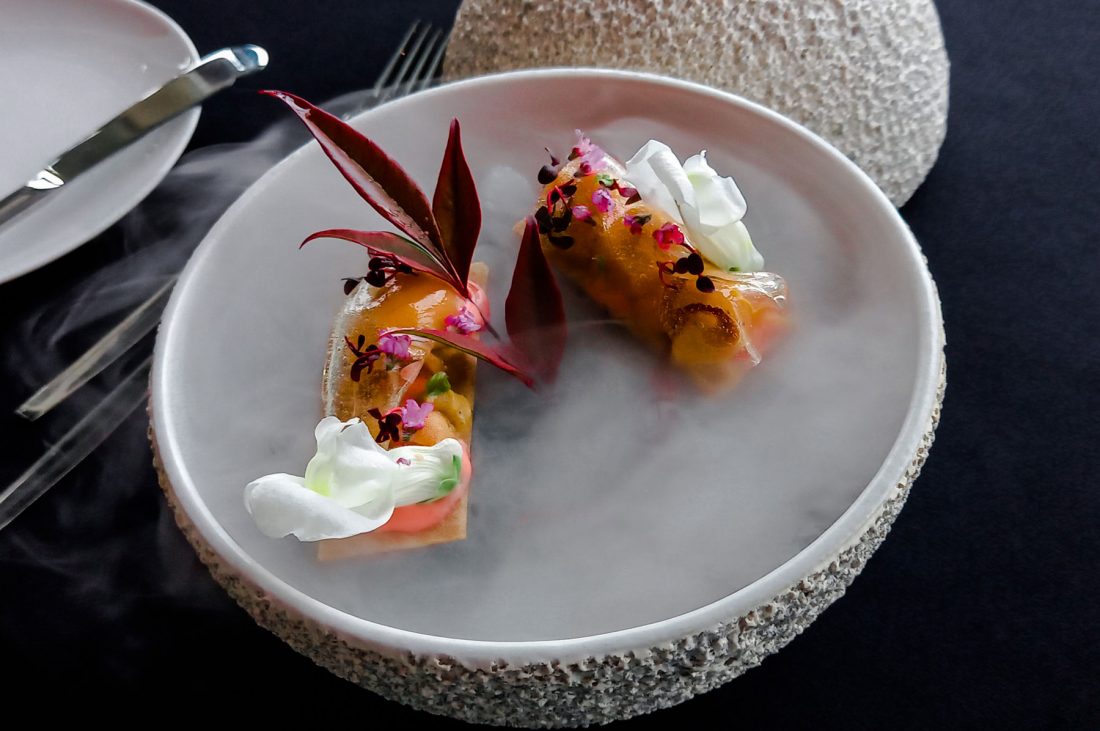 Hokkaido Sea Urchin
Hokkaido Sea Urchin
The meal starts off with an invigorating dive into rich flavours of the ocean. Glistening in gelatinous orange hues, the Hokkaido Sea Urchin appetiser consists of fresh uni tucked into dashi jelly and cradled in a thin pastry. Arranged in tart form, the starter unites all the textures and tastes of the buttery uni, the mouth coating mentaiko cream, and the carrot puree in one decadent, melt-in-your-mouth bite.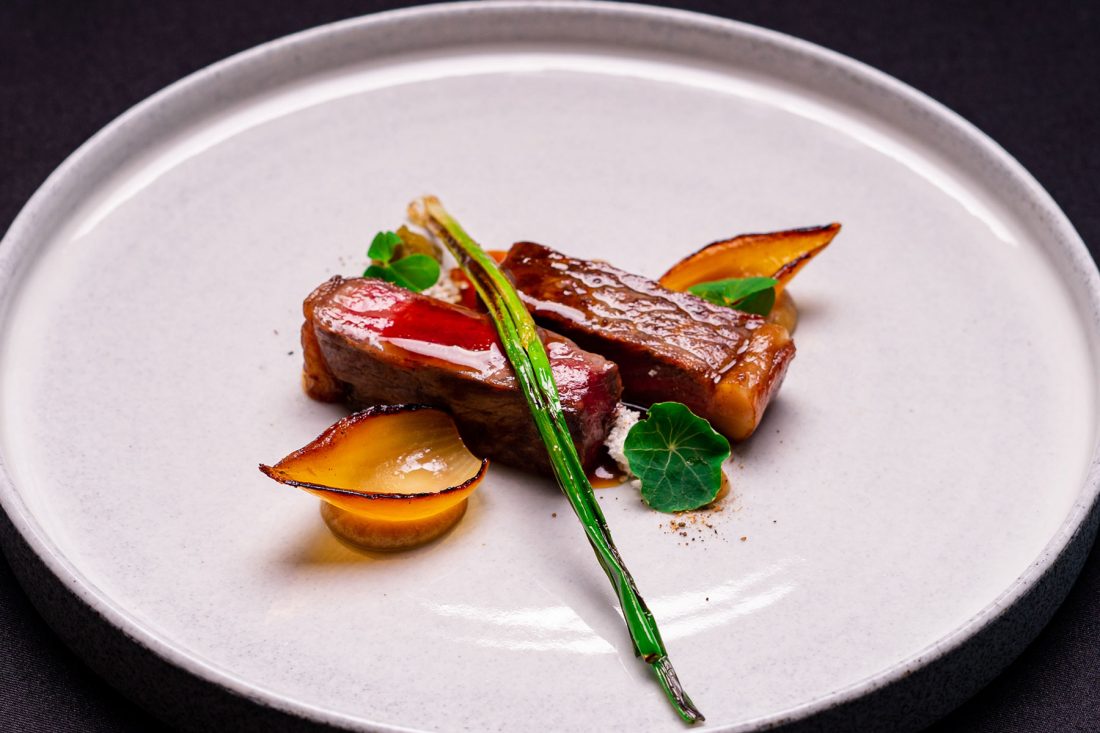 A4 Japanese Wagyu
A4 Japanese Wagyu
One of Vogue Lounge's most popular dishes, the A4 Japanese Wagyu satisfies every carnivore craving while pleasantly surprising with jolts of flavours and textures along the way. A smattering of the umami heavy porcini powder brings out the flavours of the juicy red ribeye, while the white onion and baby leek adds a subtle tinge of sweetness. To top it off, a spicy, puree-like sauce provides a kick that cuts the richness of the meat.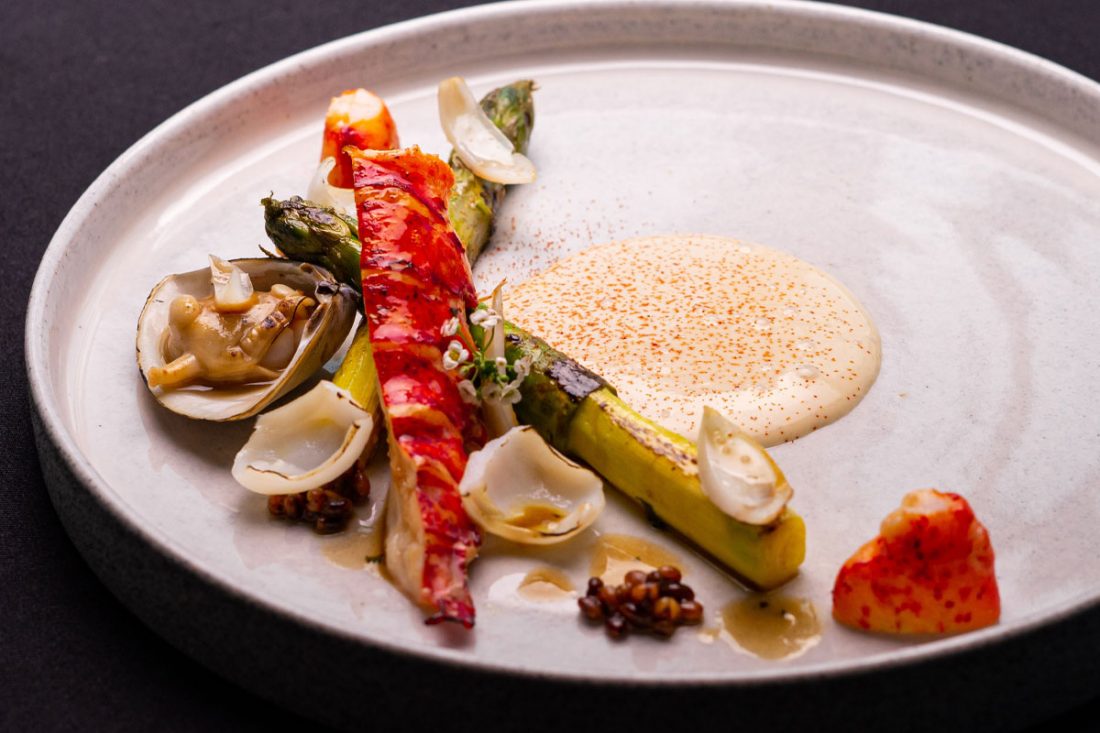 Maine Lobster
Maine Lobster
Another signature offering on the menu, the Maine Lobster is an elegant seafood main that refrains from piling on overly intense flavours, instead allowing the succulent freshness of its star, the lobster, to shine through. Asparagus and lily bulb pair delicately with the lobster flesh while a sprinkling of roasted barley intermittently contributes another layer to the interesting mix of textures.
Truffle Mousse
Truffle Mousse
Often the advent of dessert signals a winding-down from the exciting flavours found in the main course. Not so with Vogue Lounge's Truffle Mousse. The colourful dish is presented with ribbon slices of marinated plum, a scoop of caviar with gold leaf, frozen charcoal shards, and topped with truffle. Defying preconceived boxes and notions, the dish is an energizing dance between sweet and savoury, fruity and earthy, crunchy and creamy.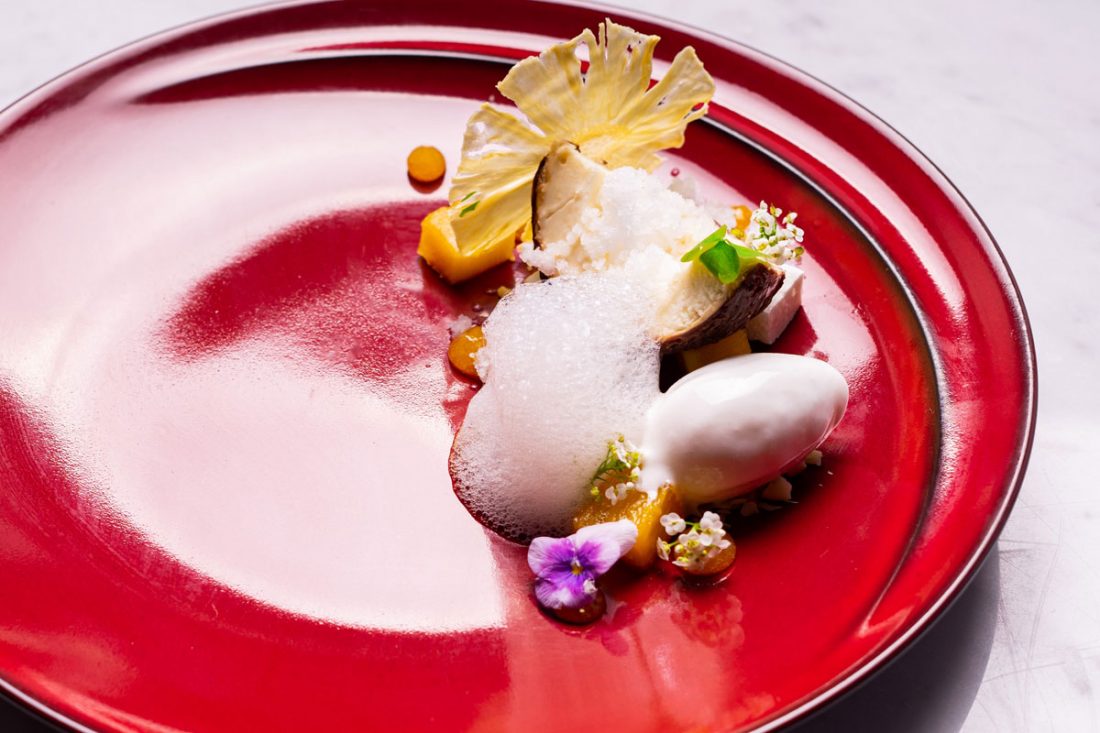 Bavarois
Bavarois
For a comparatively mellow end to the meal, the Coconut Bavarois brings an updated, tropical twist to a classically creamy dessert. The refreshingly cool creation feels no urge to astound with avant garde flavours, but impresses with its exquisite simplicity. Arriving shaped like a sliced piece of coconut, the dessert is enhanced by the soft and citrusy Yuzu marshmallows along with a dab of airy coconut-y foam.
(Swipe left for more)
For more information, visit the official website voguelounge.my.
To make a reservation, email reservations@voguelounge.my or call +6016- 846 6552
or +603-2771 1530/1531
Location: Level 38, Menara SuezCap, Jalan Kerinchi Kiri, Pantai Dalam, Kuala Lumpur