Available till 31 May 2020, the new menu honours the restaurant's philosophy of inviting guests to "Journey into The Library – where every season tells a new story" with farm traceable sources.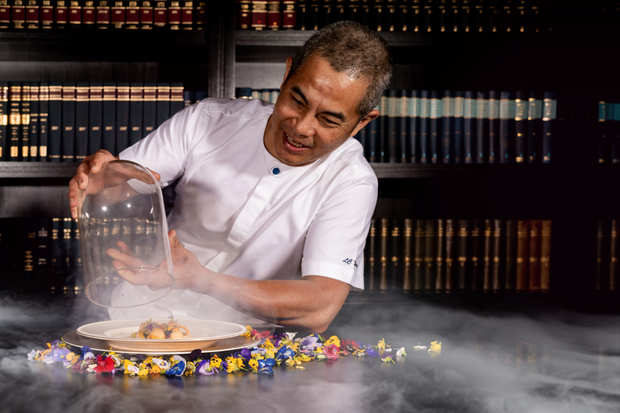 Of the many turns of seasons, nothing brings excitement quite like that of winter to spring, when life returns to the land and colour and freshness come back in blooming vigour.
The Library at The Ritz-Carlton KL is celebrating that with a new menu of exquisite spring ingredients, carefully curated and crafted by the hands of executive Chef Wai.
Available till 31 May 2020, the new menu stays true to the restaurant's philosophy of inviting guests to "Journey into The Library – where every season tells a new story." It does so with a global adventure with farm traceable sources, offering a taste of female salmon from Norway and endive from Belgium to Shima Aji from Tokyo and Sanchoku Wagyu from Australia. Closer to home, sturgeon from Tanjung Malim and 70% Semai chocolate from Pahang represent the bountiful produce of Malaysia.
Here's what to expect.
Hokkaido Scallops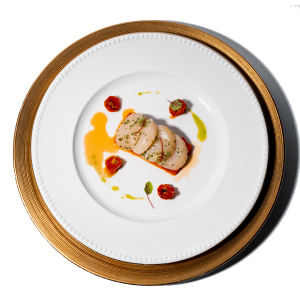 Chef Wai sends us off on this journey into spring with delicately seared plump scallops from Hokkaido. He relies not on salt or pepper to bring out the sweetness of the scallops; instead, a puree of semi-dried Japanese Amera tomatoes pulls out the flavours, with a slight tartness that really enhances the creaminess of the shellfish. A drizzle of tomato vinaigrette and more sun-dried Amera tomatoes provide juicy bursts of sweet and sour for a dish that has our appetite well kickstarted.
Corn-fed Chicken Breast
Chef Wai brings us from sea to farm next with a chicken dish of poached corn-fed chicken of impeccable tenderness. To bring out the prized nuttiness of the white meat, it is cooked with nothing less than ground truffle stuffed underneath the skin to deeply get into the meat. The fragrance of meat and fungi is further intensified with a side serving of Oriental mushrooms, a combination that really adds dimension to every bite.
Female Salmon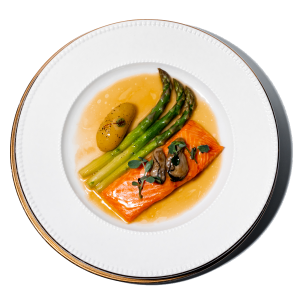 Turning to the rivers of Norway, Chef Wai serves up a very particular gender of salmon next – the female – with good reason. Because only the males swim up-stream during the mating spring season, the female's meat is more tender and sweeter due to the lack of exertion and testosterone. Served pink and raw in the centre for springy bite, Chef Wai cooks it with an umami crustacean veloute and presents it with an oyster and three sticks of asparagus for flavours of the sea that tie harmoniously well together. A spritz of lemon juice is added upon serving to bring a little acidity to cut through the fattiness of the fish and add freshness.
Wagyu Two Ways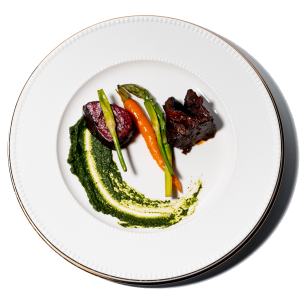 Chef Wai shows off his prowess with red meat with premium MB5 Wagyu prepared in two ways. The tenderloin is simply grilled to char the surface and caramelise the fat to let the perfect marbling within work its own magic. On the other hand, the beef cheek is braised for meat so tender it falls apart at the prod of the fork. Both are juicy and flavourful with game that is extended by creamy spinach puree. Buttered seasonal vegetables bring a crunch to diversify textures.
Semai Chocolate Fondant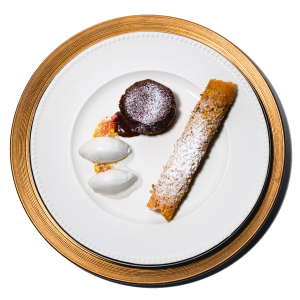 Chef Wai's sweet end comes as a dark chocolate fondant made with 70% single origin Semai chocolate from a farm in Pahang. It is baked into a souffle-like fondant cake with a molten centre. Lenghtening the sweetness of the chocolate is a vanilla ice cream while a citrus sherbet lifts flavours to keep things from getting too cloying. A pistachio tuile with citrus zest lightly sprinkled lend a crunch to the whole dish while accenting it with a nice orange veil.
The Spring menu is available through 31 May, Monday to Saturday from 6pm to 10.30pm at The Library. Take your pick of your favourite items from an ala carte menu or sample it as a tasting menu that features the best highlights. Wine pairing options are also available.
For reservations, please WhatsApp +60 18-621 4252, email dining@ritzcarltonkl.com or make a reservation online via OpenTable.
(Photos: The Ritz-Carlton Kuala Lumpur)