Picture this: You're halfway through a night on the town, filled with revelry and high in spirits, when you're suddenly overtaken by a fervent hankering for some good food.
And it's not a craving that your everyday Mamak-fare or a speedy jaunt to a 24-hour fast food drive-thru will satisfy. No, this time, the midnight munchies demand of you only the most premium ingredients put together with culinary finesse. At an hour when gourmet dining establishments are already stacking their chairs and shuttering their doors for the night, where does one head?
The newly opened LUT Gastrobar hopes to be the answer to that question.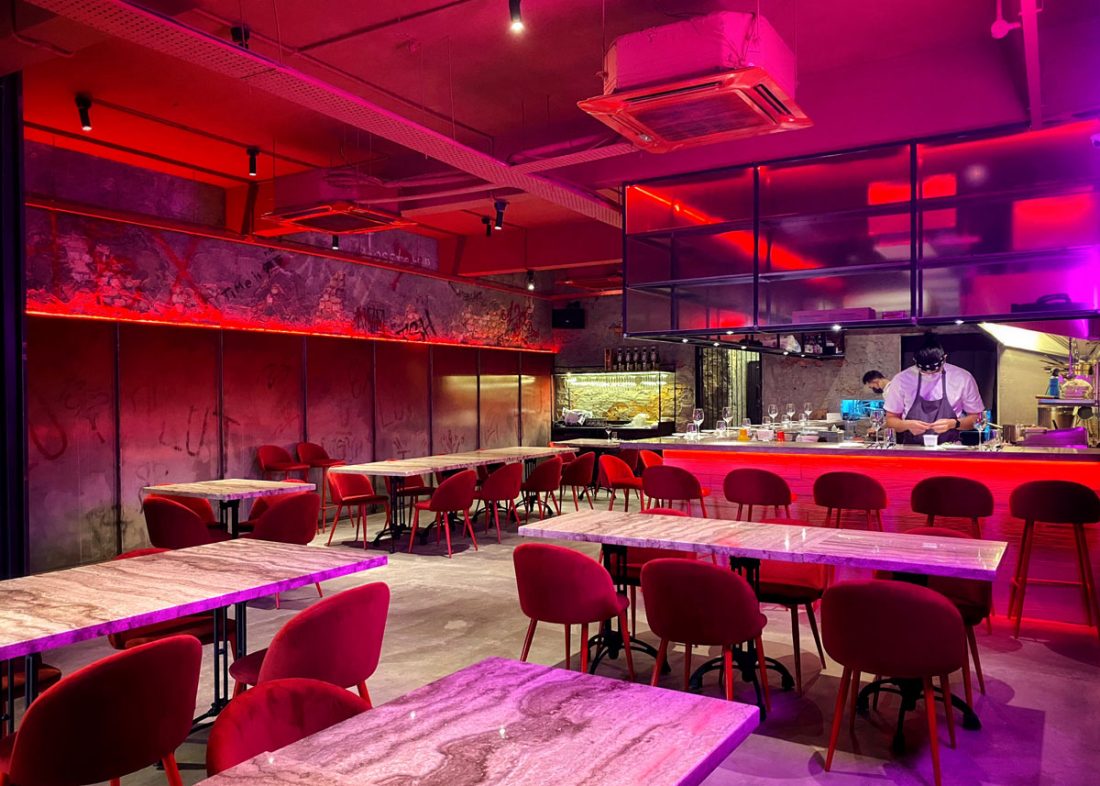 Springing up in the dining hotspot of Taman Tun Dr Ismail amidst a sea of celebrated restaurants and cafes, LUT Gastrobar fills a gap carved out by a new breed of diners who don't quite feel like an elaborate 9-course sit down experience, yet still desire thoughtfully made, high quality meals in a lively, casual setting.
A self-described sassy, vibrant gastrobar, LUT's non-conformist, somewhat rebellious approach to dining spills over to its edgy urban interior, which echoes a dark underground venue exclusive only to those in the know. 
It's nondescript entrance leads guests into a concrete covered waiting room, where a large circular sunken pit dominates from the centre of the floor. While the hole in the ground's intended purpose is to serve as a massive beverage ice cooler, these days it's found an alternate calling as the ultimate Instagram selfie spot, thanks to its photo-friendly ceiling mirror hanging directly above.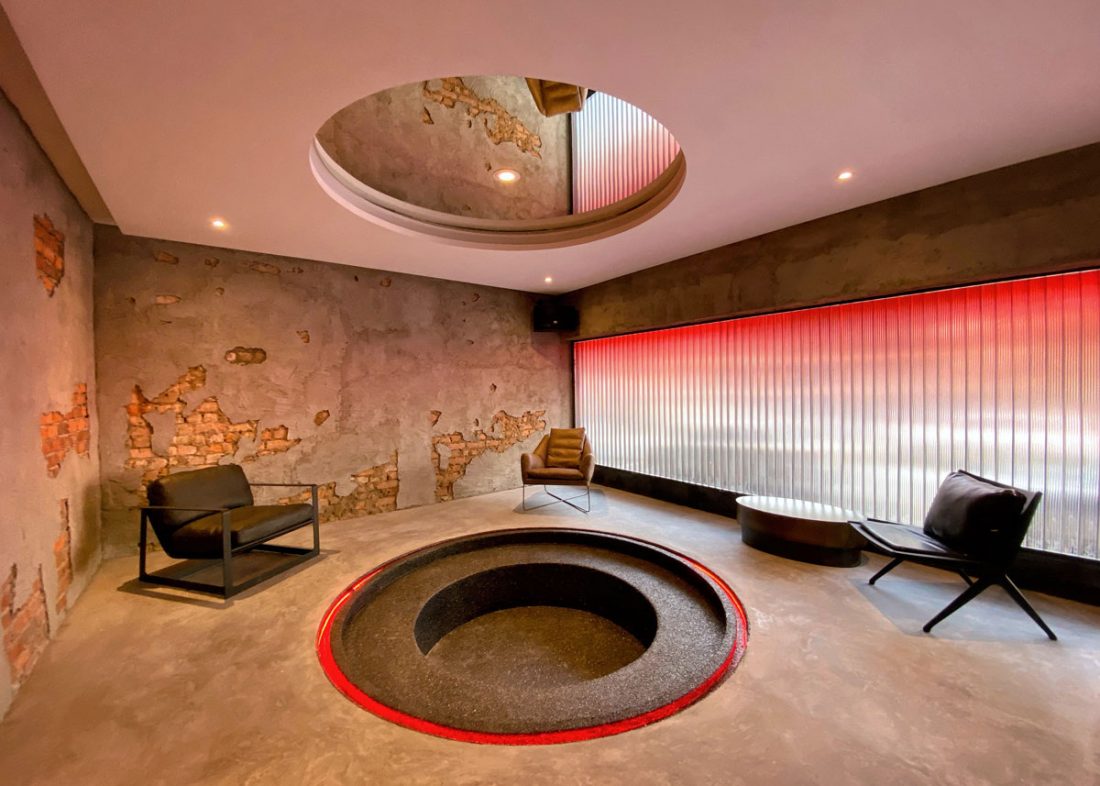 Inside the restaurant dining area, neon cyberpunk lighting diffuses through the room in shades of fuschia and red, bouncing off walls that alternate between partially exposed brick and layers of multicoloured graffiti. An open kitchen sits behind the bar, where diners may choose to have their meal should they want to be close to the gastronomic action or interact with the chefs.
Elevated late night bites
Open from 5.30 pm daily, LUT has become a favourite haunt for a quick bite after office hours or an informal catchup with friends. However, somewhere between 7 to 7.30pm, the restaurant's casually quiet atmosphere begins to transform. One by one, patrons start filing in, laughter and jovial conversations begin filling the air, and the faces and movements of chefs and kitchen staff swiftly take on laser-focused concentration.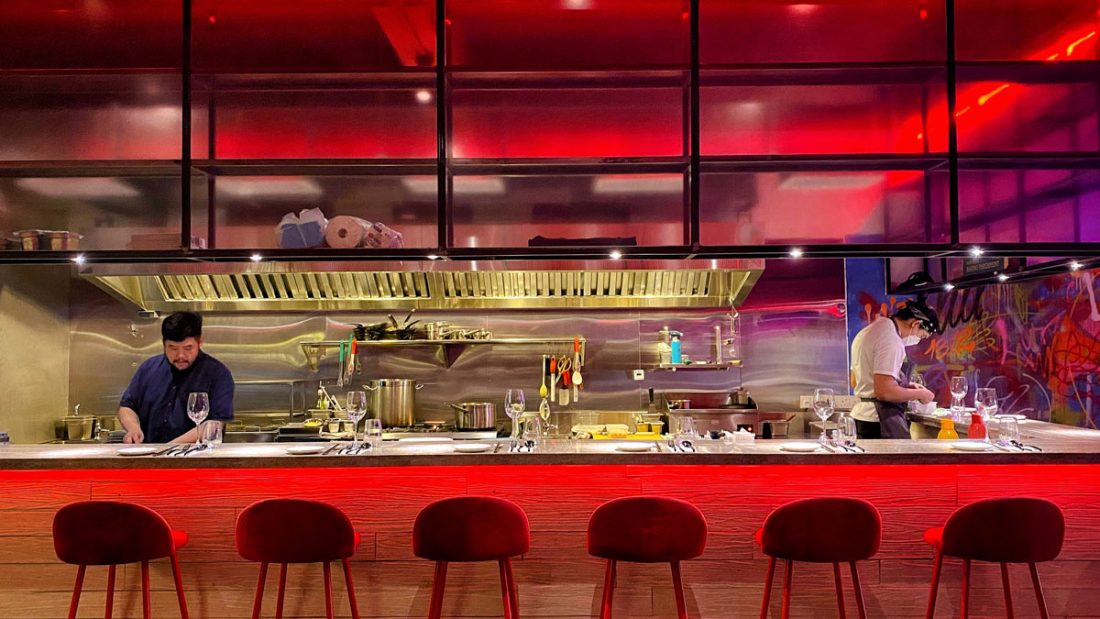 While LUT's menu can be described as an eclectic mix, drawing inspiration from European and Asian influences, Chef Beh Weng Chia prefers to dispense with labels, refusing to be boxed into any fixed categories. 
As a result, diners are presented with options like Chargrilled New Zealand Rack of Lamb, Spicy Mala Squid and Seafood Paella. Alternatively, they can also relieve themselves of any decision making duties by opting for the Leave it to the Chef set for a curated selection of the house's best sharing dishes.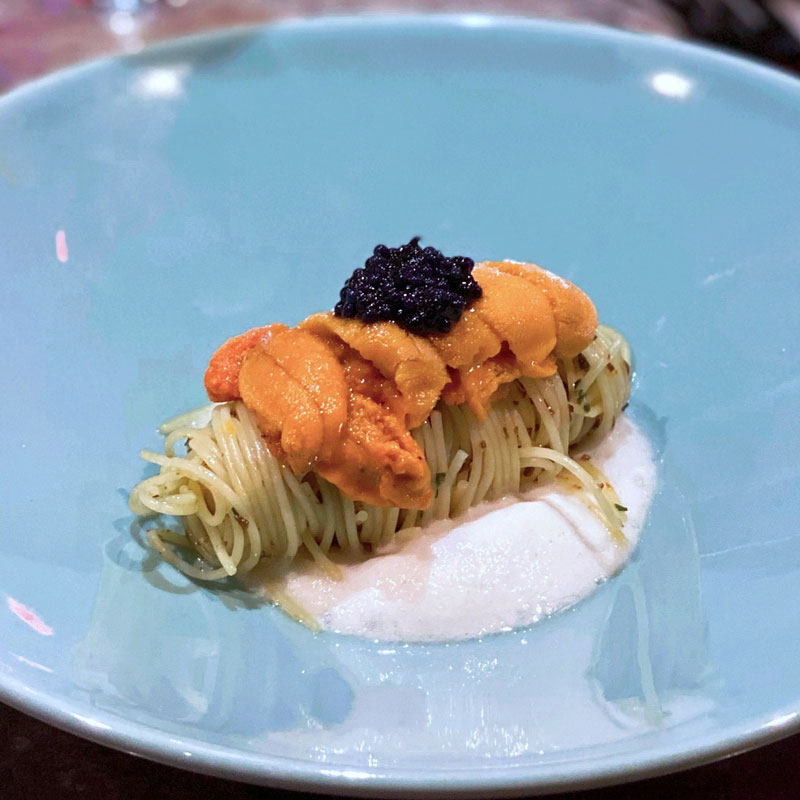 Uni Capellini with Dashi Espuma
Uni Capellini with Dashi Espuma
Any illusions that this joint serves your average bar snacks is immediately banished with the Uni Capellini with Dashi Espuma. A spool of delicate capellini strands rests on a cloud of dashi foam, forming a base for glistening pieces of uni topped with a scoop of caviar. It's almost a shame to ruin its graceful arrangement by digging in, but those regrets are quickly overshadowed by the richness of the sea urchin coating the pasta, along with briny caviar to kick off the meal in a decadent swirl of savoury flavours.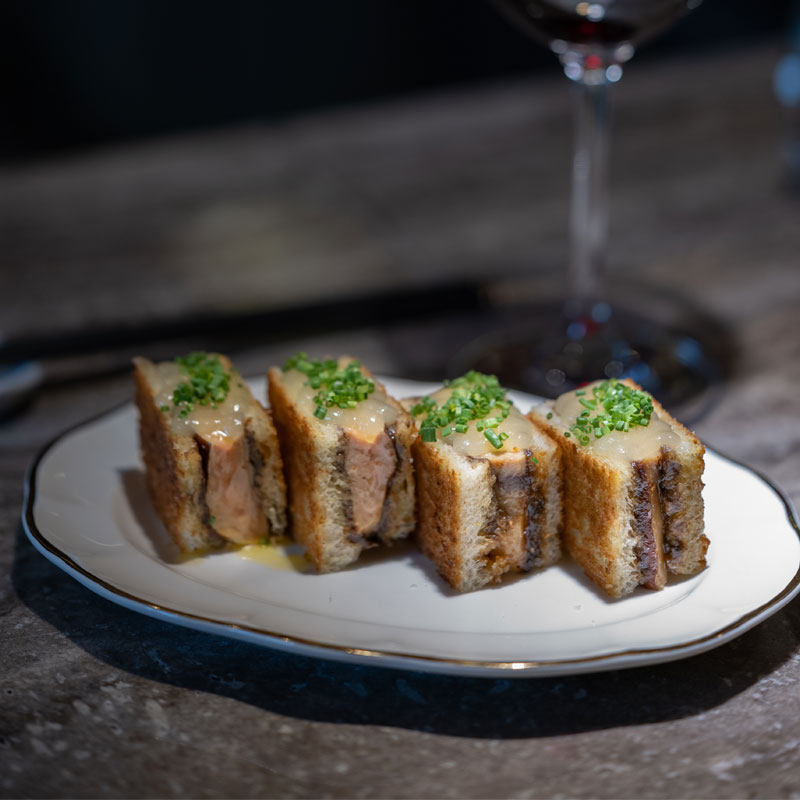 Signature Sandwich with Foie Gras
Signature Sandwich with Foie Gras
Having emerged as one of the house's most ordered dishes, the Signature Sandwich with Foie Gras embodies the restaurant's overall spirit of gourmet decadence packaged in a casual, unceremonious getup. Toasted squares of the goose liver sandwich arrive at the table, inviting the diner to forgo the formality and tuck into the fatty, rich treat with abandon, getting their hands dirty if necessary. Miso paste adds to the dimensions of umami in this dish, while the sweetness of the pear puree shines through its buttery richness.
Maine Lobster
Maine Lobster
The Maine Lobster, with its vibrant hues and varied textures, is one of those dishes that grabs hold of your attention when it is set down on the table and doesn't let go until you finally have a taste. Succulent, soft lobster flesh is adorned with a sprinkling of salty ikura, creating the ideal balance of seafood flavours, all while drenched in a light sauce enhanced with ginger, kaffir lime leaf, sake and butter.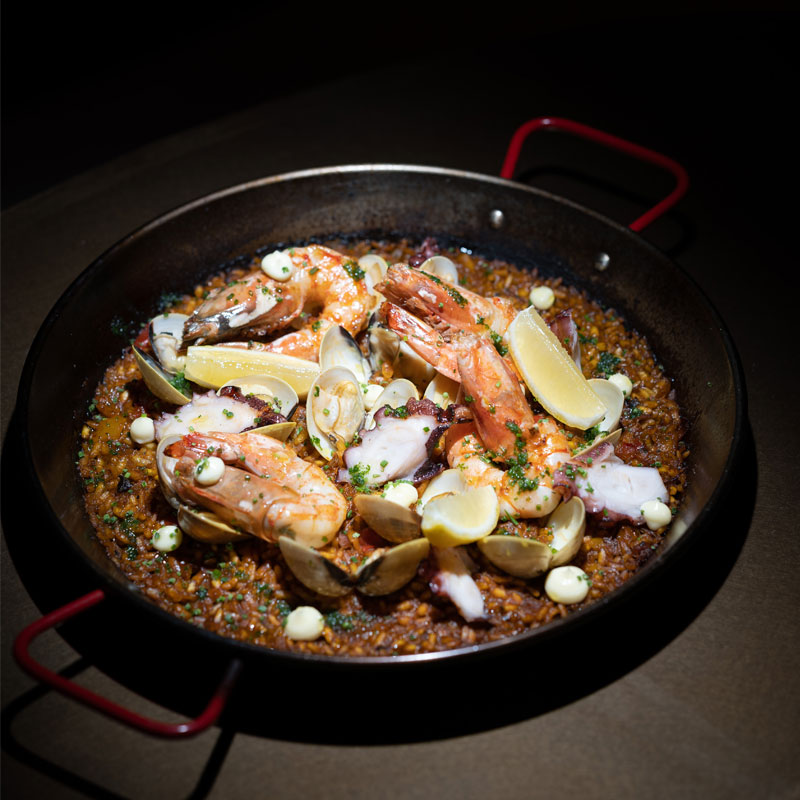 Seafood Paella
Seafood Paella
For those yet to have had their seafood quota fully filled, the Seafood Paella is sure to hit all the right notes with its generous helping of clams, prawns, squid and if desired, lobster. As with most paellas, the dish is best enjoyed shared as everyone around the table savours in unison the flavourful, slightly crispy rice served in a wide, piping hot pan. Little dabs of aioli and a dash of lemon subtly enhances the paella by further adding a sunny, Mediterranean feel to this hearty dish.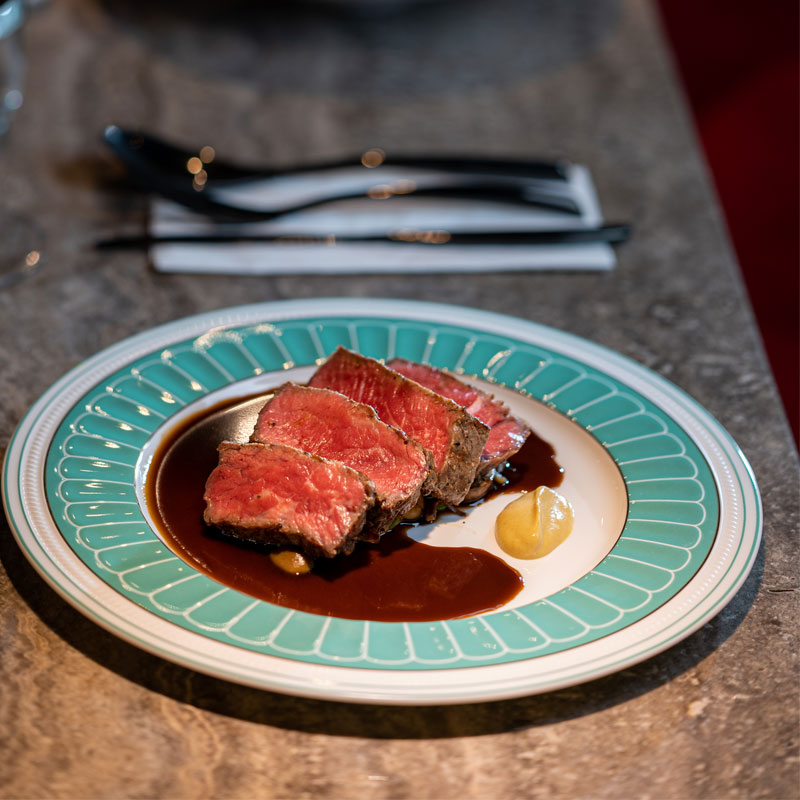 Chargrilled Ribeye Steak
Chargrilled Ribeye Steak
Those with carnivorous leanings will no doubt be drawn to the Chargrilled Ribeye Steak, served with a red wine reduction and a dollop of mustard. On its own, the meat is tender and flavourful as a steak should be, but is then fortified by the complex sweetness of the red wine reduction, while the slight spice of the mustard adds another layer of sensation to each bite. Steak lovers dining at LUT can choose between an Australian Angus Ribeye MB5, an Australian Angus Ribeye Cap MB5, or a Miyazaki A5 Sirloin.
(Swipe left for more)
For more information, find LUT Gastrobar on Instagram and Facebook
Email: lutfnb@gmail.com
Phone: 014-383 8093
Location: 30, Jalan Tun Mohd Fuad 2, Taman Tun Dr Ismail, 60000 Kuala Lumpur