Wedding bells are amidst us and agreeably, finding the perfect wedding dress is no easy feat. When dress shopping, you may come across an extensive range of dresses in various silhouettes. But what if you're looking for simpler ones without excessive lace or bling? Well, lucky for you, we've rounded out some of the prettiest minimalist wedding dresses on the market. Featuring gorgeous white satin and just the right amount of train, get ready to find the wedding dress of your dreams.
ALEX PERRY Eliza gown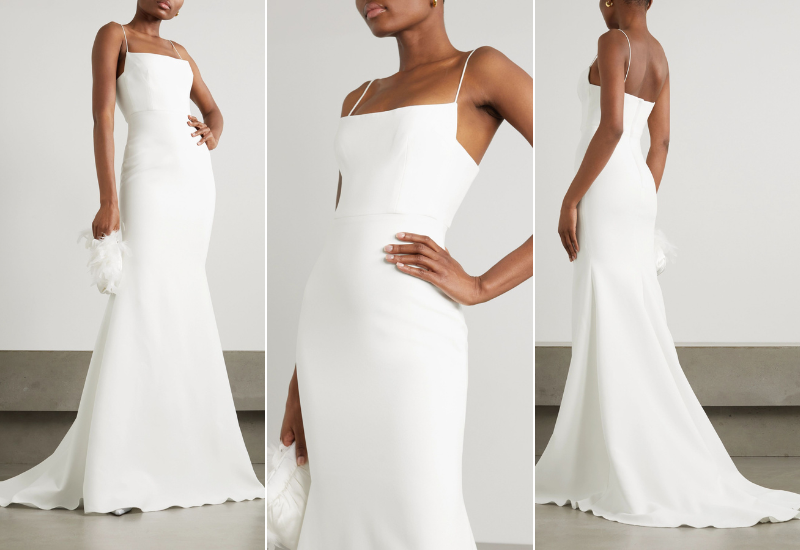 Make a bold statement with this simple silhouette from Alex Perry, sure to make you look gorgeous on your big day. The gown hugs perfectly to your body as it flares out above your knees to a flowing train that gracefully sweeps the floor. Made from satin crepe, the square neckline and thin straps complement your collarbones. Net-a-porter
RIME ARODAKY Queen gown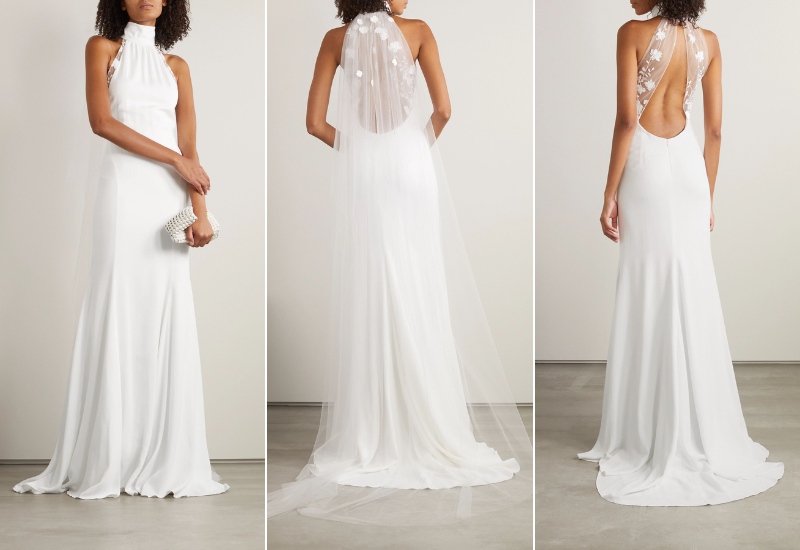 Halternecks accentuate our shoulders, and that's precisely what this gown by Rime Arodaky does. Alongside a flowy silhouette that snugs on just right, the gown also features a bare back with floral tulle details. Pair the gown with a lace veil for your walk down the aisle or omit the veil completely if you're wearing this for your evening dinner. Net-a-porter
GALVAN Hampshire gown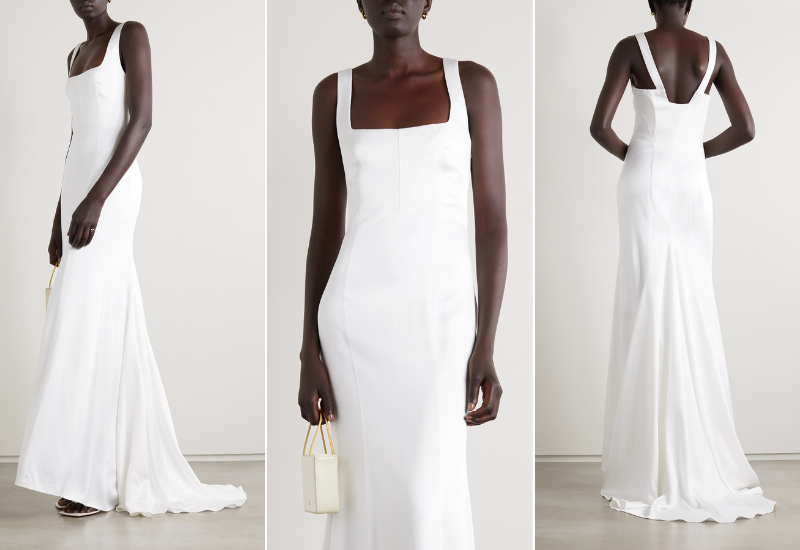 When you think of weddings, lace typically comes to mind. But if lace doesn't float your boat then this Hampshire gown by Galvan may just make you say 'yes' to the dress. Featuring wide straps and a square neckline, the gown flows with every step you take as the train follows closely behind. We picture this dress as the perfect one for a chapel wedding. Net-a-porter
RIME ARODAKY Kiss gown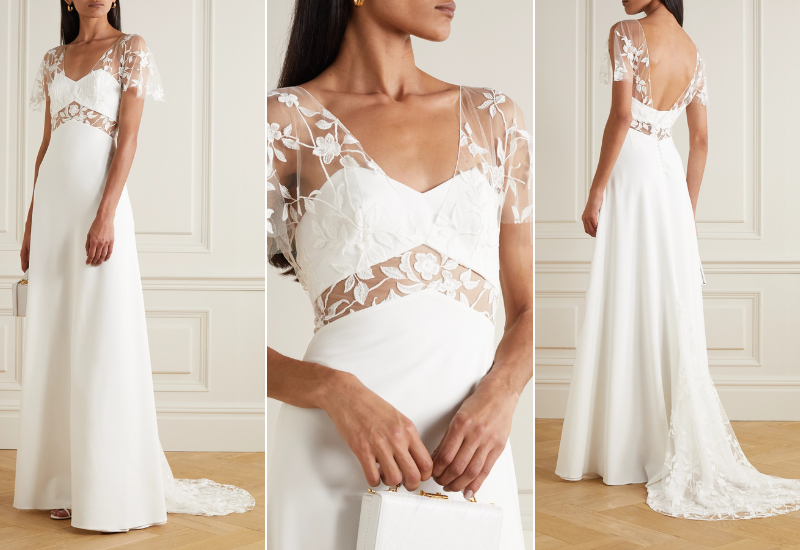 Stand out from the crowd with minimalist wedding dresses like these – highlighting embroidered tulle throughout the torso and train. The Kiss gown uses fluttering sleeves which add elegance to your shoulders alongside a mid-bareback with snug tulle. Made from smooth crepe, the dress extends to a train that features the same gorgeous embroidered tulle. Net-a-porter
EMILIA WICKSTEAD Diamond gown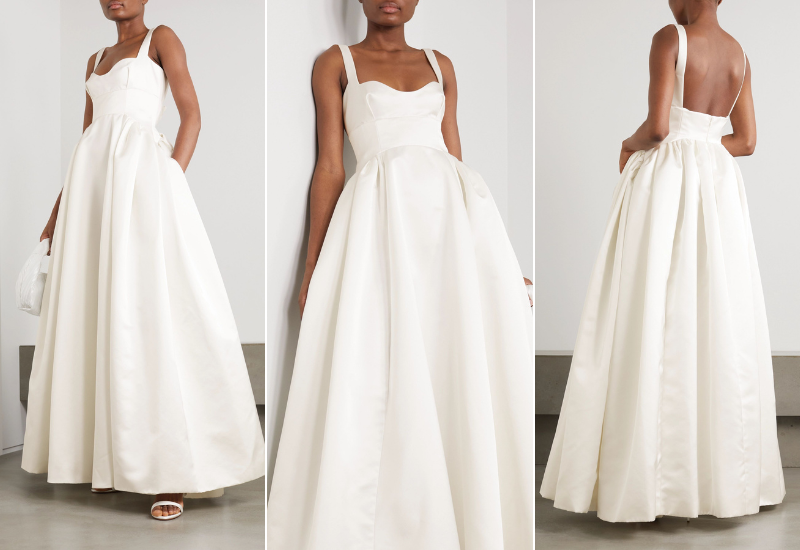 Inspired by the iconic Audrey Hepburn and Princess Grace Kelly, the diamond gown highlights a sweet neckline and a slightly puffy skirt. In contrast to the over-the-top princess gown you'd find at wedding dress shops, this is a simpler, minimalistic version of it. Plus, the gown features pockets as a safe spot to keep your phone while you socialise with your guests. Net-a-porter
RASARIO Bow dress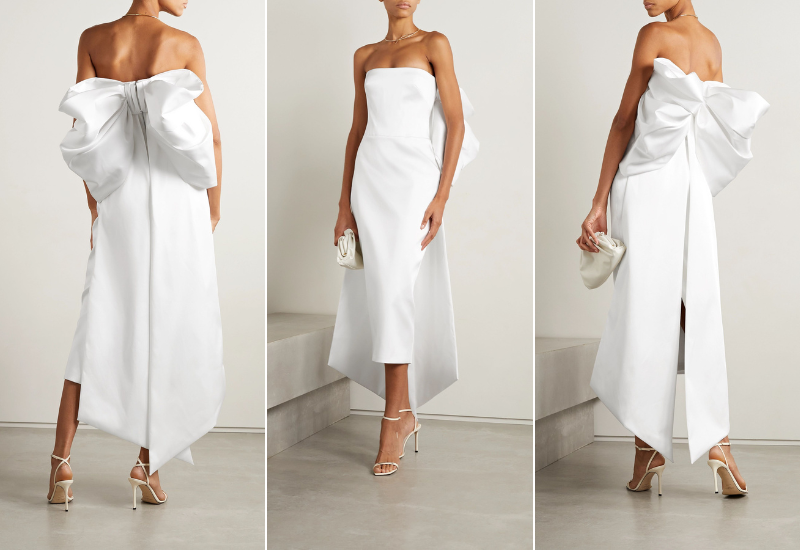 Short or midi minimalist wedding dresses are usually preferred for the registering of marriage and we can't think of any other suitable dress than this. The satin dress features a bodycon silhouette and a huge white bow on the back that flows down to the ankles. Pair the dress with a simple necklace, strappy heels, and a white bouquet to complete the look. Net-a-porter
RIME ARODAKY Enola gown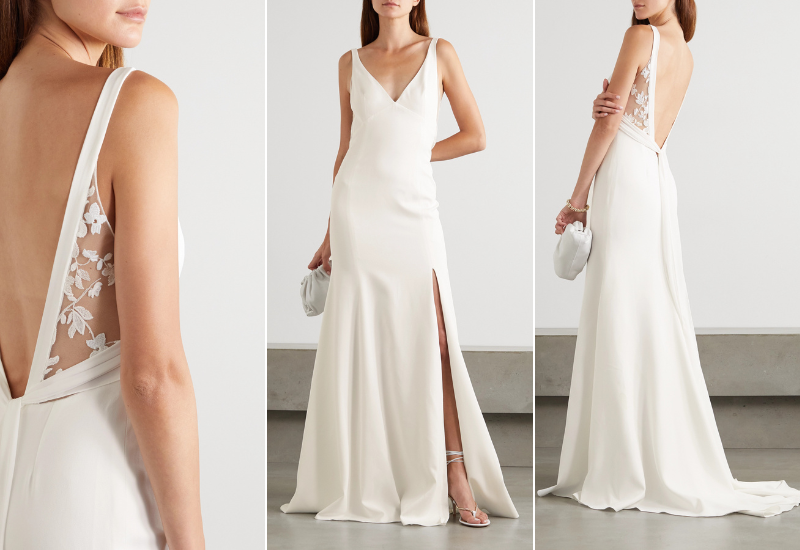 Hidden details are everything in this Enola gown, which features a minimalistic front and sheer tulle sides with floral embroidery. A mid-thigh slit adds personality to the dress while the flowy train brings an overall elegance. You can opt to have your hair up for this gown and allow it to shine in the limelight but any hairstyle would complement this piece beautifully. Net-a-porter
Photos by Net-a-porter.