We return to The Republik, this time to discover the new à la carte dishes at Playte.
There's nothing like the bright-eyed enthusiasm and fresh creativity that comes from the youth, which is evident at Playte Contemporary Dining.
Here, young and aspirational Malaysian chefs take humble local ingredients and transforms them into dishes that cross boundaries and breaks down culinary conventions. It's all about playing with the right ingredients and taking joy in your creativity,
Contemporary and fun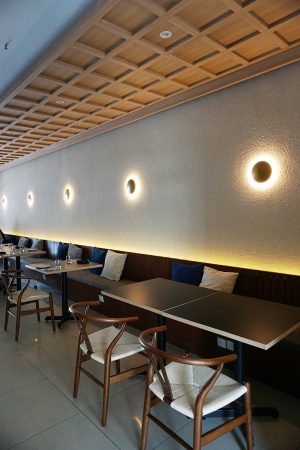 Nestled within The Republik in the peaceful Damansara Heights neighbourhood, Playte is the realised dream of friends Brendon Chen, Sharina Aidid, and Kae Huey. The man behind the pass is chef Brendon, who honed his skills at Mume in Taipei, Sitka in Plaza Batai, and KL's Nadodi.
The restaurant itself is a sophisticated establishment that's playful and contemporary. Modern, clean lines make the cosy space feel spacious. Massive windows at the end welcomes plenty of natural light, which brings a lively yet relaxed atmosphere during the day, and a refreshing vibe by night.
The seating arrangements are homey and unpretentious, and those seated by the wall are able to get peek into the opposite open kitchen – where counter seats are also available for those who wish to be in the frow of the action. It's there you can see Chef Brendon and his team carefully preparing each dish, with a calm focus that we often aspire to have.
A first taste
Our first visit to Playte introduces us to new dishes that Chef Brendon has been playing around with, with plans to bring back à la carte dishes that had to be put on hold during the MCO. Our menu comprises of what appears to be simple dishes at first glance, such as beef tartare and chicken with beurre blanc – but a closer look invites us to a tasting that's eager to surprise and fun to experience.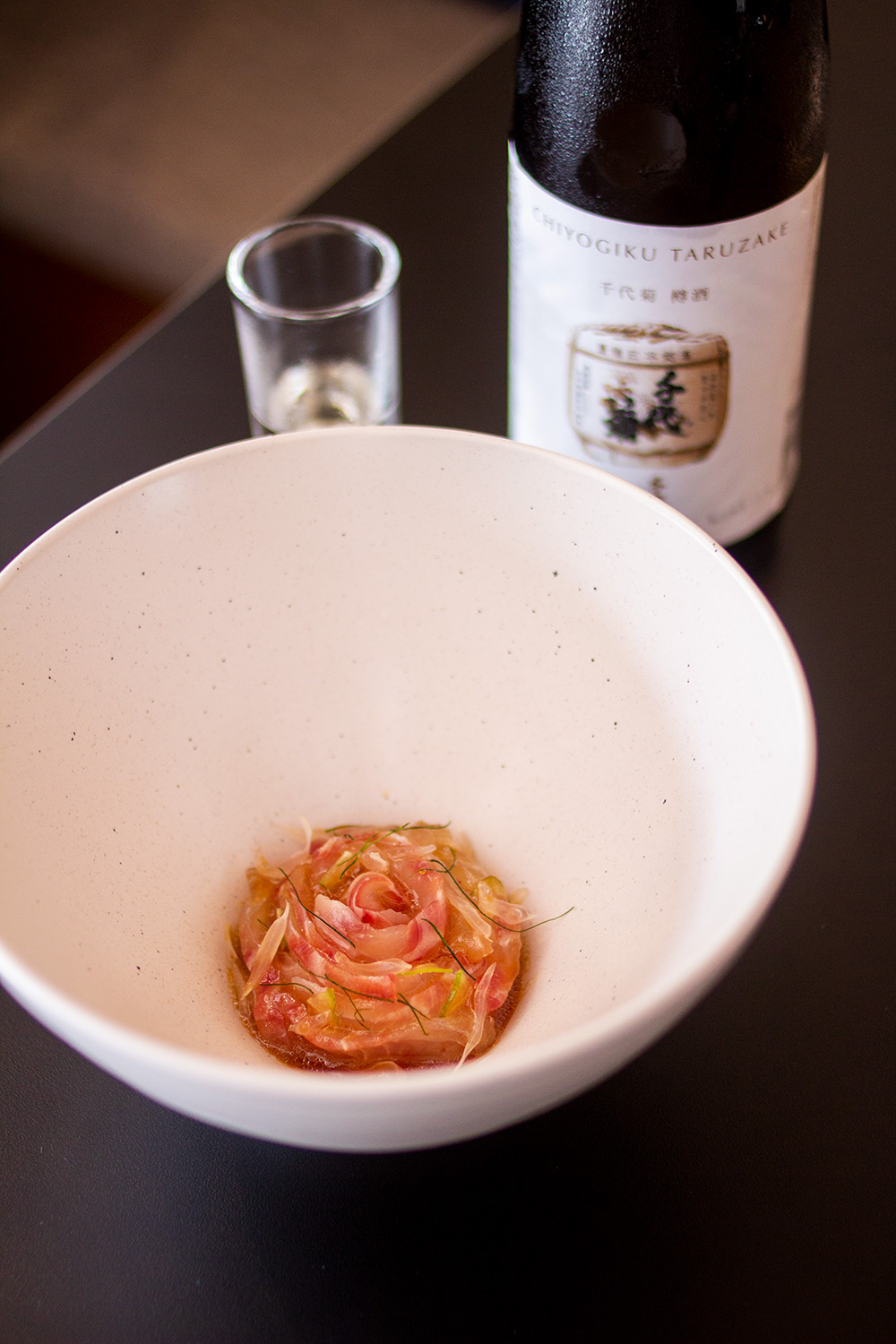 Delicate slices of fresh snapper sashimi are carefully arranged to form a rose, making this dish almost too pretty to eat. It blooms from a shallow bed of citrus jam, a tangy-sweet confection that complements the natural sweetness and minerality of the snapper. Enlivening the dish is the savoury yet lightweight kombu dressing, juicy pomelo pieces and tart kaffir lime zest.
A glass of Chiyogiku Taruzake, or cedar sake, accompanies the snapper. This particular sake has been aged for 18 months, lending a subtle oakiness that seamlessly threads through its natural creamy sweetness.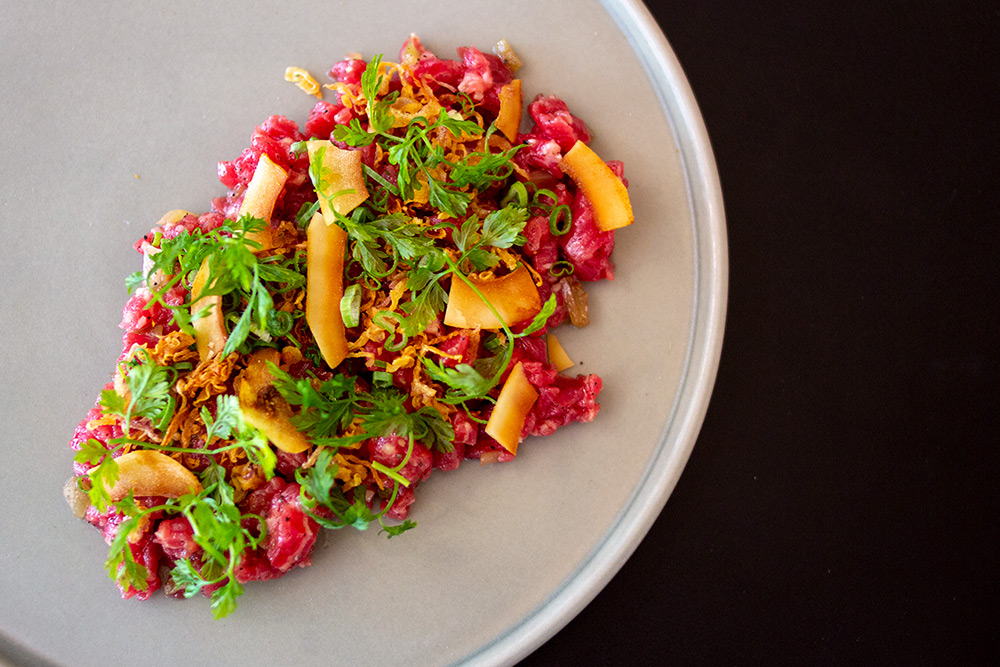 If you're not fond of the typically rich beef tartare, Playte serves up their own version by combining roughly-chopped flap steak with charcoal-smoked sunflower oil. The latter brings a faint and pleasant smokiness reminiscent of a well-cooked steak, without overwhelming the beef. Cured coconut shavings are peppered on top for crunch, while lending another profile of sweetness and umami.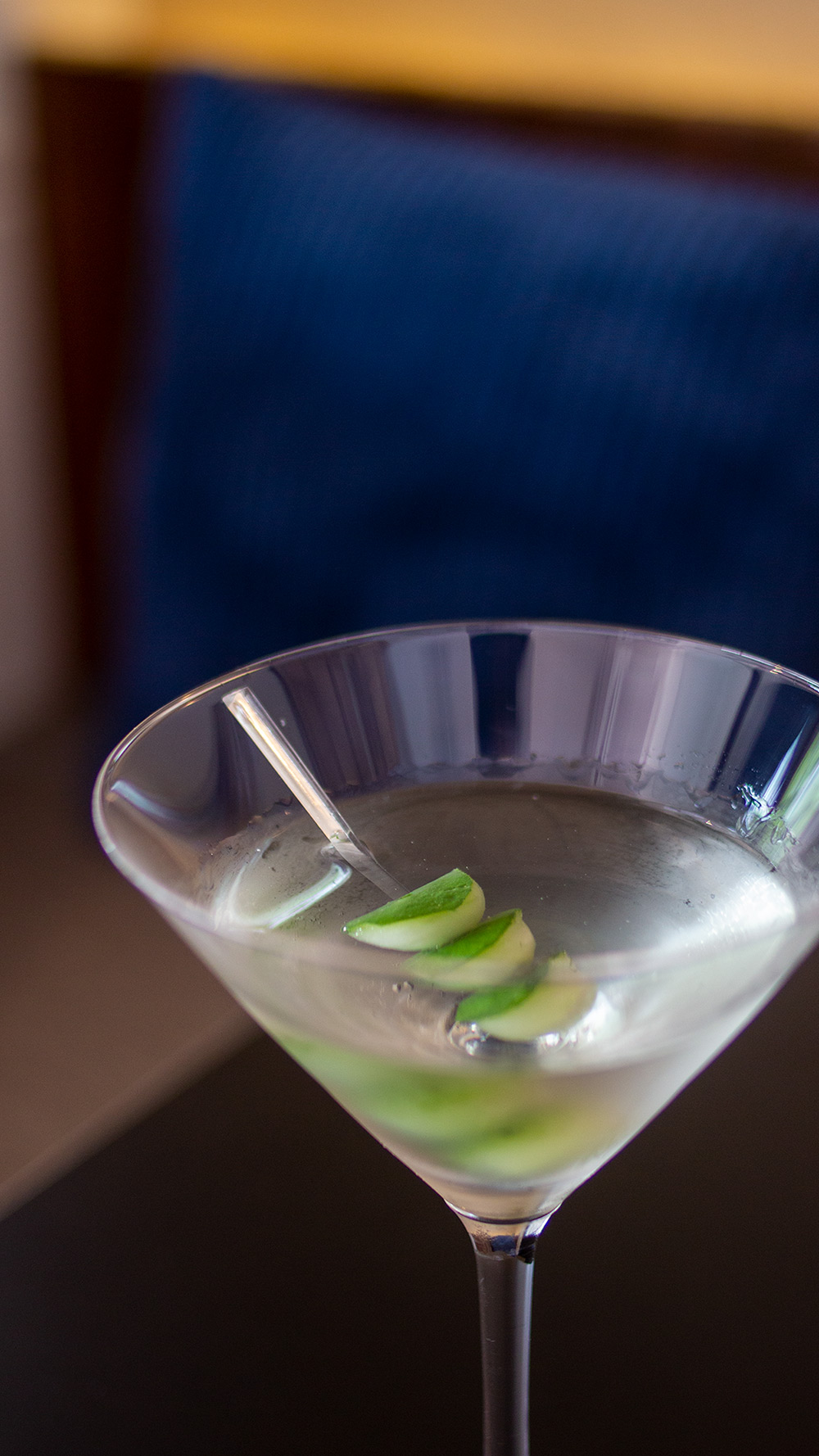 Gin & Sake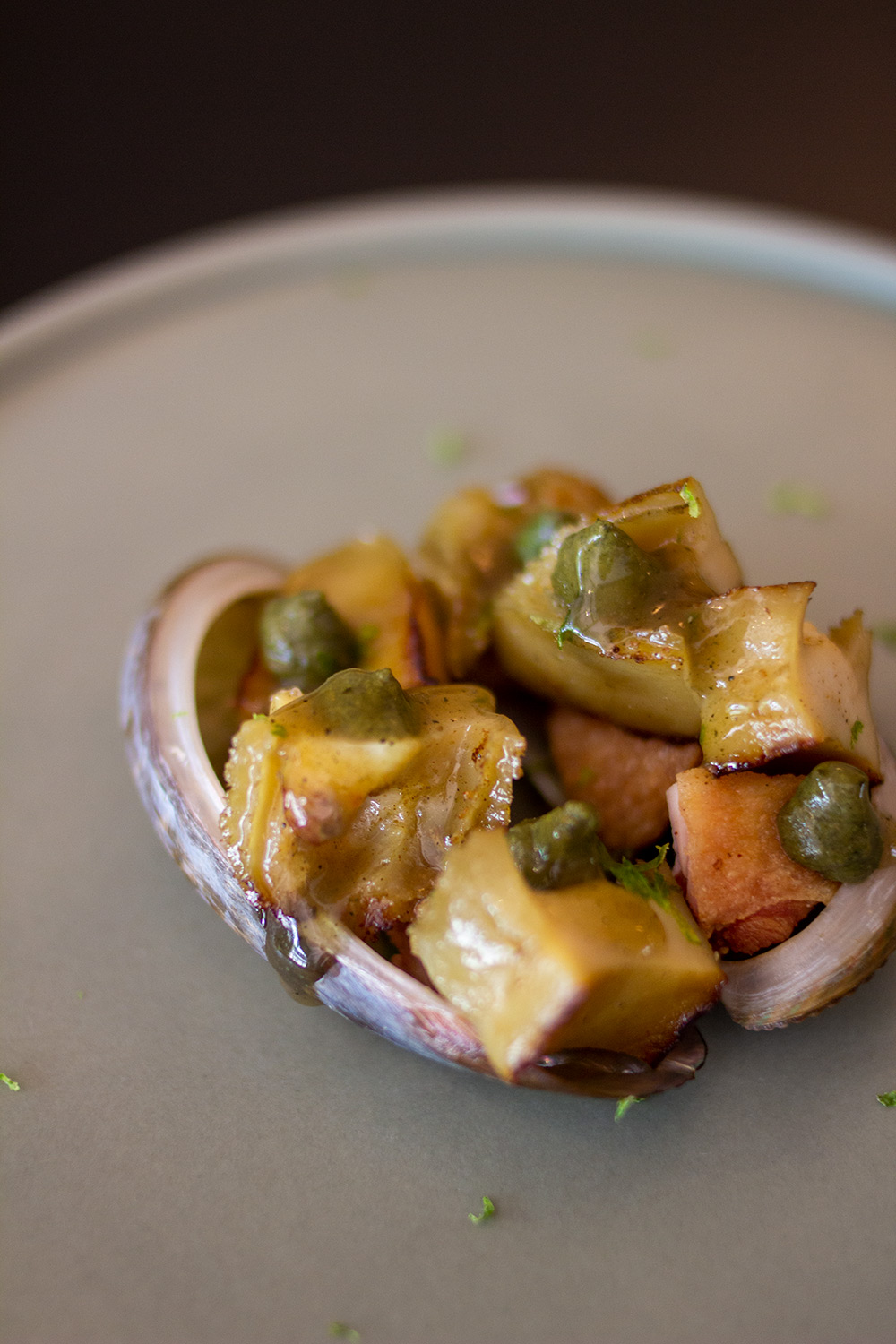 Twice-cooked abalone with confit chicken wing and abalone liver sauce
(Swipe left for more)
We're then presented with a Gin & Sake, which puts an Asian spin on the good ol' G&T. The woody notes of the aforementioned Chiyoguki Taruzake mingles with the floral and piquant Citadelle gin, while a trio of cucumber spheres serves as the finishing touch. This refreshing cocktail works beautifully as a palate cleanser, making way for our next dish.
The twice-cooked abalone leaves little room for exploration, with only the earthy abalone liver sauce flavouring the dish with its uni-like brininess. The accompanying confit chicken wing is perfect on its own, but easily overshadows the abalone.
Surprises along the way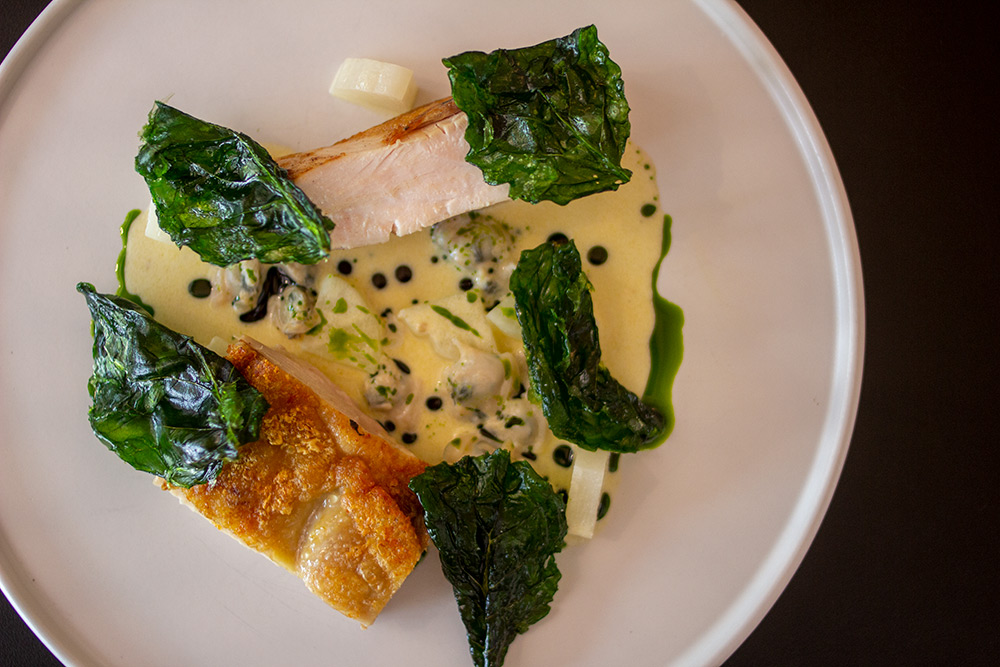 Chef Brendon surprises us with a combination that, at first, invites skepticism. A duo of pan-seared organic chicken – the breast and the thigh cuts – rest on shaoxing clam beurre blanc dotted with parsley oil. It's not rare to find chefs or customers veering away from using chicken breasts (unless in a whole chicken) due to its low-to-zero fat content and tendency to easily overcook – which often leads to dry and bland meat.
However, we are glad to report that this isn't the case for this dish. Both breast and thigh meat are perfectly cooked through with ample juiciness, clothed with a crisp and golden skin. It marries beautifully with the incredibly light beurre blanc, and the naturally sweet daikon and clams. The deep fried kailan makes for a wonderful movie snack, but is perhaps better off roasted or sautéed for this dish.
Classic combinations, but made better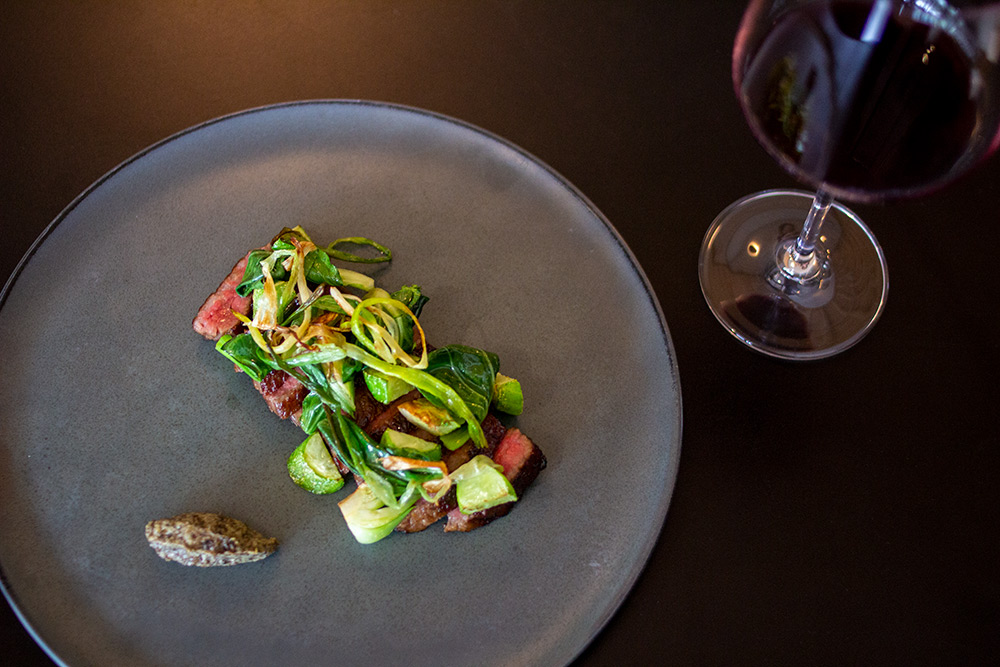 Before we move on to the wagyu tri-tip, operations executive Kae Huey brings over two French red wines for our sampling pleasure. One is a bold and ripe fruits-forward 2018 Maison Lavila Cabernet Sauvignon, and the other is an oaky and mildly peppery 2018 Gayda T'Air D'Oc Syrah.
Then comes the beef – an Austalian wagyu tri-tip that's topped with a medley of organic green vegetables, and served with a small dollop of nori sambal hijau. A fish sauce caramel glaze gives a faint sweetness and added umami to the already rich, velvety wagyu without overpowering the meat. Approach combining the nori sambal hijau and wagyu with caution – you only need the tiniest amount to experience an entire orchestra of flavours. The sambal itself is a glorious highlight that easily shines on its own. It's packed with acid, spice (but not sweltering heat), savouriness, and brightness which cuts through the fattiness of the steak, but runs the risk of truly taking over the natural flavours of the wagyu.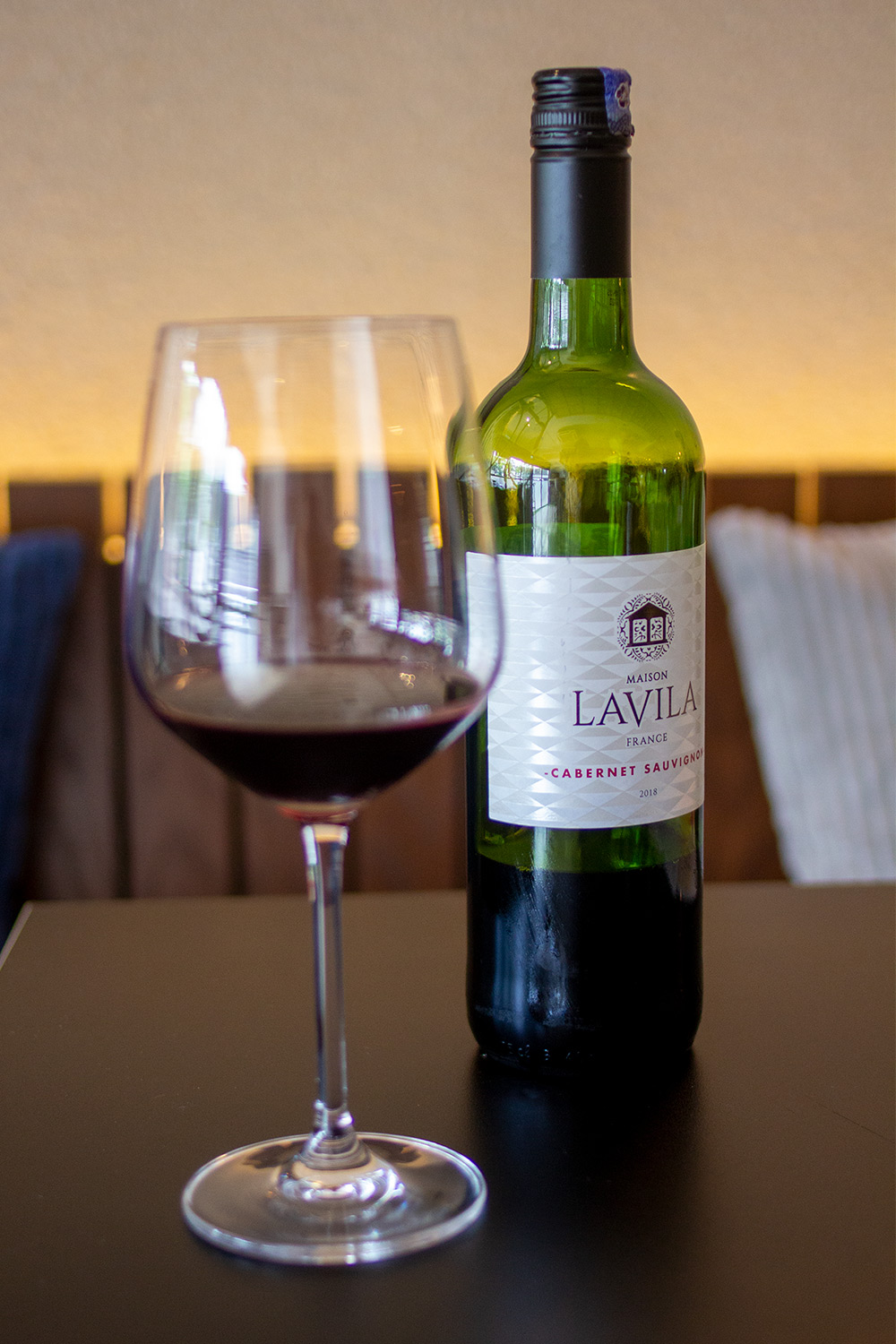 And what of the wine to go with the steak? The winner is hands-down the Cabernet Sauvignon, which is bursting with bold notes of juicy red fruits and blackberries and a touch of spice. It also carries a bright acidity that can easily balance and stand side-by-side with such a flavourful dish.
A luscious guava sorbet brings our meal at Playte to an end. It sits on top of a smoked yoghurt cloud, with a tamarind granita base. The dessert is finished with beetroot meringue chips and a generous sprinkling of beetroot powder. While spooning each individual component of the dish may be too staggering on the palate, the trick to really enjoying this treat is to pick up a bit of everything.
While young, Playte and its team certainly brings fun to the local culinary scene. It sheds the highbrow mentality often associated with fine cuisine, and instead injects fresh creativity into everything that they create. Playte is definitely a player to watch – from here, it can only soar to new and delicious heights.
Playte is located at G.01, Republik, Jalan Medan Setia, Bukit Damansara, 50490 Kuala Lumpur. For more info, visit their website here or follow them on Instagram. Make your reservations via this link.
Photography by Anson Siau