CEO Prof. Dr. Teo Soo Hwang clears the air on five common beliefs surrounding breast cancer.
The Pink Ribbon has become the international symbol for breast cancer awareness and support. Throughout October, we see the universal movement being used to spread awareness through research and education.
Although Pink October has gone on for as long as we can remember, we continue to learn something new about the disease every year.
In Malaysia, organisations such as Cancer Research Malaysia determine how we can best minimise the burden of breast cancer – both as a nation and as individuals. Set up in Sime Darby Medical Centre, the team of 40 researchers is led by founding CEO Prof. Dr. Teo Soo Hwang.
"Cancer Research Malaysia has the best lab to combine biology and chemistry to identify anti-cancer compounds from Malaysia's treasure trove of natural products. All this research, we hope, will one day lead to better ways to cure cancer," she stated in her CEO message.
Thanks to the efforts of this research team, the Malaysian medical fraternity can better use genetic knowledge to target screening and prevention, discover more effective cures with minimised side effects, and improve cancer literacy through increased screening and treatment.
In this video, Prof. Dr. Teo joins us to set the record straight on just how genes, bras, and mammograms affect your risk of developing breast cancer.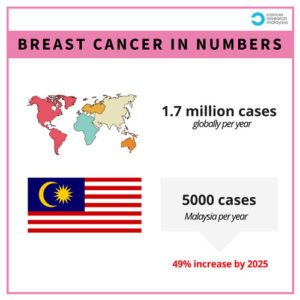 Approximately 5,000 women are diagnosed with the disease in Malaysia every year. To show our support, we wear pink, participate in walks and runs, and send out hashtagged messages of hope – but we can also make a difference by arming ourselves and others with accurate, timely knowledge.
While information out there may overwhelm, we can still do our part as responsible media consumers. This Pink October, sift through the myths and spread the truths.
Get the latest from Cancer Research Malaysia on the official site.
Videography: Gan Yew Chin