Three distinct sets of jewellery in the Piaget Golden Oasis collection shines the splendor of intense desert hues, from dusk till dawn.
Nature has once again rained its inspiration on the master jewellers of Piaget. Emboldened by 140 years of haute savoir-faire, the maison transformed the mysterious curves and vivid colours of the desert into into its latest collection: Piaget Golden Oasis.
Capturing the splendor of intense hues from dusk till dawn, this jewellery collection presents precious metals and pure gems that have been carefully crafted into necklaces, earrings, rings, and watches.
Here's your first look at the three distinct sets within Piaget Golden Oasis.
Play of Lights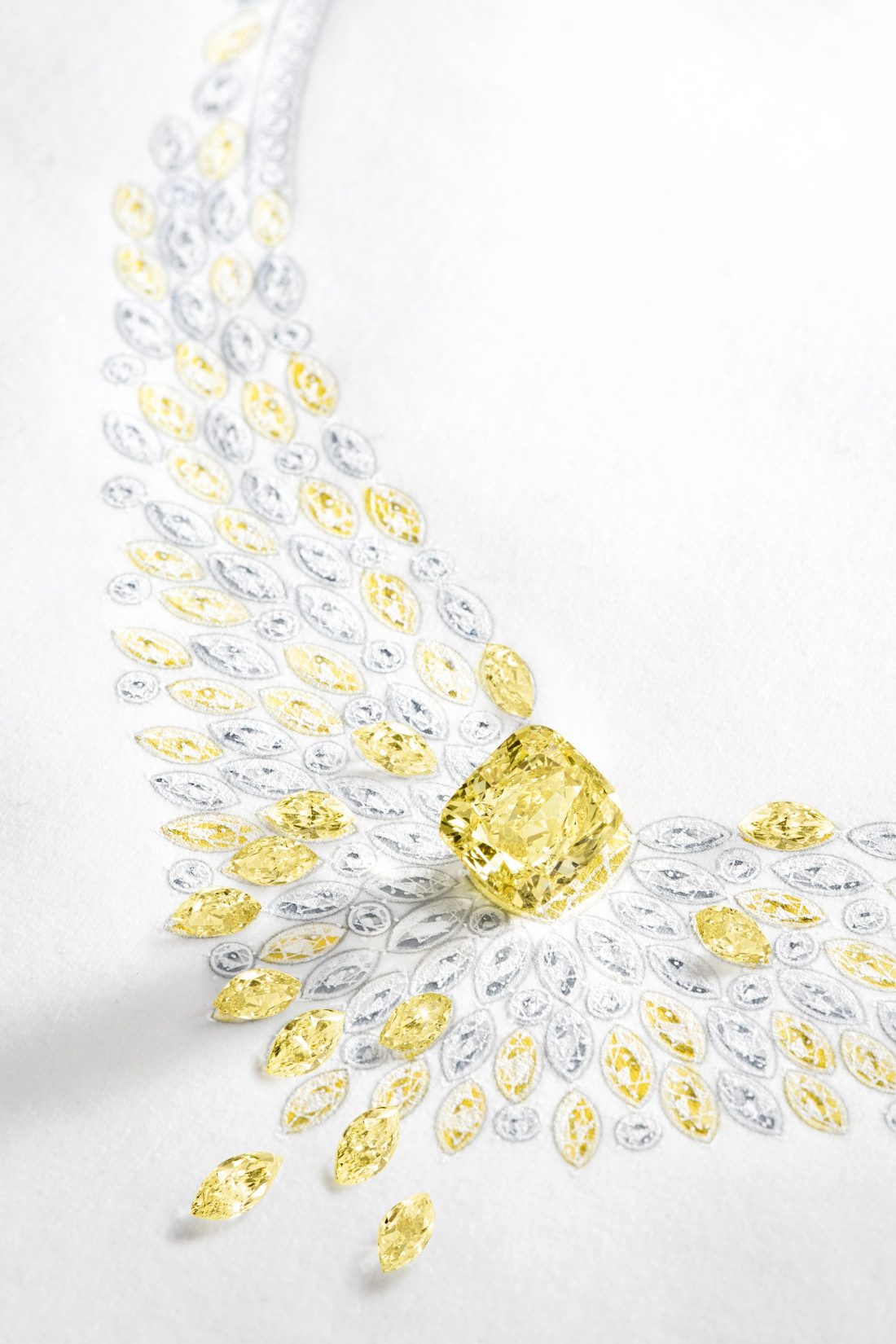 It took one year to source all the stones in the Golden Hour set, and an additional 450 hours of jewellery work to craft the individual pieces.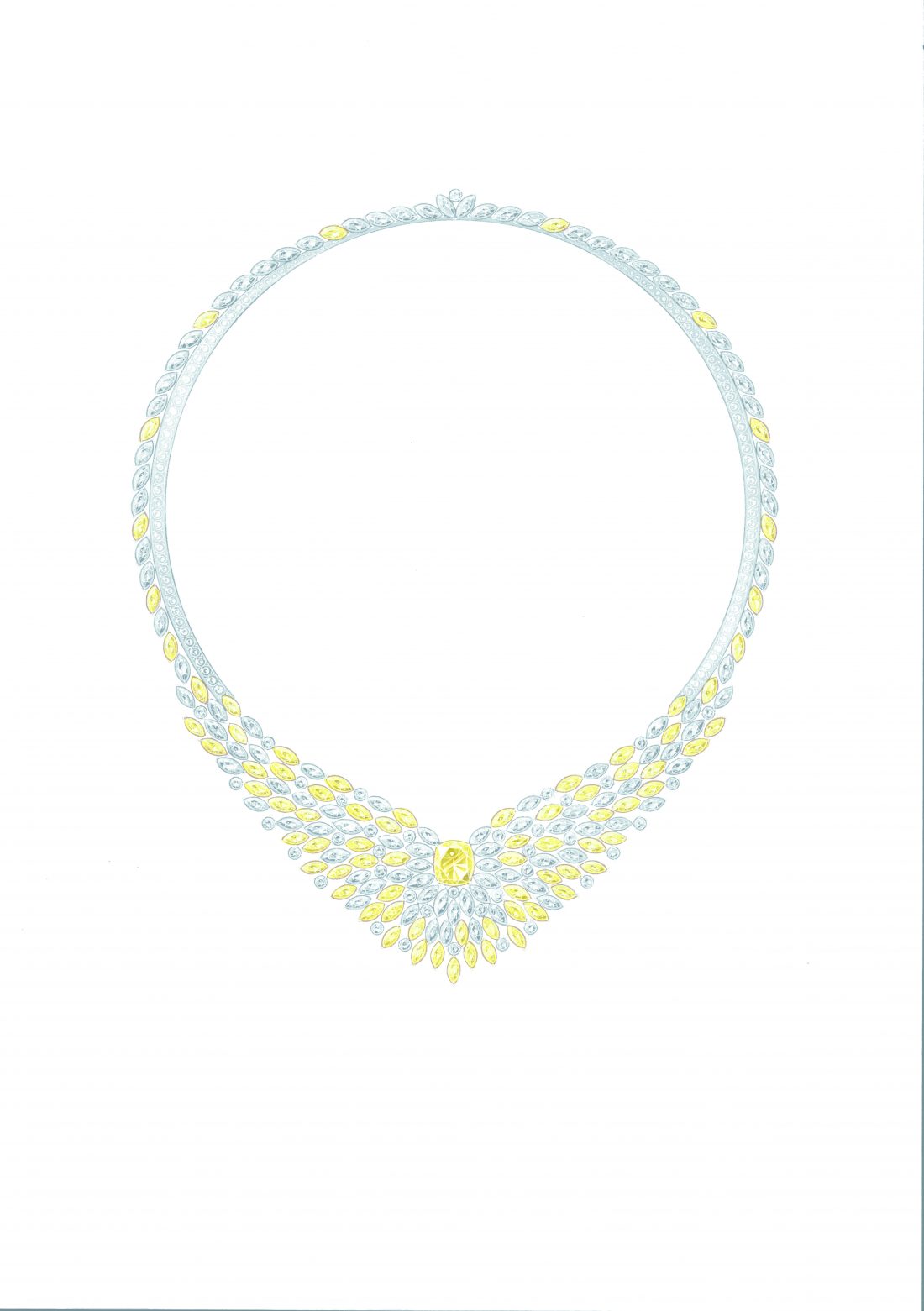 The Golden Hour necklace features a 6.63-carat fancy vivid, yellow diamond. Only 1 in 10,000 yellow diamonds are graded as fancy vivid, making this piece a rare sight to behold.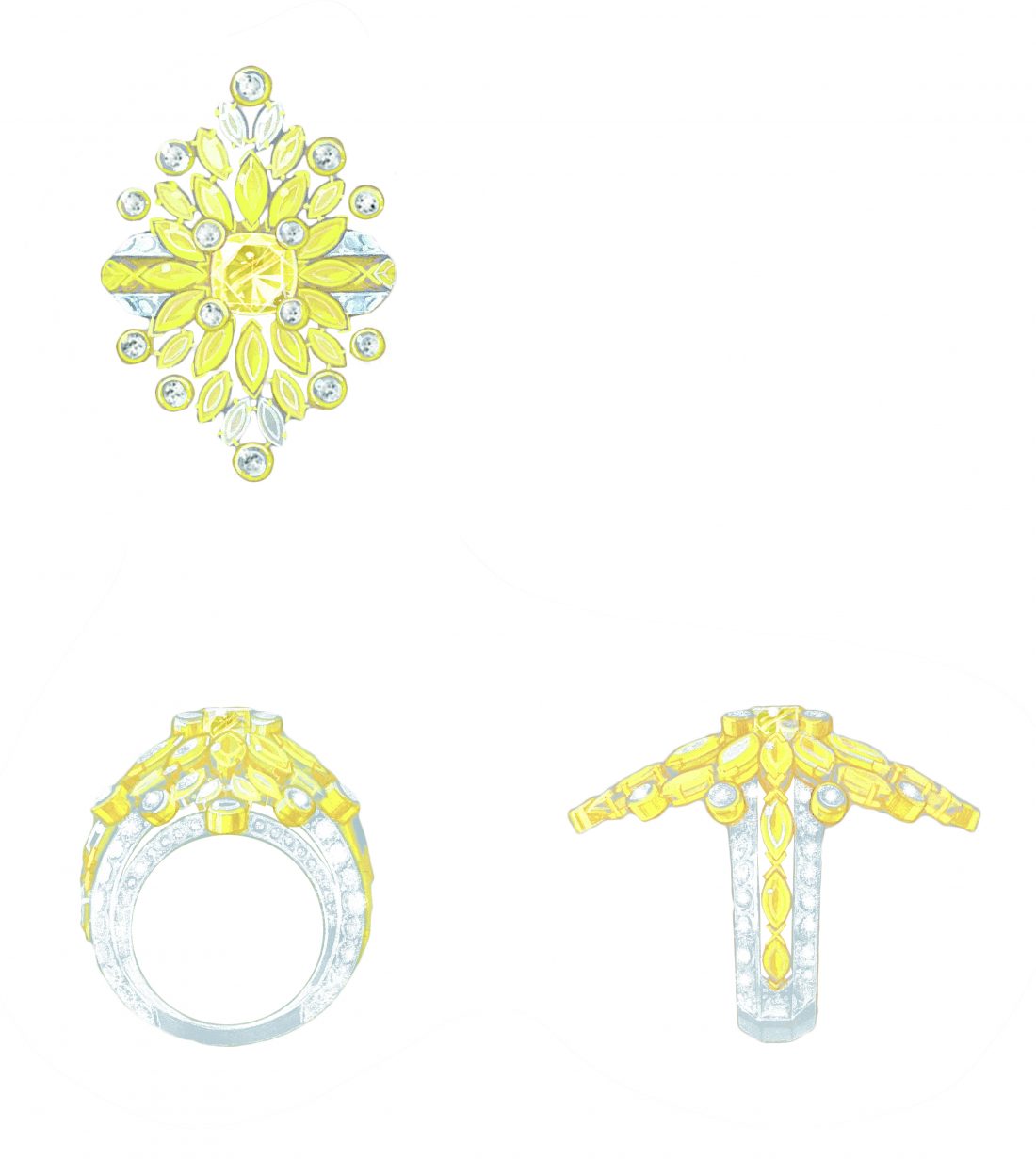 Golden Hour ring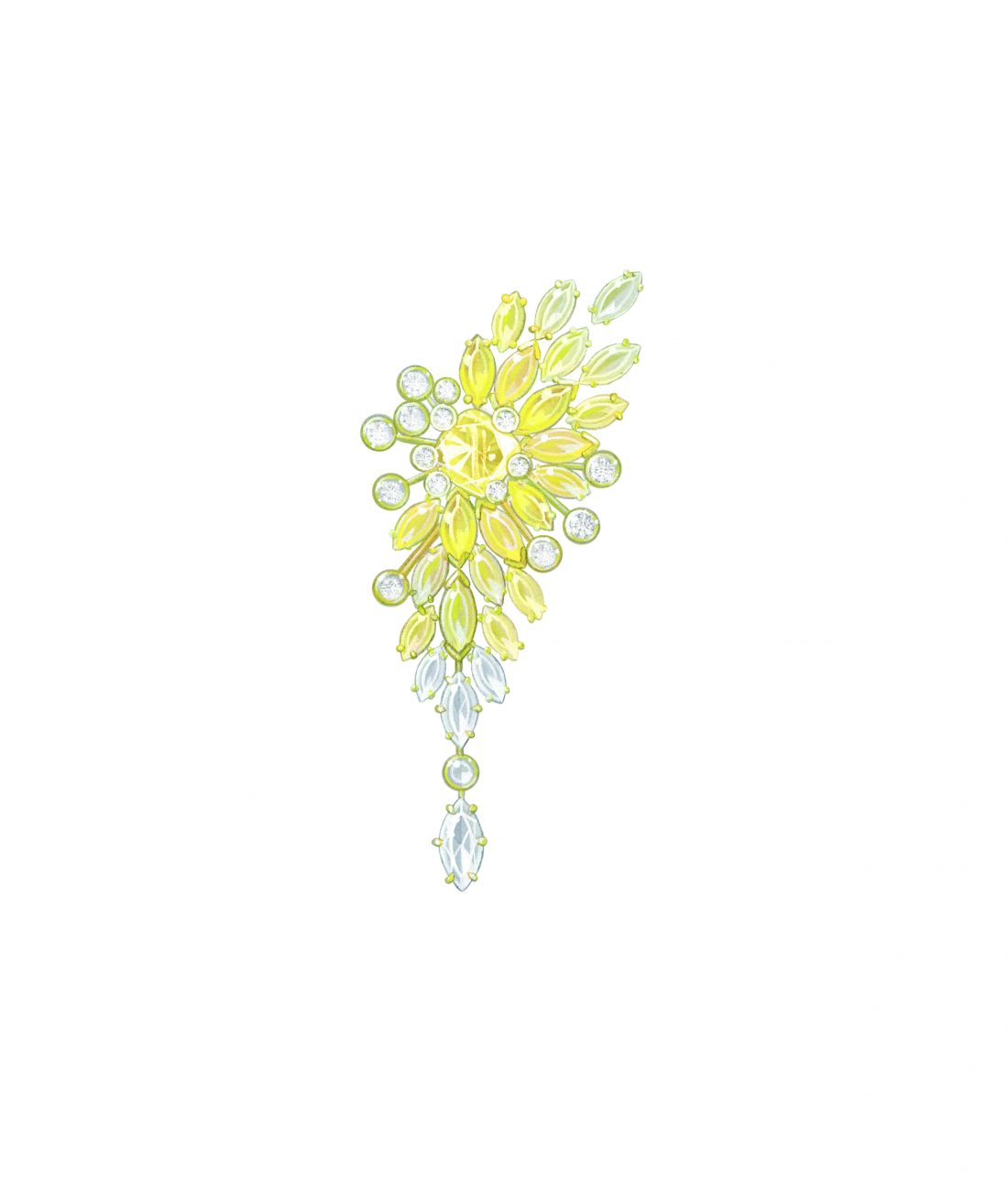 Golden Hour earring
Golden Hour watch
(swipe left)
The inspiration for this set stretches above the rolling desert. From the sun flares of the day to twinkling night sky, The Golden Hour pieces celebrate celestial radiance with splashes of golden yellow, capturing the warmth of light above the sandy landscape.
The Golden Hour necklace is a dazzling ode to the sun, delicately balancing the warmth and purity of yellow and pure white diamonds. The white stones provide light, while the yellow stones represent its reflecting glow in the sand. Together, these gems are shaped to recreate the perfect light of golden hour in the desert skyline.
Creating the Golden Hour set was a deliberate labour of excellence. Piaget's gemologist took one year to gather all the gemstones. Then, an additional 450 hours went into crafting them into the bright and intricate collection.
Desert Minerals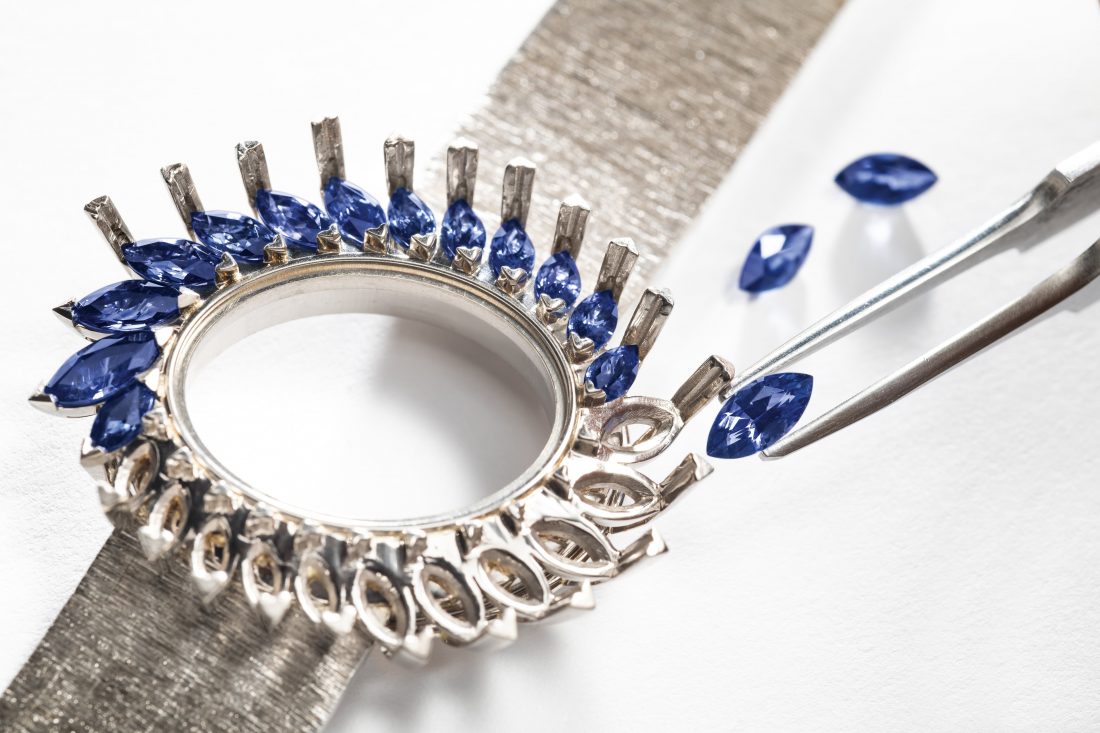 The Blue Waterfall watch features an intricate marquise-cut sapphire bezel around a white mother-of-pearl dial. Its Palace Decor bracelet evokes the jagged rocks of a refreshing lagoon.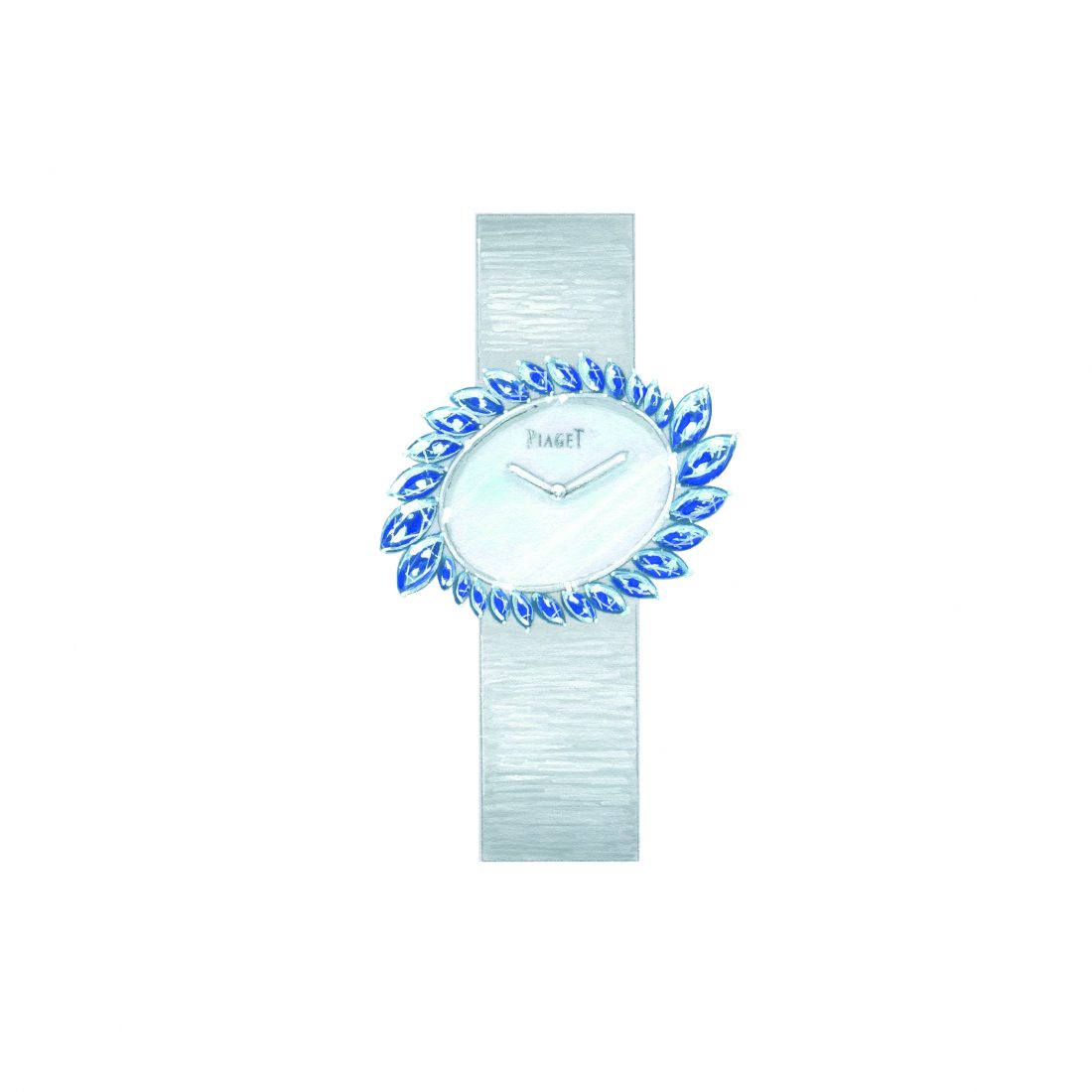 Blue Waterfall watch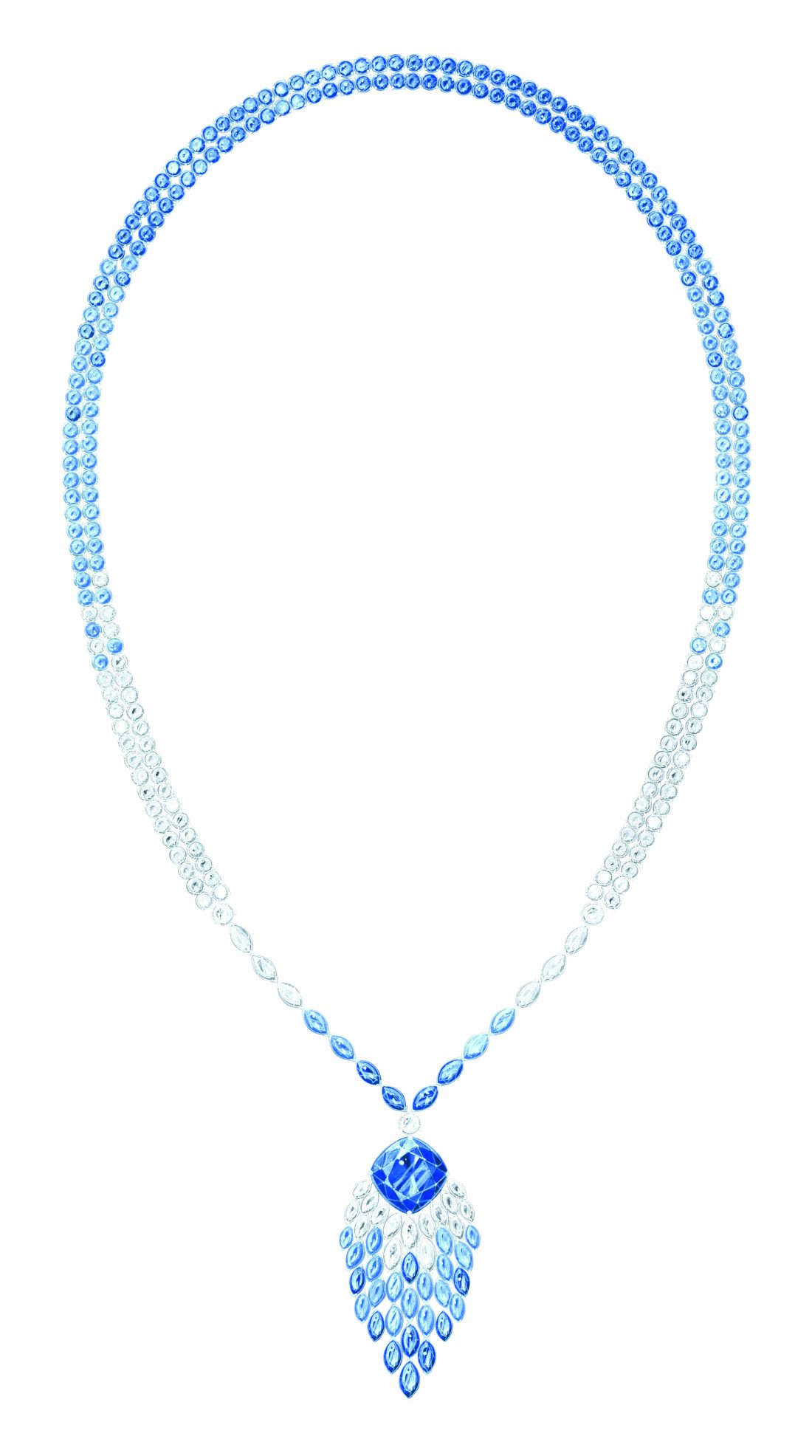 14.61-carat, cushion-cut blue sapphire personifies this Blue Waterfall transformable necklace. Its cascading tones drip brilliantly down the neck, like flowing water.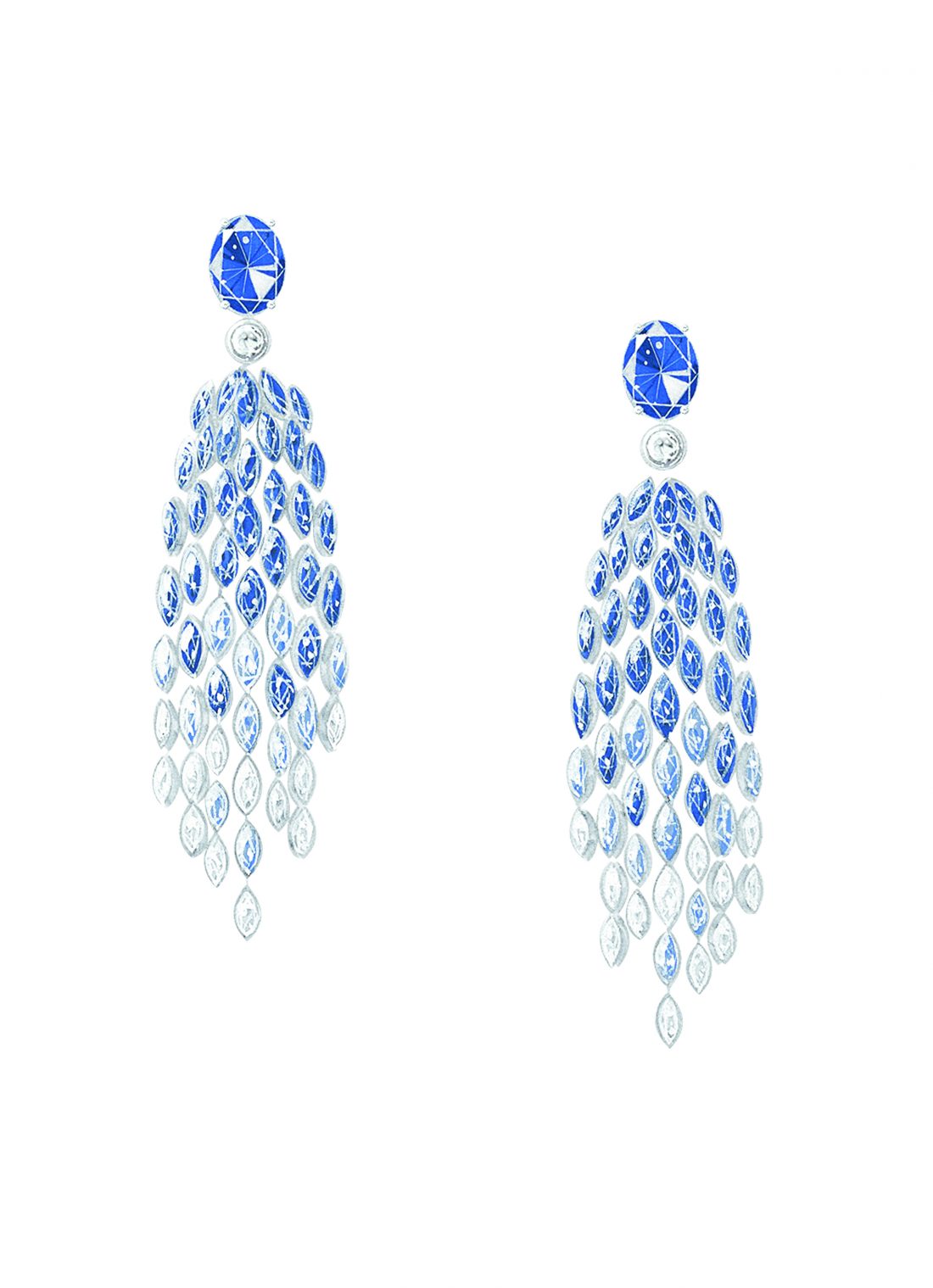 Blue Waterfall pending earrings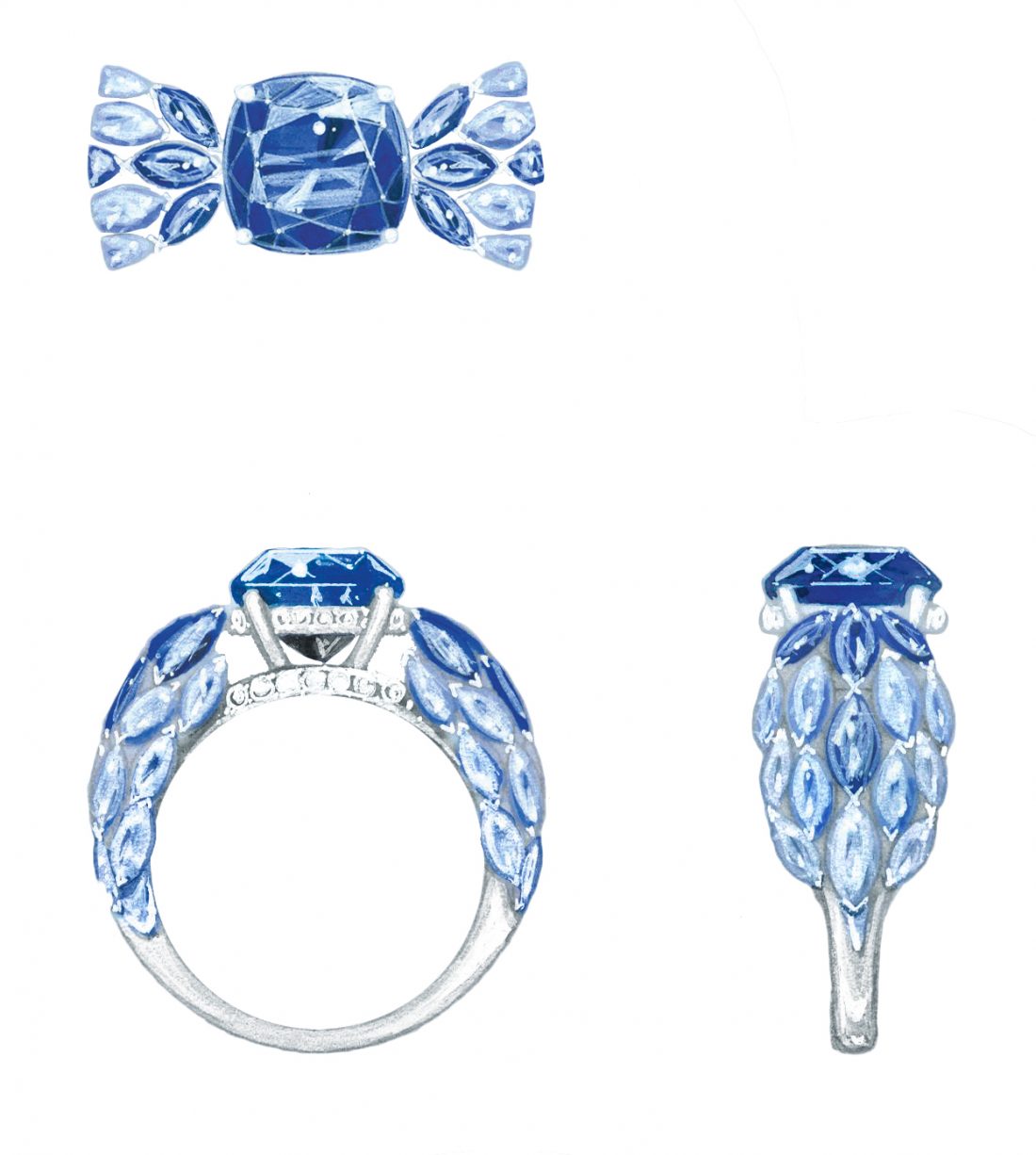 Blue Waterfall ring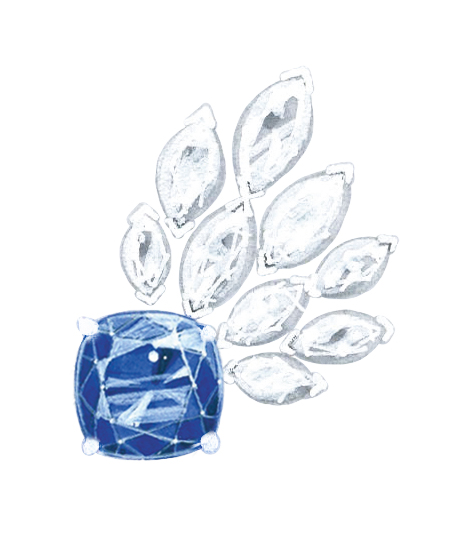 Blue Waterfall earrings
(swipe left)
Intense colours, breath-taking design and intricate shapes tell the story of raw life. In the Desert Minerals set, precious diamonds, rubies, and sapphires typifying the earth's bounty of natural beauty.
One need only glance at the Blue Waterfall watch to be mesmerised by its this story of wonder. Its unique marquise-cut sapphire setting, while stylishly highlighting the mother-of-pearl dial, barely scratches the surface of this watch's design wonder. We're talking about the Palace Decor engraving technique employed on the bracelet. This is one of Piaget's signature techniques, and it is precise. It involves manually engraving precious metals and tightly-assembled links to evoke the jagged rocks of a waterfall lagoon.
Another star in the collection is the Blue Waterfall white gold necklace, which sports a blue sapphire described as the most beautiful Madagascar sapphire Piaget's gemologist has ever seen.
Native Bloom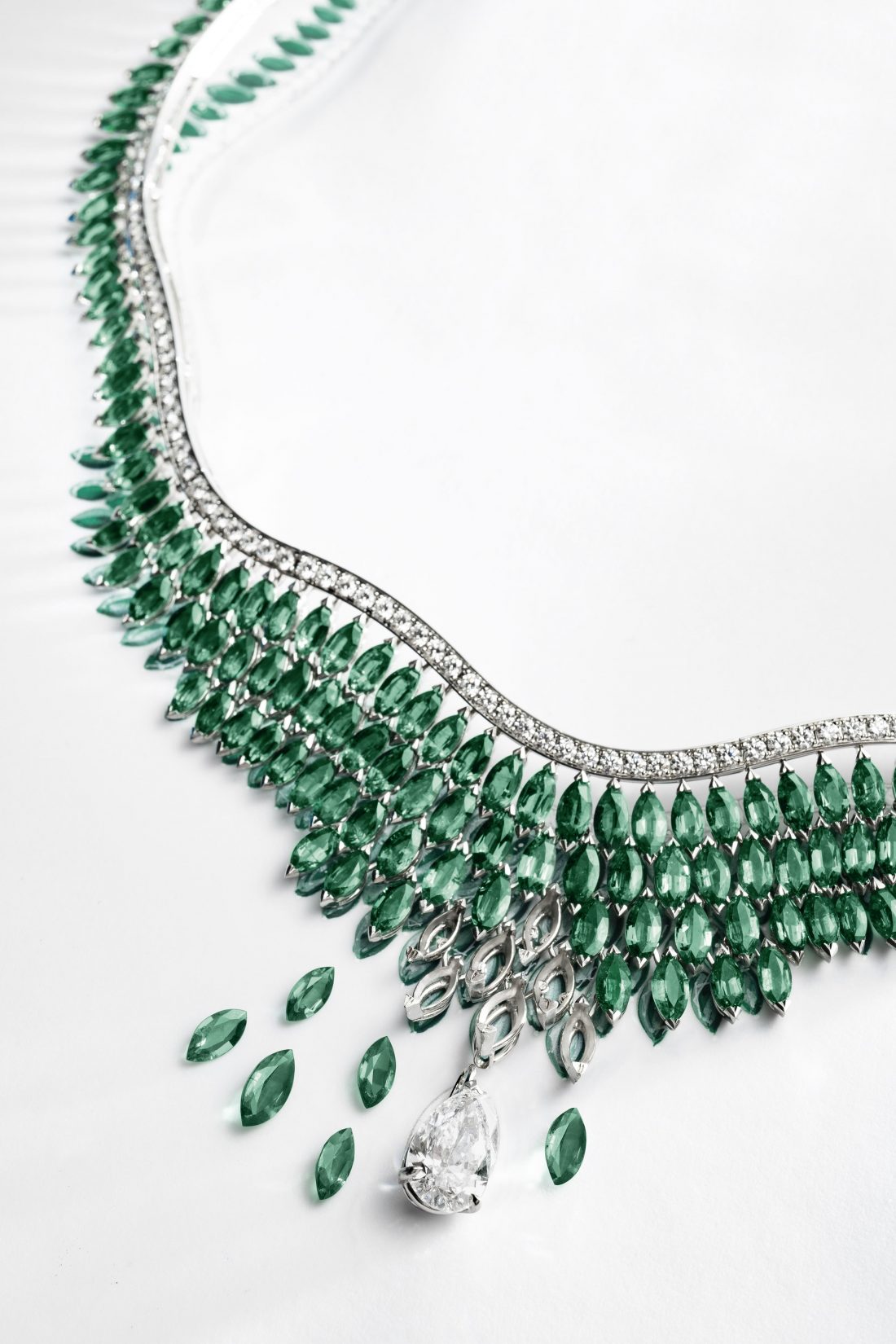 Luxuriant Oasis transformable necklace
Luxuriant Oasis transformable necklace
Transform the Luxuriant Oasis necklace by removing the pear-shaped, 3.01-carat diamond and wearing it on its own, on a white gold chain.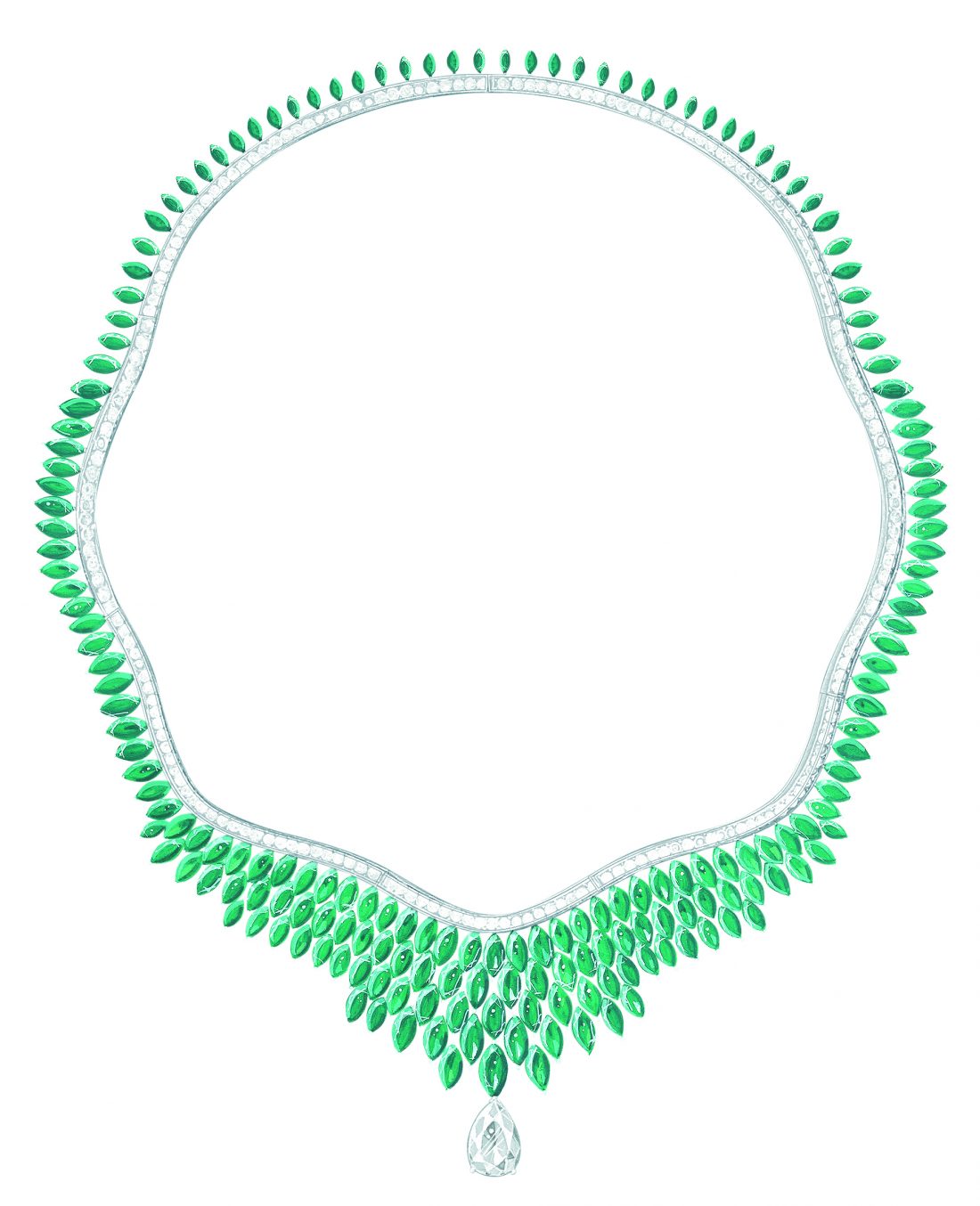 Luxuriant Oasis transformable necklace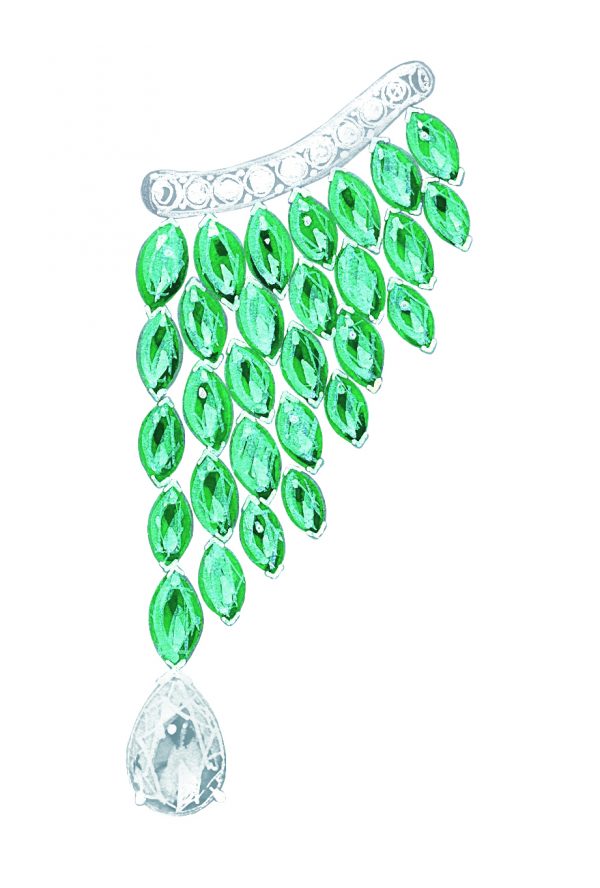 Luxuriant Oasis earrings
(swipe left)
Luscious and luxurious, the Native Bloom set is an ode to wild desert flowers and plants that thrive in spite of adversity. Native Bloom's Luxuriant Oasis pieces are stunning jewels of the desert. Each luscious, marquise-cut emerald is an intense green colour, and they took one year to source.
Interestingly, Piaget delves into the significance of the marquise-cut on this set. First off, this cut is inspired by a woman's smile. Secondly, the tapering cone-shaped tips of this 55-facet diamond must be cut from a large stone. These are among points of dedication that have birthed yet another masterpiece collection from Piaget, standing testament to the combined power of natural inspiration and intricate craftsmanship.
Piaget Golden Oasis is now available in a Piaget store near you. Drop by the Pavilion boutique or follow Piaget on Facebook and Instagram for updates.
Images: Chafyst for Piaget 
Featured image: Olivia Palermo wears the Luxuriant Oasis necklace