Pancakes are synonymous with breakfast across the world. For many, the form of pancakes that we know are created with an egg, milk, and butter batter before being cooked on a frying pan. The pancakes were then served with syrup, fruits, butter, and sometimes ice cream. 
While you have undoubtedly been eating pancakes for as long as you can remember, these delightfully rounded stacks already existed thousands of years ago. To celebrate Pancake Day, we delve into the origins and traditions of one of our favourite morning meals.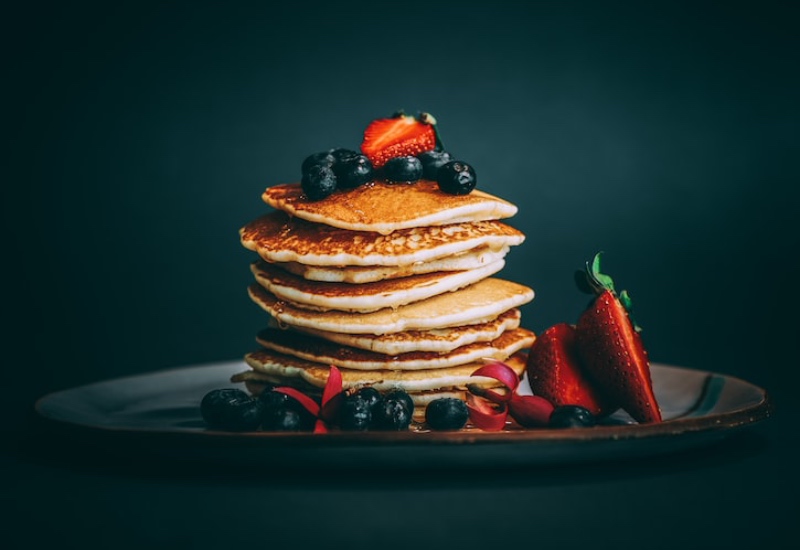 The quick history of pancakes
Pancakes have existed for generations and are a popular breakfast food in many countries. In fact, pancakes might have originated over 30,000 years ago during the Stone Age.
During the English Renaissance, pancakes were flavoured with spices, rosewater, sherry, and apples. Cratinus and Magnes, two ancient Greek poets, have also alluded to pancakes in their writings. Famous author  Shakespeare also references the classic breakfast in several of his plays. 
According to experts, the term "pancake" was first used in the 15th century, and it became common in 19th-century America. During that age, buckwheat or cornmeal was used to create American pancakes. They were also previously known as Indian cakes, johnnycakes, buckwheat cakes, griddle cakes, and flapjacks.
World's pancake day
Shrove Tuesday (also known as Fat Tuesday) is the pre-Lenten eating celebration. People were forbidden to consume animal products such as milk, butter, and eggs during the period. 
They then fried these ingredients into huge stacks of pancakes to keep them from going to waste. Pancakes were devoured in such great quantities that it earned its apt name, Pancake Day.
Our pick for the best pancakes in the Klang Valley 
1. Neighbour's Coffee Bar
You've certainly seen their fuwa fuwa pancakes floating around social media. Yes, they are as good as they look. The café is often packed with people eager to try the very fluffy Japanese pancakes so make sure to come in early. 
Address: A-G-1, Seri Gembira Avenue, No 6, Jalan Senang Ria, Happy Garden, 58200 Kuala Lumpur
Operating Hours: Everyday, 9.30am-6pm
Contact Details: 012-238 7185
2. VCR
VCR serves both traditional and modernised pancakes. Their pancakes are so fluffy with no preservatives or additives inside. Making them a healthy breakfast option. If you enjoy their pancakes that much, you may purchase their sourdough pancake flour to create some at home.
Address: 2, Jalan Galloway, Bukit Bintang, 50150 Kuala Lumpur, Wilayah Persekutuan Kuala Lumpur
Operating Hours: Everyday, 8.30am-8pm
Contact Details: 03-2110 2330
3. Yellow Brick Road
Yellow Brick Road serves both savoury and sweet pancakes, allowing you to sample both at the same time. Their savoury pancakes come with guacamole sauce, turkey ham, mozzarella cheese, and nachos as toppings. The pancakes here are super scrumptious!
Address: Kompleks Pejabat Damansara, Lot A-GF-03, 5th Place @ The Five No.49, Kompleks Pejabat Damansara, Jalan Dungun, Bukit Damansara
Operating Hours: Everyday, 8.30am-9.30am
Contact Details: 03-2011 7690
4. Red Kettle 
Red Kettle offers two types of pancakes on its menu: a traditional one served with butter and maple syrup, and apam balik pancakes presented with gula Melaka syrup. If you were to ask us, we'll say both are equally as good!
Address: F130, 1st Floor, The Starling Mall, 6, Jalan SS 21/37, Damansara Utama, 47400 Petaling Jaya
Operating Hours: Everyday, 10am-10pm
Contact Details: 03-7733 2130