The restaurant is headed by Executive Chef Satoshi Uehara who is a beef specialist with more than 30 years of experience as well as a friend of the founder of Ozaki beef.
Every true blue fan of beef will be familiar with the premium varieties of wagyu such as Kobe, Matsusaka, Ohmi and Miyazaki. But wait, there's one other you need to know about – the Ozaki beef.
Introduced for the first time in Malaysia exclusively at the USHI pop-up restaurant which has taken over Ginza Tenkuni in St Regis Kuala Lumpur, the rare wagyu is now available to local diners for a limited time only.
The restaurant is headed by Executive Chef Satoshi Uehara who is a beef specialist with more than 30 years of experience as well as a friend of the founder of Ozaki beef. Bringing his expertise to the forefront, Chef Satoshi presents an omakase menu highlighting Ozaki beef prepared in various methods including stew, grill and fried.
What's so great about this beef and why should you try it? We caught up with Chua Sai Men, Director of Operations at One IFC Sdn Bhd (which owns the restaurant) and a self-professed foodie, to find out over Ushi's Ozaki Gyu Kaiseki menu.
Here's everything you need to know.
It is named after its founder
While most premium wagyu varieties are named after its place of origin, Ozaki beef gets its name from its founder Muneharu Ozaki. His cattle are raised in a single farm in the Miyazaki Prefecture, which makes it a type of Miyazaki beef. However, not all Miyazaki beefs are equal despite being found in the same region. They may vary in flavour and texture depending on factors such as farming techniques, cattle feed, and cattle lifespan – which brings us to our next point.
It is farmed differently from traditional Japanese methods
Muneharu spent a few years in the United States where he honed his farming techniques at a farm which holds 17,000 cattle. Upon his return to Japan, he took over a farm and applied the advanced techniques he had learnt, but at a smaller capacity of 100 cattle in order to achieve an optimum standard of beef. It took him 30 years to perfect its flavour before naming the beef after himself.
Ozaki cattle consume 15 different kinds of fodder
Most farms typically incorporate vitamins and steroids into the cattle feed, but Ozaki cattle consume an all-natural diet with 15 different kinds of fodder.  The feed is mixed daily and consists of grass from the meadow, moist barley mash (a by-product of beer brewing), maize and barley, to name a few.
Ozaki cattle are slaughtered after 28 months
The standard lifespan of cattle in Japan is 28 months before they are brought to the slaughterhouse. However, Ozaki cattle are slaughtered between 28 to 36 months old, which allows the flavours of the meat to improve as they mature.
You may also like: This 3-time Wagyu Olympics champion is now available in Malaysia
How does it taste like?
There's no definitive way to describe the rich flavours of the Ozaki beef, as we discover from our visit. The appetiser sakizuke of Ozaki beef and sea urchin, for example, surprises us with a burst of umami goodness that only gets better as the flavours linger on the tongue, rewarding us with a trail of sweetness.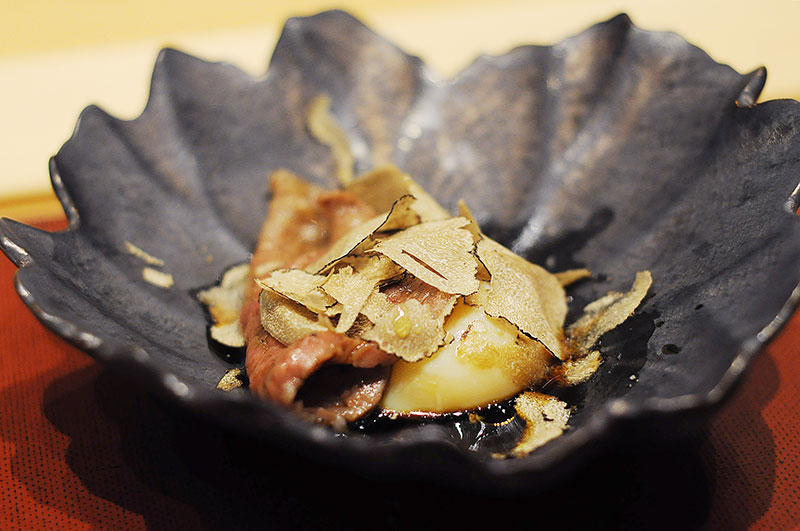 The next Hachimono (translated as 'dish in a bowl') presents us with hand-cut slices of beef bathed in Sukiyaki with Black Truffle Japanese Onsen Egg. It earns a spot among our favourites off this 7-course menu, with the truffle oil and egg complementing the rich but not overwhelming texture of the beef.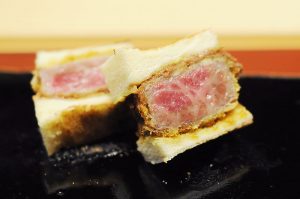 You can't go wrong with beef stew, but the Stewed Ozaki Beef with Seasonal Vegetables won't settle for anything less than mouth-wateringly tender. The crowd-favourite Signature Ozaki Wagyu Sandwich sheds a different light on the beef in that even when it's fried, the fatty layers do not feel greasy in the mouth. Instead, its delicately marbled fat is balanced off by the chef's special blueberry, lime juice and sesame puree and Japanese milk bread to complete the sandwich of your dreams.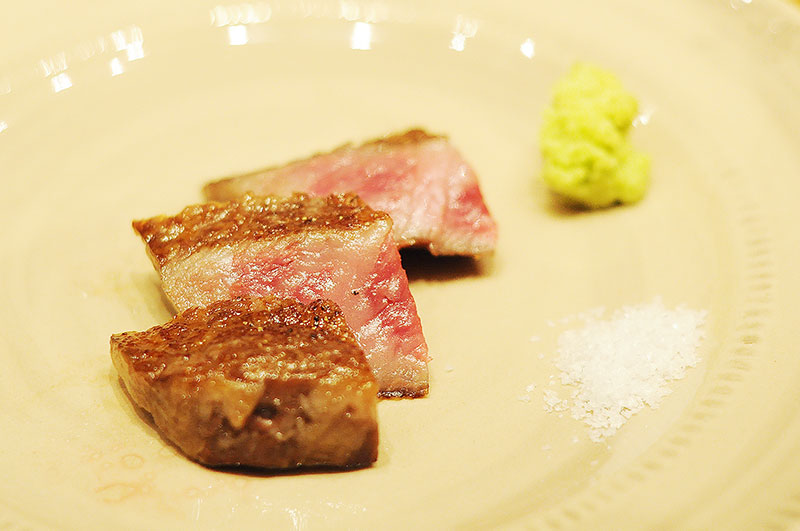 A simpler dish follows after in the form of Charcoal-grilled Ozaki beef served with salt and wasabi. This makes another highlight of our meal, offering us the pure, savoury, sweet and juicy flavours of the meat brought out with a fragrant smokiness.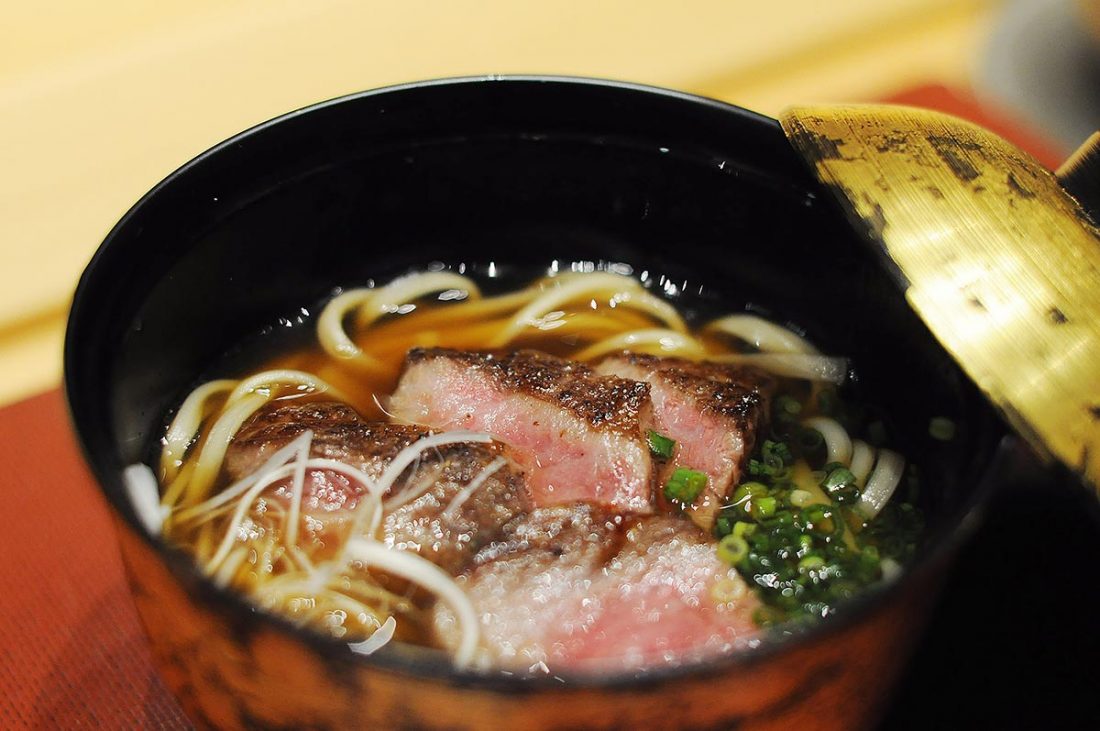 We decide to swap out what would have been our sixth course of Shark's Fin Rice with Beef Tataki Inaniwa Udon to stay in theme. And we're happy with our decision because there's nothing like a good bowl of noodles served with even better wagyu to leave us utterly satisfied.
But no meal is complete without dessert, and ours is finished with a plate of mochi topped with green tea sauce to send us off with sweet dreams of all things Ozaki. Seriously, you'll be surprised at how a menu based around a single type of meat can taste so diversified and pleasantly surprising at every corner.
The 7-course Ozaki Gyu Kaiseki menu is priced at RM700+ per person and is available for lunch and dinner throughout the duration of the pop-up from 2 October 2018 to 28 February 2019. A la carte options are also available for lunch.
For reservations and enquiries, call 03 2727 6688/012 330 3600 or email reservations@saitotenkuni.com. Follow @ushipopuprestaurant on Instagram for more updates.