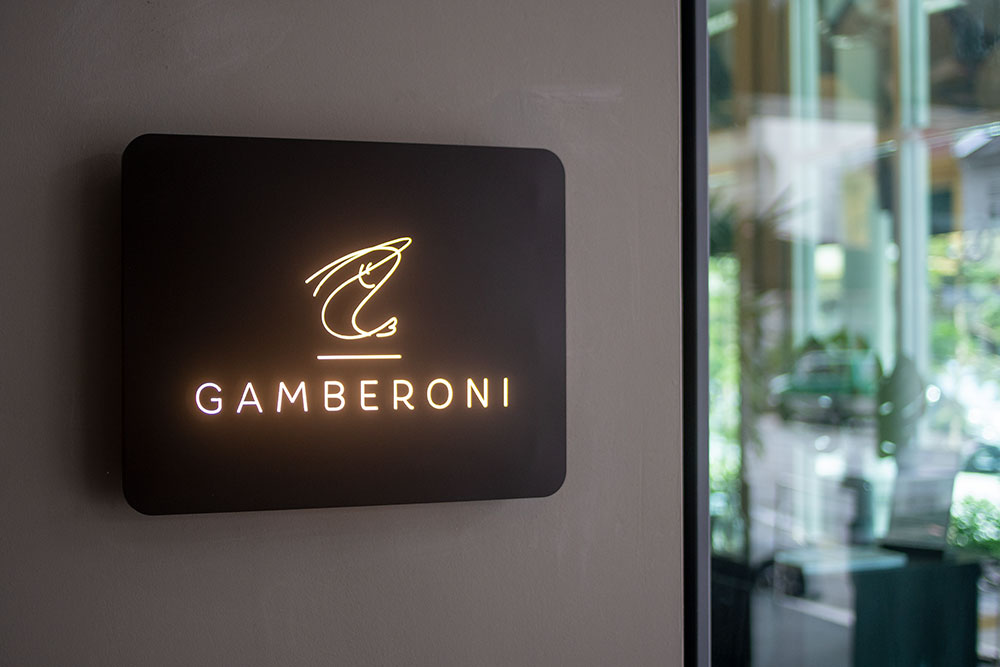 While Kuala Lumpur is no stranger to Italian eateries, not all of them can claim to be truly authentic. One of the newer and more unique establishments is Osteria Gamberoni, a stylish yet casual restaurant that pays homage to various regional cuisines in Italy, as well as the freshness of its ingredients.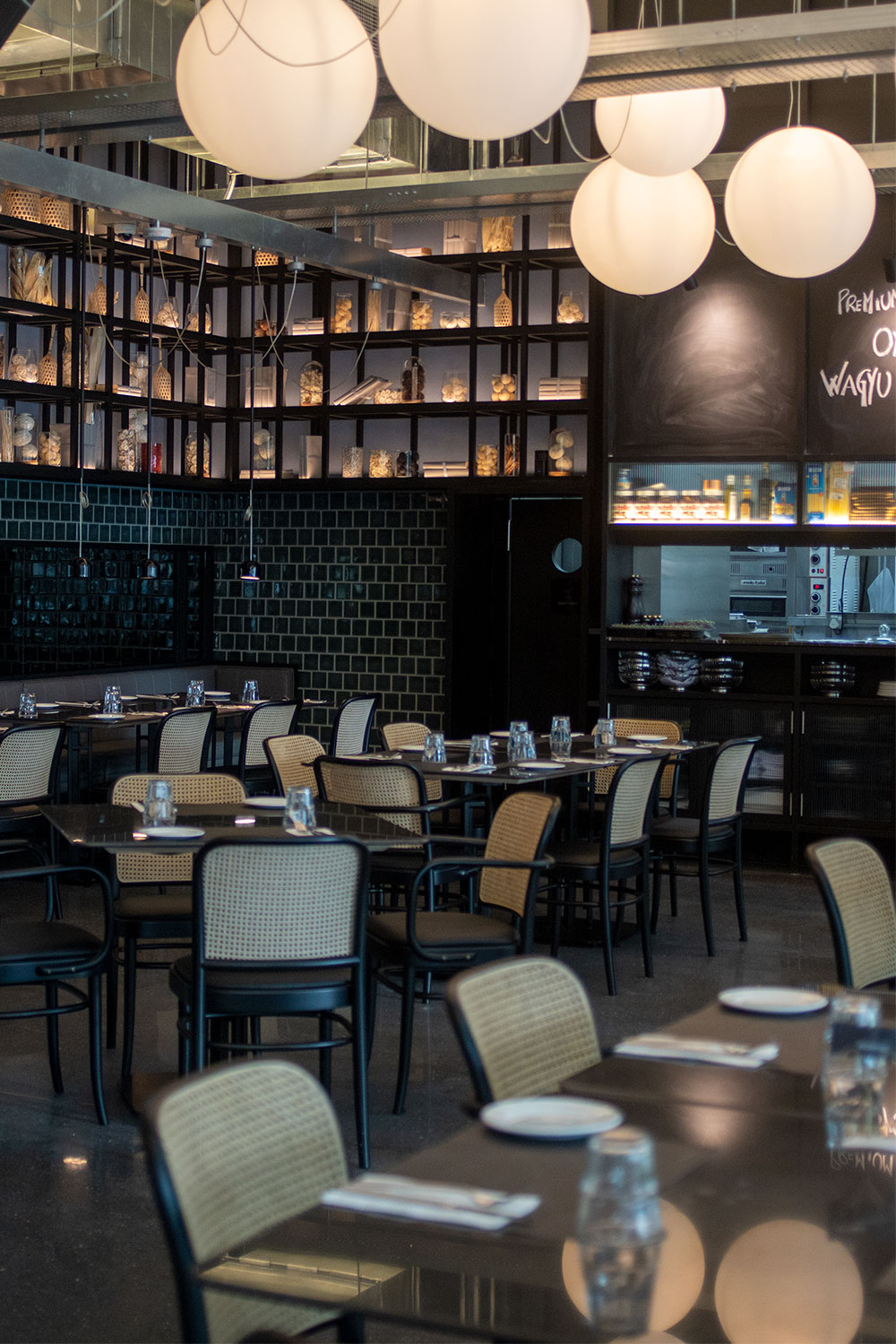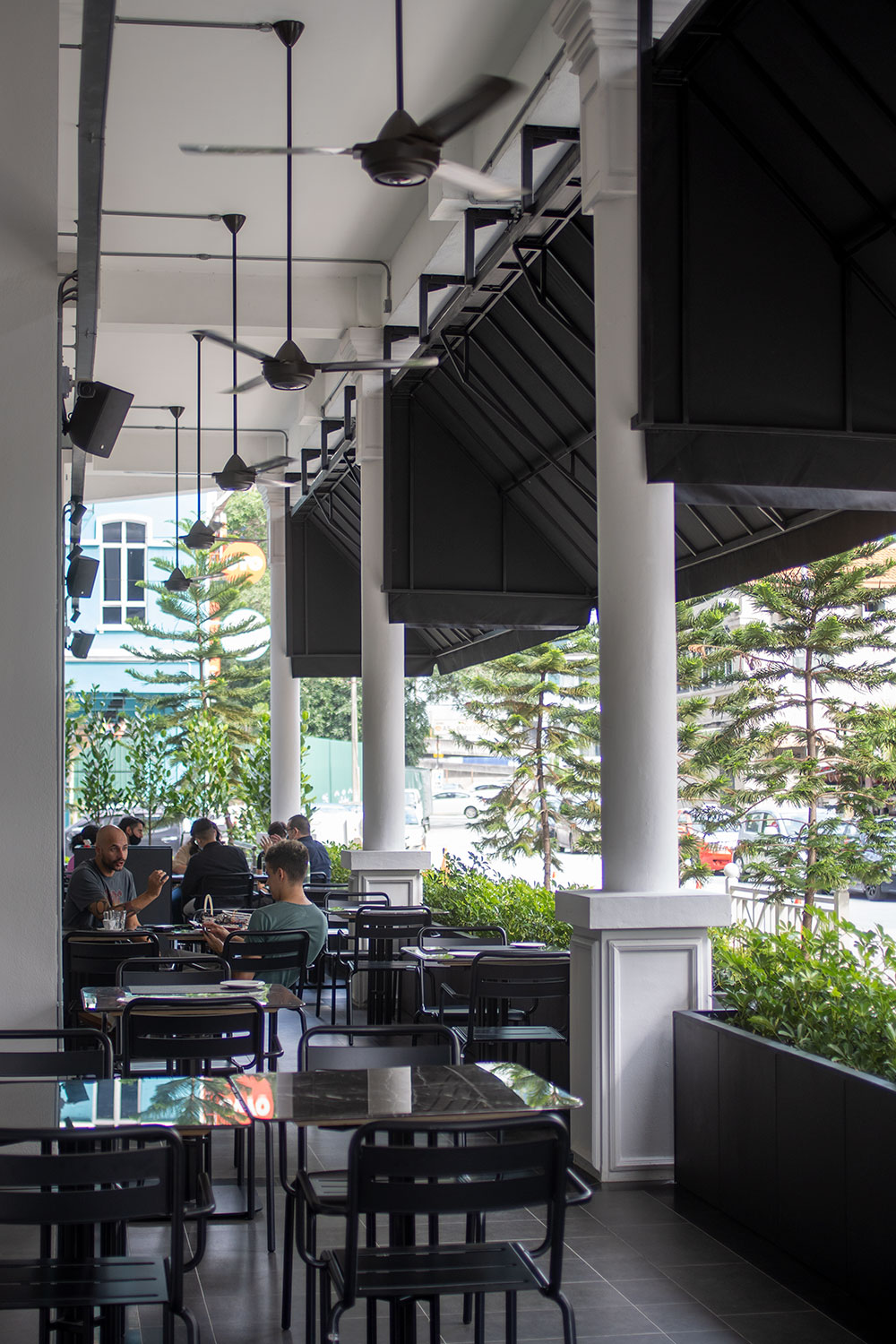 Step inside the restaurant and you're immediately greeted with the sight of an elegant interior with classic black-and-white colourway and glistening marble. Large floor-to-ceiling windows invite plenty of natural light during the day, while large global pendant lights hang from the ceiling to gently illuminate the the space with a subtle golden light once the sun goes down. There's a shaded al-fresco dining area accompanied by a line of plants, making it the perfect dining area during aperitivo hour or when the weather is more approachable. The open kitchen sits on the far end of the restaurant, where guests can sneak a peek into all the action.
Speaking of the kitchen, it's helmed by Roman native Chef Daniele Ponzani, whose menu features traditional recipes that can be found all around Italy, but with a focus on seafood dishes from the coastal areas. Ingredients are sourced locally and from Italy, depending on what's in season, so that the kitchen team is able to produce dishes that truly honour the freshness and quality of its ingredients. For our visit, we get to try out some of Chef Daniele's classics, as well as some new, upcoming additions to the menu.
We begin with our antipasti course, which comes in the form of the hearty Seppie in Umido. This is classic Venetian dish that features baby cuttlefish slow-cooked in fish stock and tomatoes. The latter is cooked for long periods of time until it the renders down into a thick and sweet sauce, coating each baby cuttlefish with rich flavour. Comforting and homey, it pairs perfectly well with a glass of Aperol Spritz, and those who love seafood will certainly enjoy this as a starter.
While we're certainly no strangers to Neapolitan and New York-style pizzas, Osteria Gamberoni pays homage to Chef Daniele's Roman roots with its crisp, thin-crust pizzas that are typical of the region. We get to sample a slice (or three) of the Pizza Fiori di Zucca, one of the new items that will soon come to the Osteria's menu.
This is a white pizza topped with generous helpings of mozzarella and zucchini blossoms, then dotted with anchovies. Despite its simple appearance, it's a joyful expression of the quality and purity of the ingredients. The mildly floral zucchini blossoms complements the seasoned mozzarella cheese beautifully, while the randomly placed anchovies adds an intense salty punch in between bites. The crust itself is crunchy and substantial enough to hold its toppings, though we advise not to wait too long to finish this pizza – as the crust can get quite tough and hardy once it completely cools down.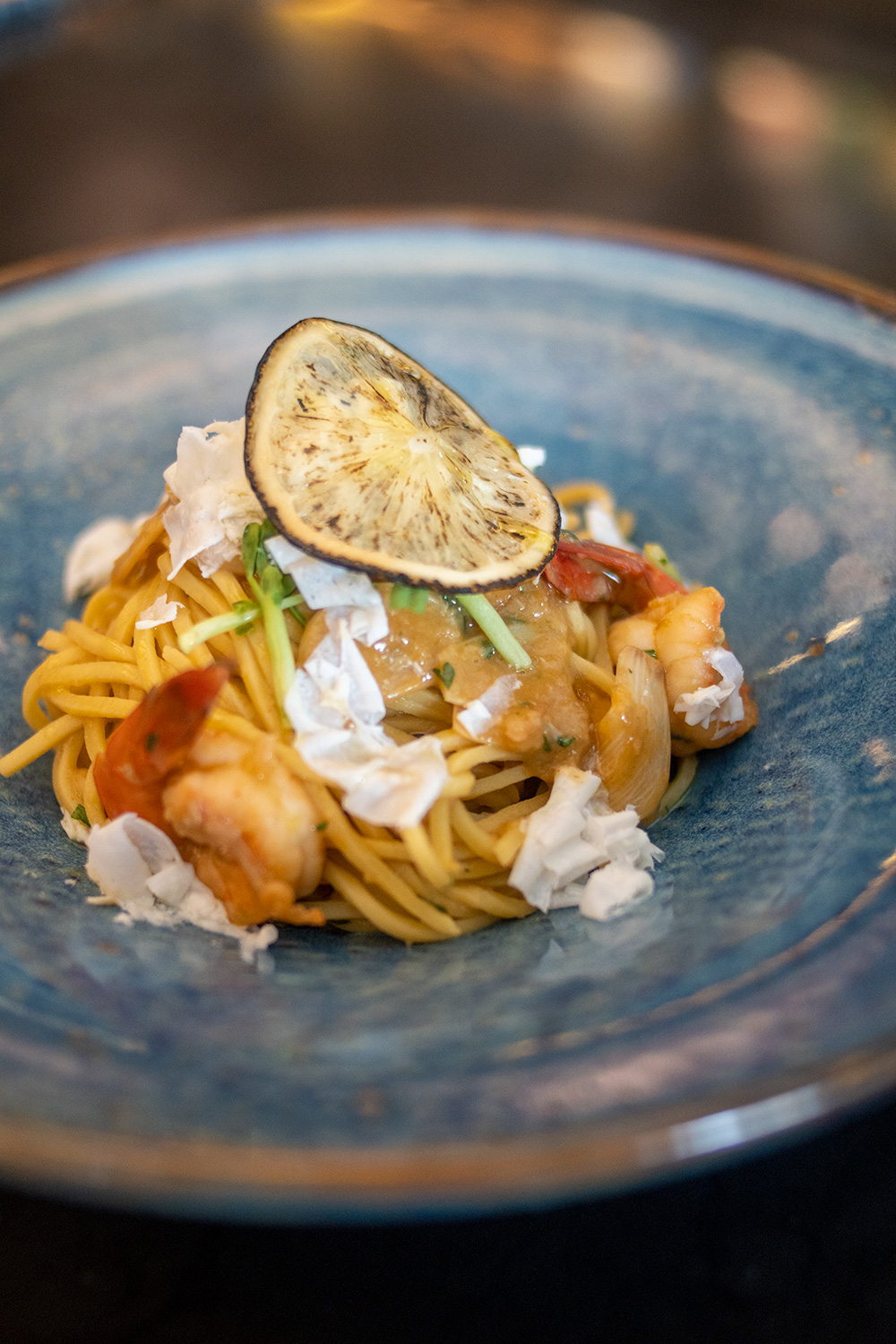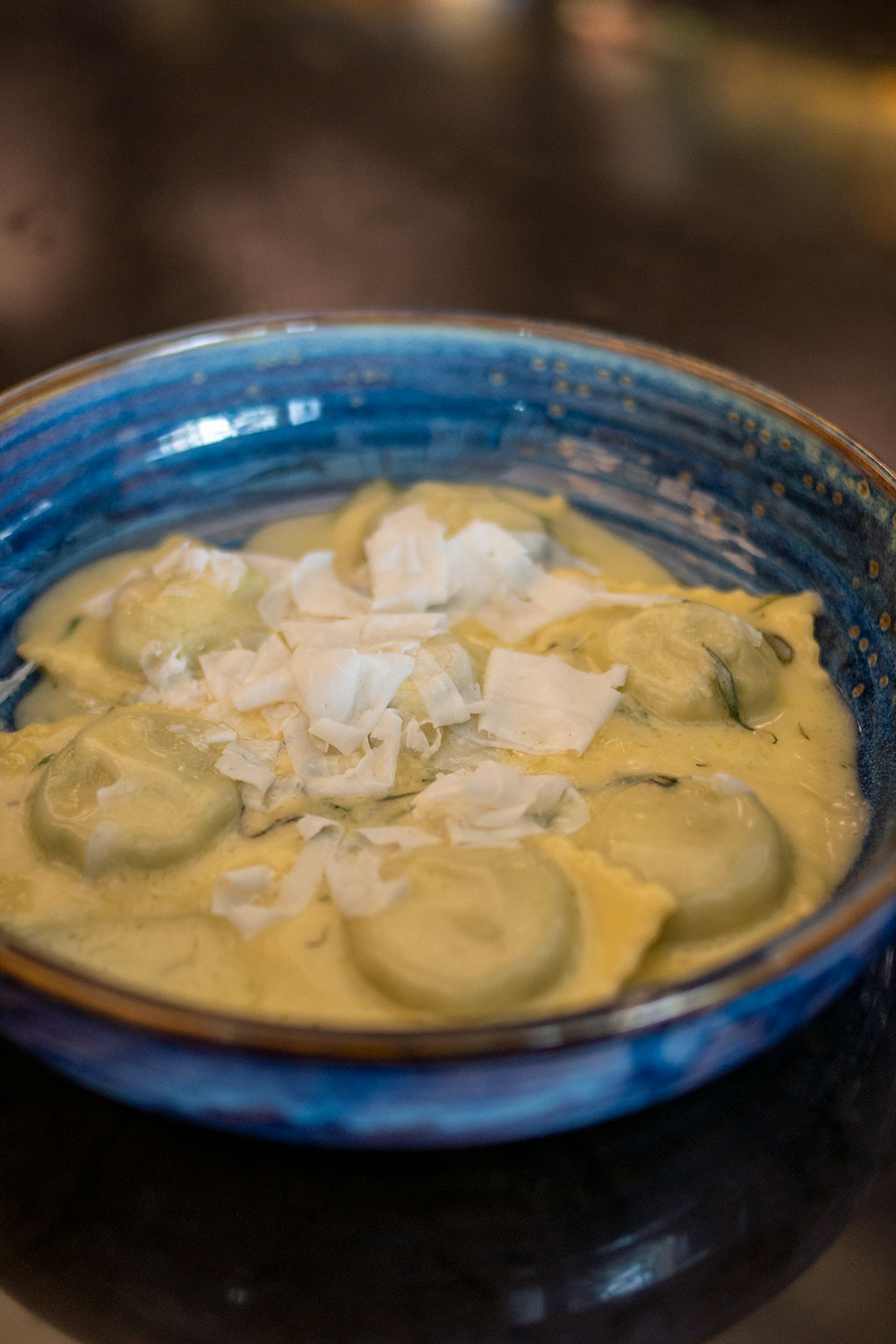 Can an establishment really call themselves an authentic Italian restaurant if they're not dishing out fresh pasta? Our next dish features one of the restaurant's handmade creations, which also highlights the Osteria's commitment to the coast. The Tagliolini con Gamberoni e Limone is a fresh and tangy combination of perfectly al dente tagliolini, tossed together with sautéed prawns and a light sauce comprised of white wine and lemon cream. Delicate, pure white shavings of ricotta salata are draped onto the pasta, providing a welcome hint of saltiness and funkiness to round off the dish.
For those who prefer the classics, you can't go wrong with a plate of ravioli stuffed with ricotta and spinach, blanketed in a smooth butter sage sauce. This too has the same ricotta salata shavings on the top – but no one's complaining about having more cheese. Pleasantly rich and indulgent without feeling cloying on the palate, this dish is easily polished off the plate without any guilt.
We enjoy our pastas with a glass of bubbly – namely an extra dry Montelvini Prosecco, whose  minerality plays with gentle green and citrus notes, helping to refresh the palate while accompanying the pasta dishes perfectly.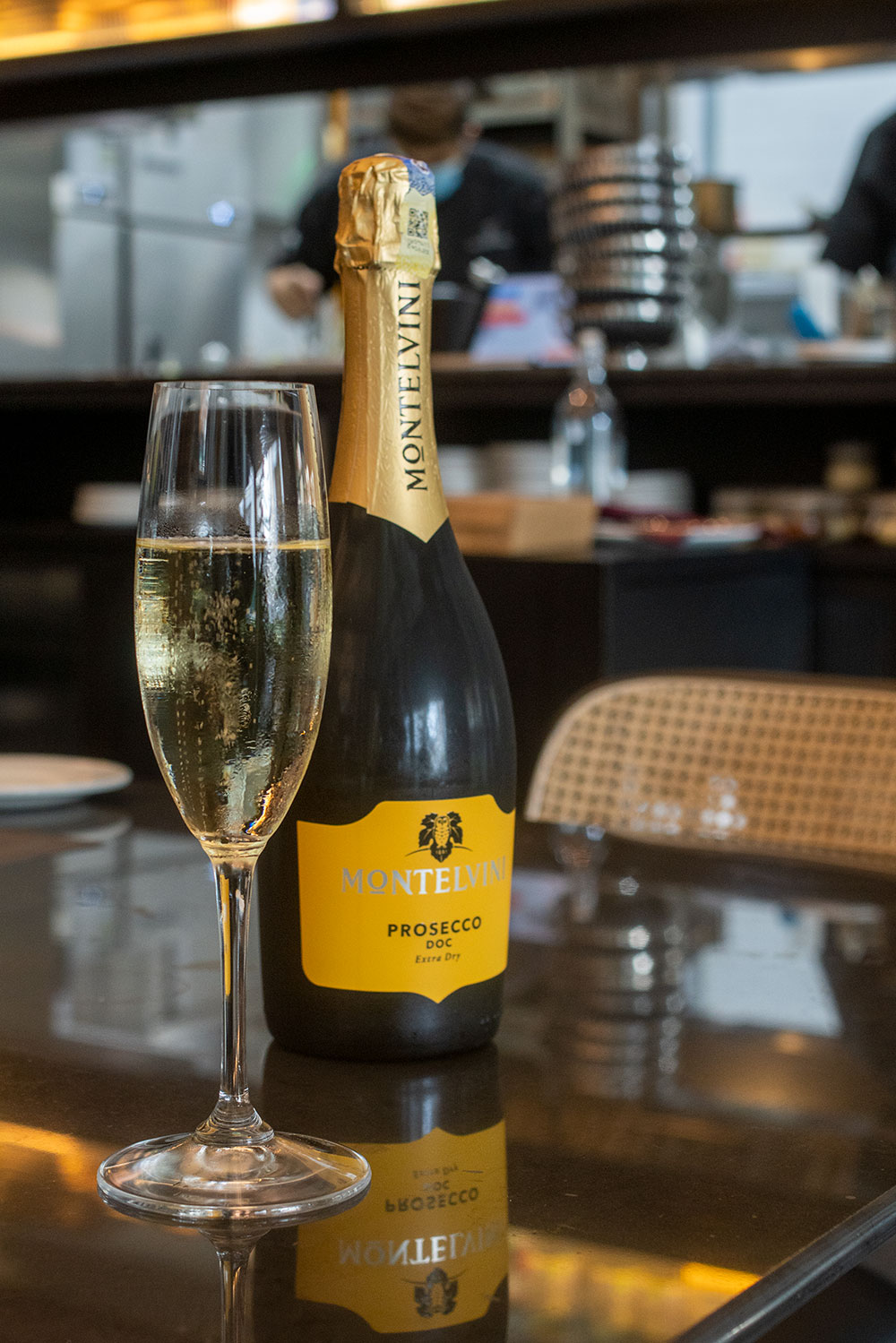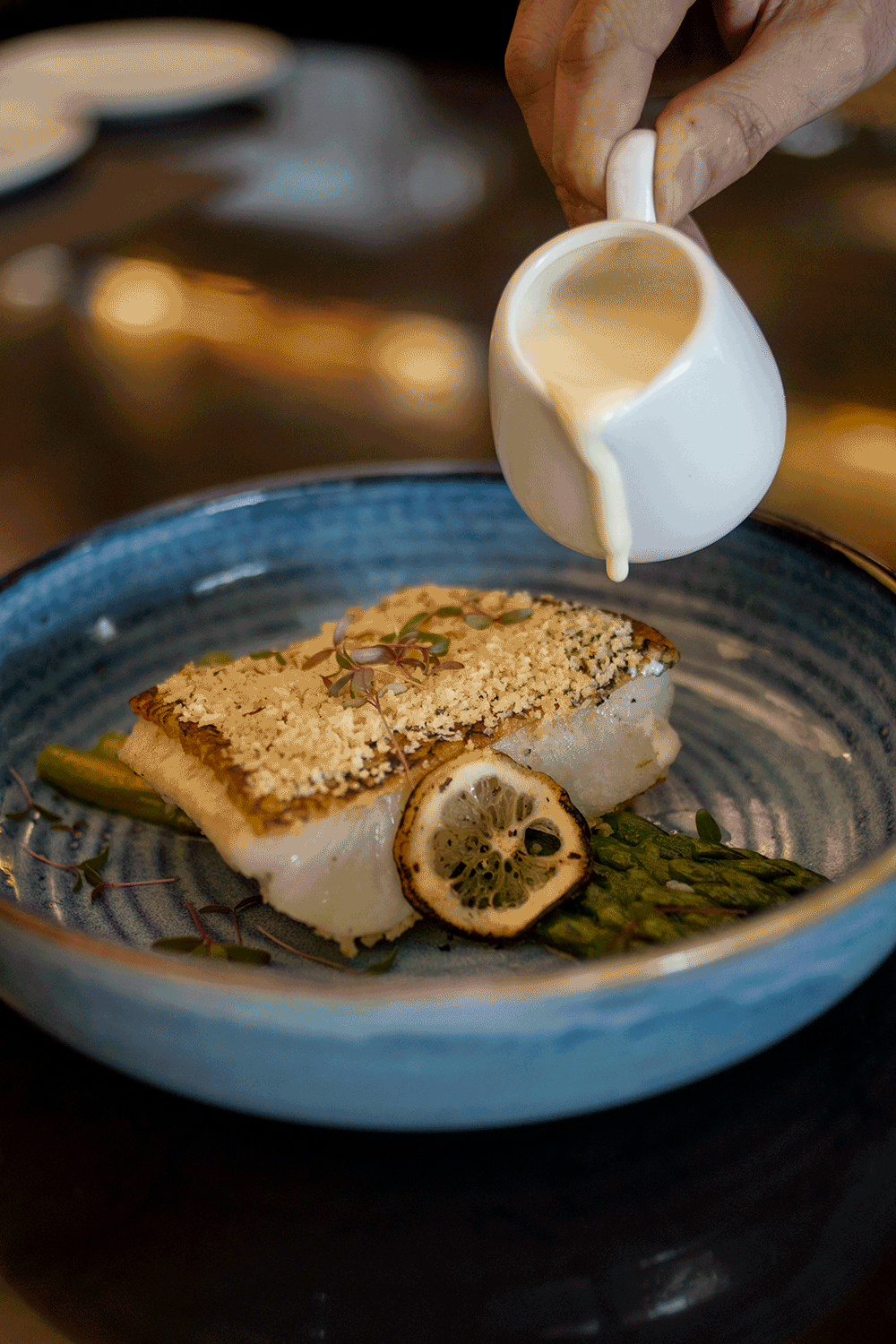 Chef Daniele returns to the sea with the another new item – the Merluzzo al Forno, a generous serving of cod that's been pan-seared, topped with bread crumbs, and then baked to create a perfectly crisp crust. It sits on a bed of asparagus, and is served with a light cream sauce. The cod is perfectly flaky, soft, and moist, contrasting the crunchy crust. The cream sauce goes swimmingly with the fish and the asparagus, lending a deeper flavour profile to the otherwise light dish. While the sauce and the crust can do with a bit more seasoning, it's nonetheless a pleasant dish that will satisfy light-eaters and pescatarians.
The cod is paired with a glass of Lapilli Fiano di Avellino, a crisp South Italian white that is dripping with rich honey and acacia notes on the nose, while it brings a hint of spice among dried fruits like apricot and citrus peel to the palate. This wine is soft enough that it doesn't overpower the fish, yet surprisingly bold enough to stand up to our next dish.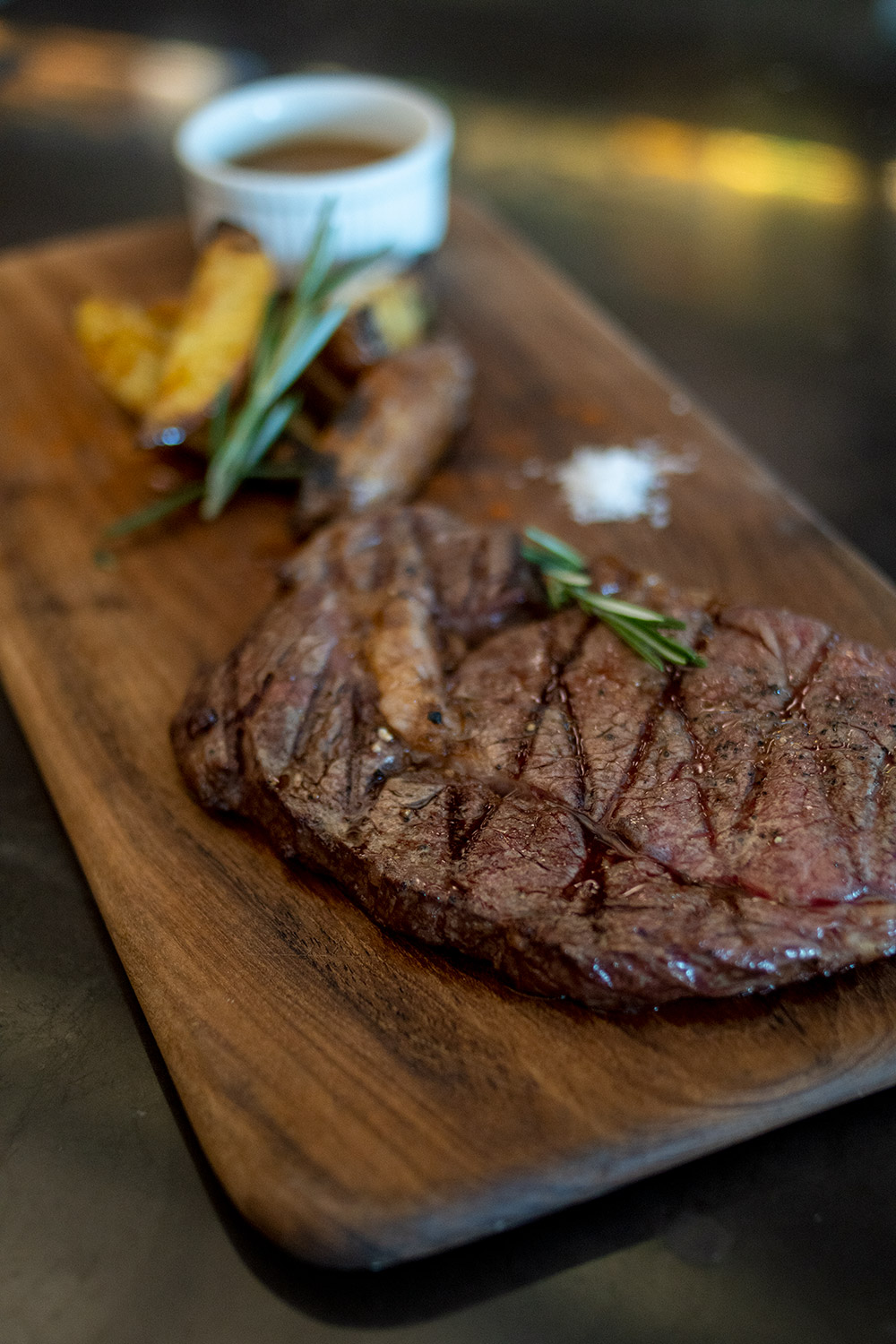 Meet the Costata di Manzo alla griglia. A slab of grilled Black Angus ribeye sitting next to a side of roasted rosemary potato wedges, and served with a simple brown gravy and Maldon sea salt flakes. The steak itself cuts like butter, and honestly doesn't require anything more than just a tiny pinch of the Maldon salt to enhance the natural flavours of the beef. The gravy itself is not much to shout about, though some may appreciate having that extra savoury punch as an option. The side of potatoes are perfectly cooked, with a fluffy interior and light, crisp exterior.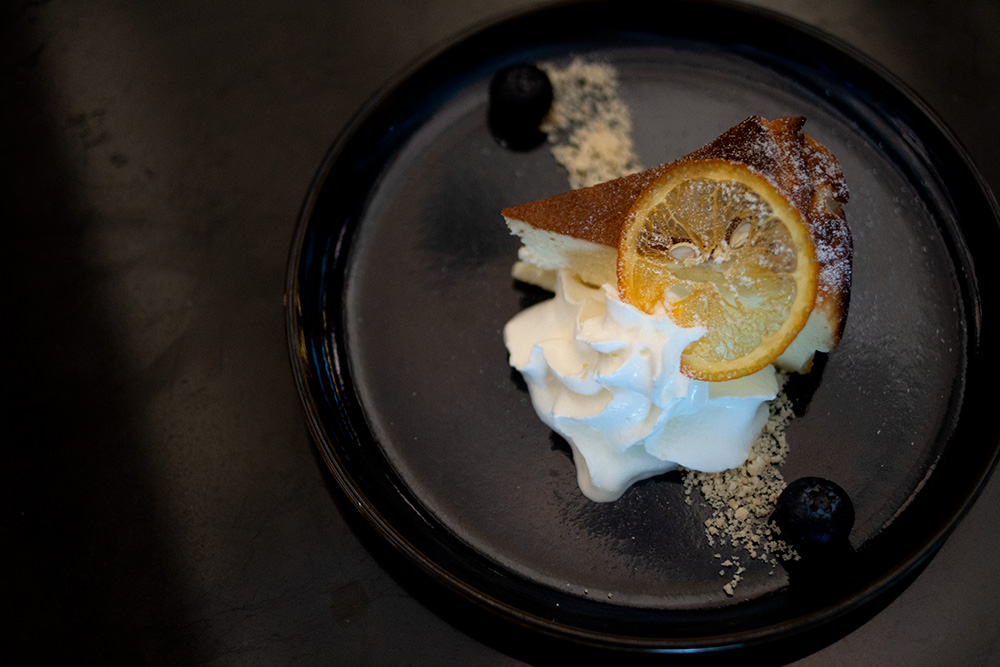 As stuffed as we are, there's always room for dessert, and you'll regret it greatly if you don't order at least one of the sweets at Osteria Gamberoni. For this round, we get to indulge in two – the first being a lush slice of cheesecake served with fresh whipped cream.
Chef Daniele takes the intense creaminess of a New York cheesecake and the soufflé-like texture from a Japanese cotton cheesecake to create this ethereal dessert. It's truly a slice worthy of the heavens, with an incredibly deep flavour and fluffy lightness that make it difficult to stop consuming.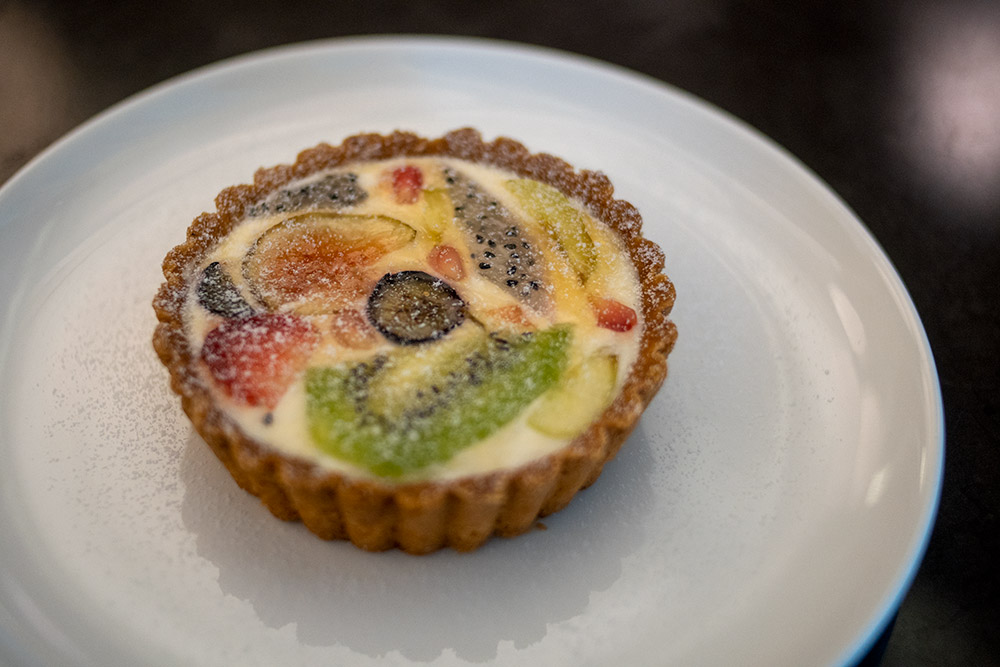 Another surprise is the Crostatina di Frutta, or custard fruit tart. Slices of fig, strawberries, grapes, kiwi, and dragonfruit are suspended in a luscious vanilla custard filling that slowly flows out upon cutting. The custard itself boasts a light flavour that's elevated by a citrus, floral quality from the addition of lemon zest, while the crust yields a satisfying crumble despite having to contain such a fluid filling. Breaking through the creaminess is the combination of sweet and tang from the fruits that adorn this delicate tart.
If you're fond of both authentic Italian fare and treasures of the sea, you'll surely find your cravings sorted at Osteria Gamberoni. Elegant yet rustic, it's certainly worth a visit whenever you're in town – that is, once MCO 2.0 passes.
Osteria Gamberoni is located on 17, Jalan Yap Ah Shak, Chow Kit, 50300 Kuala Lumpur, Wilayah Persekutuan Kuala Lumpur. They are normally open from Wednesday – Monday, 11am – 10pm. For more information and updates, visit their website or Instagram page. Reservations can also be made on UMAI.
As we are currently under MCO 2.0, Osteria Gamberoni is open for takeaways and deliveries. These can be arranged via Grabfood and Beepit.
Photography by Anson Siau.