Over 10 exclusive evenings across the restaurants under The Oriental Group, this is a unique opportunity to experience the finest wholesome Chinese cuisine.
The Oriental Group is proud to present an international guest chef event featuring award winning Master Chefs Yap Poh Weng and Chung Kuy Fai from the culinary capital of Macau. The unique 4 hands dinner will take place over 10 exclusive evenings across the Group's various outlets from 22nd August – 8th September.
In an eclectic menu that promotes the best of health and nourishment in fine Chinese cuisine, Chef Yap's and Chef Chung's recipes have been specially curated with the integration of superfoods such as bird's nest and flaxseed with Chinese herbs, traditionally known to promote good health while blending in traditional Chinese cooking methods such as braising, double boiling and steaming.
Malaysian-born Chef Yap boasts a culinary career spanning 30 years with five-star luxury hotels and restaurants in Malaysia, Surabaya, Beijing, Shanghai, Hangzhou, Guangzhou and Macao, SAR China. Starting off as a tra- ditional Dim Sum practitioner, Chef Yap has since taken the helm at the legendary Chinese restaurant Yan Yu in Guangzhou, the award-winning Grand Dragon Chinese Restaurant in Hangzhou, as well as the world-famous restaurant Whampoa Club in Beijing and Shanghai. During his time in Hangzhou, he received the honour of being named one of "China Top 50 Celebrity Chefs" for Food and Wine magazine, as well as a diamond-rated chef by both the Asian Diamond Chef Association and the American Academy of Hospitality Sciences.
Chef Chung, who hails from Ipoh, has over 30 years of international experience in award winning restaurants. He launched his career in Malaysia's hawker stalls followed by a global resume across Tokyo to Shanghai, and to California's NAPA valley before bringing his years of experience to Macau as executive chef. Chef Chung is often regarded for his bold, creative take on traditional Chinese cuisine and has held several accolades including an inclusion into the prestigious Black Pearl Restaurant Guide.
Both chefs have cooked for world leaders and celebrated politicians from around the world, which has contributed to their rich experiences from being in the kitchens of top restaurants all over Southeast Asia.
Over 10 exclusive evenings across the restaurants under The Oriental Group, this is a unique opportunity to experience the finest wholesome Chinese cuisine.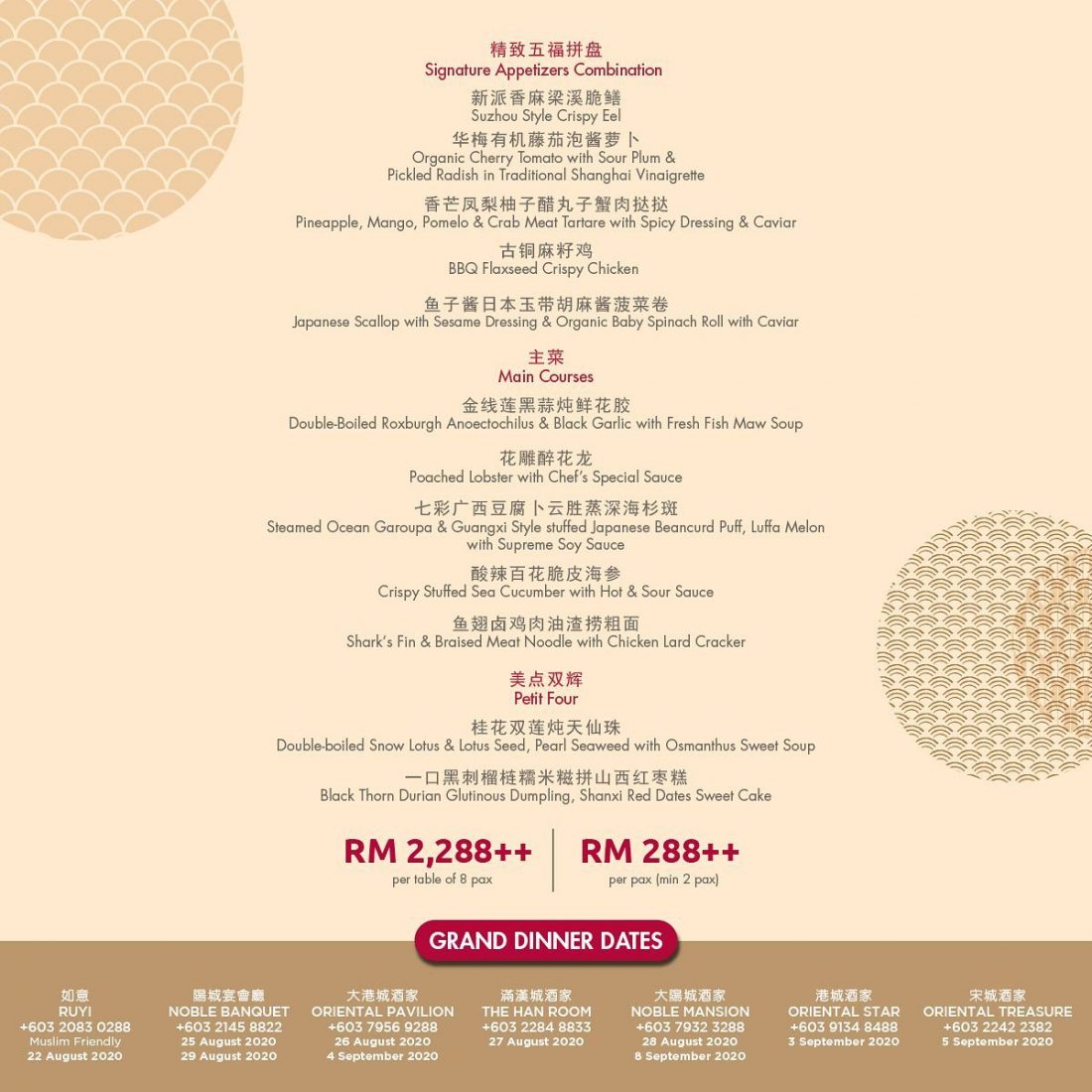 The 8 course menu is priced at rm288 ++ per pax with a minimum of 2 pax per booking. Highlights of the menu include Poached Lobster in Chef's Special Sauce, Crispy Stuffed Sea Cucumber in Spicy Sauce, Black Thorn Durian Glutinous Dumpling and 9 other specialty selected dishes.
The dinners are scheduled as per below:
22 August 2020
Ruyi & Lyn
03 – 2083 0288
25 August 2020
Noble House
03 – 2145 8822

26 August 2020 | 4 September 2020
Oriental Pavilion
03 – 7956 9288

27 August 2020
The Han Room
03 – 2284 8833
28 August 2020 | 8 September 2020
Noble Mansion
03 – 7932 3288
29 August 2020
Noble Banquet
03 – 2145 8822
3 September 2020
Oriental Star
03 – 9134 8488
5 September 2020
Oriental Treasures
03 – 2242 2382
The Oriental Group practices the highest standards of hygiene, sanitisation and social distancing as per the government's mandate. Reservations are limited so do book your seats now.