It's a tribute to speed and precision, but also space travel and the inquisitive human spirit.
The year is 1968. Astronauts aboard the Apollo 8 mission are about to make history orbiting around the moon – over and out of its dark side, a place no man has been before. Command Module Pilot Jim Lovell utters the last words caught before losing radio signal – "We'll see you on the other side" – and the spacecraft disappears behind the moon.
50 years later, this historic moment is recorded as an astronomical first in space travel. Omega, which debuted its first Dark Side of the Moon watch in 2013, reiterates the tribute with the Omega Speedmaster Dark Side of the Moon Apollo 8.
We got to touch, wear, and feel the latest Speedmaster at Omega's Baselworld 2018 novelties showcase – here's what we fell in love with.
Laser-worked to lunar likeness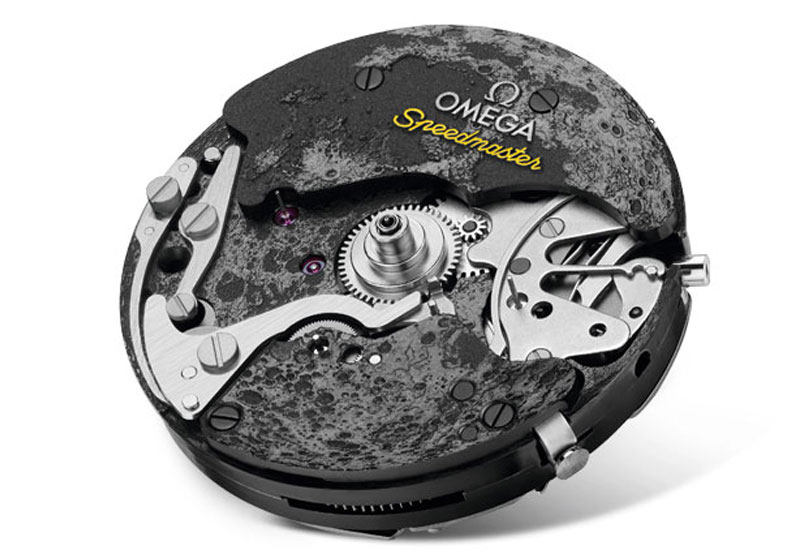 The moon can be divided into the side we see, and the side we don't. Omega Speedmaster Dark Side of the Moon Apollo 8's dial mirrors this dual image. On the caseback, you'll also find an engraving of Lovell's famous words.
Its skeletonised dial allows a glimpse into the main plate and bridges, which resemble the craters and shades on the lunar surface. This effect is achieved via laser ablation on black zirconium oxide ceramic. Brushed, black ceramic make up the 44.25-mm case and dial, creating a mysterious darkness that beckons a closer look.
Black and yellow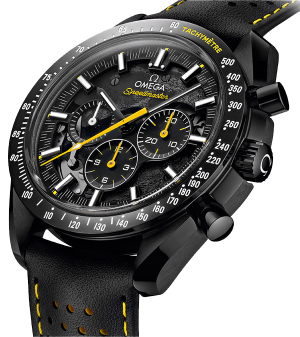 These two colours sufficiently sum up the this watch's design code. Long associated with speed in Omega Speedmaster Racing models, yellow is used sparingly here on varnished chronograph hands and tachymeter scale.
You'll also find yellow rubber peeking through its perforated black strap.
On top of that, the crown is filled with Super-LumiNova that watchmakers are widely depending on for that glow-in-the-dark effect. Depending on its application, Super-LumiNova can come off either sleek or tacky – thankfully, Omega Speedmaster Dark Side of the Moon Apollo 8 opts for the minimal, sealing the deal with the trademark Omega stamp on its side.
With a simple touch of colour, the Apollo 8 tribute shares its inspiration's values of speed and precision in rather traditional fashion – save, perhaps, for a date window.
Omega Speedmaster Dark Side of the Moon Apollo 8: a manual throwback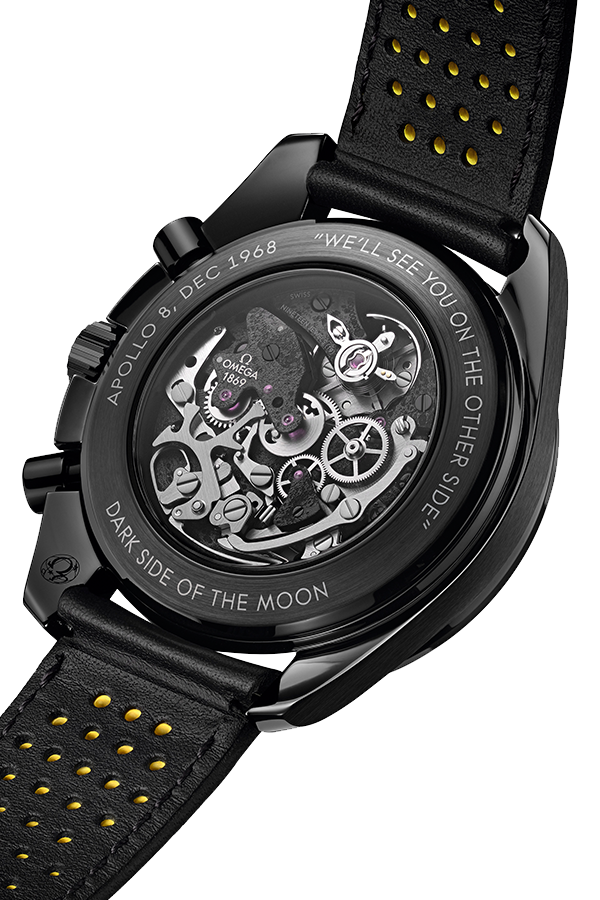 (swipe left for caseback)
At the heart of this 2018 version is the Calibre 1969 (a special moon version of the Calibre 1961). It may sport a modern look, but this three-register display watch is manually wound.
The lack of automatic parts allowed Omega to shave off 2.5mm off the Apollo 8. This number may be small, but its significant to daily wearer. As a result, the watch sits  just a little more snugly on an average male wrist.
If you're a fan of space travel, you'd be immediately enticed by this latest Omega offering. It's a tribute to mankind's exploration of that which is beyond this world; a token of the inquisitive human spirit, and its potential to achieve what generations before could barely dream.
It's also relevant that every astronaut on this Apollo mission wore a Speedmaster Professional chronograph. We wonder how many Speedmaster owners bring up that fact at dinner parties.
For more, head on over to the official Omega website.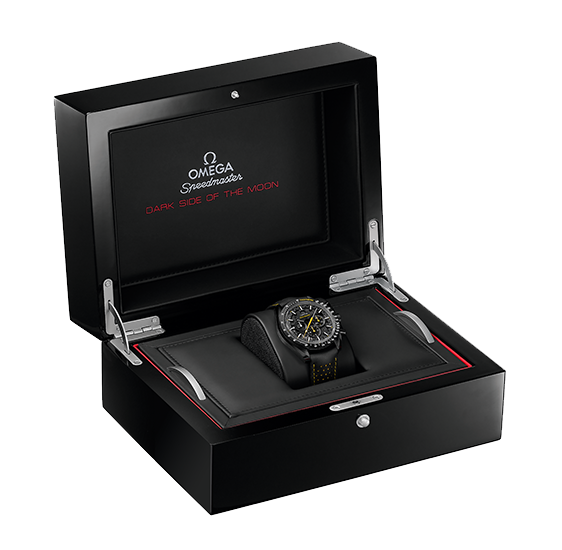 Images: Omega