Six years after calling Menara 3 Petronas home, Nobu Kuala Lumpur has relocated to Four Seasons Place Kuala Lumpur with a fresh new look and concept. To keep up with the times, the new Nobu KL retains its welcoming atmosphere and stunning view of the city, with improved accessibility, new features, enhanced privacy, and a more casual environment for a new generation of diners.
"Nobu Kuala Lumpur was our first location in Southeast Asia. We were very fortunate to have amazing local partners who were instrumental in successfully bringing the Nobu brand to Malaysia," said Co-Founder of Nobu Restaurant Group, Nobu Matsuhisa. "With almost six wonderful years at Petronas Tower 3, the 56th floor will always be special to us, not just because of the spectacular views, but because of the spectacular team who helped to build Nobu KL. We look forward to continuing the same Nobu standards of high quality food and quality service in a beautiful setting at our new home at the Four Seasons Place Kuala Lumpur."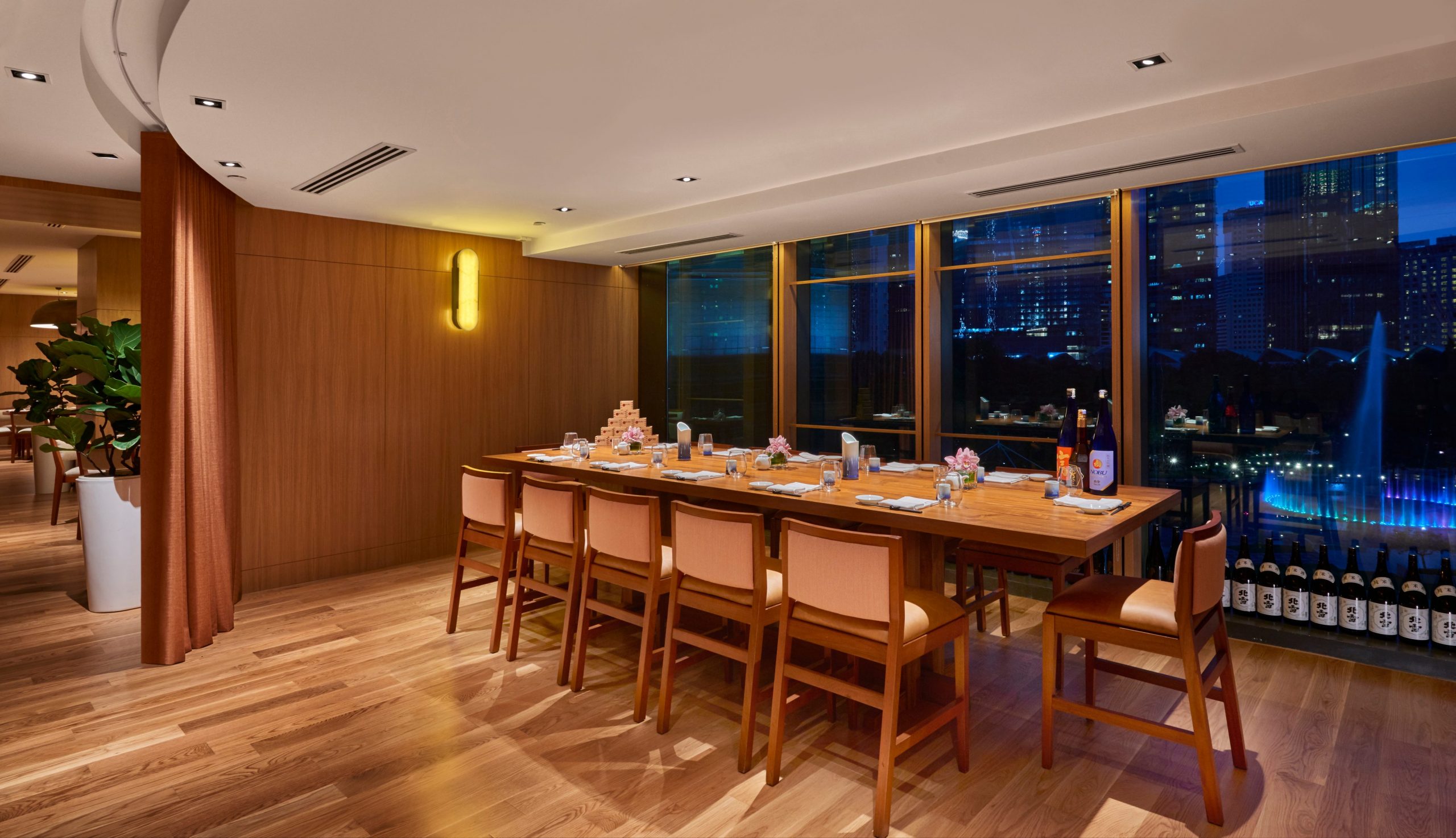 "We're elated to finally open our doors and welcome both new and loyal guests to our brand-new restaurant at Four Seasons Place Kuala Lumpur," added Gopi Kanala, General Manager of Nobu Kuala Lumpur. "Guests will find that we've placed a lot of emphasis on the experiential aspect of the restaurant. Special thanks to our owners for making our new restaurant a reality. Now being situated in a lifestyle hub it's allowed us to introduce new conveniences while being fully children-friendly."
A new sake room
One of the standout features at the new Nobu is the Sake Room, which serves quality nihonshu from a brewery in Hokusetsu, Japan that makes it exclusively for the Nobu Group. This cosy new addition can host up to a dozen guests at a time, providing both an experiential and educational journey on the various types of sake available and which dishes they should be enjoyed with. But regulars will know that you can't go wrong with the restaurant's most popular sake, the Hokusetsu Nobu Daiginjo TK40 "The Premium Sake".
A more approachable bar
While the restaurant's first location boasted a setting worthy of the local fine dining scene, this relocation marks a new era for Nobu KL by introducing a more convivial atmosphere. Guests who are in the mood for mingling and casual drinks can easily approach the bar – now situated closer to the entrance – for its extensive list of liquor and specially concocted cocktails.
Exclusive private rooms
"We also now have three private dining rooms of different sizes with a total capacity of 60 persons that can hold both small and medium scale events suited to the requirements of our guests," said Gopi. "We've received many requests over the years to expand our capacity for events because of our location in the city centre as well as the world-renowned cuisine that we serve. Now that we're in a very accessible location with our new and improved features, we're excited to be able to host both private and corporate events."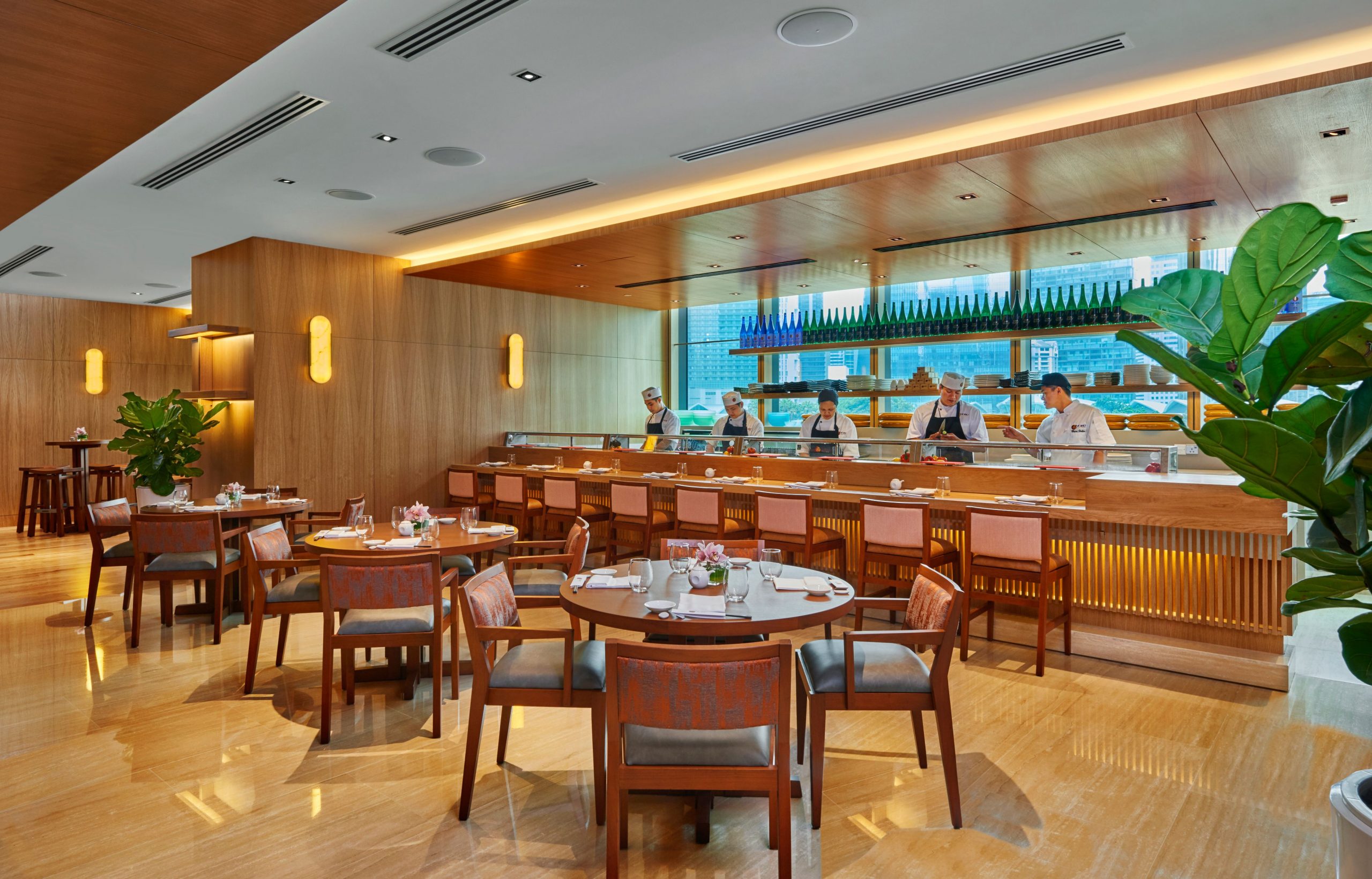 An interactive island kitchen
Speaking of interactivity, another notable change in the restaurant is the addition of the island kitchen, where guests can marvel as Nobu KL's chefs prepare their dishes. This is right alongside the Sushi Bar, headed by Head Sushi Chef Chico, who will be serving up plates of sushi from right over the counter.
Signature Japanese-Peruvian food
And what of the food? Guests will continue to enjoy the Japanese-Peruvian fare that Nobu KL is known for such as the Black Cod Miso and Yellowtail Sashimi with Jalapeño. In addition, the restaurant will also debut some new dishes such as: Pan-Seared Scallops with Yuzu Truffle Sauce, New Zealand Lamb Chop with Rosemary Miso, and Fresh Water Prawn with Anticucho Hazelnut Sauce.
Nobu Kuala Lumpur is now open for dinner from 6pm – 10.30pm daily. From 29 March 2021 onwards, the restaurant will also be open from 11.45am – 2.30pm for lunch every Monday to Friday and 1pm – 4pm for High Tea on weekends. The new Nobu KL is located at L4A-05, Level 4A Shoppes at Four Seasons Place Kuala Lumpur. Reservations can be made by calling 019-389 5085.
Photos: Nobu Kuala Lumpur