Smell your best all day, every day – for your other half and yourself.
What's more attractive than a well-groomed individual? Answer: a well-groomed individual who also smells heavenly.
Whether it excites the olfactory senses, evokes fond memories or calms the soul, there's something undeniably charming about a delicious scent. While you may already have a few fragrances to help you in this department, it never hurts to keep things fresh and have more options to fit a particular mood.
Better yet, more brands are releasing fragrances in a pair For Him and Her to complement each other's olfactory profile. We've compiled the most iconic masculine and feminine fragrances to smell your best all day, every day – for your other half and yourself.
Tiffany & Love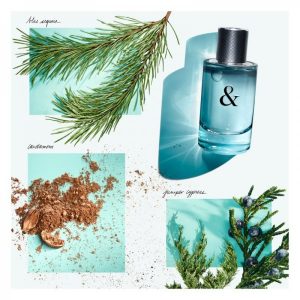 Formulated by perfumers Sophie Labbé and Nicolas Beaulieu, the new Tiffany & Love fragrances pay tribute to modern love with its base note of blue sequoia – unifying the two scents just as love unites two individuals. The Eau de Toilette For Him opens with hints of ginger, mandarin and cardamom, progressing into an innovative juniper-cypress blend at the heart. Completing the base are sandalwood, vetiver and the star ingredient for a citrusy and woody composition overall. Custom engraving is available with purchase, making it perfect for gifting.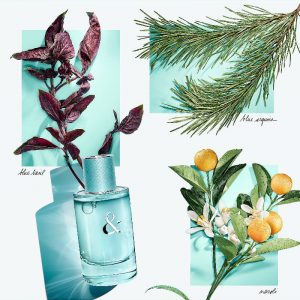 In contrast, the Eau de Parfum For Her boasts a floral, woody scent crafted by perfumers Honorine Blanc and Marie Salamagne. Bright, sparkling top notes of blue basil – a botanical component developed exclusively for the brand – and grapefruit deliver a crisp opening. At the heart is a delicate floral bouquet of neroli with a hint of the signature blue sequoia. Vetiver and cedarwood complete the base, altogether making up a sweet, feminine scent that pairs with His fragrance like a dream. Custom engraving is available for both bottles, making it perfect for gifting your loved one! W tiffany.com
Gucci Guilty Love Edition
Launched in time for Valentine's Day 2020, the Gucci Guilty Love Edition Pour Homme and Pour Femme are the new limited-edition flankers to the original 2010 editions. Designed by Gucci creative director Alessandro Michele, this new chapter of 'Gucci Guilty' celebrates liberty and freedom for eccentric lovers.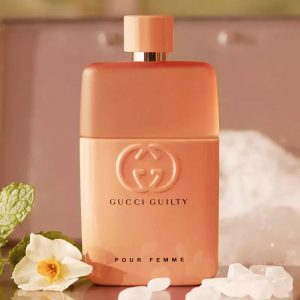 The Gucci Guilty Love Edition Pour Femme fragrance embodies this free spirit with an oriental, floral and fruity chypre paying tribute to the narcissus flower. A composition of bergamot, grapefruit and a watery accord lifted by notes of raspberry offer green crystalline freshness at its opening. Heightening its floral narcissus heart are violet and jasmine sambac, which dry down to an airy musk base with an intense enveloping of mineral amber.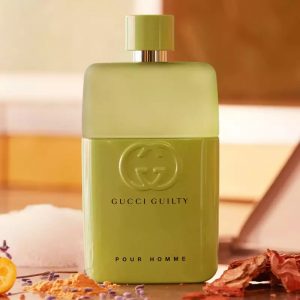 Matching the striking character of its feminine counterpart, the Gucci Guilty Love Edition Pour Homme offers a modern, earthy scent characterised by spices, citrus and masculine woods. Leading its spicy accent are notes of ginger, mandarin and pink pepper elevated by a kumquat accord. At the heart is a blend of lavender, geranium and rosemary, with patchouli and vetiver providing a sensual, lingering finish. W gucci.com
Emporio Armani In Love With You Freeze/Stronger With You Freeze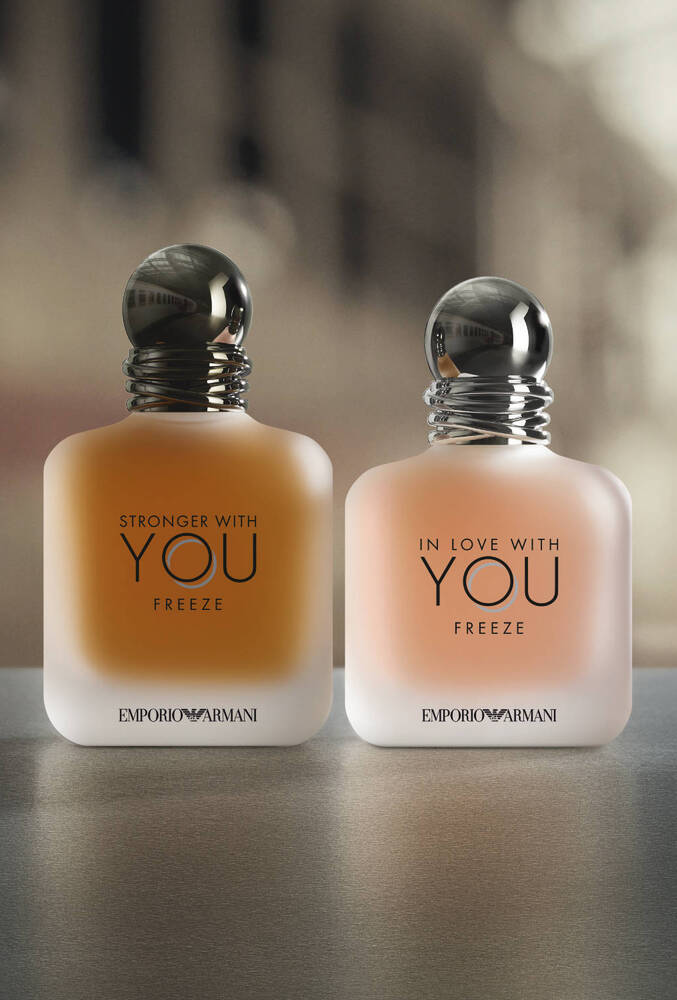 Evoking the romantic journey of a couple freezing a captivating moment, the new Emporio Armani fragrance duo marks a new episode in the brand's 'TOGETHER STRONGER' love story. British actor Nicholas Hoult and Italian actress Alice Pagani star in the campaign video, each personifying the fresh energy and radiant sparks in the respective scents (watch it here).
Capturing the thrill of love, the In Love With You Freeze opens with a refreshing burst of bergamot, cherry, pear and mandarin. A delicate blend of jasmine sambac absolute, peony accord and lily of the valley accord accentuates its floral heart, anchored by a warm, woody base of Guatemalan patchouli, vetiver and white musk.
The Stronger With You Freeze for Him is unveiled as a woody, fougere fragrance with urban dynamism. Highlighting its elegance are hints of fresh lime at the top, developing into a clean blend of sage and lavender. A masculine woody amber accord leaves a lingering trail of seductive energy, perfectly matching its sensual equal. W armanibeauty.com
Valentino Uoma/Donna Born in Roma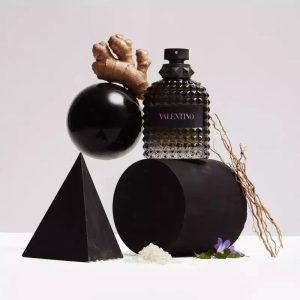 In homage to the Maison's Roman roots, Valentino has released two fragrances crafted with couture elegance in mind. For Him, the Uoma Born in Roma presents a modern aromatic vetiver fragrance featuring top notes of violet leaves absolute, ginger essence and citron essence. Contrasting the sophisticated entrance are cool notes of mineral salt and peppermint accord at the heart, finished  with warm, leathery aromas of vetiver and guaiac wood.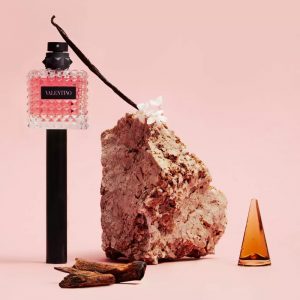 Complementing the edgy masculine fragrance is an unmistakably feminine floriental scent in the form of the Donna Born in Roma. Crafted with three types of jasmine and blended with vanilla bourbon – the most expensive vanilla extract in the world – this fragrance exudes a past meets present edge that reflects Roman street culture. Both fragrances are encased in armours featuring the signature Valentino stud, inspired by Roman architecture and representing a rebellious era in high fashion. W valentino.com
Issey Miyake L'eau D'Issey Rose&Rose/Wood&Wood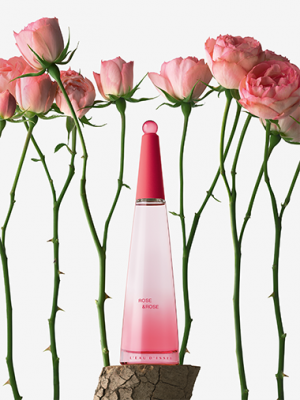 Unveiled as the more intense version of the L'Eau d'Issey, the L'eau D'Issey Rose&Rose translates the exuberance and beauty of roses into a sweet, fruity fragrance For Her. Top notes of pink pepper, raspberry, pear and of course, rose greet the nose before the floral infusion of Bulgarian rose and Osmanthus offer a powerful surprise. This delicious representation of nature finishes with patchouli essence and hints of ambrox and cashmeran for a silky, long-lasting sensation.
Whilst she extols roses, he favours wood – thus introducing the L'eau D'Issey Wood&Wood For Him. Made with an equally powerful and poetic vision of nature, this masculine scent goes all out on woody notes. Spicy grapefruit, cardamom and elemi essence opens at the top, deepening into aromas of Virginia cedarwood and sandalwood, alongside ambrox and apricot at the heart. Intensifying the composition is a base of Haitian vetiver and patchouli, blended with a lingering musk. W isseymiyake.com
Carolina Herrera Good Girl/Bad Boy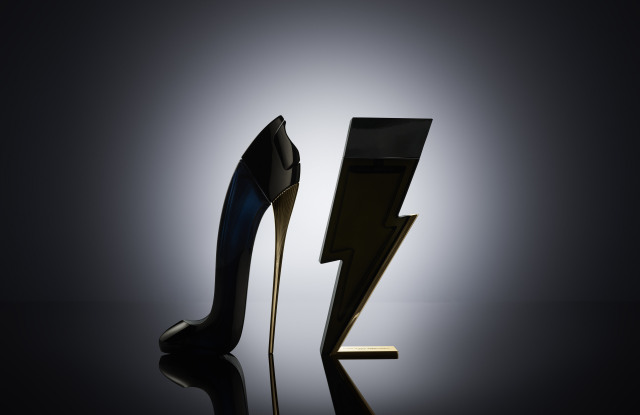 Originally launched in 2016, the Carolina Herrera Good Girl has charmed many a girl (good or otherwise) with its sexy, oriental fragrance. Representing the duality of women today, the scent combines a floral blend of white sambac jasmine and tuberose with the rich, mysterious notes of cocoa and tonka bean. The addictive composition is housed in a black stiletto flacon befitting the #itsgoodtobebad attitude.
The yin to the yang of Good Girl, BAD BOY Eau de Toilette was introduced last year as its rebellious masculine match with the same expression of dualism. Elements of strength and sensitivity, power and empathy, heroism and vulnerability come to play in this oriental scent which juxtaposes the brightness of sage, green bergamot and pepper with the sensual darkness of tonka beans, cocoa and amber wood. It comes in a black lighting-bolt shaped bottle, an ideal sculptural partner to the Good Girl. W carolinaherrera.com
Photos: respective brands