Athletes have always garnered revere but none in recent years have stepped up in terms of relevance and held the attention of the world quite like Naomi Osaka.
In a world that's increasingly global, the three-time Grand Slam singles champion and reigning US Open champion continues to check all boxes beyond popularity by using her voice in causes that matter.
Since winning her first Grand Slam in 2016, she hasn't stopped exercising her influence and voice and doesn't look like she will be soon, a streak that most recently got the attention of Louis Vuitton, who has named her the latest House ambassador.
This is why she's today one of the most explosive and influential tennis players of all time.
View this post on Instagram
For love of tennis
Born in Osaka, Japan, to a Haitian father and Japanese mother, Naomi moved to New York when she was three years old, where her father was inspired to teach tennis to her and her sister Mari after watching the Williams sisters compete at the 1999 French Open. Having little experience himself, he used a blueprint devised by Richard Williams himself, who also trained his daughters Serene and Vanessa to become two of the best players in the world despite never having played himself. Naomi would go on to train with Patrick Tauma at the ISP Academy, the Harold Solomon Tennis Academy and later the ProWorld Tennis Academy before she playing her first qualifying match at the ITF Women's Circuit on October 2011 on her 14th birthday. Although Naomi was raised in the United States, her parents decided she and her sister would represent Japan, a decision made at an early age as they always felt Japanese.
Naomi entered the professional leagues just before she turned 16 and in a few short years, would become the  first Asian player to hold the No.1 ranking in singles and the first Japanese player to win a Grand Slam. In 2013, Osaka entered the WTA professional circuit as a rising star quickly gaining fans and media attention through her powerful serve and strong forehand. Soon thereafter in January 2016, Osaka qualified to enter her first Grand Slam, progression into the third round. That year, Osaka won "Newcomer of the Year" at the 2016 WTA Awards.
Two years later in 2018, Naomi has one of the strongest seasons to date, winning 2 Grand Slams. In 2020, Osaka won her second US Open title capturing the world's attention against the backdrop of a pandemic and social unrest. In 2020, Osaka was named Sports Illustrated Sportsperson of the Year, Ad Weeks Most Powerful Woman in Sports, Forbes Highest Paid Female Athlete of all Time, and one of Time Magazine 100 Most Influential People. She represents Japan in competition and will be the face of the Tokyo 2021 Games.
View this post on Instagram
For love of humanity
Activism – especially in regards to the #BlackLives Matter movement – is also something she holds close. She was a 14-year-old living in Florida when Trayvon Martin was fatally shot just three hours north of her. When George Floyd's death sparked outrage online and all over the world, she her and boyfriend rapper Cordae flew out to Minneapolis to be part of the protest. It was her first rally of any kind, and she rallied her supporters online with photos posted on social media.
When certain world leaders took to bullying Asian communities following the outbreak of Covid-19 from the epicentre of Wuhan, she also raised her voice on Twitter to call for it to end. She followed up her words with action by designing face masks, which sold out rapidly, with her sister to raise money for UNICEF's Covid-19 relief efforts.
Her two worlds of tennis and activism would come together to give her her biggest moment yet during the US Open in September 2020.
For each round of the annual tournament, she wore seven different face masks, each bearing the name of a Black person whose death has been repeatedly chanted in nation- and worldwide protests involving racial injustice. In no particular order, the names were Breonna Taylor, Elijah McClain, Ahmaud Arbery, Trayvon Martin, George Floyd, Philando Castle and Tamir Rice.
When asked by a reporter after the tournament the message she intended to send, she responded: "Well, what was the message that you got was more the question. I feel like the point is to make people start talking."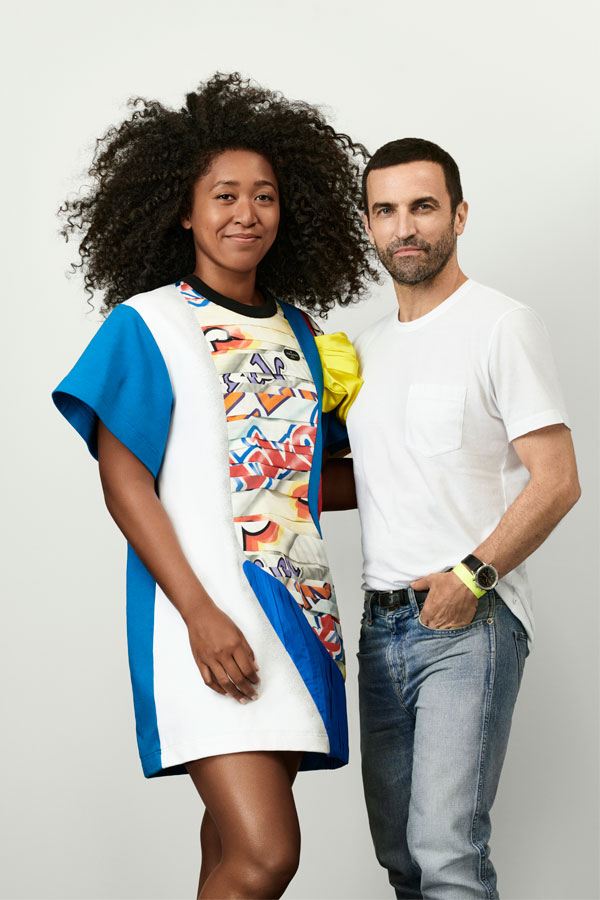 For love of fashion
Her strength, talent, grace and multi-faceted independence eventually led to Louis Vuitton naming her as the latest brand ambassador, citing her as the perfect incarnation of the Louis Vuitton woman.
Naomi will make her debut as the House's latest ambassador in the Spring-Summer 2021 fashion campaign photographed by Louis Vuitton's Artistic Director of Women's Collections, Nicolas Ghesquière.
Responding to the announcement which was broken to the world by Vogue, Naomi tweeted about how she bought her mother her first Louis Vuitton bag when she was 16, calling this ambassadorship a "full circle".
"Aside from tennis, my most treasured passion is fashion; and there is no brand more iconic than Louis Vuitton. It is such an honour to work with Nicolas – he's a designer I admire so much and we share a mutual love of Japanese culture and style. To become global brand ambassador is truly a dream come true for me," says Naomi.
"Naomi is an exceptional woman who represents her generation and is also a role model for everyone. Her career and convictions are inspiring. I am in awe of Naomi, she stays true to herself and doesn't compromise on her values," says Nicolas Ghesquière.