Mercedes-Benz Malaysia (MBM) saw an extraordinary sales performance with 13, 079 cars sold.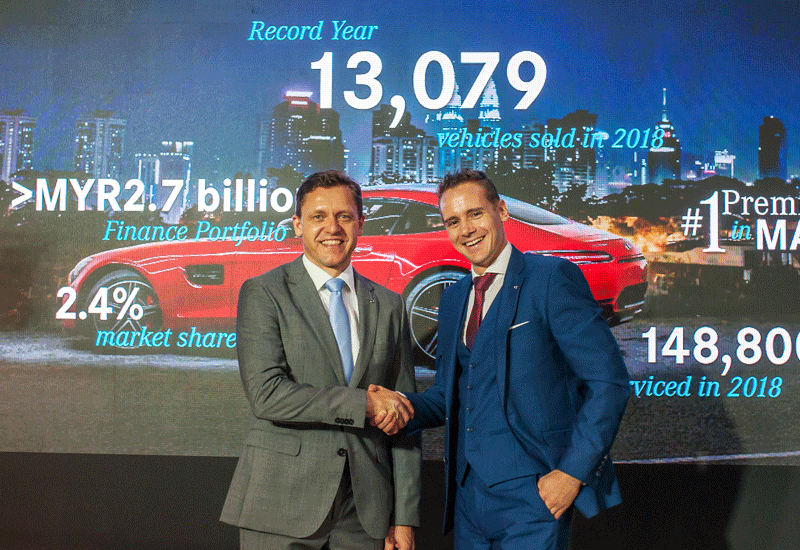 Last year marked a good year for Mercedes-Benz Malaysia (MBM) as it not only saw an extraordinary sales performance with 13, 079 cars sold, it also observed its fifth consecutive record year. All the above translated to mean a 9% overall growth, seeing the car marquee capturing a 2.4% market share, cementing Mercedes-Benz as the undisputed luxury lifestyle brand in Malaysia.
The numbers were spearheaded by MBM's locally produced limousines, which recorded 7,910 units sold. Second to that were the Mercedes-Benz SUVs, particularly, the Mercedes-Benz GLC 200 and GLC 250, with 2,613 units sold. Compact cars were third in line, recording a total of 1,875 units sold while the Mercedes-Benz Dream Cars saw a total of 662 units sold.
This followed 20 vehicle launches throughout 2018, proof of a healthy momentum of demand for Mercedes-Benz vehicles. Some of the notable key launches included the locally assembled Mercedes-AMG C 43 and GLC 43, Mercedes-AMG E 53 Sedan and Mercedes-AMG E 53 Coupé, its New Dream Cars Collection, the New Mercedes-Benz S-Class Family, and the all-new Mercedes-Benz A-Class and new generation C-Class.
Additionally, 2018 also saw MBM showcase the brand's innovative edge with the EQ Concept premiere in Kuala Lumpur – a first in Southeast Asia. The milestone has positioned Mercedes-Benz as a reinventer of the automotive industry with the EQ brand, pioneering the direction and setting the stage for future mobility.
MBM spearheaded engaging activities to match a diverse fan base aligned to its overall Best Customer Experience commitment. MBM engaged with fans through events like Urban Hunting x ULTRA Singapore 2018, Mercedes-Benz Fashion Week in Kuala Lumpur, the MercedesTrophy and introduction of the AMG Owners Club Malaysia (AOCM) which are aimed at elevating the AMG experience with exclusive access to all things AMG for owners.
What's ahead after such achievements? There's only one way to find out, and that's to enjoy the drive with Mercedes-Benz as and when it comes.
(Source: Mercedes-Benz Malaysia)