Love prevails as couples are finding new and creative ways to commemorate their union in consideration of the health and safety of loved ones. In light of huge gatherings and social activities being prohibited since the pandemic, Mandarin Oriental, Kuala Lumpur introduces Takeaway Wedding for couples to share their happiness and celebrate with their dearest, near and far.
The Takeaway Wedding by Mandarin Oriental is a concept that meets all standard operating procedures set out by the local authorities whilst creating celebratory moments that the couple will remember for life. Couples will be presented with three specialty menus curated by the culinary maestros of the hotel.
The menus are Chinese Wedding Menu, Malay Wedding Menu and High Tea Wedding Menu. Each Takeaway Wedding Box includes a Mandarin Oriental Signature Wedding Cake to mark the joyous occasion.
Set to bestow best wishes upon every couple, each wedding menu is prepared with thought and care, and couples can be assured that only the finest are presented to their guests.

A wedding to your taste
The Chinese Wedding Menu, priced at RM 288 per person is a 7-course menu and starts with Mandarin Oriental's four hot and cold combination; followed by Double boiled sea treasure soup; Braised abalone with mushrooms and wok fried Hong Kong siew pak choy; Sauteed sea prawns coated with salted egg yolk; Wok friend cubed beef tenderloin, tossed in black pepper and onions; Lotus leaf fried rice with honey glazed chicken and dried oysters; and Mandarin Oriental signature wedding cake.
The Malay Wedding Menu, priced at RM 200 per person starts with Kerabu Pucuk Selembut Kacang Botol, Sata Ikan, Cucur Ketam Masala – Mixed herb salad with angle beans, baked fish mousse, deep fried Indian crabmeat fritter; followed by Daging Masak Hitam Berempah Daun Kari – Traditional slow cook beef with tomato chili paste, local spices, sweet soya sauce and curry leaf; Ayam Bakar Sos Percik Pedas Manis – Baked chicken with local spices and mild spicy sweet sauce; Sotong Goreng Asam Kunyit – Stir fried squid with tamarind chilli paste, Sayur Goreng Campur – Stir fried mixed vegetable with chilli paste; Nasi Minyak Bergajus dan Nasi Kukus Beras Wangi – Basmati ghee rice with local herbs and steamed Jasmine rice; and Mandarin Oriental signature wedding cake.
Couples who prefer boxes of sweetness to mark their occasion can opt for the High Tea Wedding Menu, priced at RM 180 per person. This includes classic favourites such as finger sandwiches – Smoked salmon with horseradish cream & salmon roe; Truffle cream cheese with carrot pickles & cucumber; Egg with mayonnaise & tarragon; and Chicken with Cajun mayonnaise. In addition, the menu also comes with an assortment of Mandarin Oriental Scones – Plain, Raisin and Chocolate, with clotted cream, strawberry jam, and lemon curd. The high tea selection also includes artisanal pastries – Chocolate cupcake; New York cheesecake; Berries tartlet; Mango choux; Pineapple tatin tart and lastly, Mandarin Oriental artisanal chocolate cake.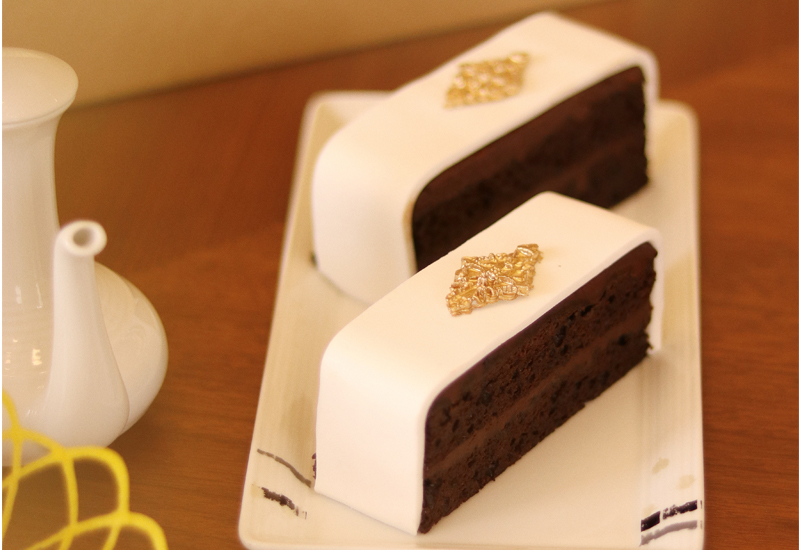 The menus can also be customised to meet the couple's unique preference such as food or dietary requirements, theme, colours, and decorative elements. Couples can also opt for enhancements such as wedding favours, mini-Champagne bottles and more upon request (with additional charges).
The set menus will be elegantly packed in Mandarin Oriental boxes, and they can either be collected or delivered to their guests' doorstep by the hotel's delivery team.
With every booking confirmed, couples can enjoy a complimentary honeymoon stay at the hotel's suite and have an event space to be utilised as a venue for tea ceremony, solemnisation or even photography. Suite entitlement is as follows:
50 boxes and above – Club Suite
150 boxes and above – Royal or Presidential Suite
To order or inquire about this promotion, contact +60 (17) 226 7955 or email mailto:mokul-wedding@mohg.com.
Photos: Mandarin Oriental KL