New to Argentinian flavours ourselves, we visited Mandarin Grill to try some of Chef Sebastian's dishes in the new a la carte menu – here are our thoughts.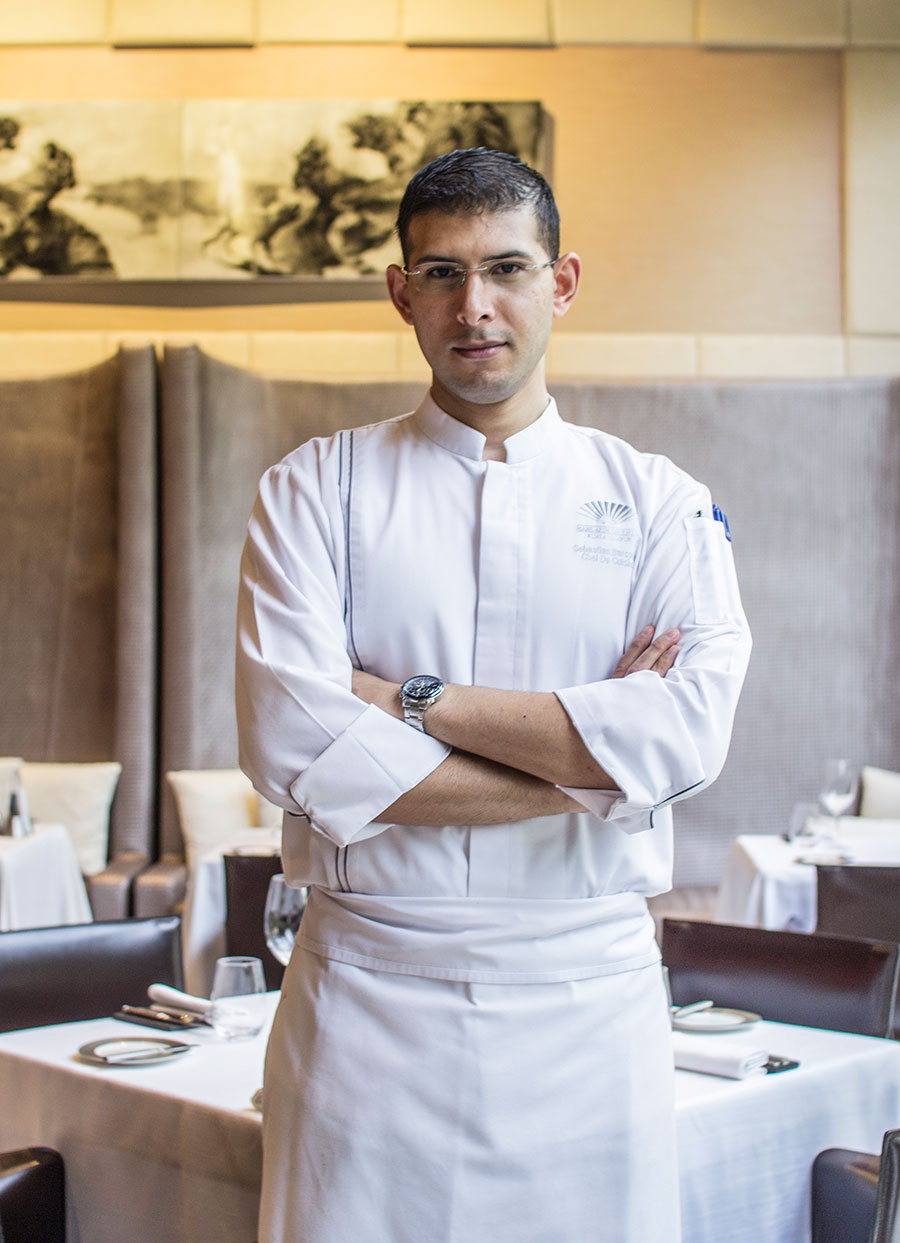 Mandarin Grill is no stranger to foreign flavours and styles of cooking – including French cuisine as well as Australian and South African – but this is the first time the restaurant is introducing an Argentinian Chef de Cuisine to its kitchen.
Enter Sebastian Barcudes, who started his culinary career at the age of 22 at a restaurant in Argentina and has since achieved numerous accolades throughout his 12-year culinary career.
The former pastry chef also worked under the tutelage of Michelin Star Chef Bjorn Alexander Panek for three years, and further expanded his culinary skills and knowledge at 'CUT by Wolfgang Puck' and Shangri-La Doha thereafter, before joining Mandarin Oriental, Kuala Lumpur.
New to Argentinian flavours ourselves, we recently visited Mandarin Grill to try some of Chef Sebastian's dishes in the new a la carte menu – here are our thoughts.
Starter – Prawn Escaveche (RM105)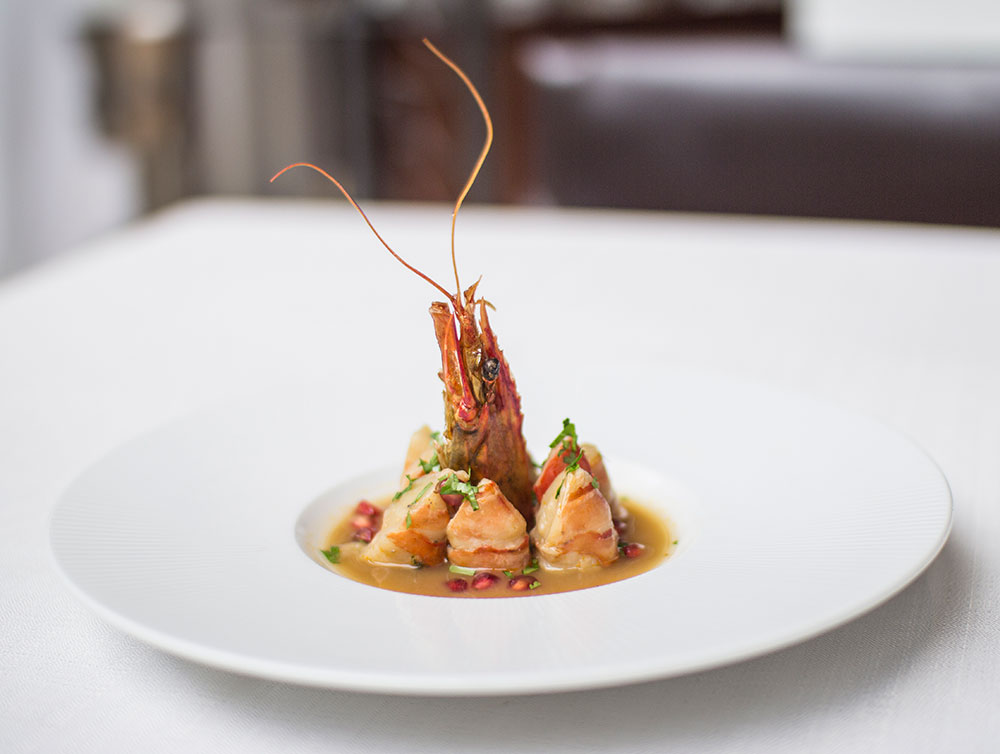 Though escabeche is traditionally a Spanish dish, Chef Sebastian says his version of this starter incorporates Argentinian ingredients. We're personally not fans of cold prawns (escabeche is usually served cold or at room temperature), but the marinade does have a unique flavour and tanginess that help us warm up to the dish a little, if not completely. Paired with the fruity notes of pomegranate that delightfully draws out the sweetness of the prawns, the escabeche proves to be a light yet flavourful starter.
Starter – Seared Hokkaido Scallop (RM98)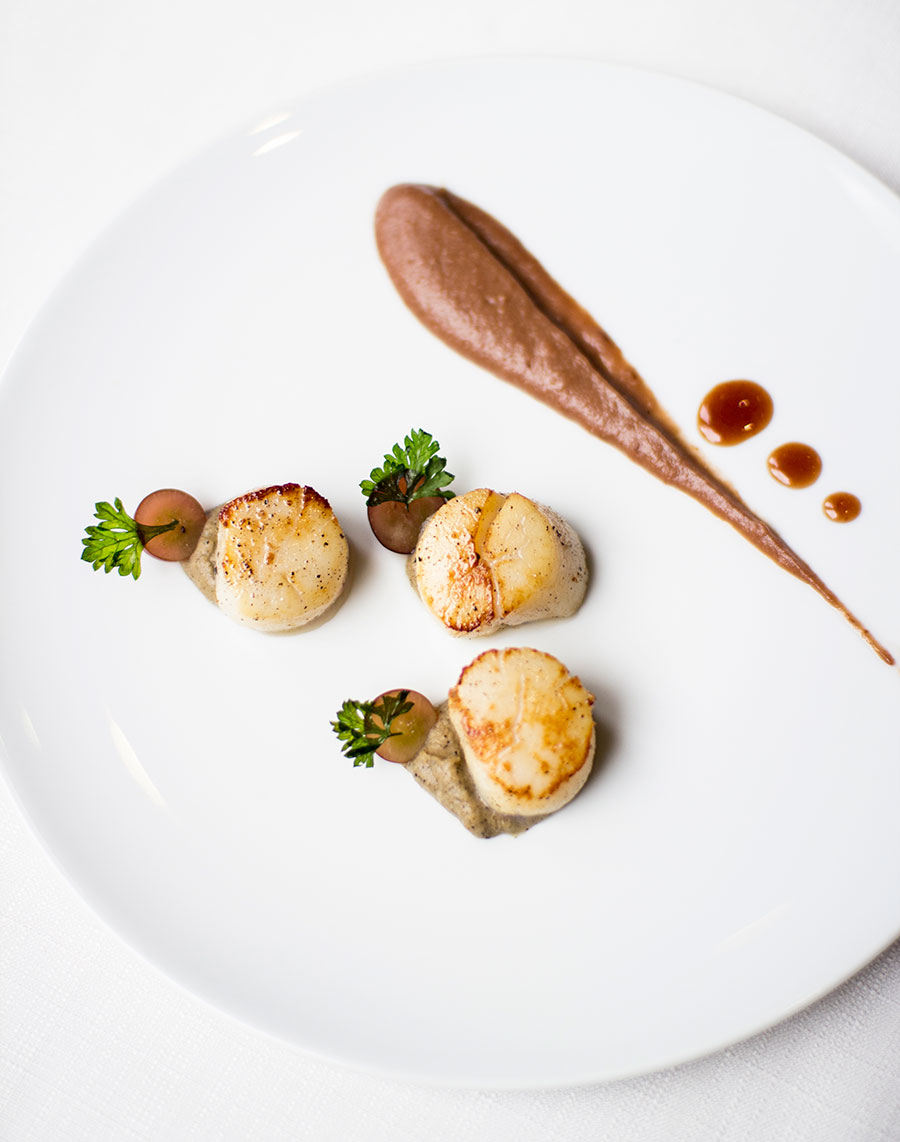 When it comes to scallops, we believe the sauce it is served with can really enhance or ruin its taste. In the case of Chef Sebastian's pear and ginger chutney and grape gastrique, they are both spot on, whether taken individually with the scallop or mixed together. The scallop itself is also seared to perfection, giving it a nice springy texture and slightly smoky aftertaste.
Braised Escargot (RM78)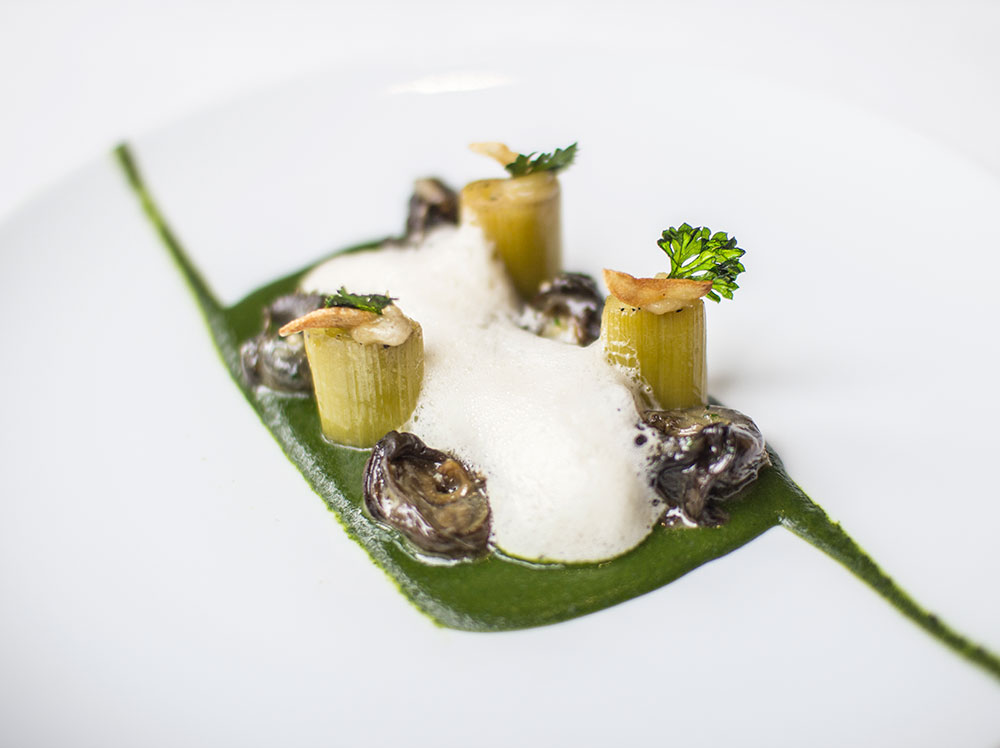 For our third starter, we are served braised escargots and leeks atop parsley cream with garlic foam down the middle. Again, the blend of ingredients before us appear quite intriguing. The milky parsley cream is not too overpowering and provide a nice balance to the earthy flavours of escargot and the buttery garlic foam, while the garlic chips add a nice crunch to the sweet and juicy leeks.
Soup – Parihuela (RM56)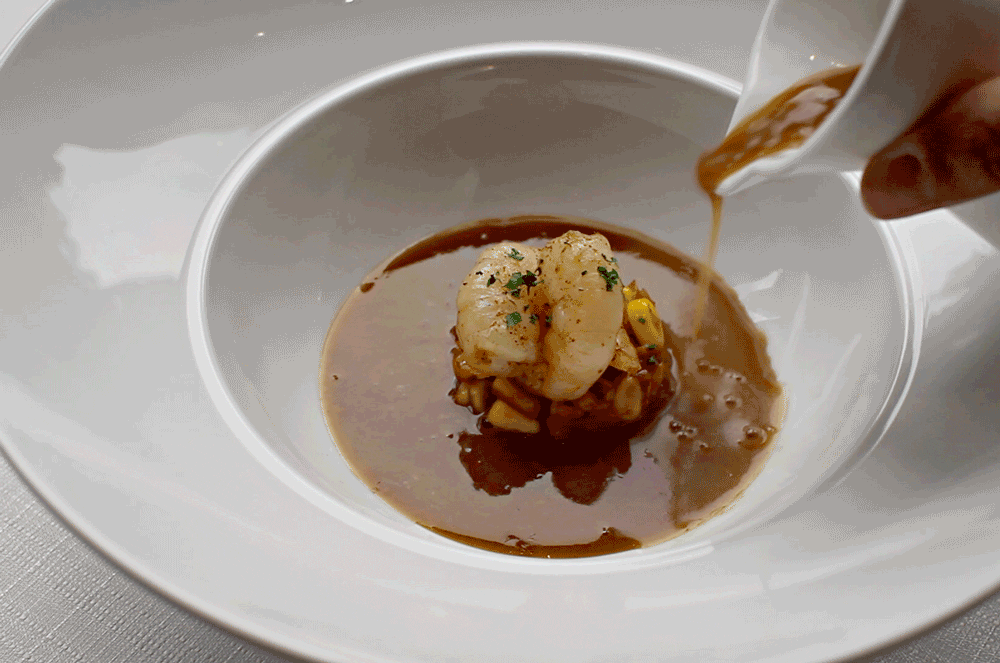 This Peruvian seafood bisque catches us by surprise with its incredibly intense flavours and thick broth that have our tastebuds eagerly trying to decipher its spices and ingredients. We like that the corn gives us something sweet to munch on to complement the savoury soup and the prawns blend right in. Overall, it is a heart-warming dish which we think should be savoured after starters or main because of its strong flavours and consistency.
Main – Boston Lobster Gallega Style (RM388)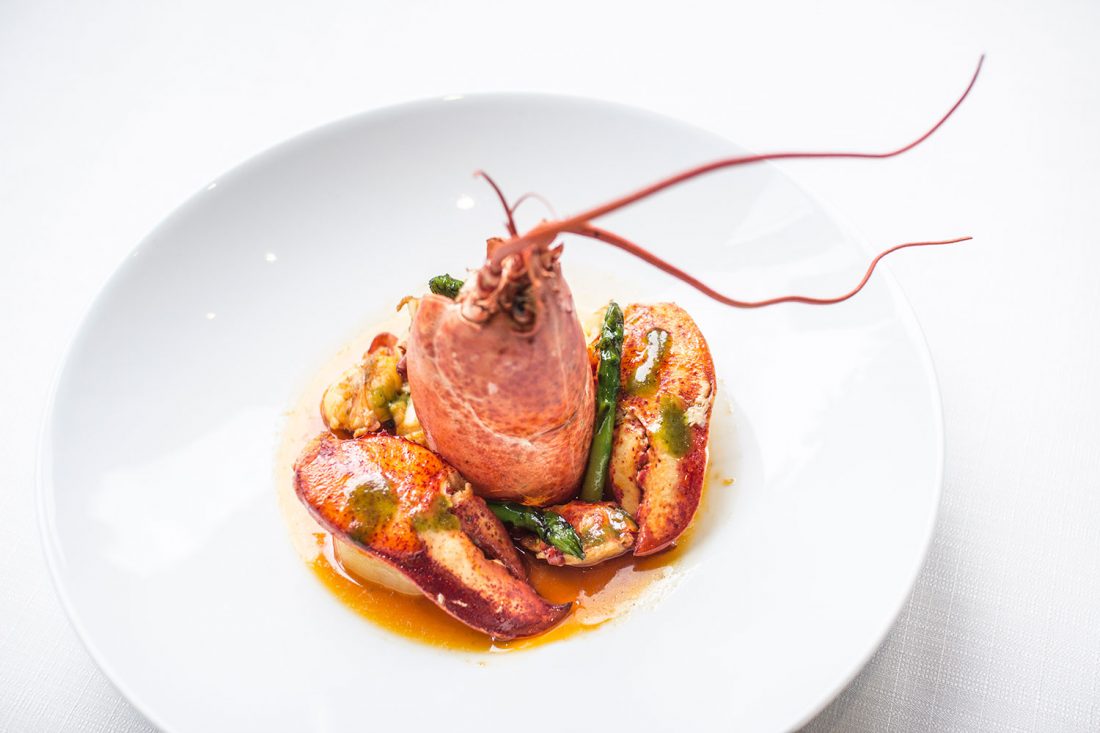 Those familiar with the term "Gallega style" (or "Galician-style") will know that it refers to a Spanish way of cooking with potatoes, olive oil and paprika, commonly used for an octopus dish. According to Chef Sebastian, he has Spanish influence from his maternal side of the family, from where he learnt the Gallega-inspired recipe he used to prepare this lobster dish. Before we get to the taste, we must say how appetising this dish look at first sight. Presentation aside, the lobster is very well-cooked and perfectly matched by the aromatic sauce, while the soft confit potatoes balance out our protein-based meal with a good dose of carbs.
Main – Black Angus Beef Short Rib (RM188)
If there is one thing we would recommend others to try from the new menu, it's the Black Angus Beef Short Rib. Beef is easily the most popular and consumed meat in Argentina, so if anyone can cook it well, it's the Argentinians. At first, we wonder if the huge chunk of meat will be tough and chewy, as is the case sometimes with thick cuts. Turns out, it is tender and succulent and that's not an exaggeration. The ginger-infused beef jus and beef floss add even more oomph to the game to make this main dish a clear winner.
Dessert – Caramel Peanut Bar (RM42)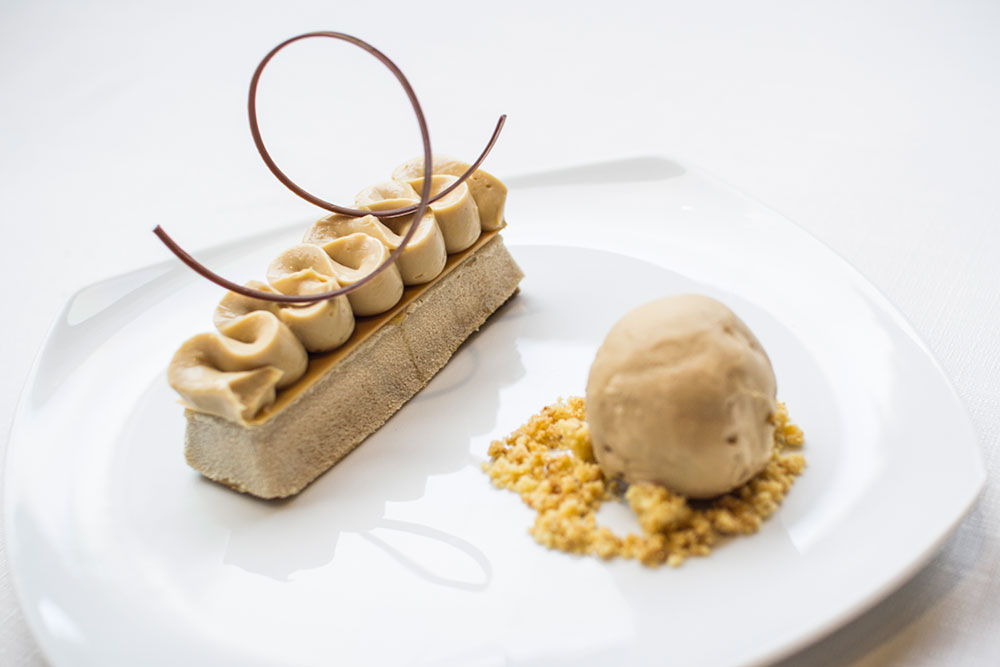 After an extraordinary main, we finally arrive at dessert. The hazelnut praline ice cream matches the peanut bar and caramel well, without being overly sweet.The chopped hazelnuts lend a nice bite to the overall melt-in-your-mouth ice cream and mousse so taste is matched by texture.
Dessert – Textures of Valrhona (RM42)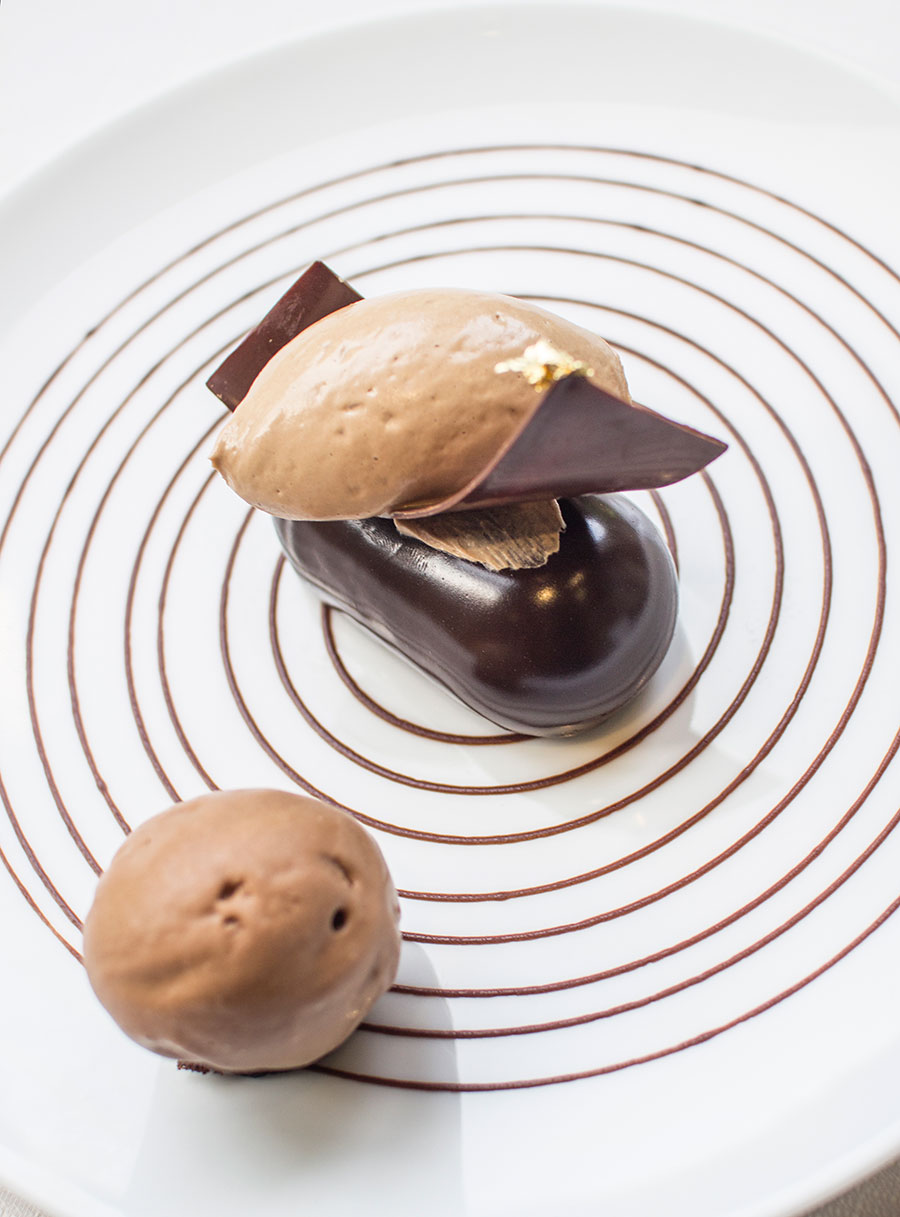 Chocolate fans, rejoice! We have discovered a dessert comprising almost all the different types and textures of Valrhona chocolate to send you to chocolate heaven and back. At the centre of this dessert is a chocolate mousse, topped with a chocolate decorative holding a scoop of hazelnut praline ice-cream and at the side is another scoop of chocolate ice cream – a bittersweet ending of the best kind that we'll happily accept at the end of a good meal.
Mandarin Grill is open daily for lunch, 12pm to 2.30pm and dinner 7pm to 10.30pm. For reservations, please call 03 2179 8797 / 8798 or email mokul-mogrillbar@mohg.com.