2-Michelin Star Chef Stéphane Buron has specially curated a menu highlighting his specialty French gourmet cuisine, available from 2 to 6 May at Mandarin Oriental Kuala Lumpur.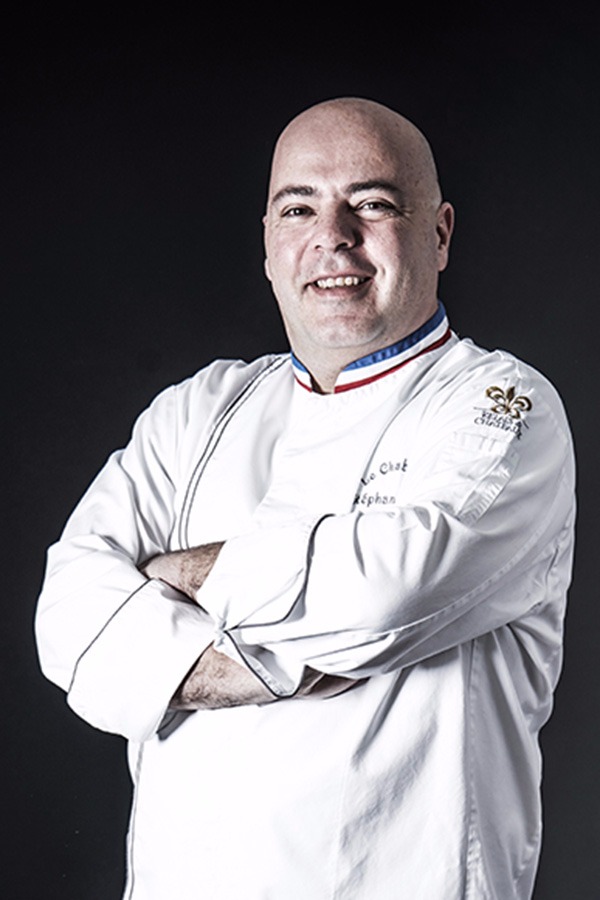 Crowned Meilleurs Ouvriers de France in 2014, the highest and most prestigious award among all professional craftsmen in France, 2-Michelin Star Chef Stéphane Buron is known for his ingenious creations of fine French cuisine, using all fresh and natural, seasonal ingredients.
Besides heading the 2-Michelin star restaurant Le Chabichou in the French Alps, Buron has been giving demonstrations and sharing his passion for gourmet cuisine worldwide, including countries like Brazil, Japan, Macau, and Thailand, just to name a few.
Making an appearance in Malaysia this week, Buron has specially curated a menu highlighting his specialty French gourmet cuisine available from 2 to 6 May at Mandarin Grill, Mandarin Oriental Kuala Lumpur.
Here is our experience of a French gastronomic journey with Buron's 7-course dinner tasting menu.
Amuse bouche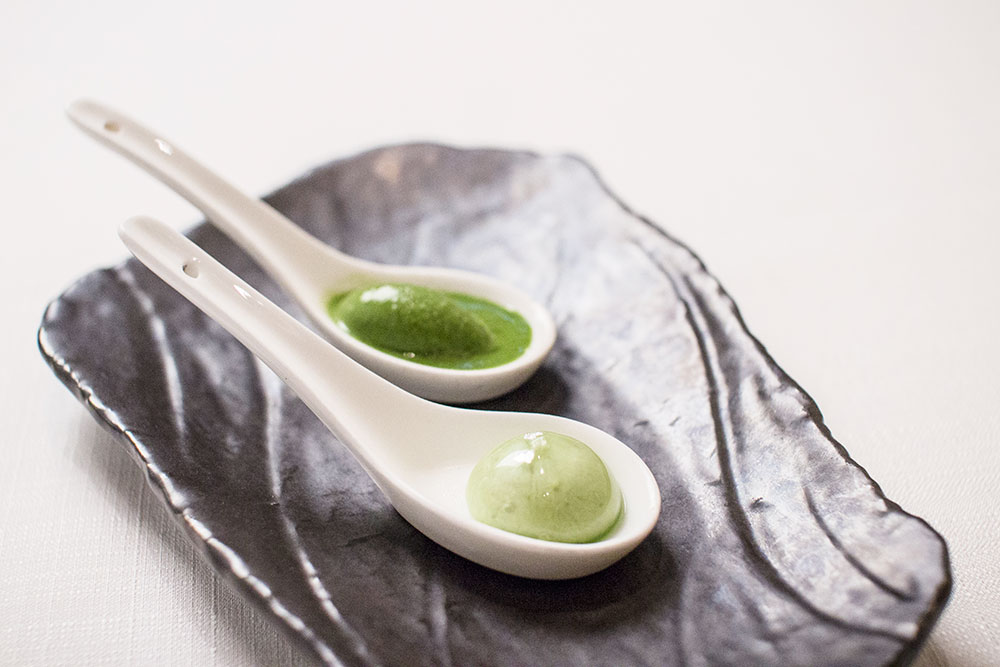 Green pea & mint pearl with herbs sorbet
Starting off with the green pea and mint pearl, we are delightfully surprised with a juicy burst of a sweet yet subtle blend of the two flavours, housed in a delicate pearl-like shell. Cleansing our palates with the refreshing herbs sorbet, we find the amuse bouche doing an excellent job of whetting our appetites for the next dishes.
Entrée 1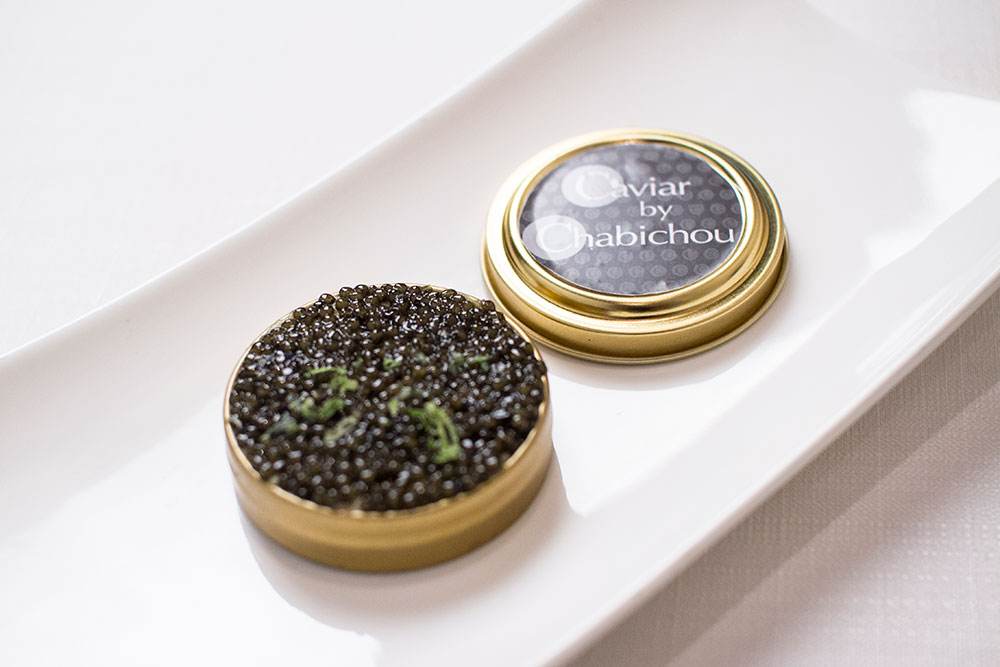 Signature Oscietra Caviar Box
paired with 2013 Domaine de Senechaux, Chateauneuf-du-Pape
Served in a round tin box attributed to Buron's culinary home, Le Chabichou, the signature oscietra caviar is simply a must-try mouth-watering seafood delicacy. With each spoonful, we savour the distinct yet carefully balanced flavours of caviar, crab and gelatin – resulting in tantalising umami goodness. Paired perfectly with a glass of 2013 Domaine de Senechaux, this unsuspecting entrée leaves our taste buds revved and ready to savour more flavours.
Entrée 2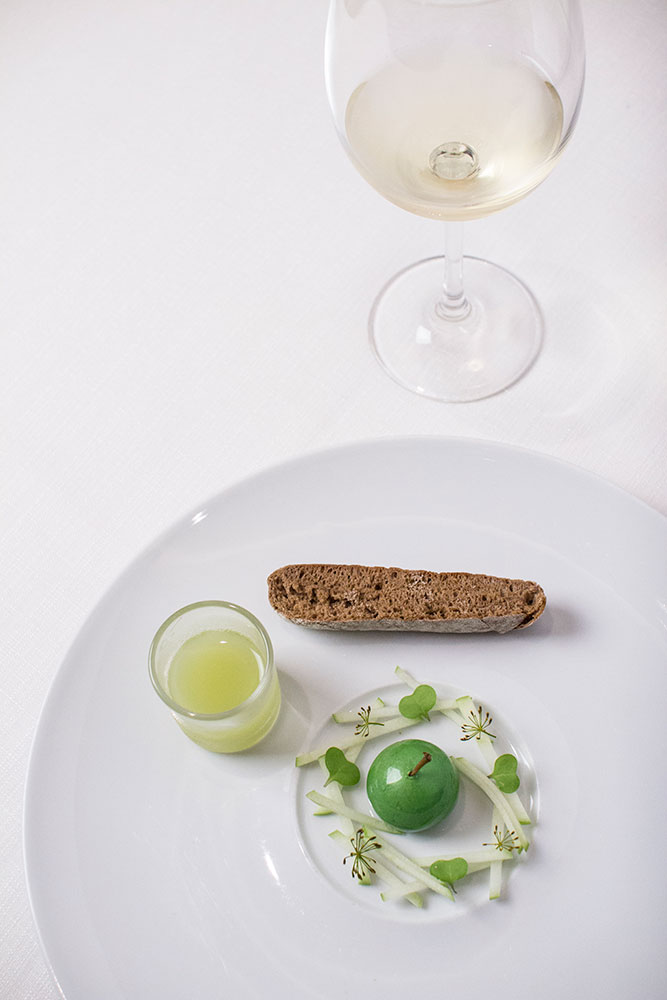 Chilled duck foie gras with Granny Smith apple
paired with 2014 Chardonnay, Noemie Vernaux, Rully
Arriving in the shape of a glossy mini Granny Smith apple, the presentation of this dish instantly leaves a good first impression. Slicing into the 'apple' finds us smooth, buttery foie gras. The rich duck liver is fantastic on its own, but gets lifted in flavours with a sip of the mixed celery and apple juice. For added texture and dimension, eat it with the apple slices or a bite of crispy rye bread. The paired Chardonnay brilliantly cuts through the fattiness while drawing out the sweetness of the foie gras.
Entrée 3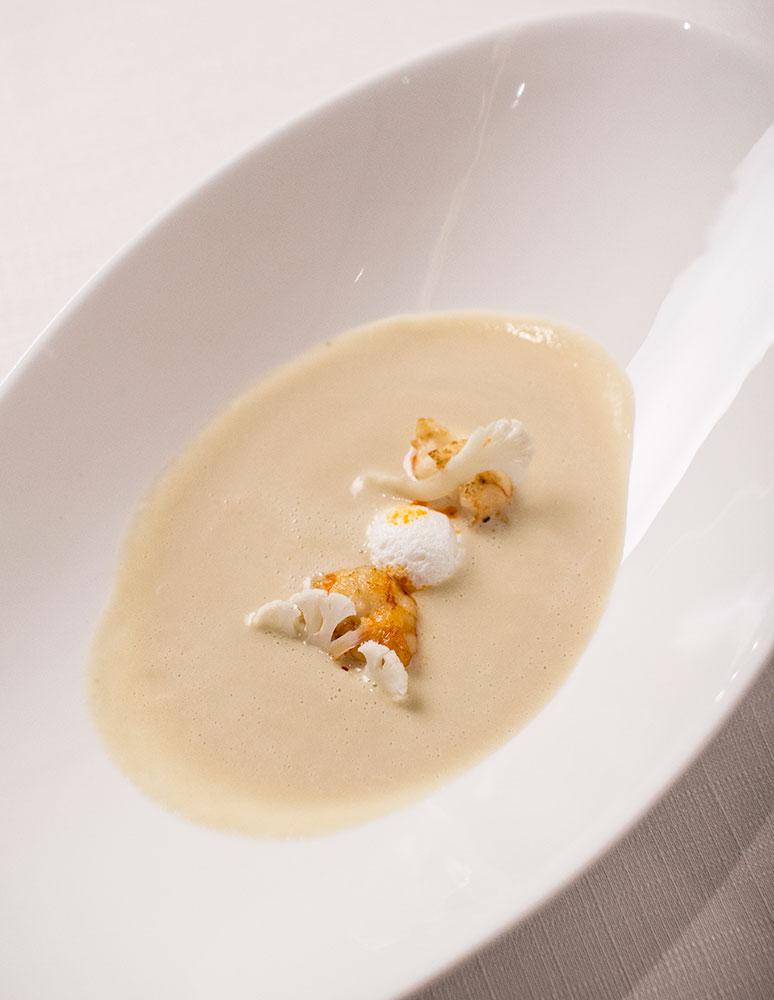 Cauliflower cream soup with langoustines
After tasting the robust flavours of caviar and foie gras, we appreciate the light yet creamy cauliflower cream soup served with egg white and langoustines. Moist and juicy on the inside, the buttery langoustines boast just the right hint of smokiness thanks to its lightly charred surface that also lends it a satisfying chewy texture.
Main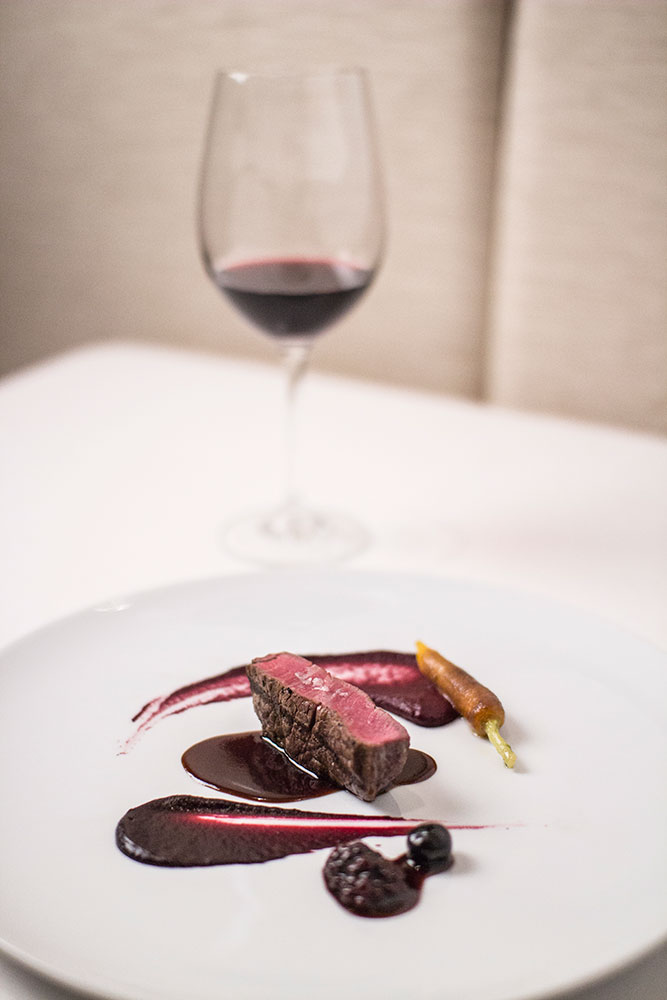 Roasted black Angus beef tenderloin with liquorice stick and red wine sauce
paired with 2015 Château Ferrande (Rouge), Graves
The fragrant aroma of the roasted Angus beef tenderloin reaches our nostrils even before the dish is set before us, leaving us on the edge of our seats. Cooked medium-rare to a pink perfection, the succulent and tender cut pairs harmoniously with the liquorice jus and red wine sauce to fill our mouths with just enough game from the beef, just a dash of sweetness from the liquorice jus and a nice lingering tail thanks to the red wine sauce. The acidity of the Château Ferrande red proves not at all too over-powering either; instead, its boldness matches the heavy layers of flavours note for note.
Dessert 1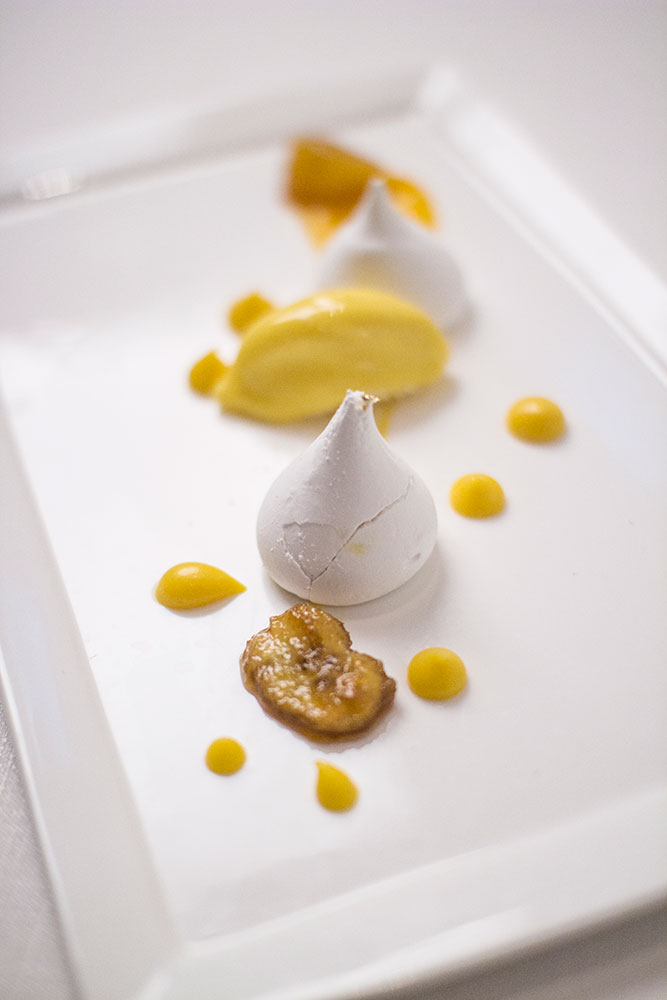 Tropical fruit tartare and fruit meringue
paired with NV Necta Rosé, Barton et Guestier, Loire
Brightening our meal in vibrant pops of yellow, this plate of tropical fruit tartare and meringue including passionfruit, pineapple, mango and banana adds some tanginess and zest to the palate, a welcoming refreshment after all the heavy flavours. Made to literally end things on the sweetest of sweet notes (we personally find it a bit too sweet for our liking) its saccharine goodness is matched by the equally rosy Necta Rosé.
Dessert 2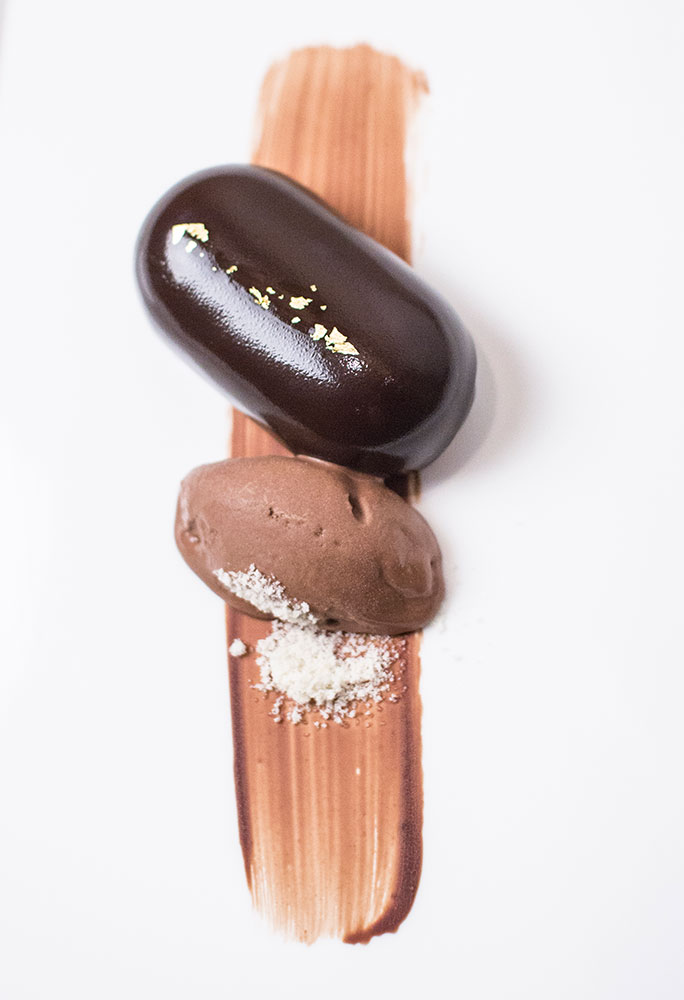 Valrhona chocolate mousse
Admittedly, our stomachs are almost at full capacity when our last dish arrives, but the sweet smell of chocolate before us is too tempting to pass. Coated in rich, dulcet Valrhona chocolate with a crunchy centre and topped with almond powder, the mousse is finely complemented by a cool bittersweet chocolate sorbet. In our opinion, the Rosé pairs even better with this compared to the meringue, awarding us with a heavenly end to our French gastronomic journey.
The 7-course meal is priced at RM438 / RM716 (without/with wine pairing).
If 7 courses prove too much for you in one seating, there are 3- and 4-course lunch meals priced at RM188 and RM228 respectively, and another 5-course dinner tasting menu priced at RM338 / RM556 (without/with wine pairing). Chef Buron's signature dishes are also presented on an a la carte menu throughout the promotion period. 

Open for lunch and dinner, Mandarin Grill accepts reservations at +60(3) 2179 8960 or email mokul-mogrillbar@mohg.com. 

Photography: Yew Chin Gan