Joining in Disney's global Ultimate Princess Celebration, which highlights the values and strength of its star heroines, eight of Malaysia's leading designers have teamed up with Her Highness Princess Zatashah of Selangor to put together a Disney Princess-inspired couture collection.
For this initiative, twelve bespoke pieces of gowns and jumpsuits have been created by renowned homegrown designers Alia Bastamam, Celest Thoi, Fiziwoo, Innai Red, Khoon Hooi, Melinda Looi, Mimpikita and Variante.
Each of the dreamy ensembles were designed after a Disney heroine and reflects their individual characteristics, whether that's Mulan's bravery, Cinderella's generosity and Ariel's bold curiosity.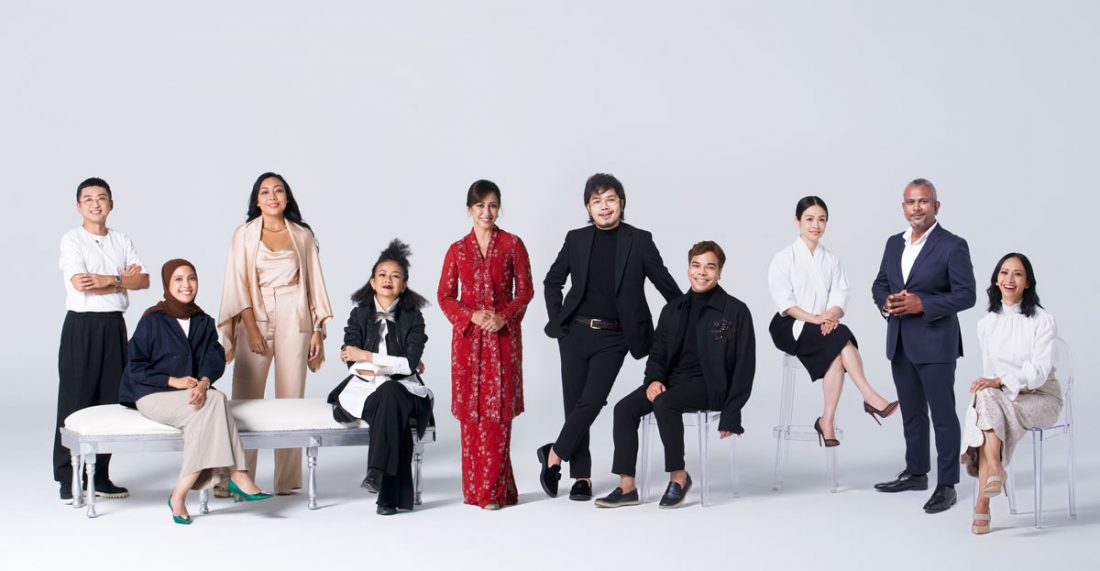 Bringing their own interpretations and distinctive styles to these inspirational tales, the eight talents have together created a one-of-a-kind collection that celebrates courage and kindness of Disney's most heroic leading ladies.
The collectors' pieces will go up for auction in December 2021, with its proceeds going to Make-A-Wish Malaysia, which grants life changing wish experiences to critically ill children in Peninsula and East Malaysia.
Yang Amat Mulia Tengku Zatashah binti Sultan Sharafuddin Idris Shah, Royal Patron of Make-A-Wish Malaysia shared: "The Ultimate Princess Celebration is close to my heart as it truly embodies the values I believe in: finding strength in yourself, staying fearless in the face of adversity and, above all, being kind in thought, word and deed."
"Their universally relatable stories inspire folks from all backgrounds to be their authentic selves and impact the world through actions big and small – something I aspire to myself through my work with Make-A-Wish Malaysia," she added.
Have a closer look at all the Disney princess-inspired bespoke pieces dreamt up by the designers below: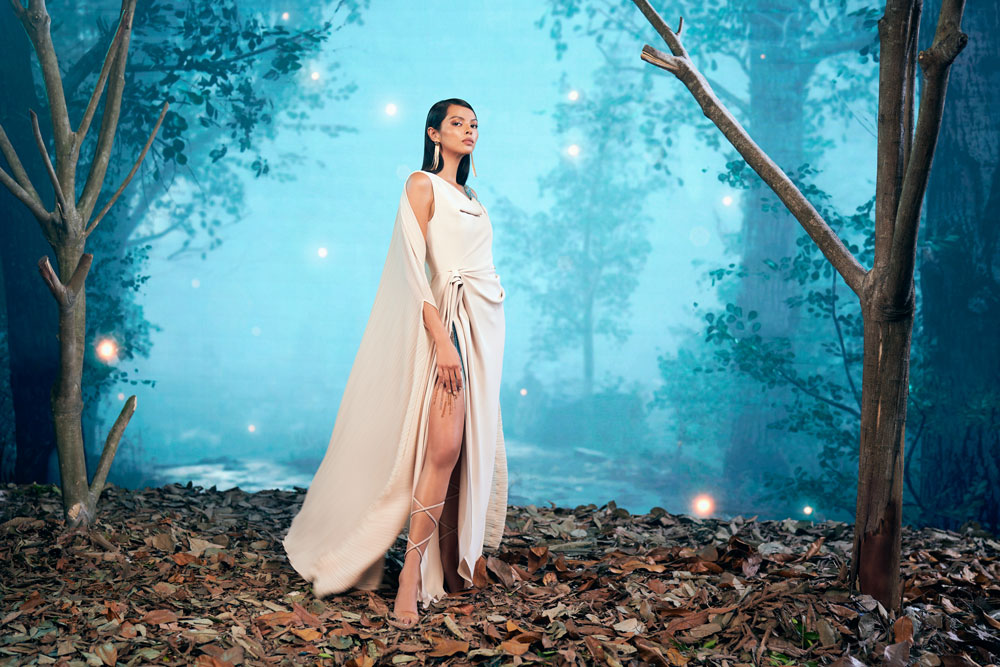 Pocahontas - Alia Bastamam
Pocahontas - Alia Bastamam
Taking a cue from Pocahontas' free spirit, this flowy, two-way ensemble is made with heavy crepe and features a draped asymmetrical neckline. Its high slit is framed with drapes and tassels embellished with sequin, gold and aqua tassels that are inspired by the princess' easily recognisable necklace. This piece is inspired by Pocahontas' empathy and kindness in her willingness to walk in the footsteps of a stranger.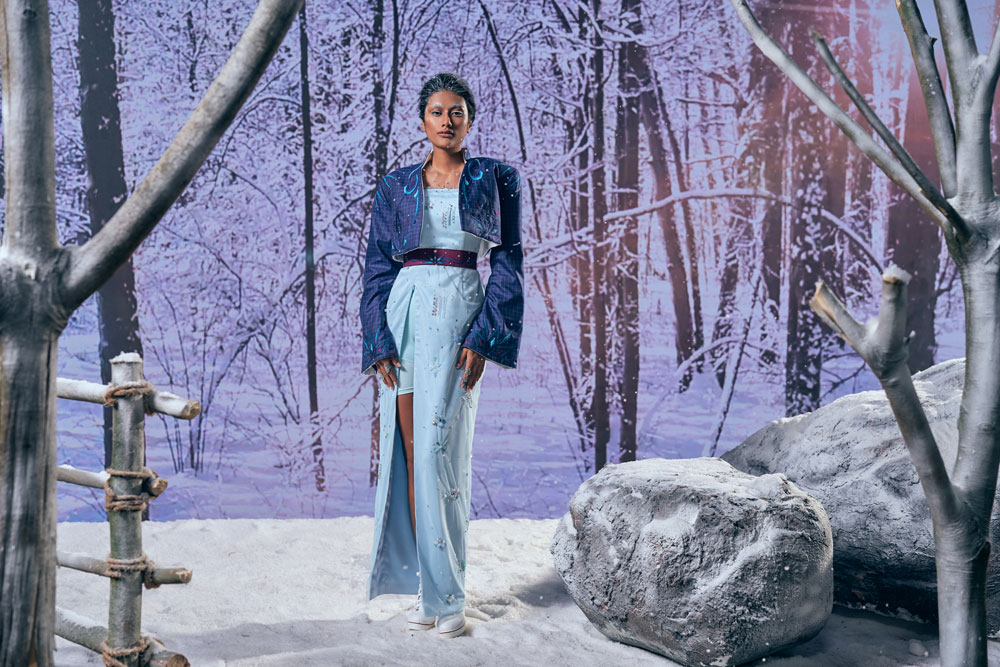 Elsa - Melinda Looi
Elsa - Melinda Looi
While this two-in-one ensemble by Melinda Looi features a lavish satin and tulle dress that resembles snow in the wind, its standout feature is its oversized reversible crop jacket with thread embroidered snowflakes. Not only does the dress have a slit that can be zipped down to form an evening gown, the jacket holds a hidden pocket which releases an ivory tulle and soft lace cape. These transformative details were inspired by Elsa's personal evolution as she bravely embraced her unique power and gift.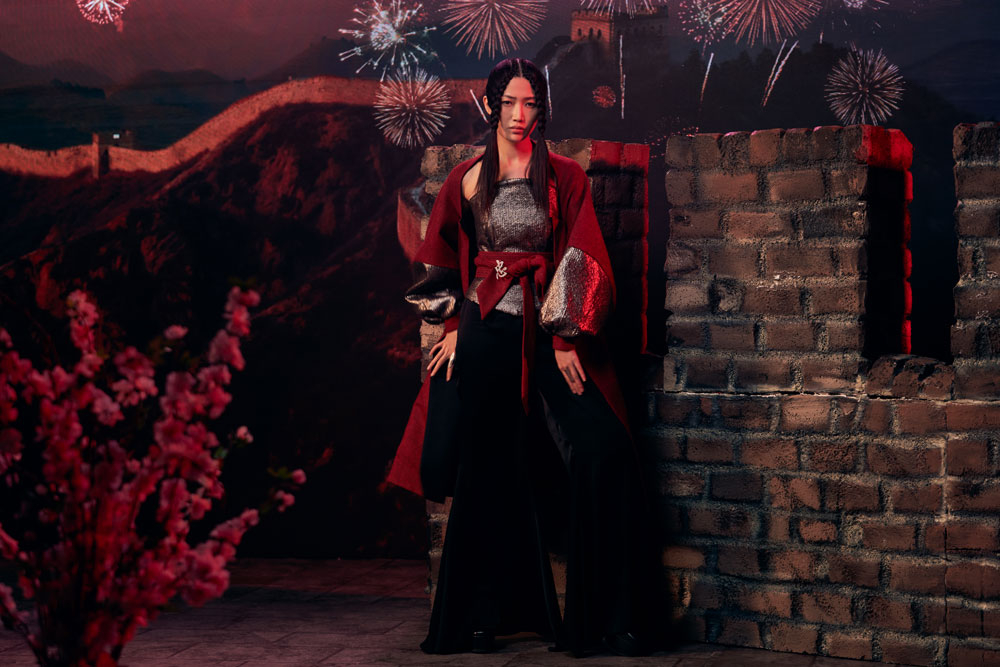 Mulan - Melinda Looi
Mulan - Melinda Looi
This fashion forward, armour-like ensemble features gunmetal sequins, a coat with the Chinese character for "loyalty" embellished in crystal stone, and is completed with a corset and heavy crepe trousers. The bold look by Melinda Looi is inspired by Mulan's courage in the face of adversity and strength in navigating her tradition-bound society to become a renowned warrior.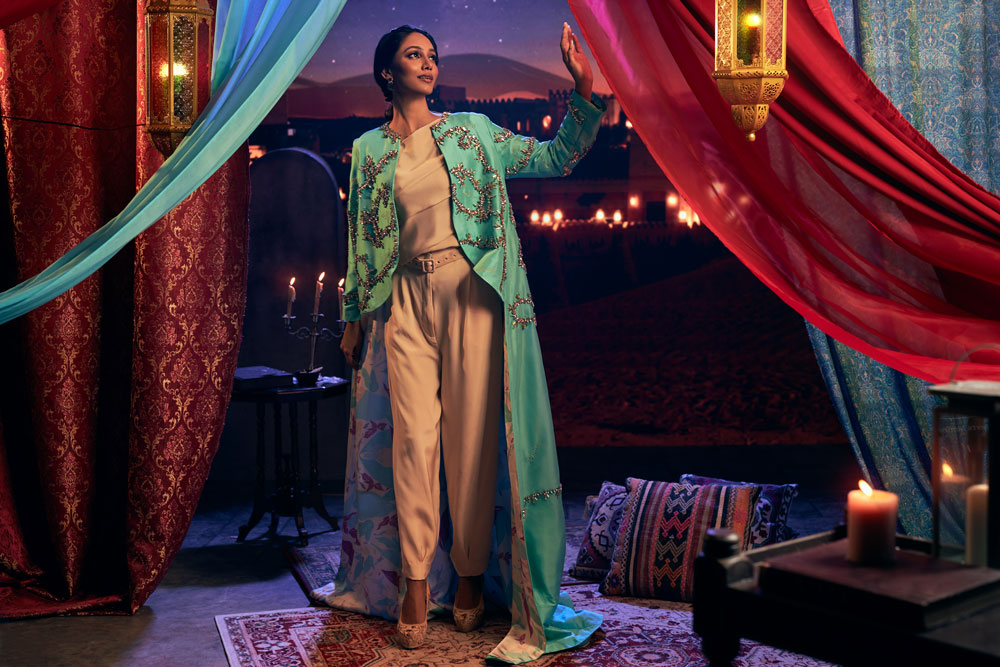 Jasmine- Nurul Zulkifli of Mimpikita
Jasmine- Nurul Zulkifli of Mimpikita
To capture Jasmine's strength of character and her compassion for others, Nurul Zulkifli designed a turquoise and nude silk crepe pantsuit that honours the beauty of her culture while exuding the elegance of her modern spirit. The piece blends her persistence and desire to be independent with her sense of wonder, which leads her to find a depth of richness and experience in a whole new world outside her palace walls.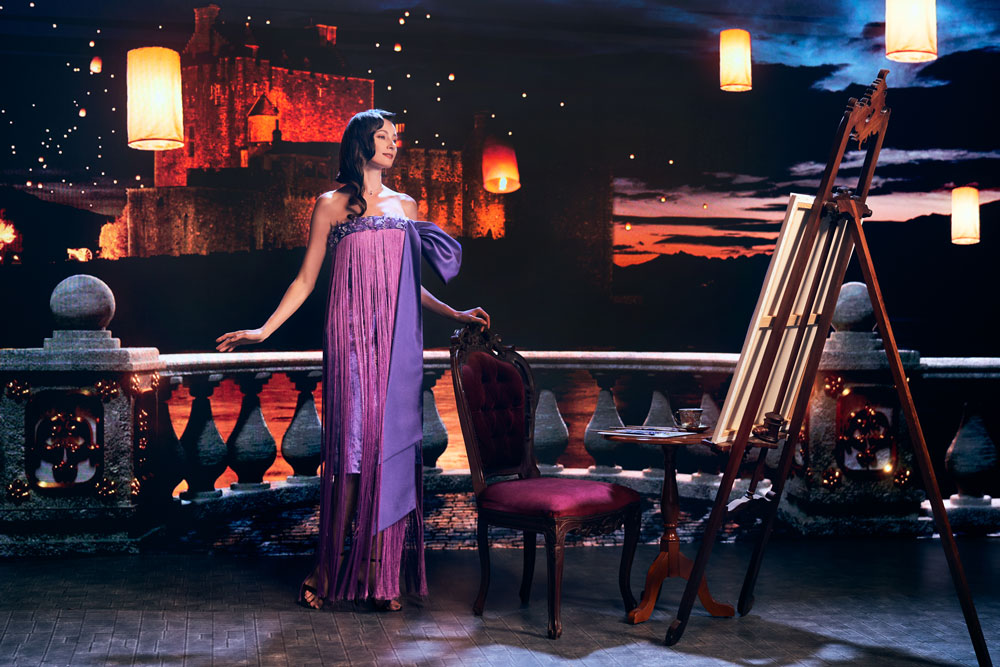 Rapunzel - Khoon Hooi
Rapunzel - Khoon Hooi
Experimenting with bold colours, textures, and patterns, Khoon Hooi created a minimalist corset-fitted dress out of indigo silk-satin in lame velvet. With the help of detachable floor-length fringes, the dress transforms into a grand evening look with a tinge of boho chic. The piece, which is embellished with Plexi petals and crystal beadings at the band, is inspired by Rapunzel's creativity and imaginative spirit that guides her on her adventures.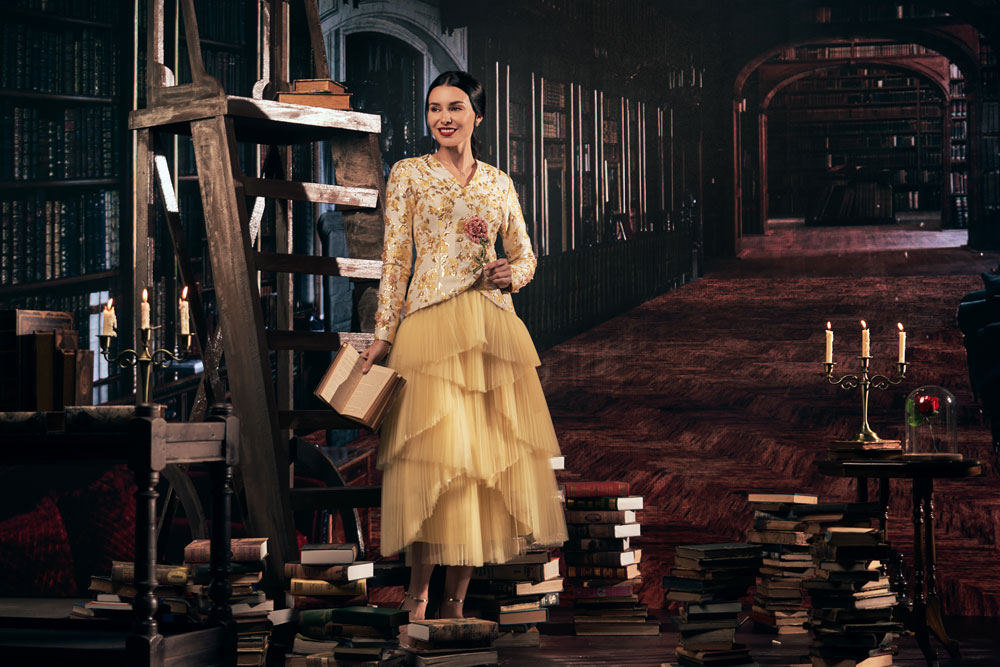 Belle - Izrin Ismail of Innai Red
Belle - Izrin Ismail of Innai Red
In this Belle-inspired ensemble, Izrin Ismail is able to infuse Malaysian elements into the design with a Kebaya top that is paired with a tea-length tulle pleated skirt with scalloped tiers reminiscent of Belle's famous yellow ball gown. A statement embellished red rose also features in the look, which is a symbol of Belle's ability to see beauty in every person and circumstance.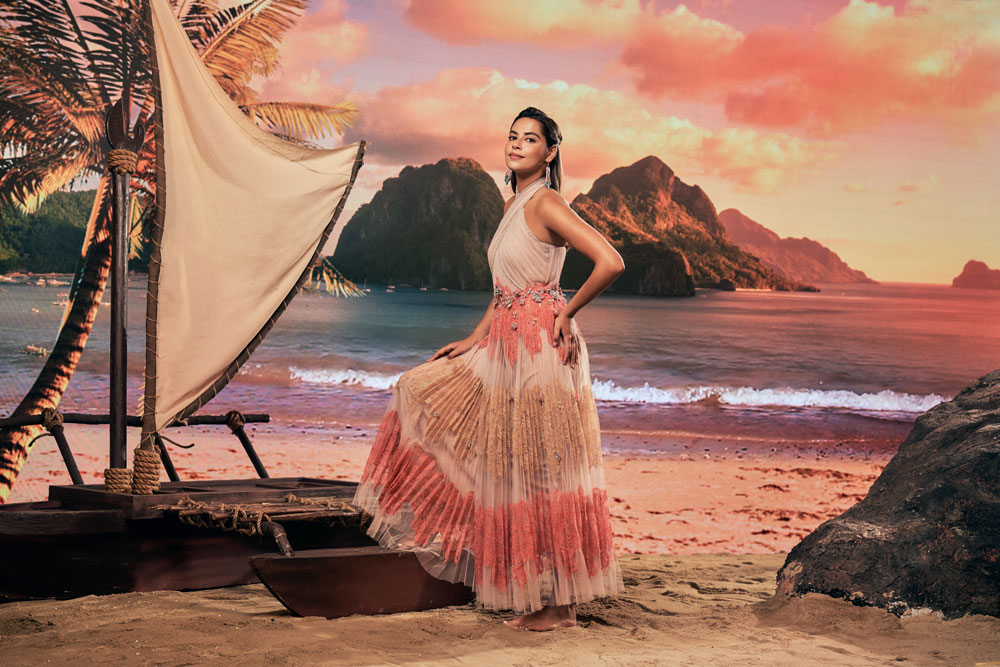 Moana - Izrin Ismail of Innai Red
Moana - Izrin Ismail of Innai Red
Capturing the essence of the trailblazing, seafaring voyager Moana, this breezy piece applies lace in coral and sand hues on a soft nude tulle, and features pleats that resemble the pattern of sun rays. Its draped tulle upper bodice is configured in an overlapping halter design and embellished with turquoise crystal beads. This ensemble not only represents Moana's deep connection to the ocean, but her bravery through challenges faced and desire for exploration.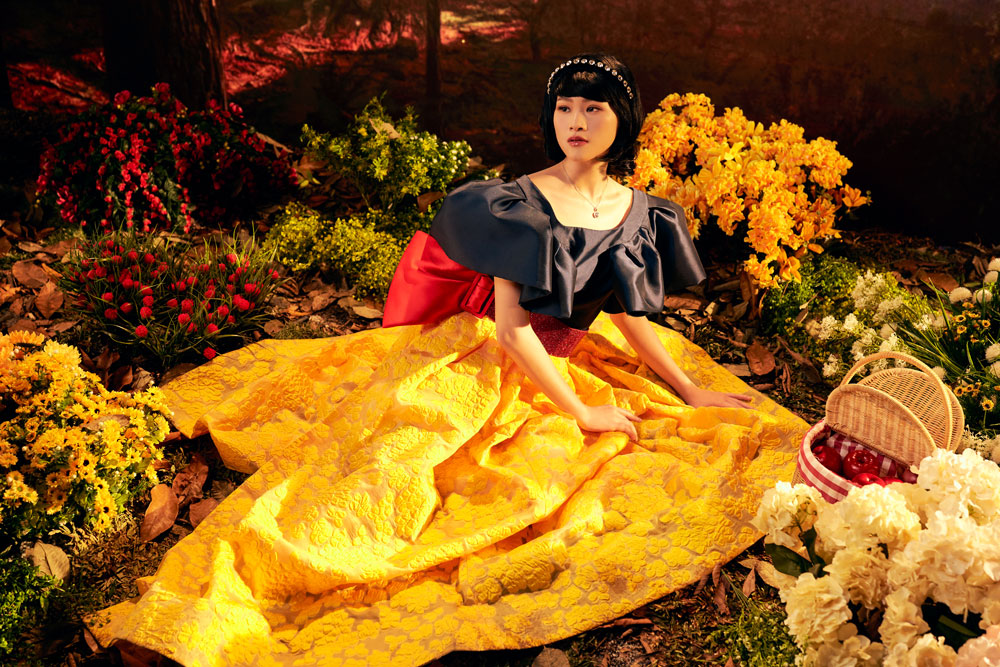 Snow White - Khoon Hooi
Snow White - Khoon Hooi
Offering his own take on Snow White's iconic blue and yellow dress, Khoon Hooi used a combination of silk taffeta and brocade, intricately woven together with a plum blossom floral motif. Featuring a large red bow and crimson belt, the floor-length skirt also hides beneath its yellow brocade layer a midi-length front slit taffeta pencil skirt. Inspired by sunshine and floriculture, this piece was designed to reflect Snow White's caring, joyful personality.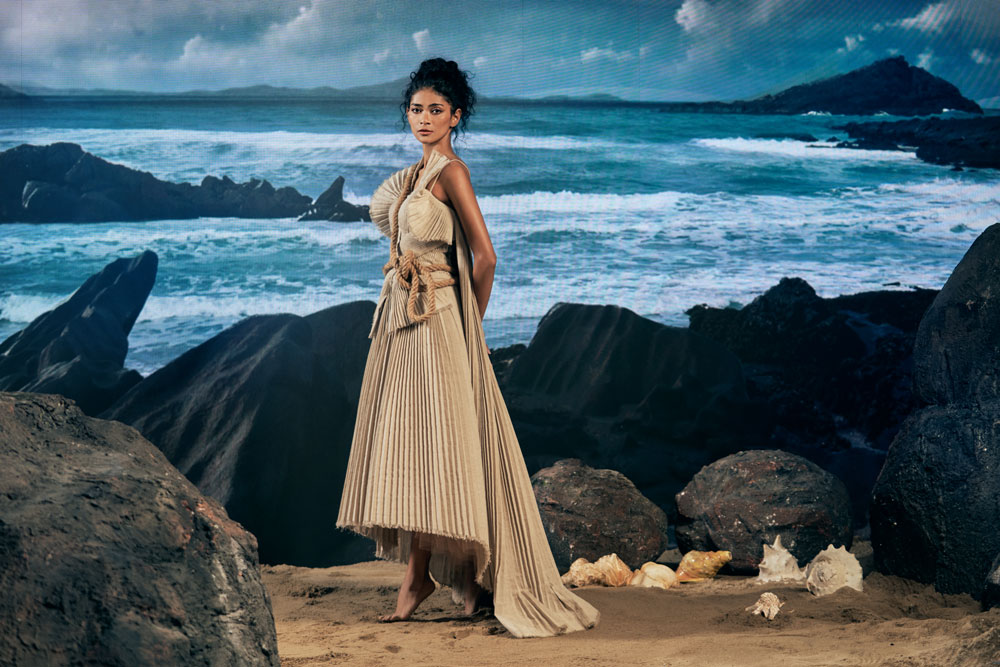 Ariel - Hafizi Radzi Woo and Izree Kai Hafiz of Fiziwoo
Ariel - Hafizi Radzi Woo and Izree Kai Hafiz of Fiziwoo
Taken from the part of Ariel's story after she becomes human and begins her journey on land, this dress by Hafizi Radzi Woo and Izree Kai Hafiz is made from heavy cotton linen to resemble her makeshift outfit. The design features pleating work that replicates shell-like lines, a nod to the princess' ocean roots. The unconventional form of the dress is representative of Ariel's courage to go beyond what is expected of her and seek new experiences with fierce resilience.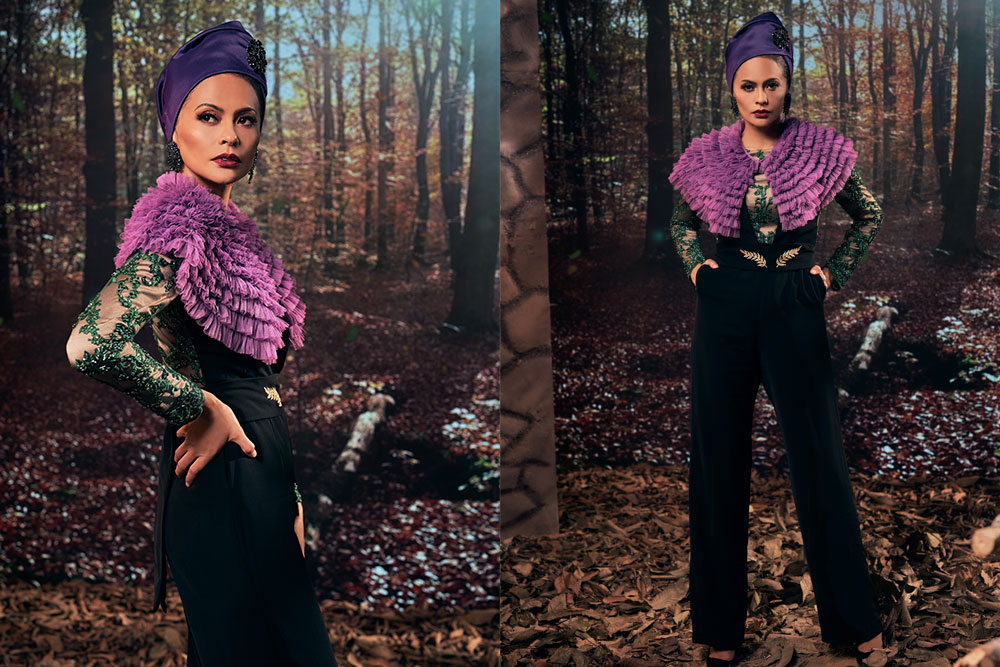 Anna - Leslie Variyan of Variante
Anna - Leslie Variyan of Variante
This jumpsuit designed by Leslie Variyan reflects an adventurousness with its playful combination of varying fabrics and textures. Its bodice beaded in lace with a skin-tone underlay creates a stunning contrast, which is emphasised when paired with the soft tulle purple cape. The piece was inspired by Anna's optimistic outlook and unshaken confidence in every situation.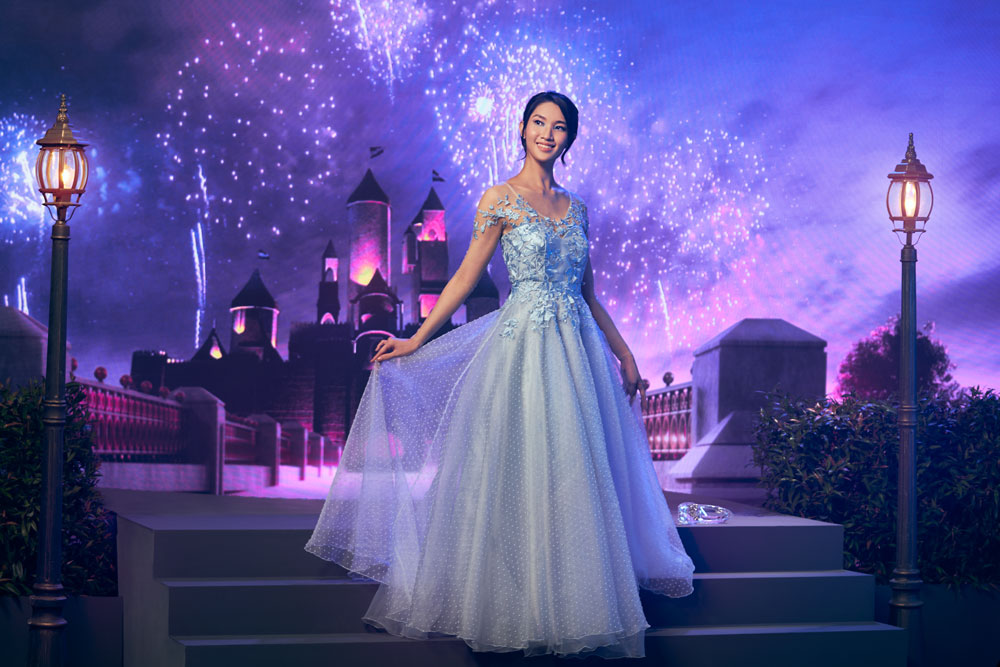 Cinderella - Celest Thoi
Cinderella - Celest Thoi
Inspired by a princess who knows a bit about stitching and sewing herself, Celest Thoi's Cinderella dress was designed to provide five different looks in one piece. A pencil-cut sweetheart strapless dress with an A-line overlay skirt and cascading lace illusion bodysuit can be used as a day look, while soft tulle off-shoulder straps on a nude tulle illusion bodysuit with lace offers a romantic, evening option. The many transformations of the piece echoes Cinderella's firm belief that kindness can change the world in endless ways.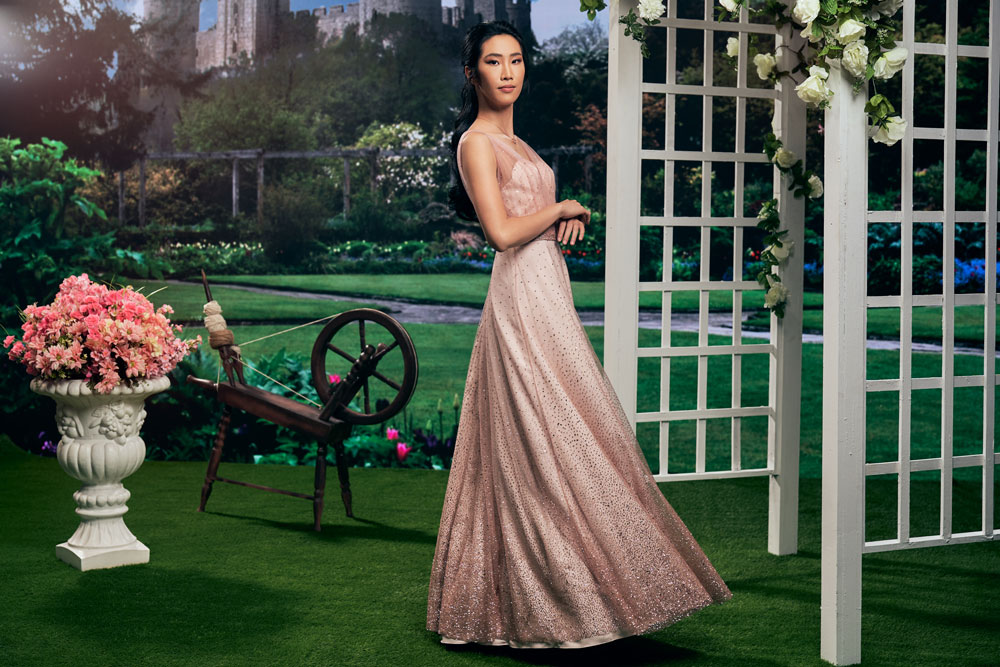 Aurora - Celest Thoi
Aurora - Celest Thoi
This dusty pink gown in glamorous silk chiffon, with an A-line tulle skirt with rose gold stardust was designed by Celest Thoi to capture Aurora's effortless grace. Embellished with layers of pearls as well as crystals on the sheer cape, the outfit is complete with bespoke accessories like the signature studded flats and silver flower bag. Evoking the romantic optimism of Aurora's character, the piece invites others to make their heart's wishes and dreams a reality.
(Swipe left for more)
The public can register their interest for the auction from 17 November to 8 December 2021 at makeawish.org.my.
Source: The Walt Disney Company