She shot to fame in a blink of an eye, but what will it take for Malaysia's first world diving champion to make this journey count?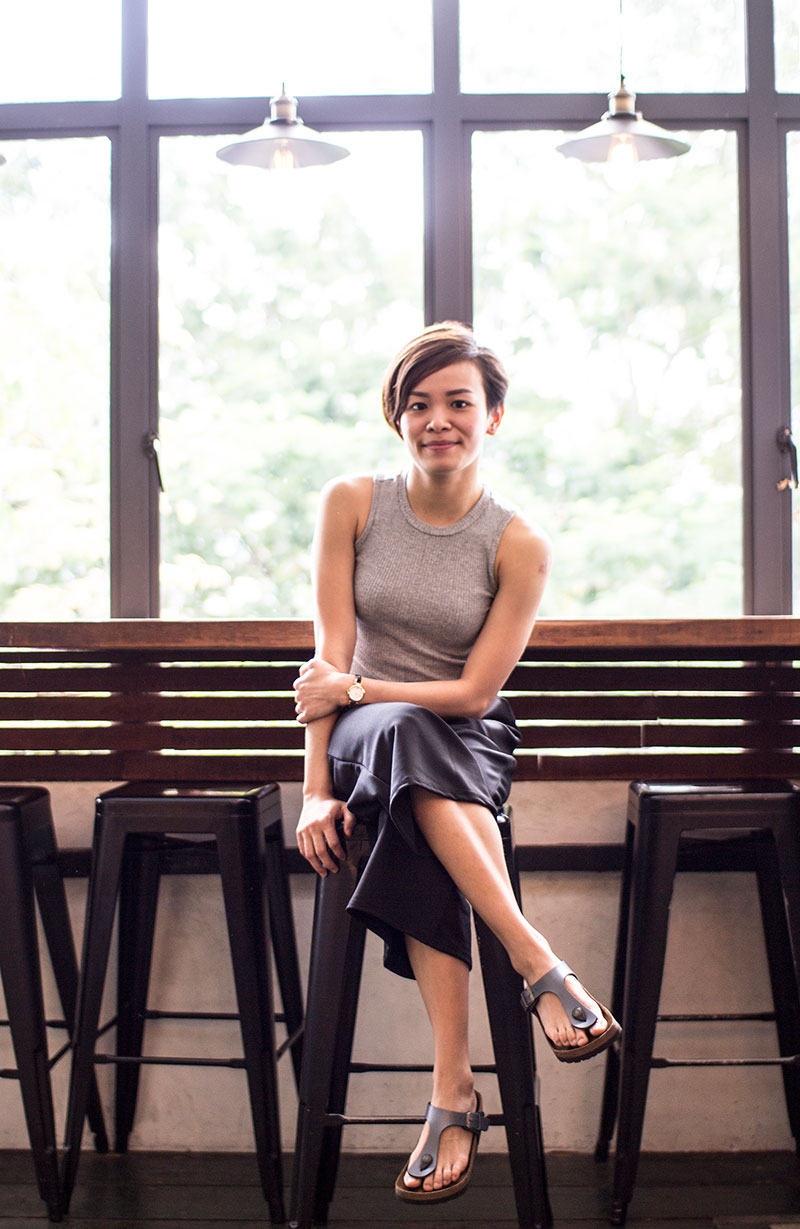 Fresh off her FINA World Championships and SEA Games victories, national diver Cheong Jun Hoong is already talking about her next competition. An athlete of her calibre treats every competition equally, aiming for the best even when the odds are against her.
"A lot of people see the gold medal, but don't know that I only trained for two weeks before the games and it was a last-minute decision to take part in the 10m individual event!" she shares.
Training was inconsistent because of her much-reported back injury, which forced her to sit out the FINA Diving World Series earlier this year. That didn't stop her from beating the world's two best divers to claim top spot in Budapest this July, or emerging victorious in her only SEA Games category in August.
Oh, and that World Championships gold medal? It is Malaysia's first, making this a story of how one Ipoh girl helped put the country on the map in the international diving stage.
Grit for gold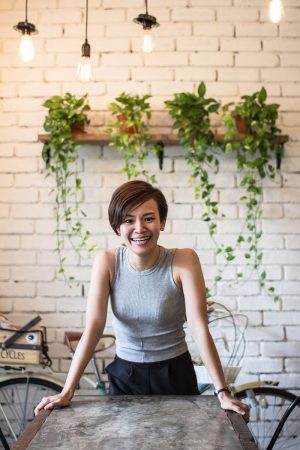 Hailing from a family of three girls, this petite lass was introduced to the diving world at the age of nine when a coach came scouting for potential talent at her primary school. By 2003, she had started training professionally and moved to Bukit Jalil to join the national team.
What you see is what you get with this 27-year-old, who has always aimed to do her own thing while looking to family and coaches for motivation and inspiration.
Despite being under the media spotlight of late, being a pro athlete isn't glamorous for the most part – it's relentless, trying, and often painful. Jun Hoong is no stranger to this as she undergoes training for up to seven hours every weekday.
The two-time Olympian made it to the podium last year, but it was not without its challenges. She says, "I didn't progress so well because I missed the first qualification in 2015 – I jumped too close to the board and sustained an injury that required stitches. I couldn't walk a few days before we were departing for the games, so I had to pull out."
You might remember, though, that Jun Hoong went on qualify for three events and even clinch a silver medal at last year's Olympics. This victory wasn't as easy as her World Championships stint; she had to get her head back in the game after a month's rest.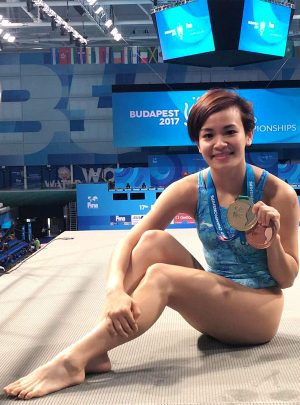 "I had just taken off my stitches when they got back and coach was already calling to say 'Where are you? I think you should come back to the team'," she recalls. Upon seeing her return literally tiptoeing around, Jun Hoong's coach told her to cut it out because the injury wasn't that serious.
That may sound brutal, but it is nonetheless the reality of an athlete's life. You're only as good as your body, and even with injuries holding her back, this diver has learnt to rest up, suck it up, and train up.
What does one who's so physically active do when they have to recuperate? "Sleep more, maybe?" Jun Hoong jests. In reality, it took hours of rest and rehabilitation, consistent step-by-step training, and patience.
It's only natural that a large part of the payoff lies in victory. She recalls thinking, "Wow, this is the Olympics," when she was handed the silver medal, commenting, "It was a dream come true because this is the highest performance stage for athletes."
Beyond the springboard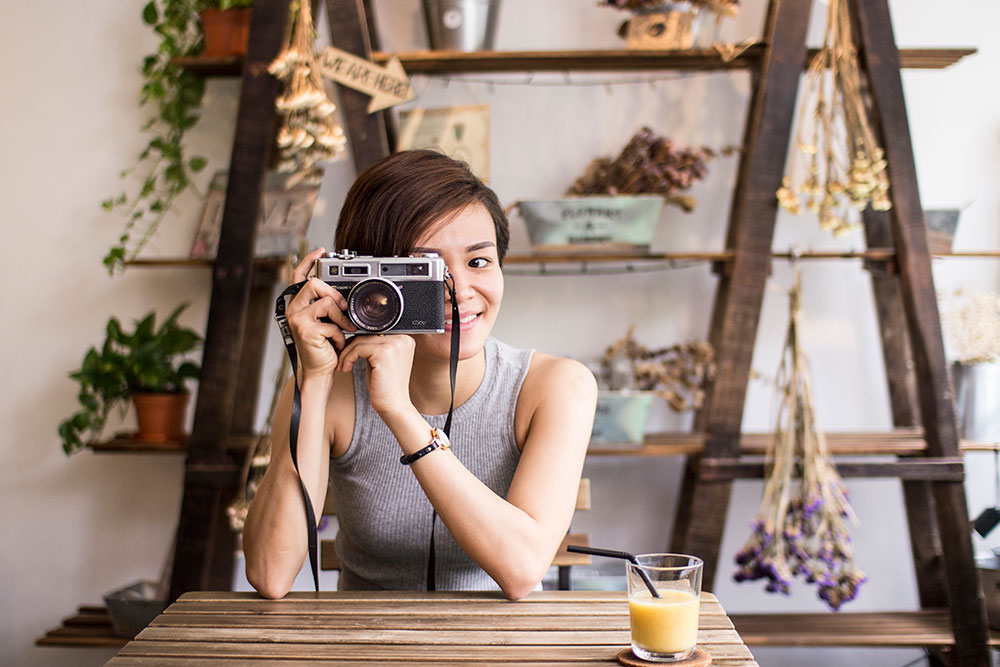 Coming from a rather conservative background, she has heard all sorts of opinions about her career choice, particularly because of its notoriously short span. Despite this, Jun Hoong has followed her passion while taking up a flexible mass communications programme at Universiti Putra Malaysia as a contingency plan of sorts.
I casually mention an Instagram fan page made for her that I think I discovered, but she already knows it – and quickly brushes it off, saying many athletes had fan clubs pop up after the SEA Games.
A truly down-to-earth character, she doesn't seem fazed by the fame that world victory has afforded – but candidly admits to occasionally revel in the attention and appreciation coming her way.
After all, she's dedicated her entire life to the aquatic art of diving. Her competitions take her all over the world, but deep down Jun Hoong wants what most working class 27-year-olds yearn for – a proper vacation. While she would have liked to spend her holiday exploring Korea, she used the time resting and catching up with family instead.
What does her family think of all this? Jun Hoong describes her parents with typical Asian sensibilities, saying they are quite shy themselves and generally stay away from her competitions lest they distract her. Contemplatively, she adds, "I know they are happy because there is success in what I do."
"I don't pay attention to the people or scoreboard. When I'm ready to go, I just dive." – Cheong Jun Hoong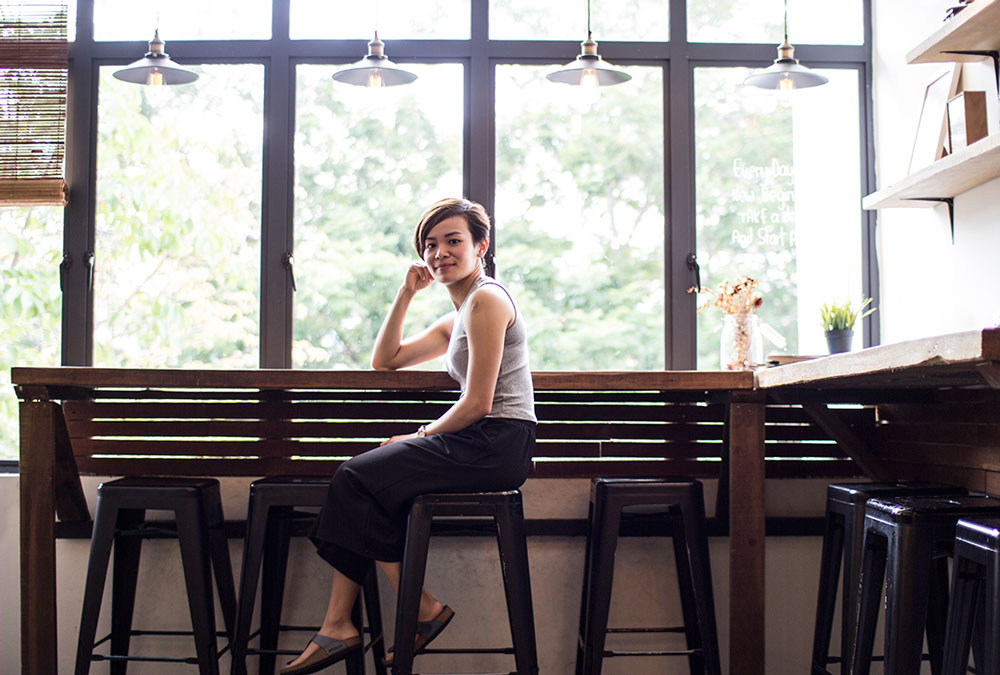 Imagine this: you're standing on an elevated platform in an arena full of people cheering for you, with your coach, team, family and friends watching. Your only escape? A dive into a large pool up to 10m below.
"I don't pay attention to the people or scoreboard. When I'm ready to go, I just dive," she says simply.
This focused dedication shines through when the star athlete is in her element, executing dives from any height with a finesse that makes it look almost easy. Make no mistake, though – it isn't just about climbing a ladder and making a jump.
"You have to be brave and persistent. Diving could be very dangerous if your technique is wrong," she says.
Her laid-back attitude about her lifestyle and fame is surely something that comes with experience, and Malaysians are over the moon to see a fellow anak Malaysia make waves and (small) splashes in the aquatics scene. Jun Hoong hopes this legacy is carried on by the national team juniors, claiming nothing to be impossible with good coaches around.
Now back in training with the national team, she will make an appearance at the FINA Diving Grand Prix 2017 in KL, Singapore, and Gold Coast in October and November. The world will be watching, and Cheong Jun Hoong will rise to the occasion with the grit of a fighter and skill of a professional – because that's what true sportsmanship is about, beyond the medals and titles.
Follow Jun Hoong's journey on Instagram.
Location: Fishee Coffee, 12-20 M, Jalan Jalil Perkasa 13, Esplanade Arcade, Bukit Jalil
Photography: Gan Yew Chin