August 2021 is a big birthday for Louis Vuitton, the same man behind the eponymous luxury house. Born on 4 August 1821, the adventurer, entrepreneur, designer and innovator, will be 200 years old today, an occasion the maison is celebrating with a series of creative initiatives that highlight the visionary that he was in creating a legacy as lasting as the one we know of anything and everything to do with Louis Vuitton today.
In a global campaign called Louis 200, fans and followers are invited to refamiliarize with Louis' mythic beginnings across various media and featuring collaborators from around the world. There will be a video game with embedded NFTs; store windows that showcase the iconic trunk as a vessel reimagined by 200 exceptional contributors; a large-scale triptych of Louis painted by Alex Katz; a fictionalised novel by French writer Caroline Bongrand about the life and intentions of Louis, published by Gallimard and available in French and English from October, as well as Looking for Louis, an unprecedented documentary that retraces the story of the young pioneer. Available on streaming platforms, the documentary will shed light on Louis Vuitton, from his humble beginnings to his enduring legacy.
Louis 200 transcends the typical tribute. It is the transmission of Louis' journey as a public-facing, collective experience; a catalyst for endless inspiration.

The Louis Behind the House of Vuitton
Whether by destiny or determination, Monsieur Vuitton left his hometown of Anchay, in the French Jura region, at the age of 13 and arrived in Paris two years later, having travelled by foot. Following an apprenticeship with the renowned trunk maker and packer, Romain Maréchal, Louis founded his own Maison in 1854 at 4 rue Neuve-des-Capucines near Paris' Place Vendôme with its concentration of major fashion houses.
Between his close rapport with couturier Charles Frederick Worth and being appointed the trunk maker and packer to Empress Eugénie, his renown increased, as did his intuition that luggage would assume greater importance with a revolution in transport underway. With ingenuity and skill, he developed a waterproof coated canvas and reconceived trunks with flat lids – radically transforming their functionality.
Louis 200 creates a bridge between Louis, the pioneering trunk maker and packer, and all the visionaries today who strive towards the horizon of their own life's work. Presented without any corresponding product launches, these activations become pure expressions of creativity, illumination, and generation. Instead of a typical exhibition, these alternate, entertaining formats invite the Louis Vuitton audience and community to explore the Maison's history in a contemporary context.

Louis: The Game – A journey for all
In one of the most advanced and immersive ways to get to know Monsieur Vuitton, go on an epic quest to discover his origins and explore the heritage he has built. Through action-packed adventure across six imaginary worlds that exist outside of time, play as the Louis Vuitton mascot Vivienne to collect monogram candles and keys to access more levels.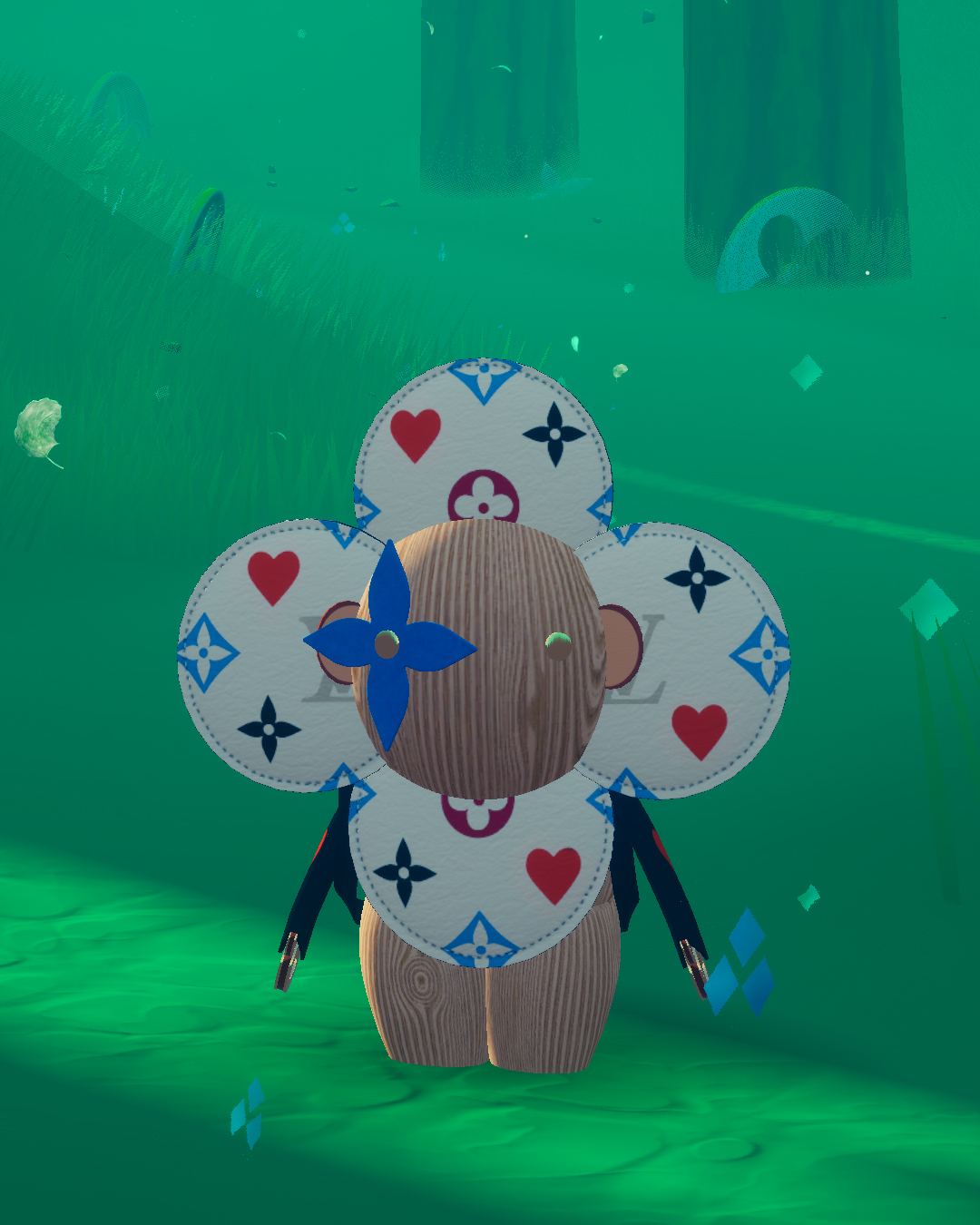 Once the game is downloaded, an introduction invites players to select from two Louis Vuitton backpacks, while a tutorial demonstrates Vivienne's movements which progress with each level – from basic walking and running to ledge climbing, floating and double jumping. Each of the 200 candles unlocks a postcard that reveals an anecdote or trivia spanning Maison collaborations, special orders, technical trivia, family history, artistic interventions, runway highlights and more.
The adventure then gets underway. Beginning in the Louis forest, players steer Vivienne through a Luminous City, Adventure Kingdom, Monogram Island, Sunshine Metropolis and Birthday Extravaganza –dreamy locations that conjure Paris, Beijing, London, New York and more. Gliding over hills, scaling buildings and spinning energetically, Vivienne is showered in coloured sparks every time a candle is claimed.
Through fun and seamless storytelling, Louis The Game offers a new medium to define the Maison's history of creativity and innovation – revealing yet again how heritage and disruption can coexist.
A global leaderboard will allow players to compete against friends and show off the various skins that can be changed throughout the game.Integrating the latest blockchain technology, the game will also include 30 NFTs, with 10 created by the digital artist sensation known as Beeple.
Beginning 4th August, Louis: The Game can be downloaded, through the App Store and Google Play for Android systems.
See you online!
(Source: Louis Vuitton)