The new TVs arrive with 8K full bandwith support and HDMI ports that allow users to enjoy the full value of the powerful gaming GPUs.
After making its mark as the first TV manufacturer to commercialise 8K OLED TVs, LG is setting a new benchmark for the industry with the launch of the world's first 8K TVs capable of supporting NVIDIA's Geforce RTX 30 Series.
Gaming support is not new to LG, as the brand's current 4K offerings are also NVIDIA G-SYNC® Compatible, enabling users to experience smooth, immersive gaming with the GeForce RTX 20 Series and GTX 16 Series GPUs without flicker, tearing or stuttering. But If you're one to keep up with gaming technology, the RTX 30 series is the latest, game-changing processors from the multinational tech company launched what seemed like seconds before LG's latest announcement.
"The combination of LG OLED TV's awe-inspiring picture quality and NVIDIA's technological prowess offers next-level gaming experience in unbelievable 8K," said S.P. Baik, Vice President of the TV product planning division of LG's Home Entertainment Company. "Following last year's successful partnership with the world's top gaming hardware brand, we look forward to expanding our relationship with NVIDIA."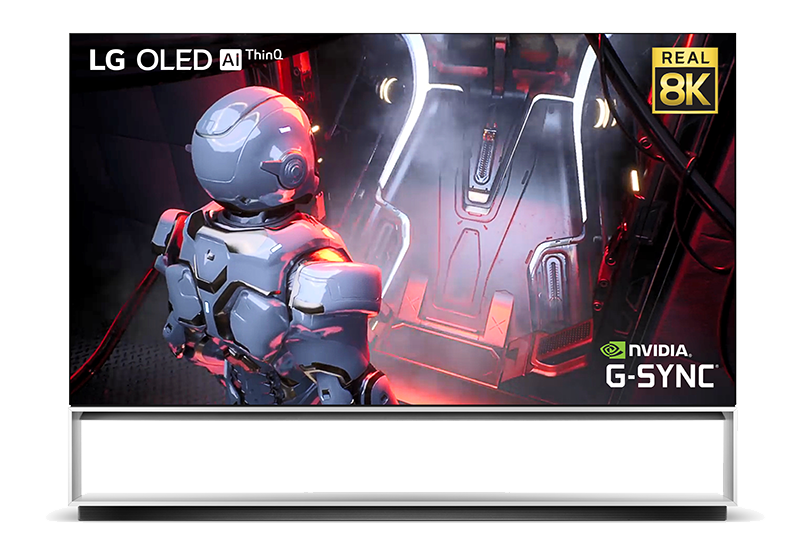 Powered by the brand's Alpha 9 Gen 3 AI processor, the new TVs arrive with 8K full bandwith support at 60 frames per second and 48Gbps HDMI ports that allow users to enjoy the full value of the muscular gaming GPUs. Complemented by 33 million self-lit pixels that make up LG's state-of-the-art OLED technology, the resulting display offers unparalleled gameplay for the serious e-sports fans.
What's more, the TVs are equipped with Dolby Atmos support and LG's deep learning-based AI Acoustic Tuning, which measures the acoustic environment and adjusts the sound for greater accuracy – immersing gamers in their favourite artificial worlds. If that's not enough, their BT Surround technology allows two LG Bluetooth speakers to be connected simultaneously, up-mixing 2.0 channel sound to virtual 4.0 surround sound for the ultimate audio immersion.
Don't need to worry about reaching for the remote mid-way through your game either; just take advantage of the LG ThinQ built-in, hands-free voice command for all your basic controls. Now who's up for a few rounds of Fortnite on this stunning display?
Pricing and availability for the LG ZX 8K TVs are to be announced. For more information, log on to the official website here.