This Breguet timepiece owned by King George III had to be purchased in secret during the Napoleonic Wars.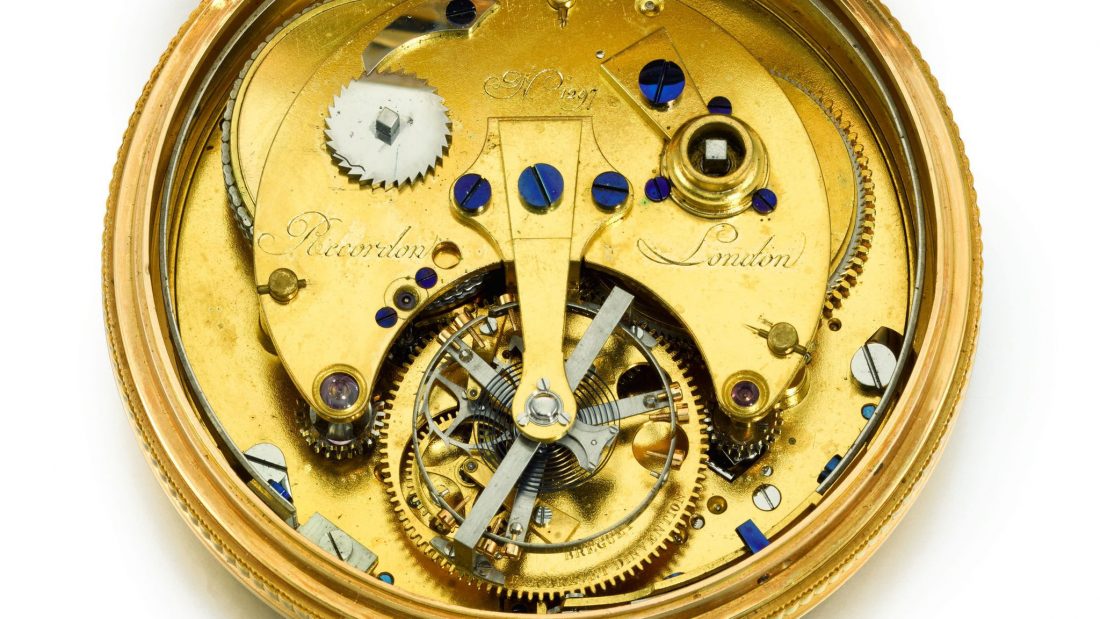 One of the many rare and wonderful treasures that are up for grabs at the upcoming Sotheby's auction in July includes a rare gold pocket watch that was once owned King George III of England during the Napoleonic Wars. 
Crafted by the legendary Abraham-Louis Breguet, the gold four-minute tourbillon pocket watch was originally purchased by the king for 4,800 French francs, during a time when it was considered extremely controversial for a British monarch to buy and own a French luxury timepiece. It was therefore a very discreet transaction, in which King George never paid in full. 
The pocket watch does not even bear the Breguet insignia on the exterior – which is common in Breguet timepieces nowadays – due to the historical conflict. Instead, the tourbillon which is housed inside its cage is marked with the horologist's name. It is believed that this watch is the only four-minute Tourbillon with an English dial and thermometer. Legend also has it that the pocket watch's creator invented the tourbillon in 1793 while living in exile in Switzerland to escape the Reign of Terror that haunted France after its Revolution. 
This tourbillon's creation was considered a groundbreaking piece of horology back in the day, and incredibly, has survived the tests of time while retaining its – according to Sotheby's – "original condition". The timepiece also bears King George III's royal cypher and the initials 'G&R' engraved into it.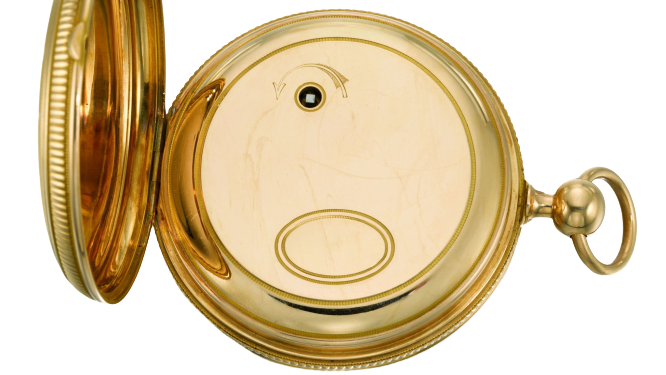 Breguet himself did not have his normal tools required to create a mind-blowing timepiece, but instead relied on his creativity and ingenuity to create some of watchmaking's most important developments. This includes the perpetual calendar, ruby cylinder, constant force escapements, and sympathique clocks, in addition to the tourbillon. He made his return to Paris in 1795 and filed his patent application for the tourbillon in 1801. The example included in the upcoming Sotheby's auction dates back to a period when Breguet had refined his initial design with better movement detail, and a larger yet more slender profile. 
"When you hold the watch he [Breguet] made for George III, you instantly know you are in the presence of something truly exceptional," says Daryn Schnipper, worldwide chair of Sotheby's watch division. She described Breguet timepieces as once being "the theory of everything", and called Abram-Louis Breguet a man who "revolutionised watchmaking." 
"This watch not only captures Breguet's genius – the ability to conceal layers of complexity behind apparent simplicity – it also encapsulates why historic timepieces are so relevant today," she adds. "They transcend the function of mere timekeeping to tell us the history of the modern world." 
According to documentation that's unique to the lot, it's strongly suggested that this rare timepiece may have been the first sold. Breguet archives notes have documented it being sent to England on behalf of George III on the 29th June, 1808. Though it has made an appearance in the Five Centuries of British Timekeeping Exhibition in London in 1955, this tourbillon hasn't been in the public eye since the last time it was at auction in 1999, when it sold for $687,028. 
This magnificent timepiece represents one lot from The Collection of a Connoisseur, and the model opens for bidding at Sotheby's on the 14th of July, so mark your calendars. 
Photos: Sotheby's