"[It] reminds me that having fun and being a little naughty is ok sometimes. Perfection comes from allowing ourselves to be who we want to be." – Karlie Kloss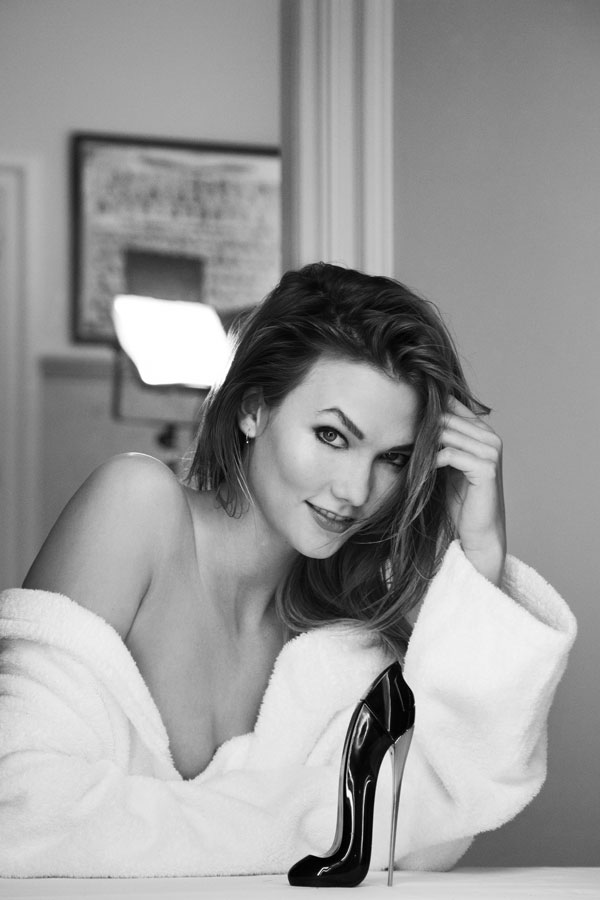 Good girls go to heaven, bad girls go everywhere. But we're not talking about being bad as about being a rebel without a cause. Women are now stronger, they're heard, they own their sexuality and there is nothing sexier than a woman who defies convention and break the rules to write her own story. She is empowered because she does things her own way and if that makes her bad, perhaps it's not such a bad thing.
Singing to that exact same tune is model Karlie Kloss, also the face of Carolina Herrera as the new Herrera woman. She is beautiful, strong, unafraid to do as she pleases. We steal 5 minutes with her to learn how she feels empowered by being her sexiest, naughty self.
How does it feel to represent the new Herrera woman?
It's such an honour to work with Carolina Herrera and represent a brand with such a beautiful and an iconic history.
What do you feel when you put your stilettos on?
Like a giraffe – she laughs – Actually I feel powerful and sexy, as if I can get away with anything.
How would you define the spirit of this new olfactory creation?
Good Girl is about empowerment, about daring to be bad and about feminine mystery. This fragrance reminds me that having fun and being a little naughty is ok sometimes. Perfection comes from allowing ourselves to be who we want to be.
Describe the women in the industry who are your own personal fashion icons.
Carolina Herrera is definitely a huge style inspiration for me. She is timeless and elegant, and a true icon in our industry. She has been a big support for me in my career. She has been an incredible friend, mentor and role model too.
You have opened Carolina Herrera fashion shows and walked for the house in many occasions, what does the brand mean for you?
The starting point of EDP Légère was the duo of Jasmine and Tonka, which are your first memories related to Jasmine? In perfumes, do you prefer flowers or sweet notes?
I like them all! Do we have to choose? I love flowers and sweet notes like Dulce de Leche. I was not very familiar with Jasmine before Good Girl, but now I love it. It is an amazing and a magical flower – its smell changes the way you feel in your own skin.
What are the specific notes about this fragrance that intrigue you?
I learned from the perfumer who did the fragrance which ingredients are in there. I think it is exciting what ingredients can do, she explained the combination of tuberose and jasmine with roasted Tonka beans, I think this combination is what intrigues me the most. It's incredible how this mix results in a truly addictive fragrance.
How do you feel GG transforms itself from the moment you spritz it and then wear it throughout an evening?
Putting on my perfume is the last thing I do before I walk out the door for a night out with friends. It finishes my look and feel for the evening. GOOD GIRL boosts my confidence and powers up my sensuality.
Natural elegance, effortless chic and integrity. Working with Carolina Herrera and Carolina Herrera de Baez has made me realise the importance of heritage and of being faithful to ones' values. I agree with the notion of Carolina Herrera that fashion should be an expression of yourself. When I think about New York, Carolina Herrera comes to mind. Carolina Herrera epitomises New York with its confidence and unparalleled style.
This scent takes inspiration from strong women, do you think perfumes can empower? How?
Yes, I believe they can. Good Girl EDP Légère cheers me up and gives me confidence. It also thrills me because there is a naughty side to EDP Légère. That combination is empowering.
You are committed to education and improving the lives of women. Your social activism in favor of young women through Kode With Karlie underwrites computer-coding scholarships for girls, a goal that empowers women. Can you talk a bit about this project and about what it means for you?
There is so much potential with code, and not enough opportunity for girls to have access to this learning. I believe technology and creative industries are very aligned. Code is the secret language that builds all the digital architecture for everything that we rely on. It touches every industry, so it's critical for our next generation to be able to use code to build and shape our future.
Your project of coding for girls can liberate woman, because it fights for equal rights. When did you decide it was important for you to make a difference?
The a-ha moment I had was thinking that someone should be pushing girls in this direction and opening their eyes to the creative ways that code can be applied. Thanks to code, the barriers have been torn down. It's exciting because you can have an idea and build it into something real, and that can scale up. A 26-year-old girl can empower herself and create something that is hers thanks to code. There's real power to that. It's really exciting because anything is possible.
Describe a day in the life of KK.
There really isn't a typical day! Coffee and exercise are probably my two constants. Otherwise, my days consist of a lot of traveling, meetings, shoots and events. Not having a regular routine keeps things interesting and exciting.
When do you feel the most sensual?
I think confidence is sexy. It's all about being comfortable in your own skin and loving who you are.
How do you like to best style your hair?
I like to keep things simple. My hair has a natural loose wave, so I like to just shower and go.
What is your number one beauty food?
Dark chocolate.
When traveling during fashion weeks, how do you stay fit?
I always bring my running shoes and hand weights with me when I travel. I try to either take a run outside or squeeze in a quick hotel room workout.
At school you were seen as the odd one; you were the tallest, even taller that the teacher. Was it tough? What would you say to all those girls and boys that are treated as the strange ones for their looks?
Being a 13-year-old girl is tough. There's a pressure to fit in, and I always felt like the odd one. Coming to New York and working in fashion helped me a lot. I was appreciated for what made me different, so I learned to appreciate myself. Empowerment comes from being true to yourself, even if that means being different.
(Photos: Carolina Herrera)