You can now have a bottle of whisky that is truly yours.
The world's best-selling Scotch whisky brand has launched Johnnie Walker My Edition, the first expression that will be designed exclusively by whisky fans themselves. This brings together years of whisky making expertise and the latest in taste-profiling technology to create a one-of-a-kind offering for Scotch whisky fans to enjoy themselves or give as a meaningful gift.
We have brought to you our take of some of the notable Johnnie Walker editions but with this one, the blend of Scotch whisky is done according to your taste preference and comes complete with a bespoke bottle that is engraved with a customised label.
What is My Edition?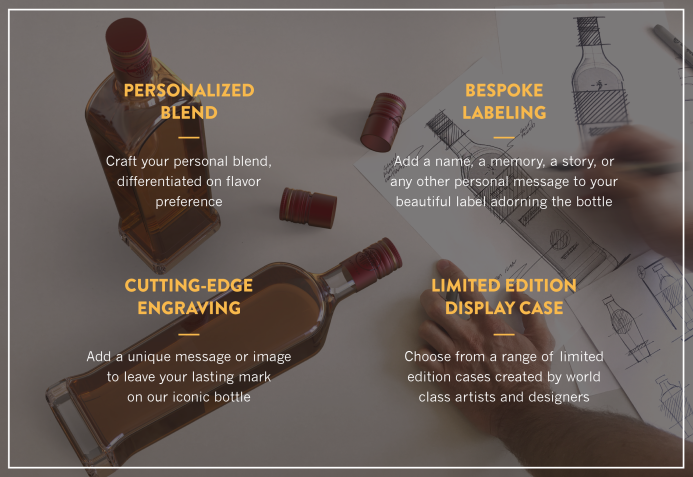 The concept is really quite simple: create a custom blend based on the taste profile of the customer. This will be identified by answering a series of simple questions. Moving beyond the actual blend, the bottle will be engraved and come with a customised label. You'll finish the My Edition with a custom package to commemorate the blend.
Then, the bespoke edition of Johnnie Walker gets delivered directly to your door. A simple concept for a sophisticated gift!
There are six new whiskies in the Johnnie Walker My Edition range. Depending on the answers to the online questions, you will be directed towards the one that most suits your flavour preferences. The range includes: Light & Zesty; Rich & Complex; Fresh & Delicate; Rich & Smoky; Rich & Fruity; and Vibrant & Spicy.
This innovative idea was developed by Johnnie Walker in partnership with the Diageo Futures Team and technology partner Vivanda – specialists in real-time, personalised flavour discovery.
It starts from $5 to discover your whisky profile and $68 to $419 for your own bottle.
Johnnie Walker My Edition is currently only available for pre-order via Indiegogo.
Images: Indiegogo