Immersed in the cultural wonder that is Khoo Kongsi, we got to sample fine Penang fare inspired and complemented by the whisky blend's sweet smokiness.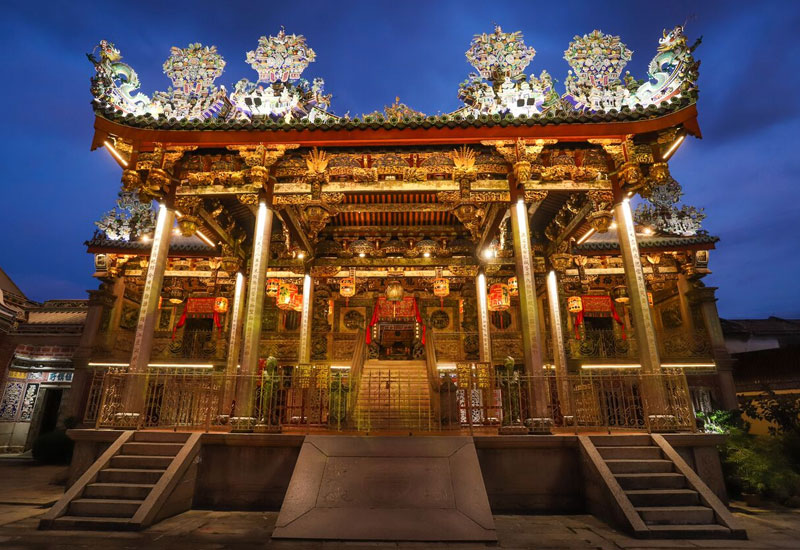 There's a certain sense of nostalgia (of a time we never even knew) afforded by UNESCO heritage sites such as Penang's Khoo Kongsi. As one of the most lavish of its kind, the clan house is a piece of artful architecture with history rooted in more than six centuries of Hokkien ancestry.
It is no wonder, then, that it was chosen as the location for a unique Malaysian gastronomical journey this September: John Walker & Sons XR 21 Mastery.
John Walker & Sons XR 21 is exclusive to Asia, but its history lies in a Sir Alexander Walker's 1920 British knighthood. The collection contains whiskies aged for a minimum of 21 years, drawn from extremely rare Johnnie Walker reserves reserved to honour the appointment of John Walker's grandson as Knight Commander of the Order of the British Empire.
This first-of-its-kind Malaysian gastronomical journey celebrated the whisky with a special pairing, enlisting the expertise of local chefs selected to highlight the artistry of signature dish with homegrown ingredients.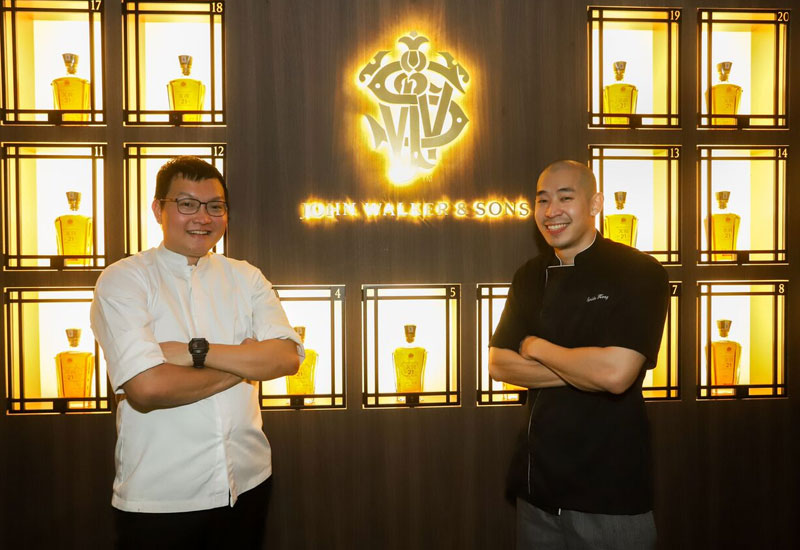 For the inaugural dinner, Penang-based Chef Jeffrey (head pastry chef at Metisser Dessert Parlour) and Chef Spider Kong (chef owner of Soul Food) were tasked with recreating favourite local flavours alongside XR 21.
Chef Spider commented that the dishes were inspired by the nicely rounded XR 21, which he found easy to pair without overpowering the dishes. Both chefs displayed passion for their craft, translated into unique culinary offerings set against the gloriously-lit Khoo Kongsi.
Starter: Tiger Prawn Kerabu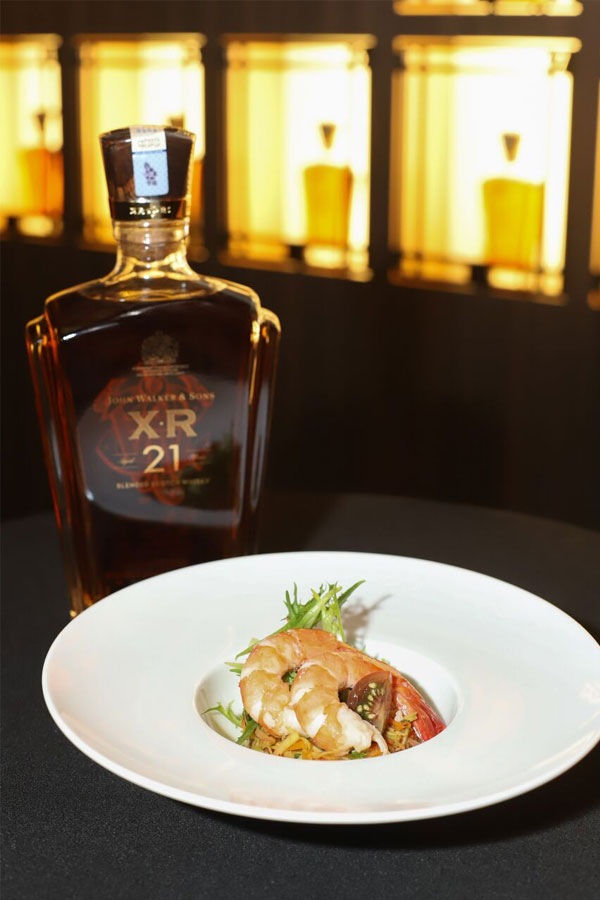 We were off to a generous start with two succulent tiger prawns on a bed of flavourful mango kerabu salad. The salad's spicy, tangy kick was balanced by the fresh juiciness of prawns, coming together to whet our appetite alongside a neat pour of XR 21.
Soup: Chicken ravioli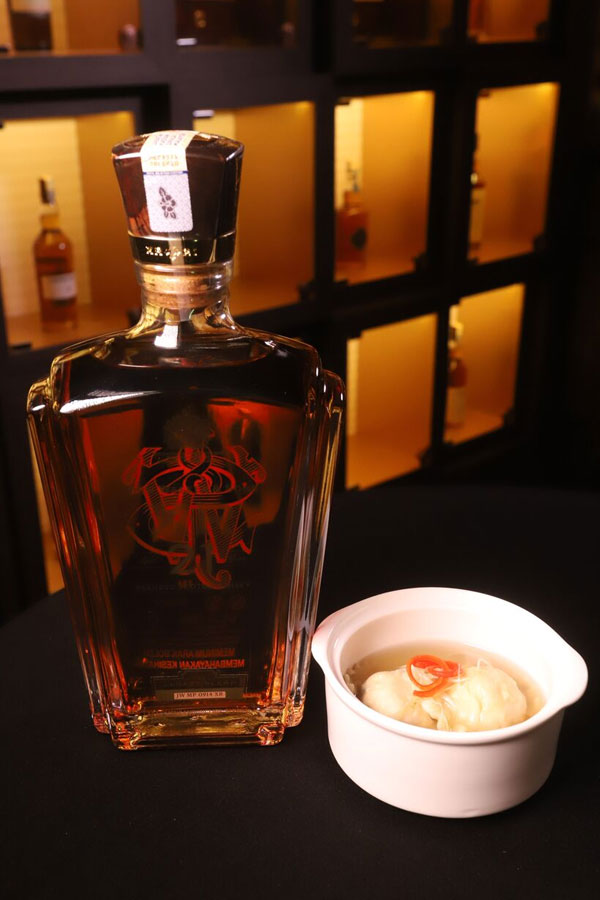 Finding that the neat peg slightly overpowered natural flavours, we toned it down with some ice for the rest of the meal. This soup was a fusion of Asian and Italian cuisine, with hints of lemongrass and chicken ravioli that burst with surprising richness.
Main: Seared barramundi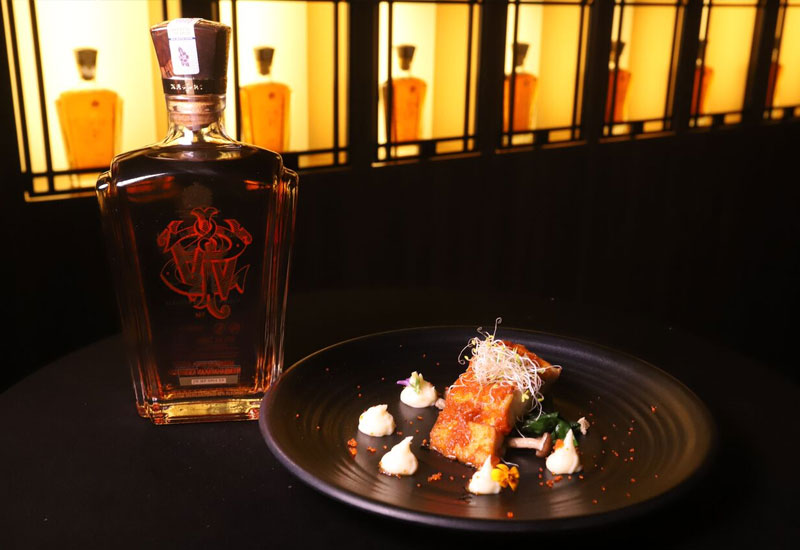 Pan-seared and topped with chili, this barramundi represented Penang with its use of preserved soy bean. Back in the Peninsular's trading heyday, soya bean and sauce were brought over by Chinese sailors; today, it continues to inspire local cuisine. The dish came together nicely, but although the fish had the perfect texture for XR 21 pairing, we found the saltiness and heat of the chili sauce competing with the whisky for top spot in the primary flavour profile.
Dessert: Amra Tree
Walk around the island and you'll be sure to see this famous tree of the jew plum known as amra, popular for its versatility and nutritional value. That's precisely how Chef Jeffery came up with the idea for this dessert – created in its original shape and colour and presented on a plate of gold 'branches'. It's intrigue lay in bursting the 'fruit' open to reveal amra in a rich earl-grey-infused chocolate mousse.
We learnt how well the XR 21 paired with chocolate, which fell in place with the whisky's subtle notes of spiced vanilla and honey.
John Walker & Sons XR 21 itself is a deep golden elixir that reminds us of citrusy caramel on the nose. At first sip, notes of spiced vanilla are complemented by hints of honey with a soothing spicy-smooth finish; we enjoyed it best on the rocks, which toned down the spicy heat to let the syrupy, nutty sweetness shine through.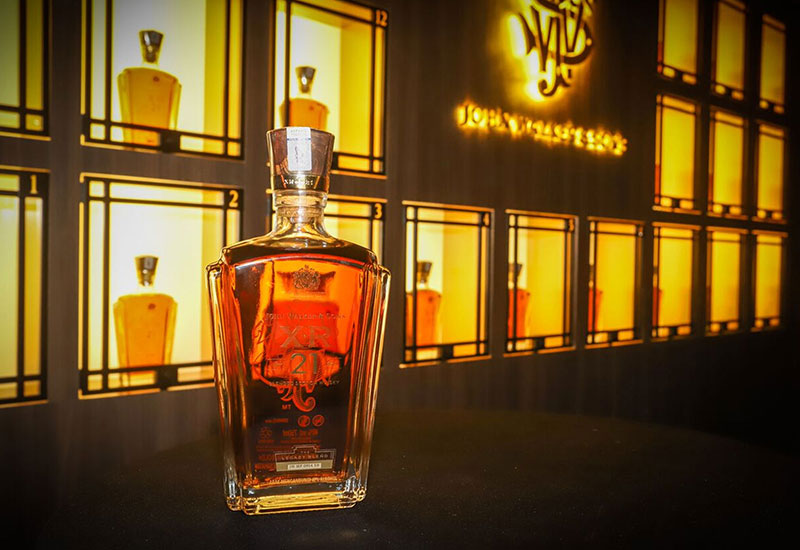 Discover more about John Walker & Sons XR 21 on the official site.
Images courtesy of Johnnie Walker.