A 10,000 Year Clock is being built in the mountain range of Texas, able to power and adjust itself based on the solar cycle.
Somewhere in Sierra Diablo, Texas, a giant clock is coming to life. It comprises a 200-foot-tall vertical column and is being built inside a cavernous 500-foot mountain shaft. Made largely of steel and titanium, it is an technological oddity in its area – and presumably, all of Texas.
This is the 10,000 Year Clock, the brain-child of polymath inventor Danny Hillis being funded by friend/investor, Amazon founder Jeff Bezos. Spearheaded by Hillis' Applied Minds design company and NGO The Long Now Foundation, this mechanical device is not only awe-inspiring for its scale, but what it symbolises.
Long-term innovation
Hillis has been developing his vision for the 10,000 Year Clock since 1989. His crew of thinkers and technologists are still working out the kinks till this day, which is why we don't yet know when it will be ready. What we do know, though, is it's designed with five chambers that will be updated with animated mechanical systems at milestones of one, 10, 100, 1,000, and 10,000 years. The first will house a 8-foot-tall orrery, which is a clockwork version of the solar system. Each chamber will be hooked up to the clock for power.
Deep in the mountain range, the clock will be safe, sound, and away from dust and dirt. It is visible only by its protruding, transparent, sapphire crystal top.
Installation is now underway, with Bezos providing early insight on the progress:
Installation has begun—500 ft tall, all mechanical, powered by day/night thermal cycles, synchronized at solar noon, a symbol for long-term thinking—the #10000YearClock is coming together thx to the genius of Danny Hillis, Zander Rose & the whole Clock team! Enjoy the video. pic.twitter.com/FYIyaUIbdJ

— Jeff Bezos (@JeffBezos) February 20, 2018
Now, you may be wondering just how this giant clock is going to power itself. Interestingly, it is designed to optimise day/night thermal cycles, and self-adjust at noon each day thanks to a Solar Synchronizer. This means it is built to function for 10,000 years without human intervention, even adapting to future earthly changes.
Far from a traditional timekeeping device, its dial does not tell the time but the date. Once every year, the clock rings with a unique tune thanks to a special built-in chime generator. The century hand advances once every 100 years, while a cuckoo emerges once in a millennium. Fun Fact: The annual chimes were composed by musician Brian Eno, who also helped name The Long Now Foundation.
Past, present, future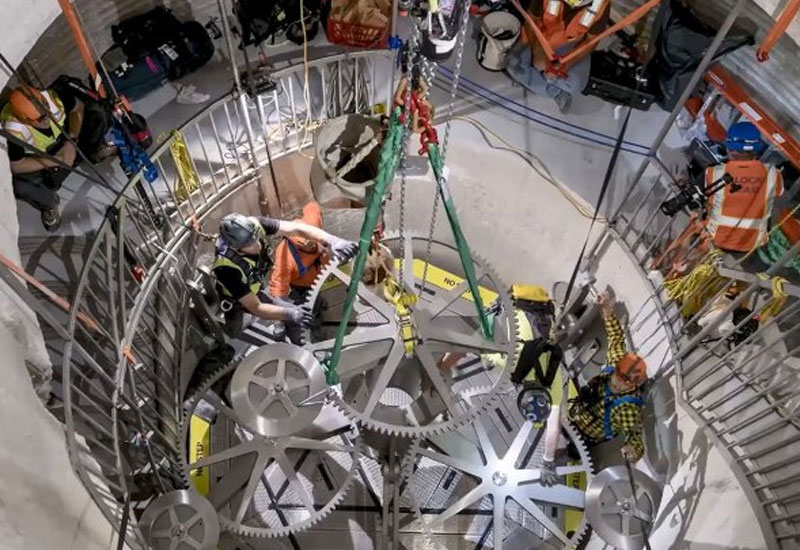 The 10,000 Year Clock might be the first of its kind, but it takes cues from horology wisdom developed over the years in traditional mechanical timepieces. For example, areas of metal-on-metal contact are minimised with the help of synthethic materials . Ceramic ball bearings are used for durability.
Bear in mind that its titanium regulator beats once every 10 seconds – much slower than 24-hour clocks – which would run a high risk of component damage over the long run, without these innovations in place.
"If you're assigned to solve world hunger in five years and decline that task, you're a reasonable person. But solving world hunger in 100 years makes a more interesting proposition. Then, you can spend five years creating a set of preconditions that will lead to solving world hunger, and you can repeat the process," Bezos explains. "The fact of the matter is we humans are getting so technologically capable that we need to think longer-term."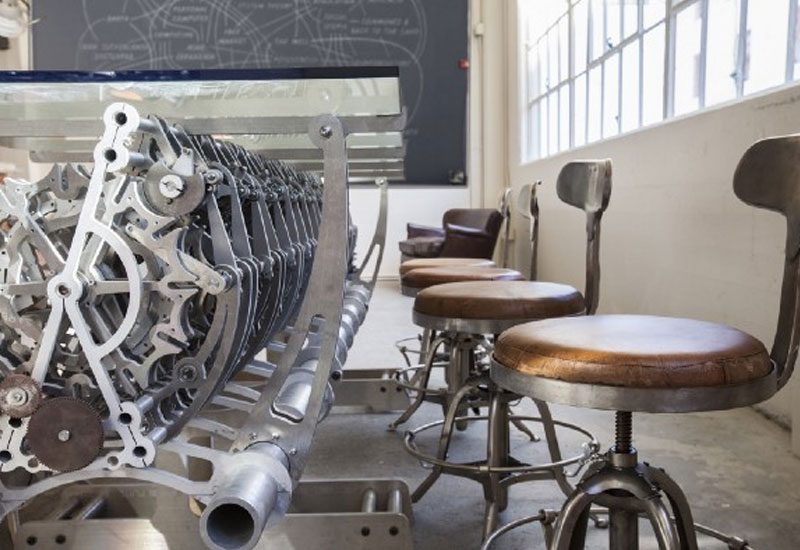 His $40-million-dollar investment is testament to this belief that innovations need not reap immediate benefits. Instead, he's making his money work over ten millennia to create a future relic – something citizens thousands of years from now will admire through new eyes.
The 10,000 Year Clock's location on Bezos' Texan land was chosen for its optimal temperature, seismic ability, and evidently, size. Its entrance is hidden, and outside, you see nothing but rocky mountains for miles.
This blank canvas will capture the passing of time – the next 10, 100, 1,000 years – as the clock remains its earliest construction. That sense of excitement and curiosity is what this project is all about. It simultaneously records how far we've come and the long journey we have ahead, encouraging us to pause and think of the long-term repercussions of our inventions to a future we know nothing of yet.
You can get e-mail your interest to get notified when the clock if finished, or check out the prototype at London's Science Museum. This 10,000 Year Clock is the first of many millennial clocks for The Long Now Foundation, with one already in the works for eastern Nevada. We wonder if Bezos will keep pumping money into long-term projects of this nature – not a bad way to leave a legacy, is it?
Learn more on the official site.
Images courtesy of The Long Now Foundation.
Header image credit: Jim Merithew/Wired.com
Recommended for you: That's right, Elon Musk just launched a Roadster into space because he can