Ruyi & Lyn is proud to present an ala carte menu with all your CNY favourites but with the allowance to mix and match to get your perfect portion and, more importantly, choices.
The atypical Chinese New Year dinner is a familiar one to most. Eight courses of indulgent dishes, each comprising of a key ingredient representing a virtue one hopes to befall them in the coming year. The problem with that is that it can sometimes prove overly lavish, especially for families or groups of lesser numbers.
Cue Ruyi & Lyn's ala carte CNY menu, presenting CNY favourites but with the allowance to mix and match to get your perfect portion and, more importantly, choices. Made largely for sharing between two persons with items classic and contemporary, add on as many as you like until you get the perfect custom dinner for your respective groups.
Here are some of the standout dishes that you shouldn't miss if you can't decide what to order:
Yee sang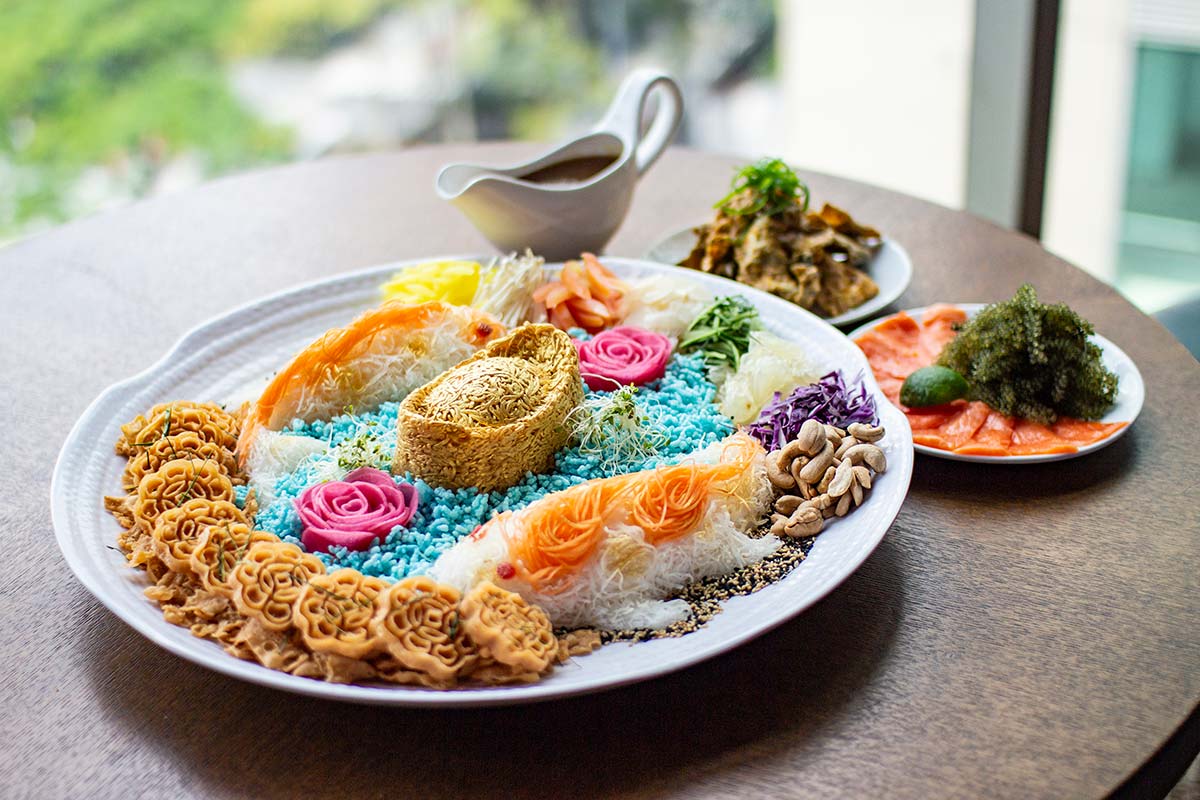 What's a CNY meal without a good start of yee sang? Ruyi's specialty this year comes in an exclusive Koi fish design, sprinkled with edible gold and enriched with salted egg yolk crispy fish skin, Atlantic salmon sashimi and sea caviar. With each of the over 20 ingredients prepared in-house, you can taste the freshness in the crunch of the vegetables and sweetness of the fruits.
Auspicious Ginseng Chicken Broth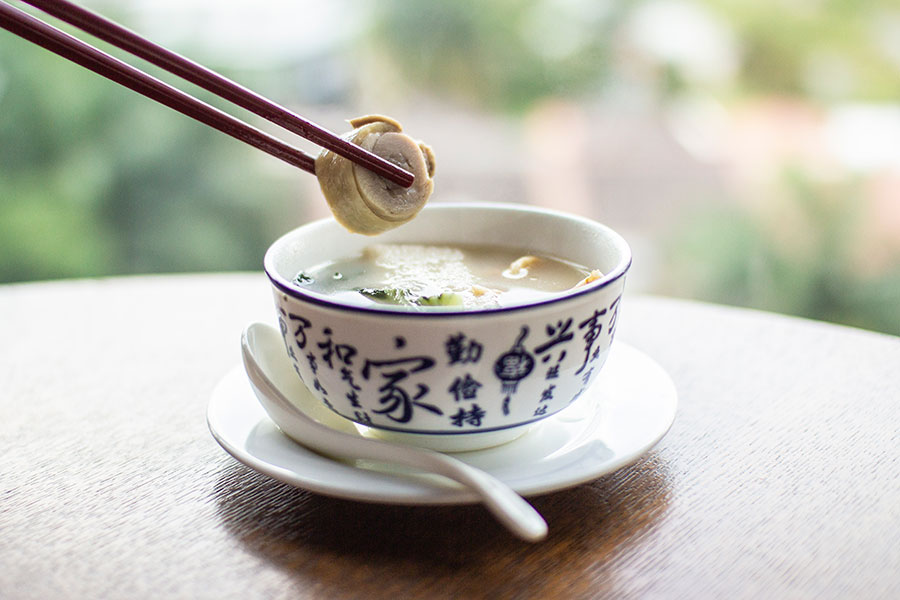 Whet the appetite with a soul-warming chicken soup next. Though not double-boiled, it hits the tongue with intense fragrance of chicken, before lingering with herbaceousness of ginseng, sweetness of sea whelk and bamboo pith and the prized sea-sweetness of fish maw.
Boston Big Brother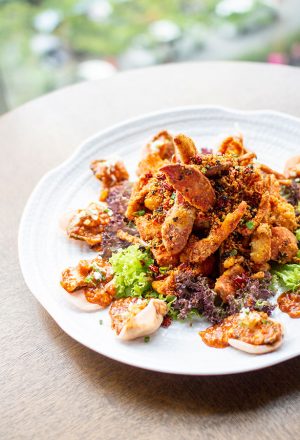 Dive deeper into the flavours of the sea with a lobster dish, made extra ong by being deep-fried a golden garlic-based batter. The flesh is sweet and springy, laced with a light veil of garlic for an unconventional way of bringing out the sweetness of the King of Crustaceans. If the shells can be eaten, we would've, such is how good the batter is. Equal amounts of spicy, salty and peppery, it seasons the delicate lobster well without overpowering.
Accompanying it are slices of braised abalone stir-fried in sweet chilli sauce and served atop crispy prawn crackers. They prove to be a prized combination of sweet, sour, sweet, salty and umami. Each slice is delectably chewy to the bite, not overdone and rubbery, yet well balanced out with the crunch from the prawn crackers.
Longevity Lamb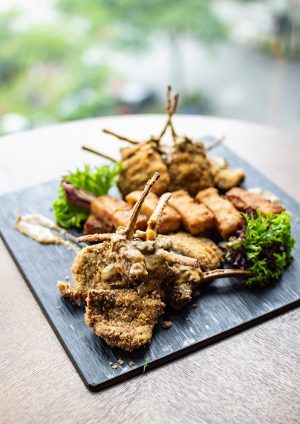 Switch things up and return to land with lamb. Also crusted with a breadcrumbs for a nice crisp first bite, the lamb remains succulent on the inside complete with bold game that red meat lovers would appreciate. A dash of mustard lends a refreshing tartness that cuts through the fattiness of the meat.
For a touch of Asian, deep fried white radish cake sits on the side for a creamy melt-in-your-mouth starchy treat, holding its own against the game of the lamb with its savouriness. Together, lamb and white radish make for a dish that doesn't hold back on the flavour.
Fortune Duck Glutinous Rice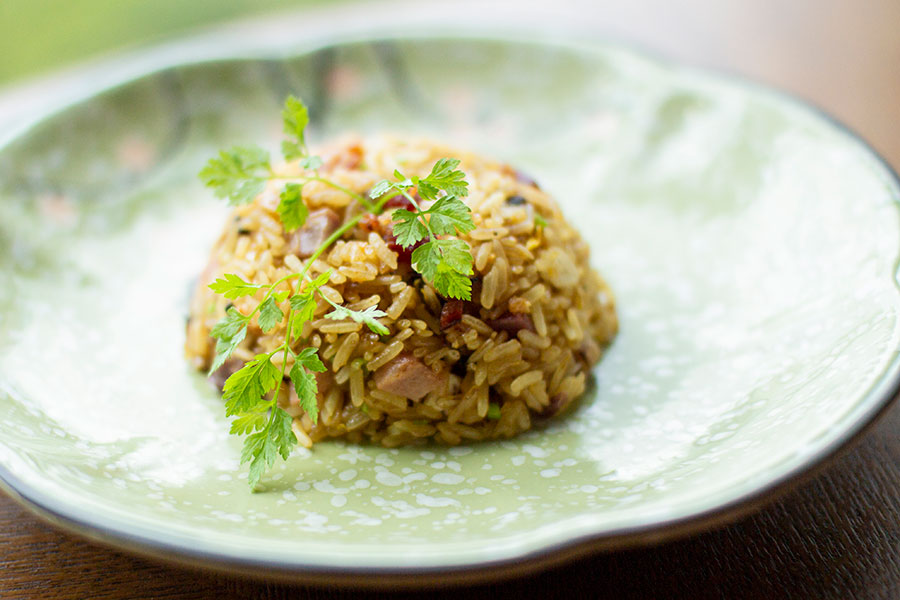 CNY would not be complete without a taste of lap mei fan and Ruyi's gets theirs right with glutinous rice that's firm in texture, waxed duck that explodes with game when you chance upon them, fragrant mushrooms which earthiness intensifies the longer you chew and chunky taro (Japanese yam) that holds the flavour together and lengthens them with its creaminess.
Koi Fish Nian Gao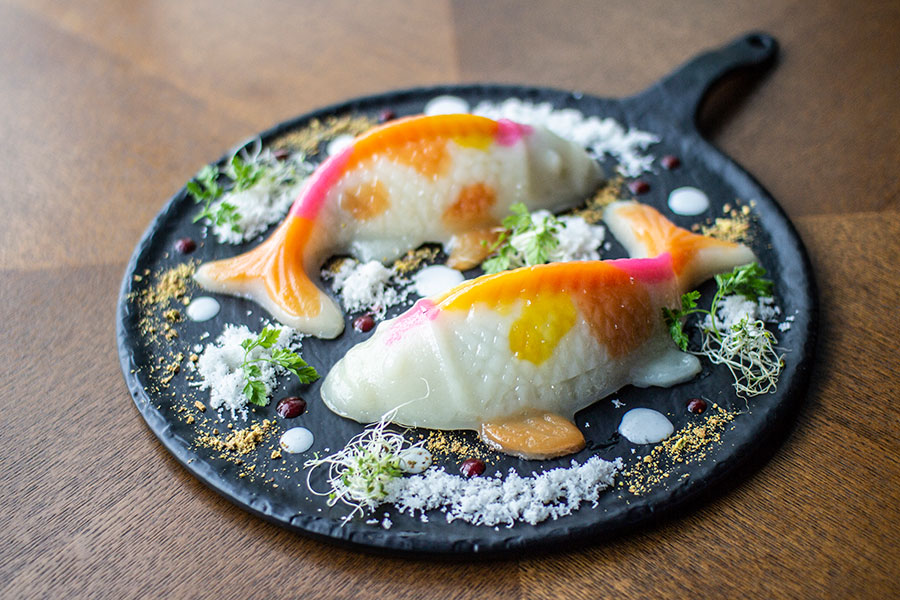 The Koi fish theme extends all the way to dessert for a full circle end to the meal. Served with desiccated coconut, coconut milk and a thick red bean filling, the delicate sweetness and smooth texture of the rice cake shaped into auspicious Koi fish proved the perfect sticky, sweet and gooey end which satisfies both the lips and eyes.
Ruyi also serves set menus by per head and per group of 10. Please call 03-2083 0288 for more information or to make your reservations
(Photos: Gan Yew Chin)