The long awaited Gordon Ramsay Bar & Grill in Sunway City Kuala Lumpur had its official launch last month, cementing its position as not only the first outpost by the famed chef and celebrity restaurateur in Malaysia but also the first Gordon Ramsay Bar & Grill outside of the UK. 
"Malaysia is a wonderful country with a rich heritage and an exciting future, and I am confident that local guests and international visitors will have an exceptional dining experience in our beautiful new restaurant," commented Ramsay on the inaugural opening of his eponymous bar and grill.
Despite how the lavishly designed restaurant blends seamlessly into the elegant opulence of its home, Sunway Resort, the Gordon Ramsay Bar & Grill is hard to miss. Its marble lined entrance is nothing short of grand, beckoning guests into its fold where gold accents and luxurious furnishing abound.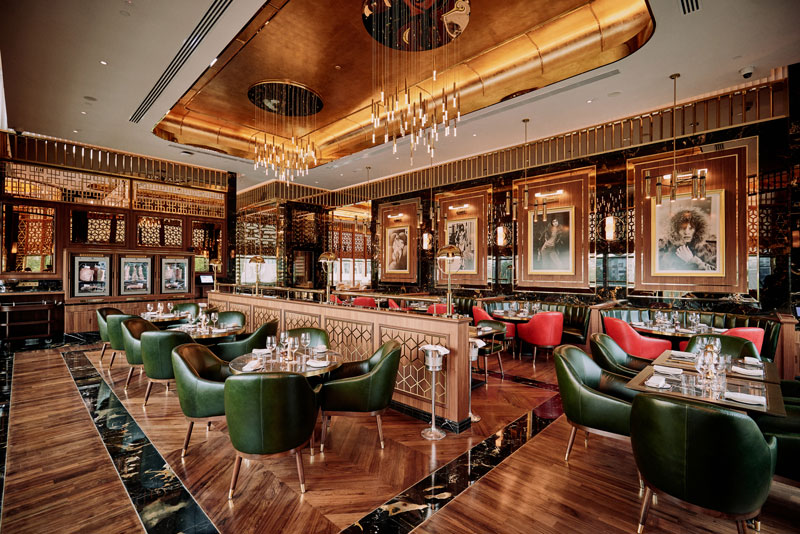 A crossed-armed portrait of Ramsay himself presides over the main dining area, staring back at us with a look of amused disdain. Beneath a 24 karat gold leaf hand-placed ceiling, rich red and forest green seats add a sense of plush sophistication to the polished walnut hardwood flooring and brass touches, while on the walls hang a series of monochrome photographs of Britain's legendary icons – the likes of Sir Mick Jagger, Terry O'Neill, Sir Sean Connery, Jean Shrimpton and Twiggy.
It quickly becomes clear that Gordon Ramsay Bar & Grill is a celebration of Britain's best, from its cultural cache of iconic talents, to its distinctive cuisine, which has only in recent decades begun to receive its rightful recognition in the culinary sphere.
We're seated at 12 Chelsea, one of the restaurant's three private dining rooms named after cosmopolitan, upscale districts in London. A highlight of the room is the unassuming window screen on the wall separating us from the kitchen, which can be switched on and off at will to provide a behind-the-scenes glimpse of the skilled team, hard at work preparing our meals.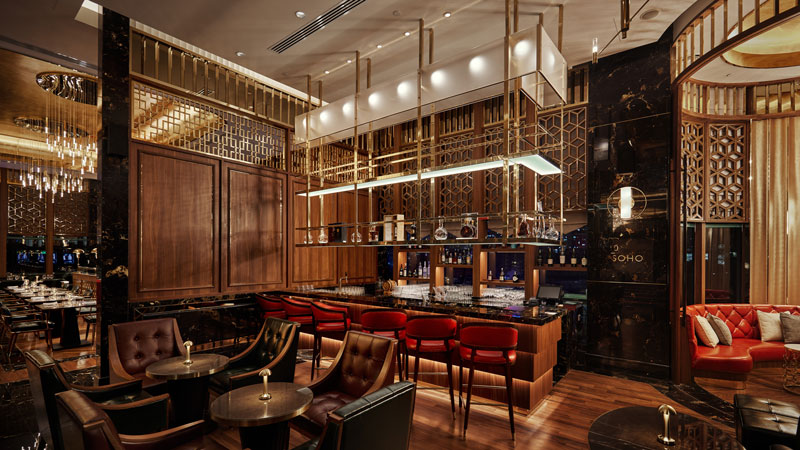 Having sampled expertly-crafted beverages like the barrel-aged Negroni and the refreshing Chelsea Royal Garden from the glittering cocktail bar, we settle in in anticipation for the feast ahead. The opening dish from the restaurant's menu, which is inspired by Ramsay's iconic Savoy Grill in London, swiftly informs us that 'starting small' is not how things are done here. 
The aptly named Seafood Tower arrives to greet us, overflowing with oysters, Boston lobster, scallop ceviche, king crab legs, and prawns in a succulent mini buffet of exceptionally fresh, succulent flavours from the sea.
A much less conspicuous, though no less visually striking, plate of Citrus-cured Salmon appears before us. Cured for 24 hours, the delicate slices of salmon are topped with beetroot-dipped red salmon roe and kohlrabi for enhanced flavour and texture, perfectly rounded off with small dollops of light smoked yoghurt.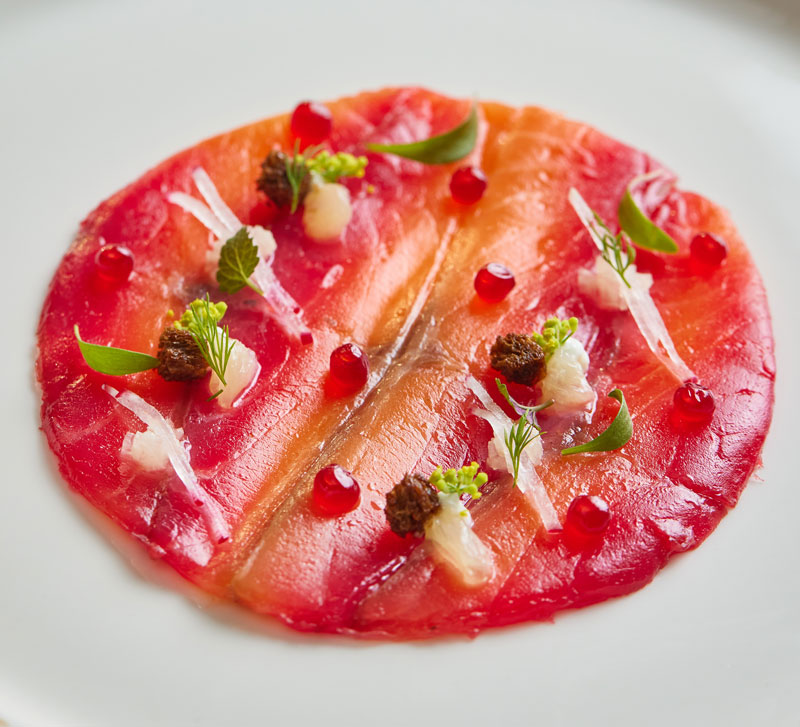 Next up for starters is the Aged Steak Tartare, a Gordon Ramsay signature featuring a stunning steak fillet, a decadent egg yolk confit and a drizzle of gherkin gel. Accompanied by classic British game chips, the dish offers a luxurious balance of bright acidity, creamy richness, and gratifying crunch.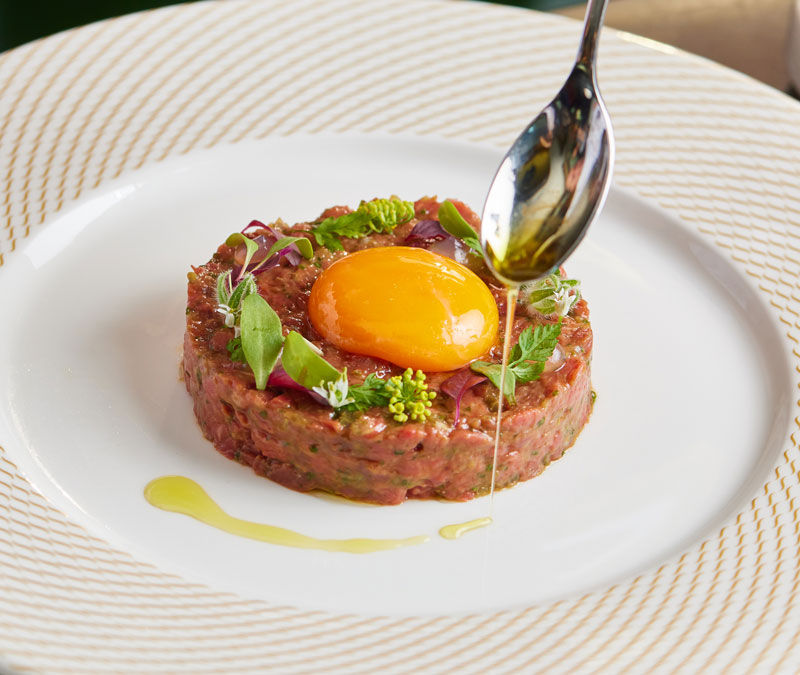 The Arnold Bennett Twice-baked Souffle then graces our table, and just like the famed Savoy omelette named after esteemed British writer Arnold Bennett, this baked dish incorporates smoked haddock, topped with an aged cheddar sauce with chives. Light, airy, yet packed with flavour, the inexplicably addictive souffle will no doubt be a menu favourite among diners.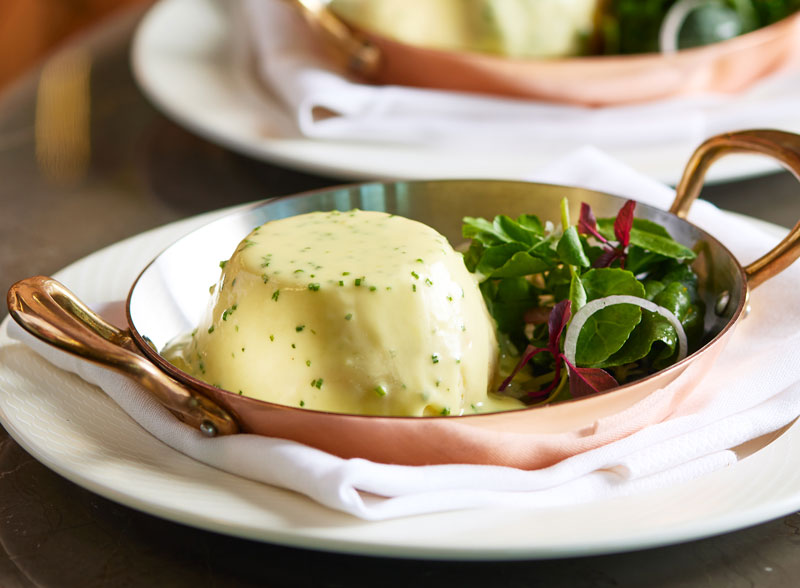 Kicking off the mains is the Murray River Cod, cooked in the Josper oven and enhanced with a generous helping of brown butter sabayon. The delicate flavours of the fish shine on their own, but are further elevated when paired with the rich, buttery sauce, a sprinkling of salmon roe and chicken skin crumble.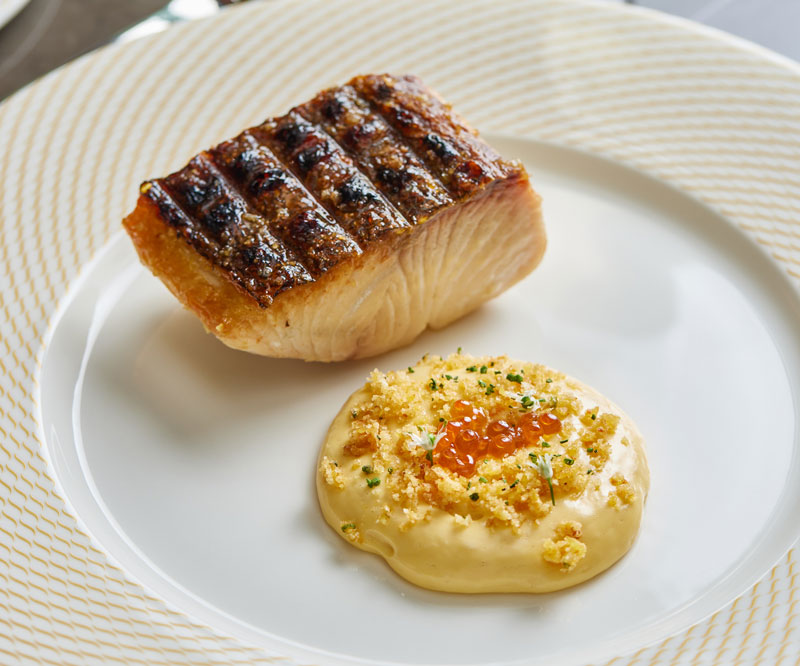 Then comes the buzziest item of the lot: Gordon Ramsay's Classic Beef Wellington, ceremonially wheeled out on serving carts and sliced in front of us. Tucked into golden, crisp puff pastry and lavished with a red wine jus, the beef fillet is cooked to tender, juicy perfection. Paired with additional savoury layers of duxelles and chive crepe, as well as a delightfully comforting pomme puree, the dish leaves few questioning its menu-headlining status.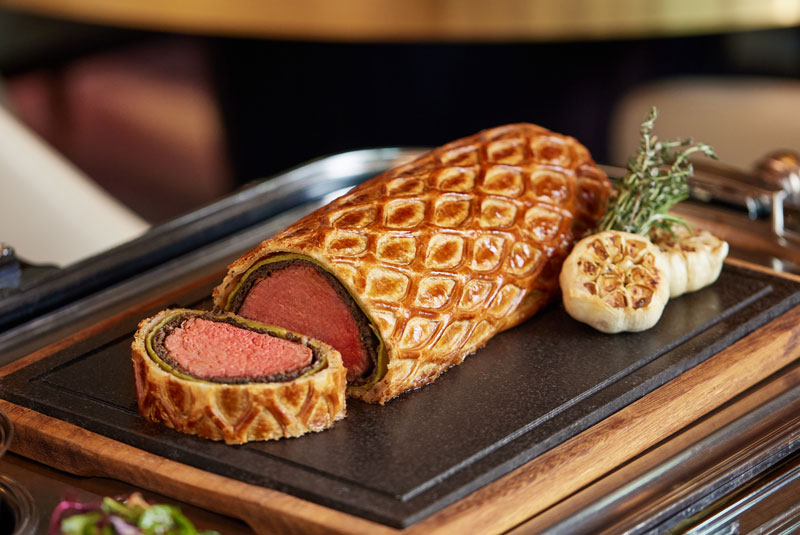 The Beef Wellington is no easy act to follow, but the Traditional Sunday Roast certainly does not disappoint. Beautifully marbled roast beef is served together with a fluffy, crisp Yorkshire pudding, butter-roasted potatoes, carrots, broccolini, and charcoal leek aioli in this brilliant take on the quintessential English classic.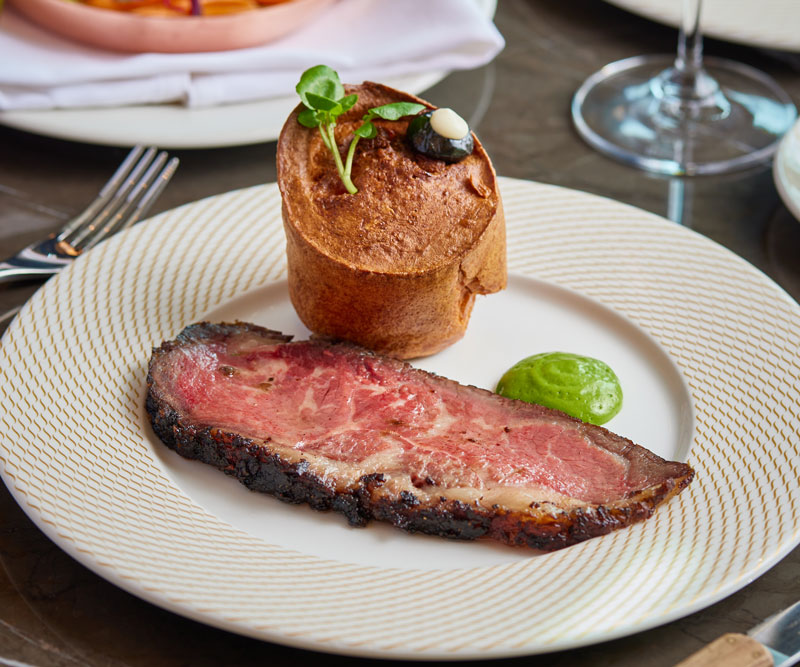 Finally, dessert comes in the form of the 64% Manjari Chocolate Tart, a delectably light, smooth, and slightly tangy chocolate concoction that's balanced with crunchy honeycomb, milky yoghurt sorbet, and extra virgin olive oil. Having satisfied our sweet tooths, we top off the meal with a marvellous selection of French cheeses that range from the bold Bleu d'Auvergne and Époisses to the luscious Crémeux de Bourgogne.