Each bottle is embellished with 36 sapphires forming the number '63' at the front to signal its age.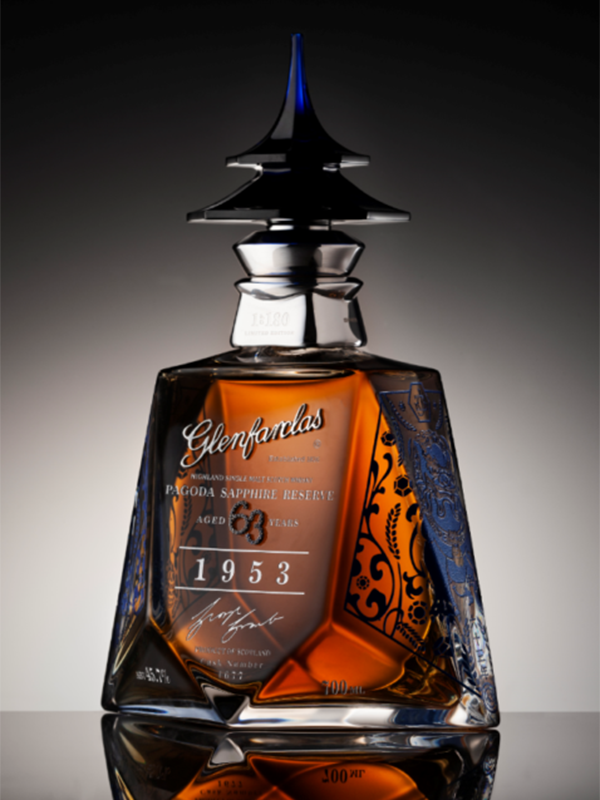 After the launch of the 62-year-old Glenfarclas Pagoda Ruby Reserve in March, the Grant family-owned distillery has unveiled the fifth and final expression of the Scotch whisky Glenfarclas Pagoda series.
Enter the 63-year-old Pagoda Sapphire Reserve, launching in a jewel-encrusted Glencairn hand-blown 30% lead crystal decanter. It will come in two variants: Limited-Edition Silver and Collector's Edition Gold. The silver edition comes in either a 700ml bottle that's limited to 180 units, or a 1.5 litre magnum bottle that's limited to 63 units. Meanwhile, only 45 units of the gold edition will be available in 1.5 litre magnums.
The solid silver- and gold-plated collars of both editions are individually numbered to mark its exclusivity. Each bottle is embellished with 36 sapphires forming the number '63' at the front to signal its age, with a total of 11,000 dark blue matching sapphires ordered to create the collection.
Enhancing the beauty of the decanter to mirror the rarity of the whiskey it contains are engraved motifs of Chinese guardian lions infilled with a dark blue colour to match the sapphires. It is further topped with a crystal pagoda-shaped stopper like the other expressions in the series, except now in blue.
"We are incredibly proud of our work on the Glenfarclas Pagoda Series and believe we have delivered some of our finest and most exceptional crystal cut decanters to date," said Scott Davidson, Glencairn's new product development director.
"It has been an absolute joy to work on this project as it has given us the chance to incorporate valuable gemstones into our decanters for the first time. Each and every decanter is a truly unique work of art to honour the quality of the whisky inside," he added.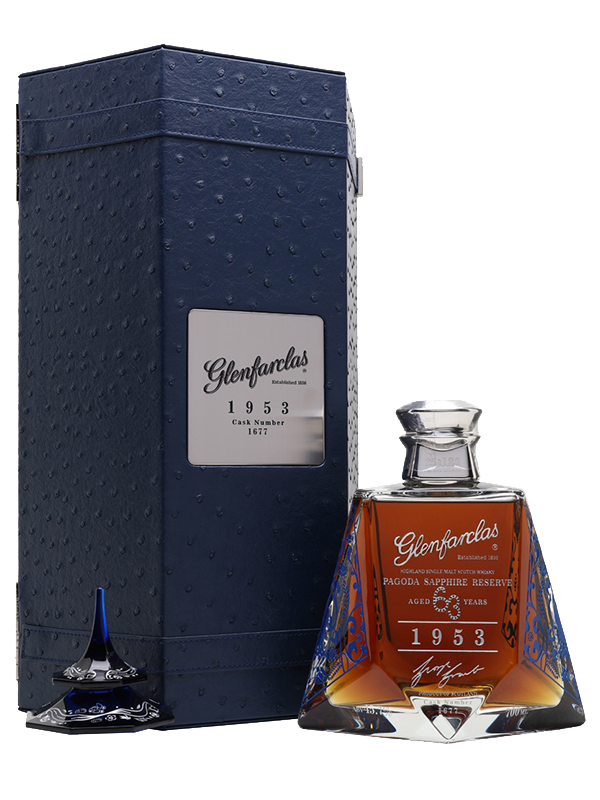 The Glenfarclas 63-Year-Old Pagoda Sapphire Reserve is available for purchase on the company's official website and The Whisky Exchange.
Photos: Glenfarclas