Mere months after our maiden visit to FLOUR's spanking new home in Imbi, we receive news from Chef Yogesh Upadhyay (fondly known as Chef Yogi) on a complete departure from what we last experienced.
"If you were surprised earlier…this is 10 steps ahead" reads his text. This says a lot, given our lingering fond memories of flavour-packed curry leaf fish and baby lamb chops from before. While our curiosity was tickled, we couldn't help but wonder what would happen to the dishes we've come to love. And more pressingly, why make the shift now – so soon after reopening, and amidst unpredictable times?
"When FLOUR opened in our new location, the plan had always been to offer degustation because justice to the place needed to be given. But we entered into MCO. That called for us to relook into it, so we came up with a menu to encourage people to come out and try the food," Chef Yogi provides some context.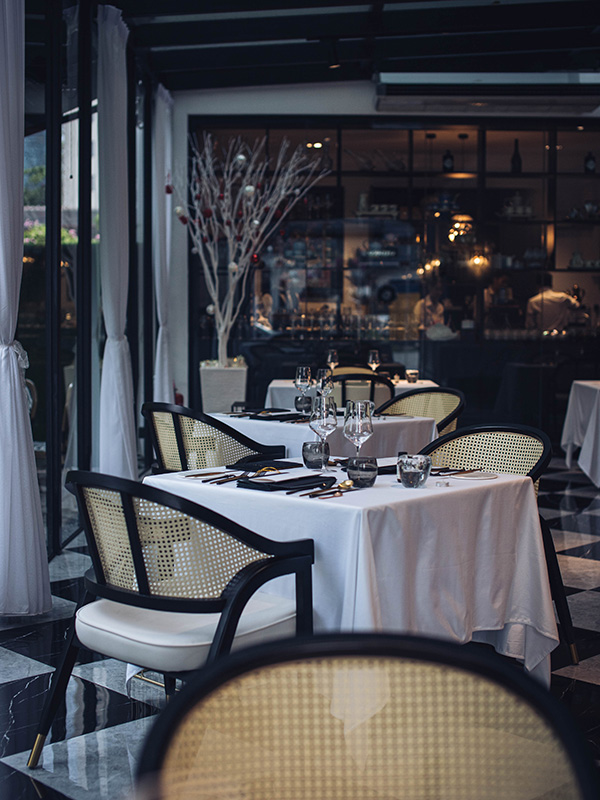 Now that diners have had a taste of what FLOUR 2.0 is like, he justifies: "After the second CMCO, we realised that this may not be the last one, so we decided to go ahead with our initial plan. This is clearly my vision of how I see Indian food and I'm putting my experience and whole heart on the table in the form of 10 courses."
The result: A revamp of the menu, setting and dining experience to make way for an exclusive 10-course opus with a maximum seating of 32 diners every evening. Tables and chairs have been reshuffled for more privacy, and the atmosphere is conspicuously more formal than our maiden visit.
Our introduction to all of this starts with on a Monday evening kicking off the festive Wonder Winter menu.
A vision built on thousands of years of Indian food
To say that the new, new FLOUR – or FLOUR 3.0, if you prefer – serves Indian cuisine only paints half the picture. After all, how does one define what one does not yet fully know? Progressive Indian cuisine would be more accurate, if labels were obligatory.
Here is Chef Yogi taking his knowledge and experience of his country's long-standing history and heritage of food, combining it with his French culinary know-how, and pushing the boundaries of "what can be" when these influences meet.
But he's also quick to attribute this fresh execution to his sous chefs, Balwant Singh and Alessandro Piso, who share his passion for evolution and innovation. Together, they rewrite a new chapter for FLOUR, beginning with an amuse bouche titled "bird's nest, kintsugi".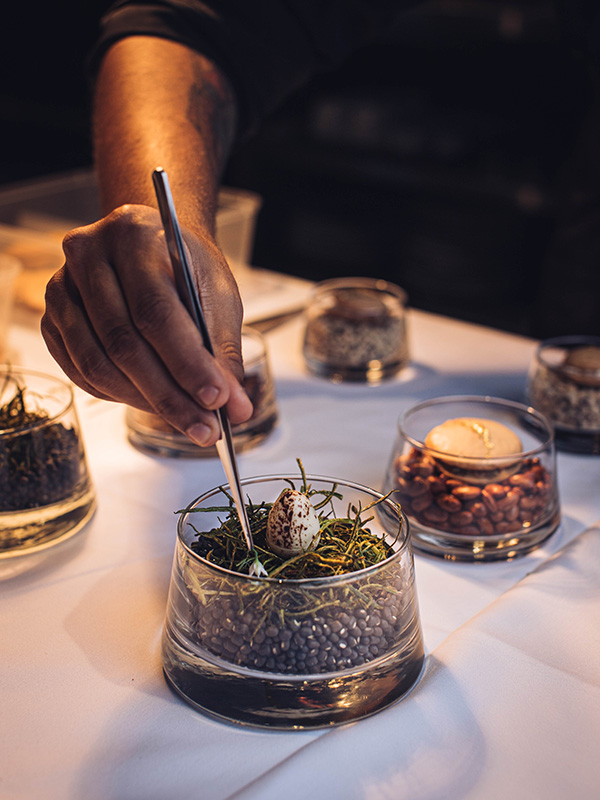 To our surprise, a chocolate egg sitting atop a bird's nest made of deep fried okra strips arrives first. Two imperfect macarons with illusory 'cracks patched with gold flakes' (referencing the Japanese art of kintsugi) accompany it – one with dried figs and aged pomegranates for the filling, and the other with yogurt and lemon zest.
Hints of ginger, chilli and pepper in the chocolate recall FLOUR's flair with spices, whilst the use of winter fruits in the macaron is telling of India's food culture at this time of year. Why start with flavours typically saved for dessert? "I need your palate to be ready for what comes next," Chef Yogi replies simply.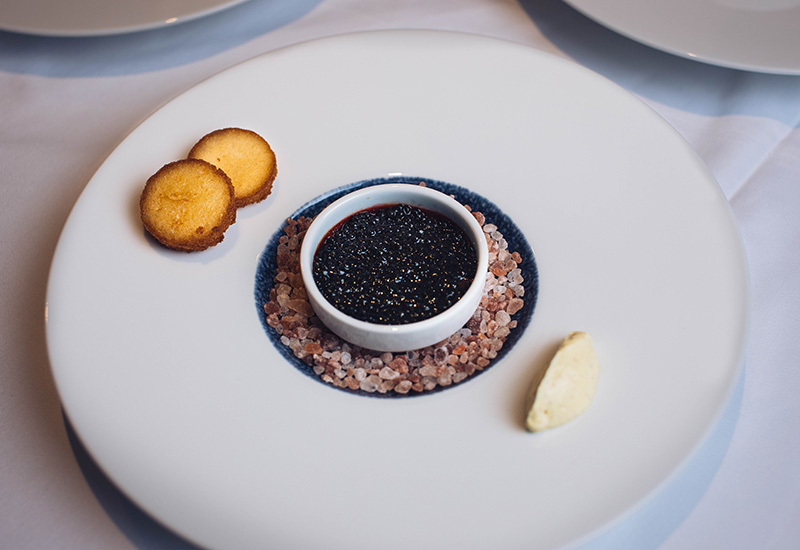 When "next" is served, the blanks are filled. Ossetra caviar presents itself with a side of idli and amrakhand, in lieu of blinis and crème fraiche. Underneath the black jewels is a bed of beetroot custard (another popular vegetable in India during winter), here thickened with coconut cream and enhanced with curry leaves for that signature touch of spice. Each mouthful coats the tongue with rich yet well-balanced sweet, salty and earthy flavours, best enjoyed with a bite of ibli for added texture – making this Earth & Sea dish an easy hit.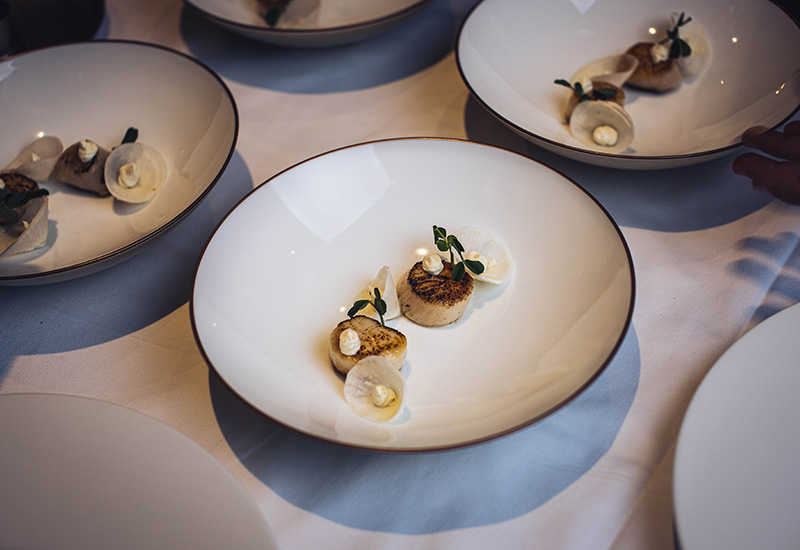 "Bitterness" ensues, comprising of a tandoor-cooked Sabah prawn and pumpkin jelly, topped with dollops of fenugreek and mustard. This is followed by Kabir, which means "great" in Hindi – alluding to one of India's greatest soups: rassam. Following the seafood trail before it, two generous, juicy scallops rest in the pool of sweet, tangy and appetising broth, balanced with slices of peppery radish.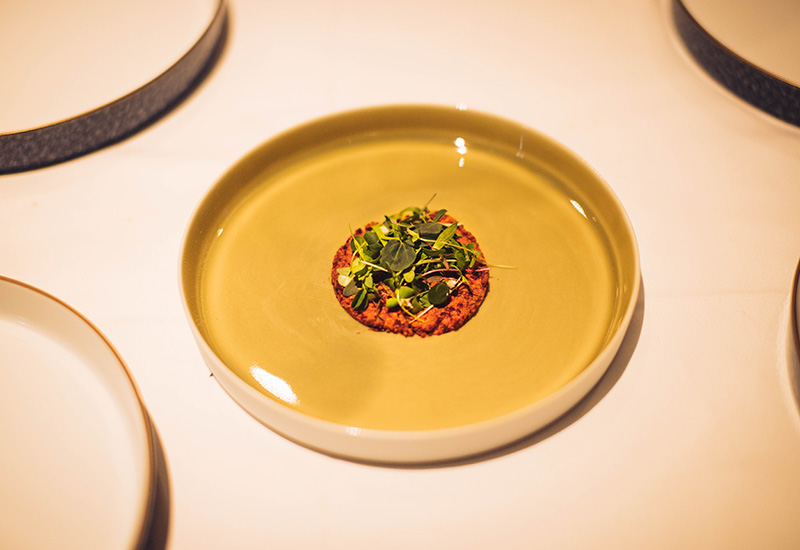 While the fifth course proves too raw and earthy for our liking, it's a strikingly artistic portrayal of India's reliance on root vegetables. Expect nothing less of a dish named after Mother Earth herself, Gaia, in which a blend of micro greens appear to be sprouting from "soil" made from roots such as beetroot, radish and carrots.
A marriage of French and Indian influences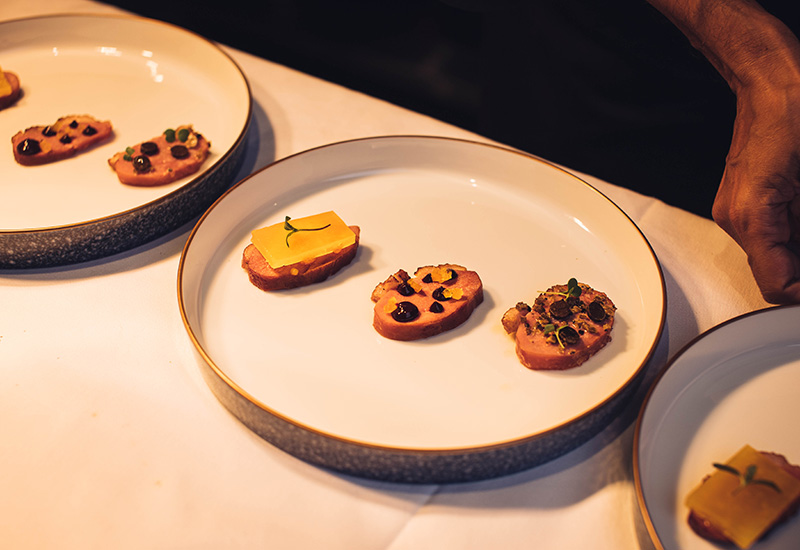 French influences play a strong role in this degustation, and this becomes more apparent from the sixth course. After the seafood progression, we move on to Three Ducklings. Each slice of house-brined, smoked duck offers distinctive accents: one with winter truffles from France, the second with winter berries and dates, and the last with a glossy orange jelly.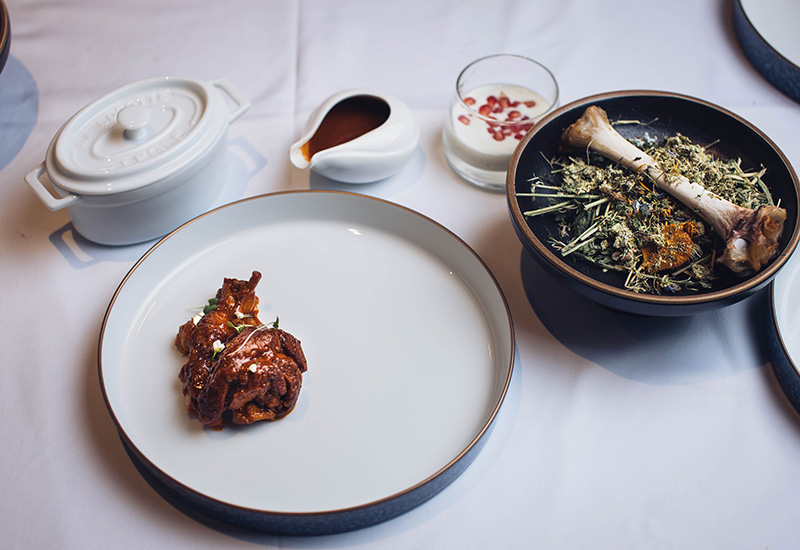 For those who insist on familiarity, there's an optional add-on of Lamb Shank and Biryani, which we gladly oblige. The tender, gamy smacks of the suckling lamb and comforting traditional pairing of rice with yoghurt are worth the extra calories, we tell ourselves – and it does not disappoint.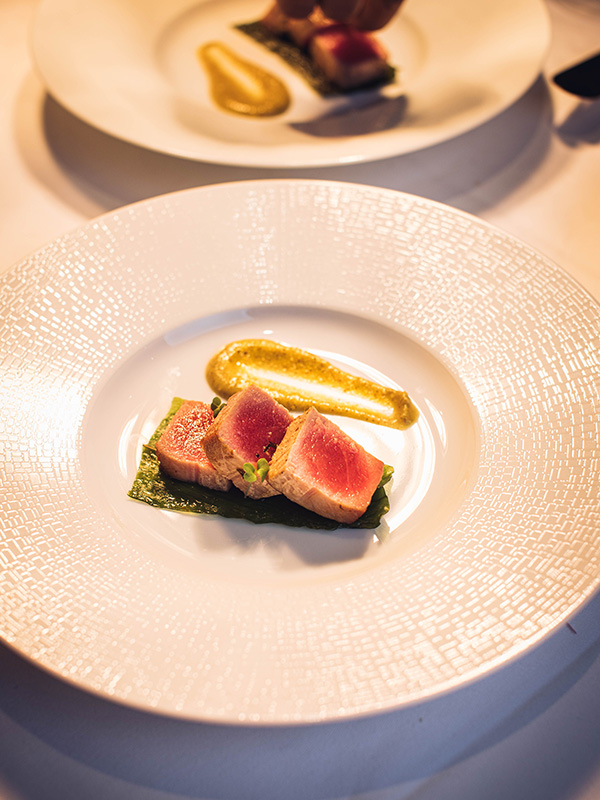 A trace of Japanese inspiration resumes the order of the evening. Aptly named Japan Meets India, yellowfin tuna is gently seared in oil and ghee to offer an unusual melt-in-your-mouth texture. Nori is substituted with turmeric leaf, and mustard for wasabi, staying true to FLOUR's Indian roots.
Concluding the savoury part of the meal is Satisfaction, in which a ball of rice and lentils cooked with coconut, star anise and a mix of spices arrives wearing a triangular hat of papadum. While the ingredients continue to sing an anthem to Indian food heritage, the cracker alone is testament to the dish's name.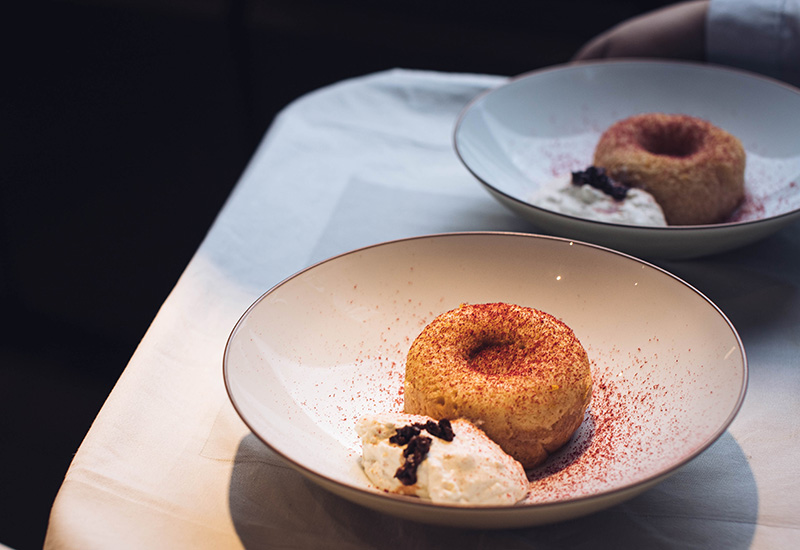 Two dessert courses finish off our long, storied dinner on a sweet and spicy note. First is a classic French baba au rhum with an Indian twist: the cake is soaked in rum (or rose water for the non-alcoholic option), cinnamon and star anise, studded with rum-soaked raisins and pomegranate (a widely grown fruit in India), and topped with a dusting of raspberry powder. The finale presents an understated duo of banana and chocolate, served with a fail-proof choice of Amaretto, bourbon, black coffee or masala cha.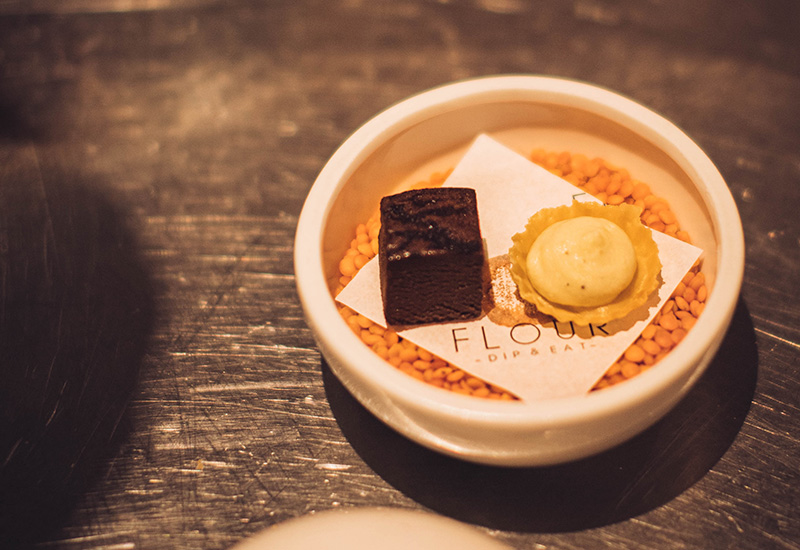 With this version of FOUR, it's no longer just about Indian food, but also its stories that demand to be told. In the words of Chef Yogi himself: "FLOUR has always been and will remain a vision for Indian cuisine. It will always be taking this cuisine to the next step. I've worked hard for the past four years and I'm not going to stop."
"These flavours may not be known," he acknowledges, "but that's my job as a chef – to put those flavours on the table, which you may or may not know, and not just those flavours which you already know. With a history of thousands of years, it will take me a long, long, long time to cover this country's cuisine."
The Winter Wonderland Degustation menu is available from 7th December 2020 until February 2021. For reservations and enquiries, contact +6012-960 0053.
Location: 12, Jalan Kamuning, Off, Jalan Imbi, 55100 Kuala Lumpur
Opening hours: 6.30pm to 10.30pm, Wednesdays to Mondays (Closed on Tuesdays)
Photos: FLOUR