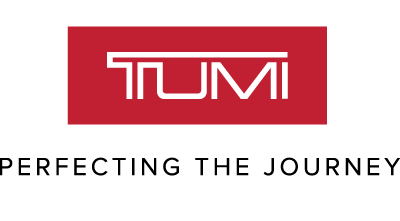 FirstClasse recently spent three days in the golden city of Yangon with artistes Aiman Hakim and Zahirah Macwilson. Here are the highlights of all that we saw, heard, tasted and experienced.
Aiman Hakim Ridza and Zahirah Macwilson are in the midst of planning for their nuptials following their blissful engagement in Perth last June. But with new projects on the horizon for both artistes and a café business to run for Aiman, a quick getaway is surely deserved before the highly-anticipated wedding comes around.
"I took her to Laos for her birthday this year," Aiman fondly recounts of one of their memorable trips together, "but we've never been to Myanmar, so this will be our first time."
As it turned out, it was a first for all six of us on the trip to Yangon – and what an insightful first it was to discover the cultural sites and sights of the bustling Burmese capital.
Here are the highlights of all that we saw, heard, tasted and experienced over three days in the city.
---
City: Yangon
Population: 5,160,512
Area: 598.75km2
Weather: 30°C, Wind at 7.2mph, 90% Humidity
Day 1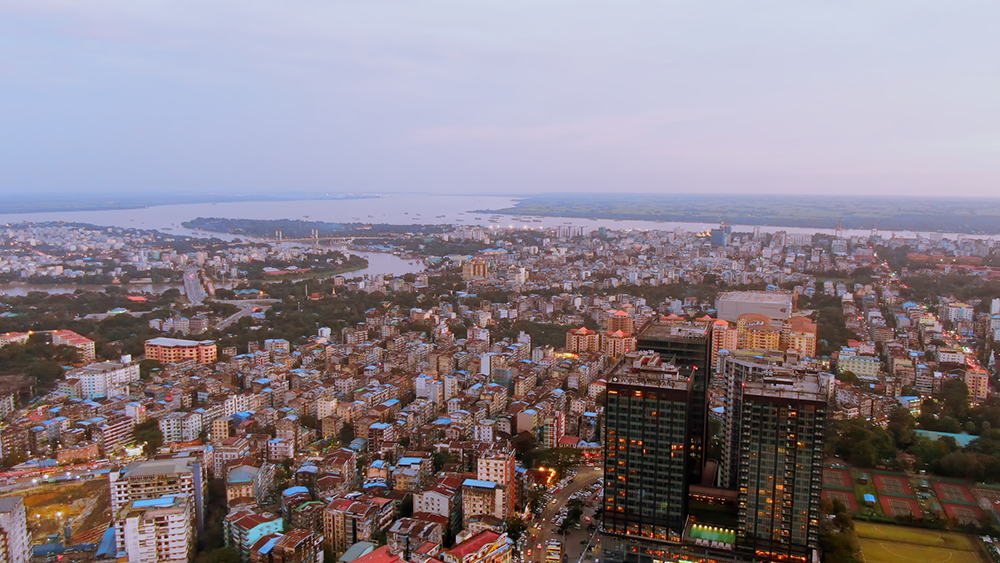 An early flight left us slightly dazed upon arrival in Yangon, but the warm reception at Sule Shangri-La Yangon gradually eased us into our new environment. The bird's eye view of the city from the Horizon Lounge where we checked in built up our excitement further. After a quick lunch at a local cafe, we were raring to head out to explore.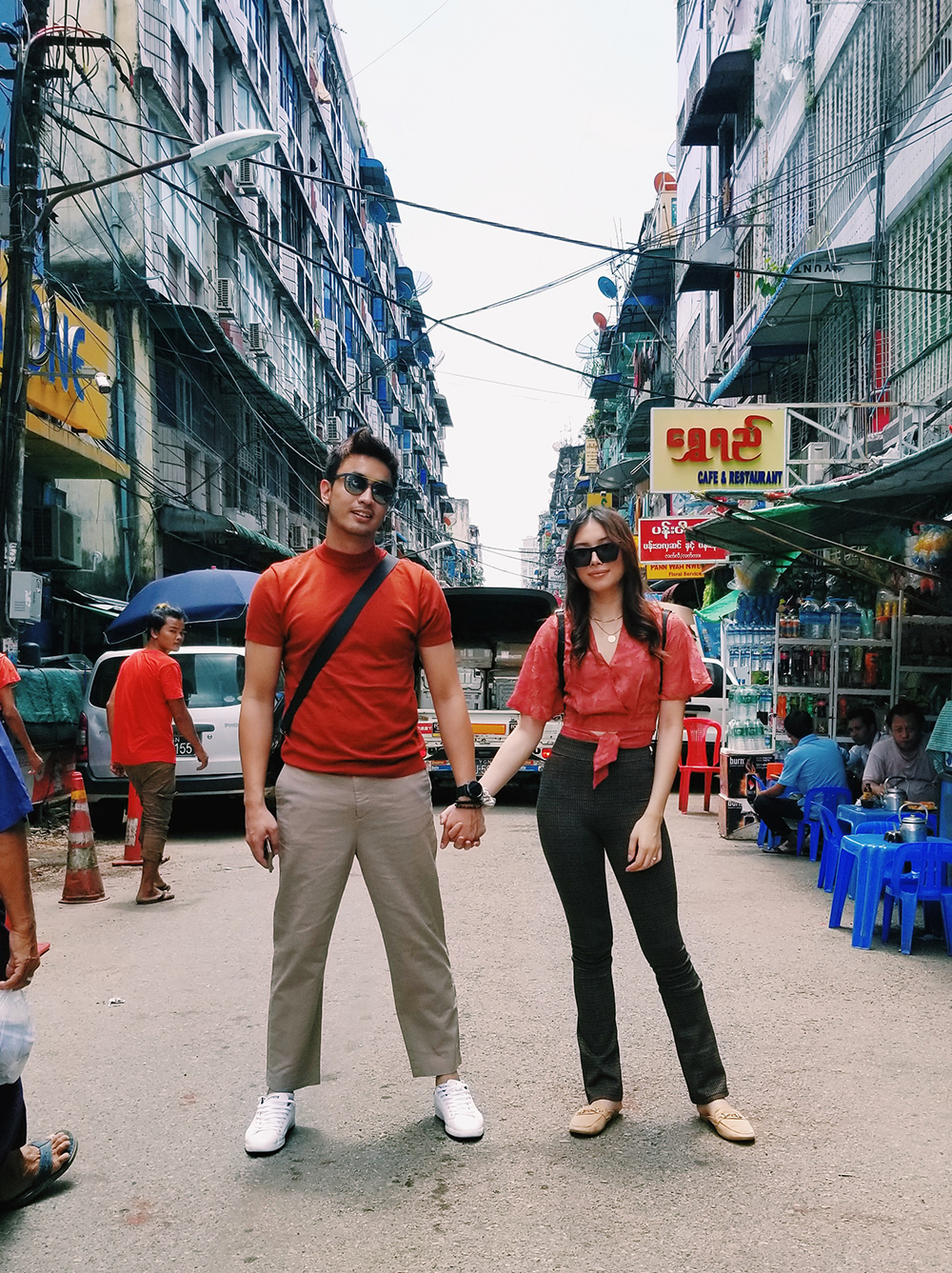 Despite our visit falling at the tail of Myanmar's rainy season, it proved a sunny first day for us. Our first stop was just a 5-minute walk away from our hotel: Bogyoke Aung San Market. The near-century-old market is easily recognisable by its colonial architecture, hence its former name, Scott Market.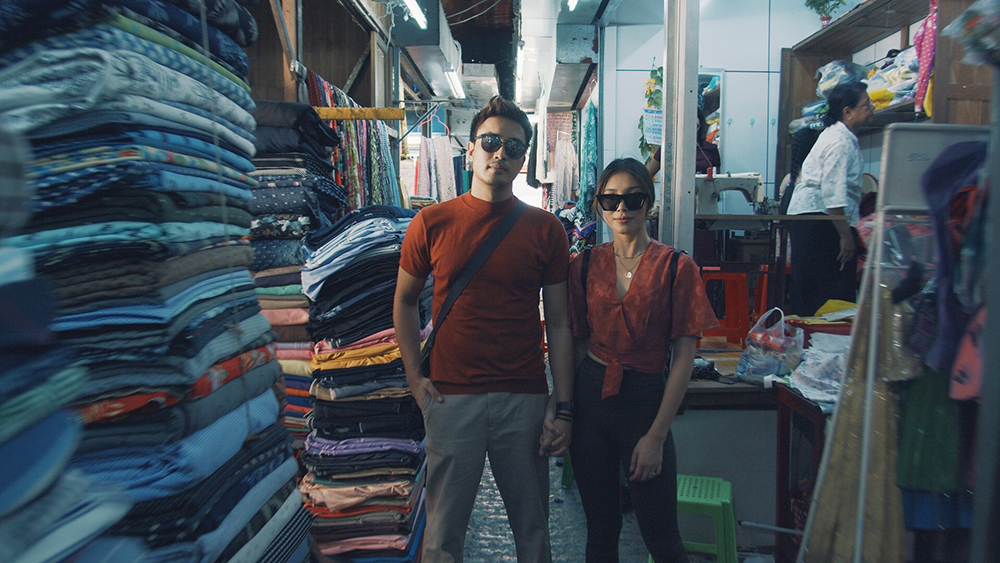 A popular spot for tourists to shop for souvenirs, it boasts more than 2,000 stalls offering everything from modern and traditional clothing and jewellery to paintings and handicrafts. Gems like jade, ruby and other precious stones greeted the eye nearly every row we passed, signalling Myanmar's long-established mining trade.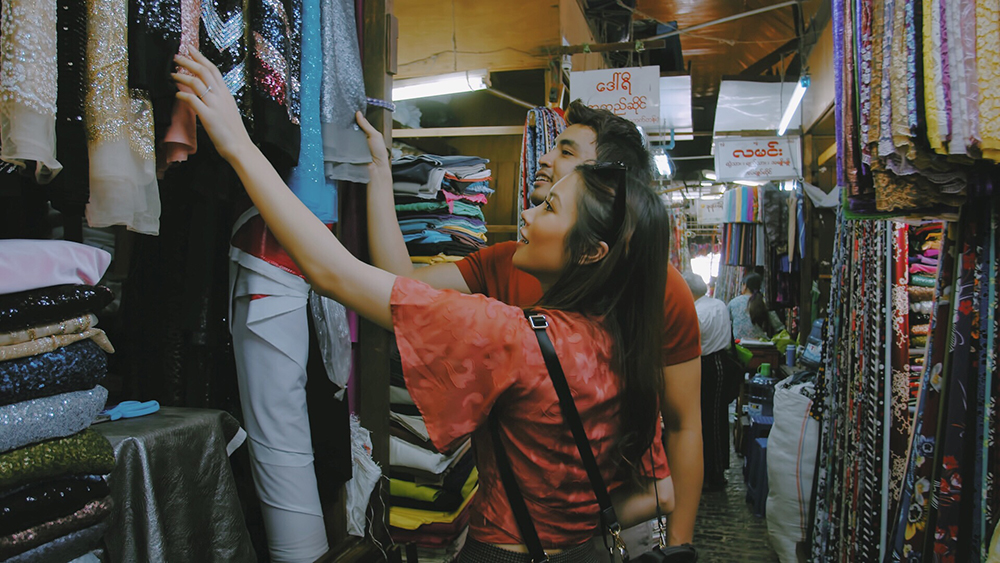 Guess who picked out a cute sling bag from one of the stores along the inner cobblestone streets here? (Watch the video above to find out!)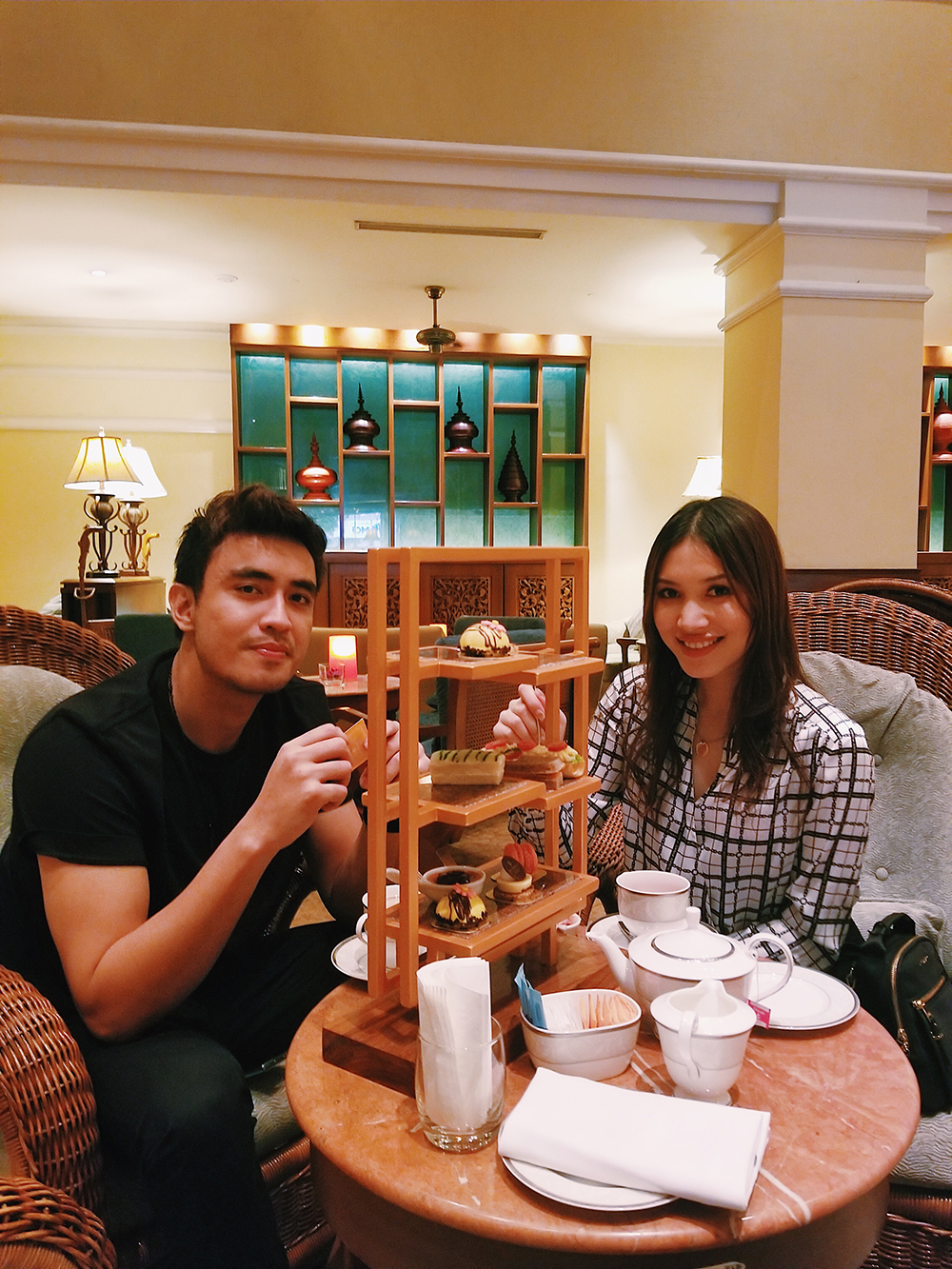 Though we could have spent half a day at the market, it wasn't long before our tummies – accustomed to our Malaysian eating habits – were hankering. And so we returned to our hotel to enjoy a sumptuous high-tea at the Peacock Lounge. This was when we discovered Aiman's preference for coffee and Zahirah's for tea (we're with Aiman on this one). About half a dozen sweet and savoury bites each and a warm shower later, we were freshened up for our next sightseeing stop.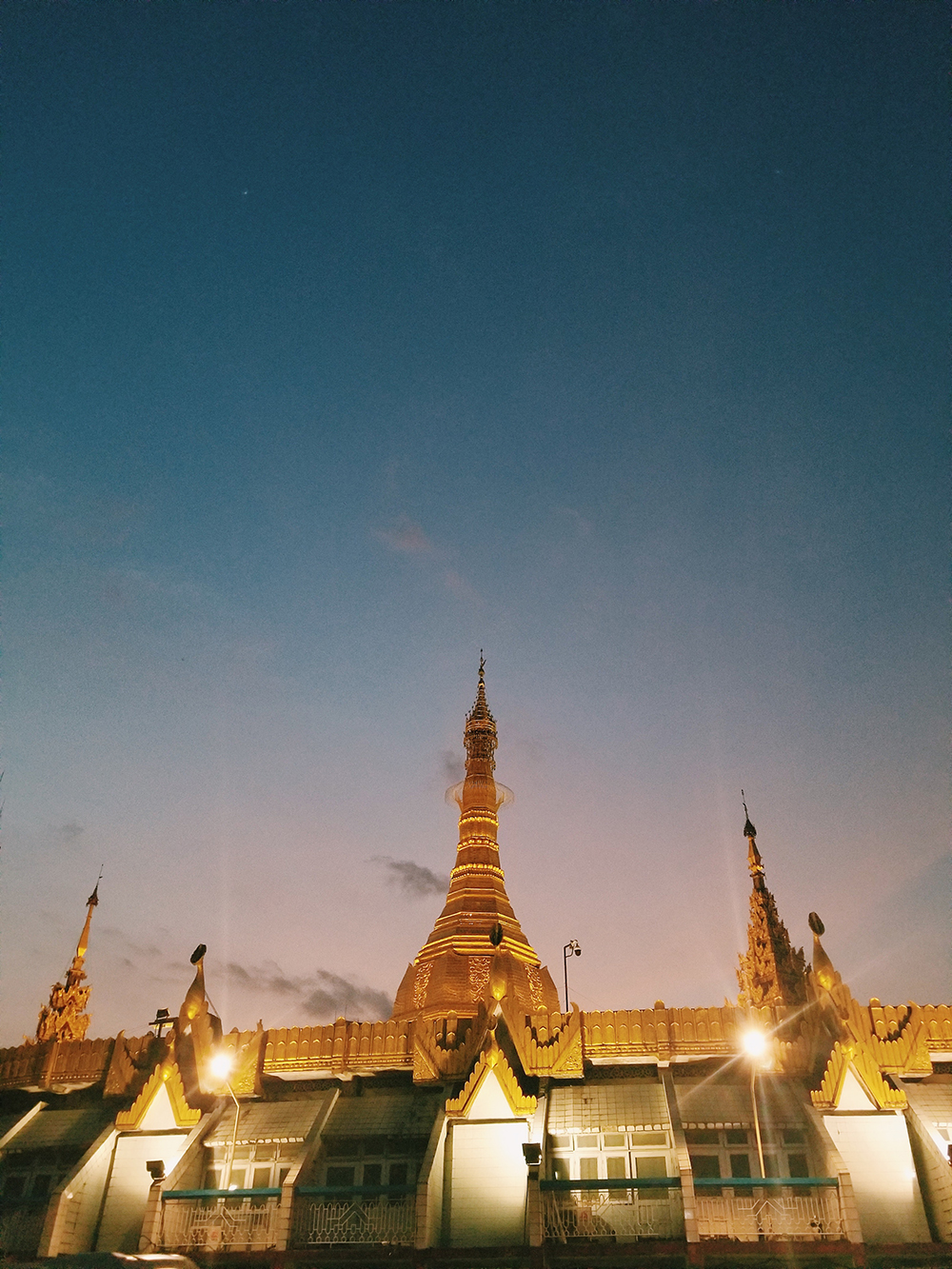 Located 10 minutes away by foot, we were lucky enough to catch the Sule Pagoda at sunset – its striking golden spire juxtaposed against the heavens in a gradient of pink, purple and blue. Legend has it that the golden structure was built during Buddha's time, making it more than 2,600 years old. It is also believed to enshrine a hair relic of the Buddha, given by Buddha himself to two Burmese merchant brothers.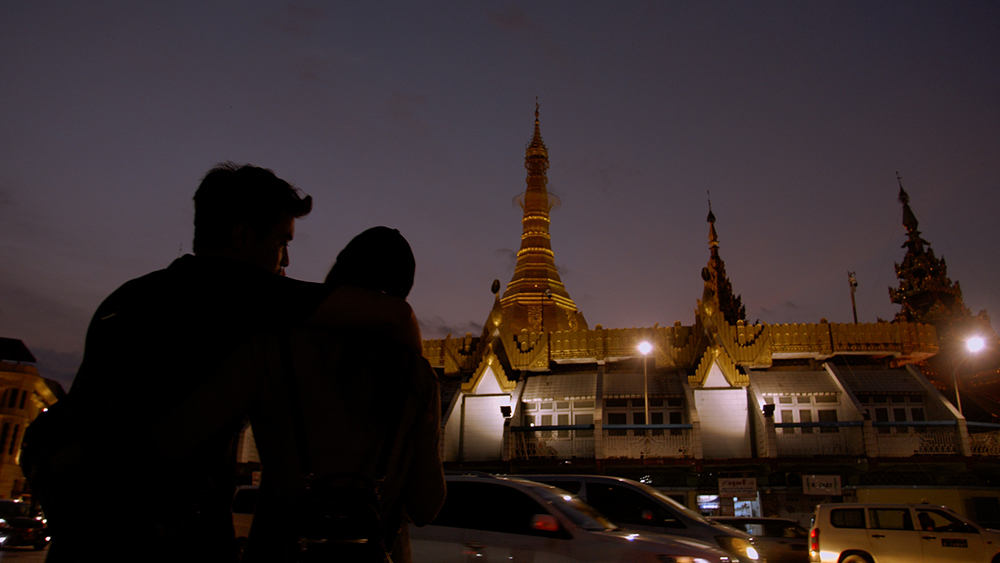 Architecture so historically significant, it was a sight best marvelled at with a loved one. Thus marked the end of our eventful first day in Yangon.
(swipe left for more photos)
Day 2
Kickstarting our second day was a hearty buffet breakfast at Café Sule, the hotel's all-day dining venue serving a spread of continental and local delights. With our appetites filled and curiousity enthused from the day before, we headed for Yangon's most popular landmark, Shwedagon Pagoda.
Standing 326-foot-tall on Singuttara Hill, the national symbol overshadows the city skyline in all its golden glory. The main stupa alone is plated with 22,000 gold bars and adorned with over 7,000 diamonds, rubies, topaz and sapphires. No wonder why it's dubbed "The Crown of Myanmar".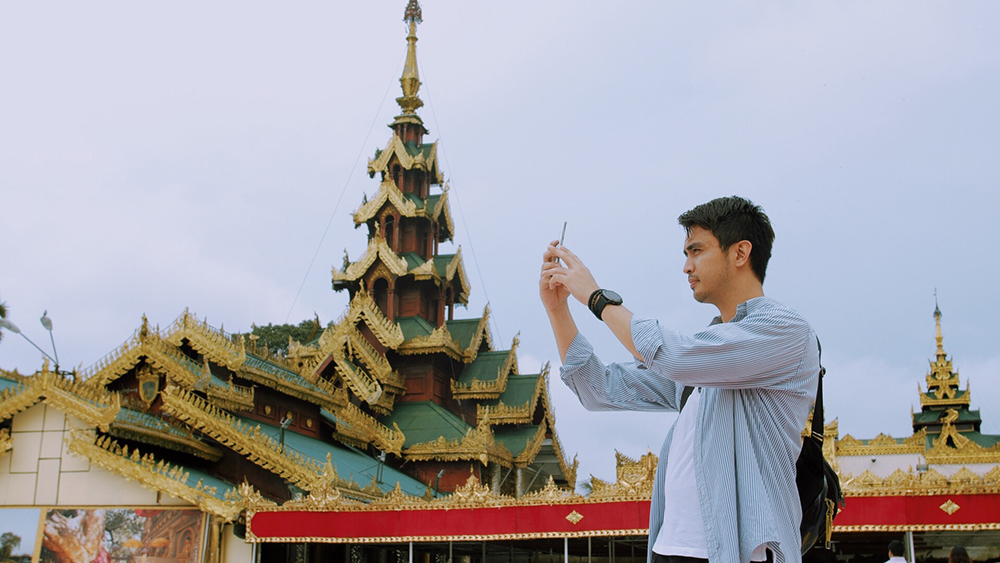 Curious what's Aiman snapping a photo of? Keep swiping to find out.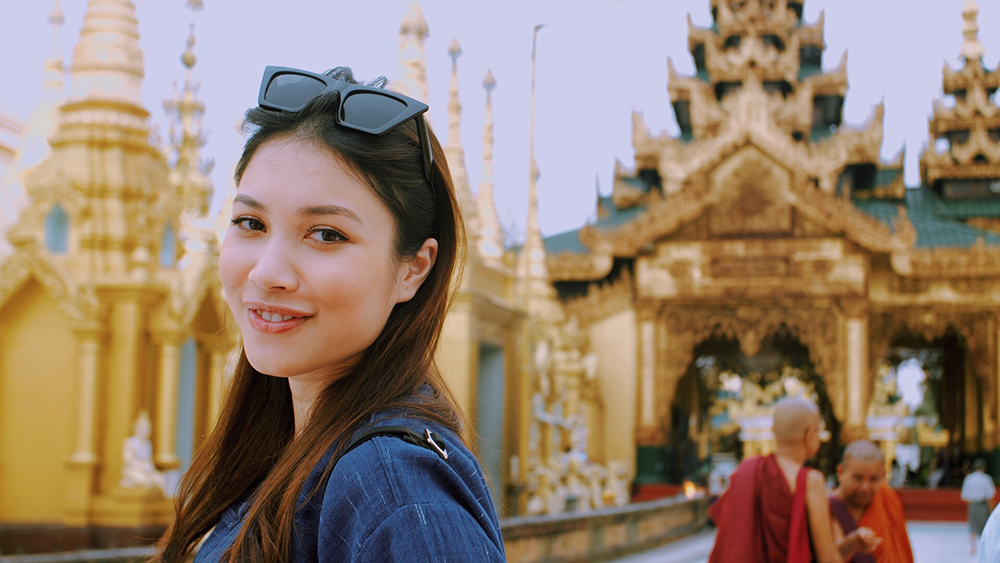 You probably guessed it already: his gorgeous fiance of course...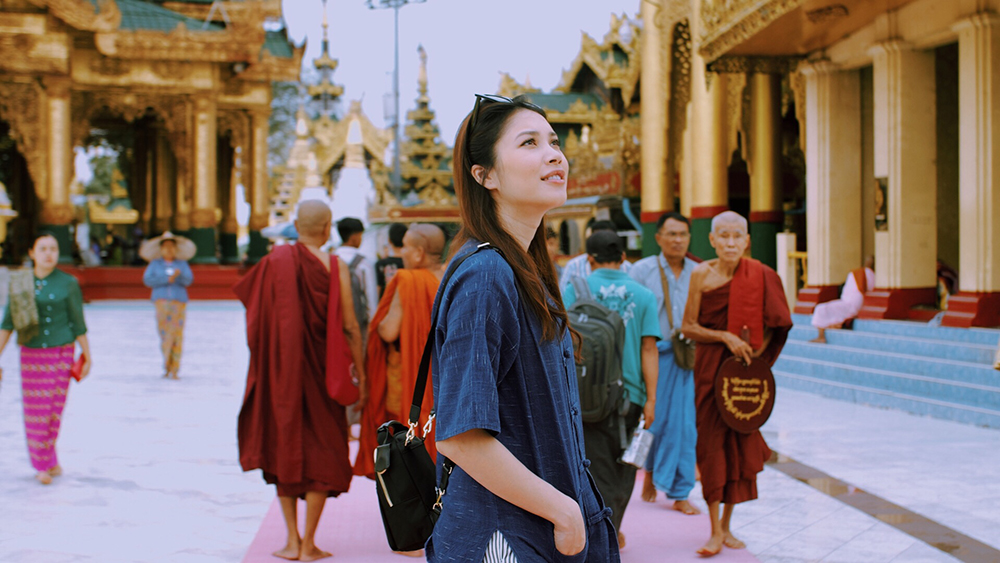 ...looking extra beautiful in a traditional blue Burmese top and adorable TUMI Sierra mini bagpack!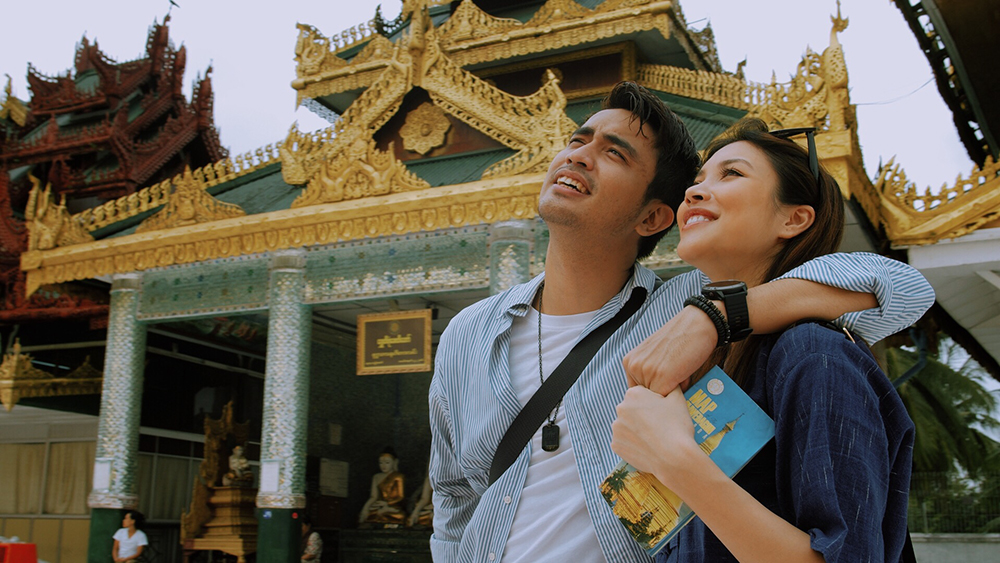 Meanwhile, we just had to capture this moment of the couple breathing in the views of this magnificent landmark upclose.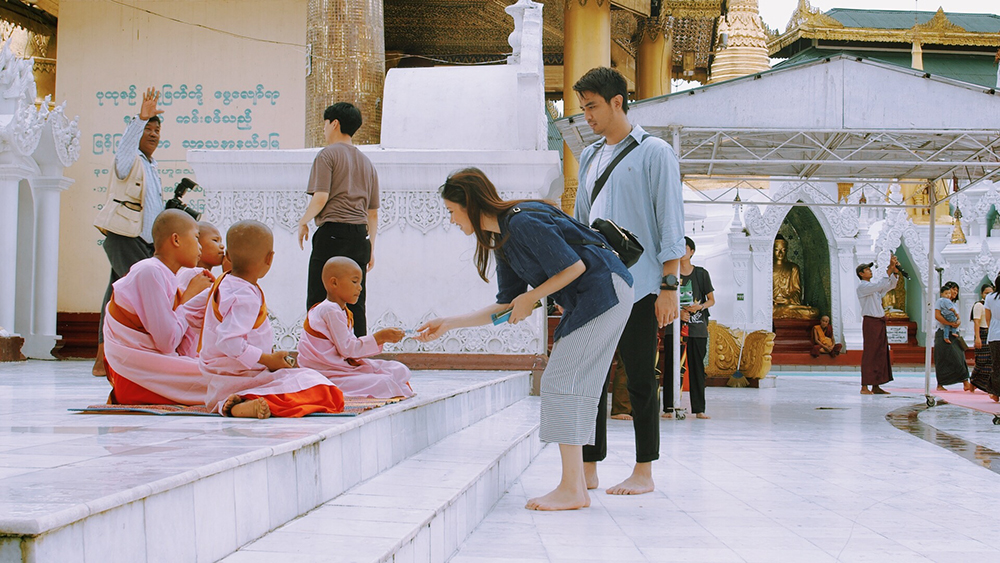 And this moment of the couple graciously donating to the young children at the pagoda. Aww...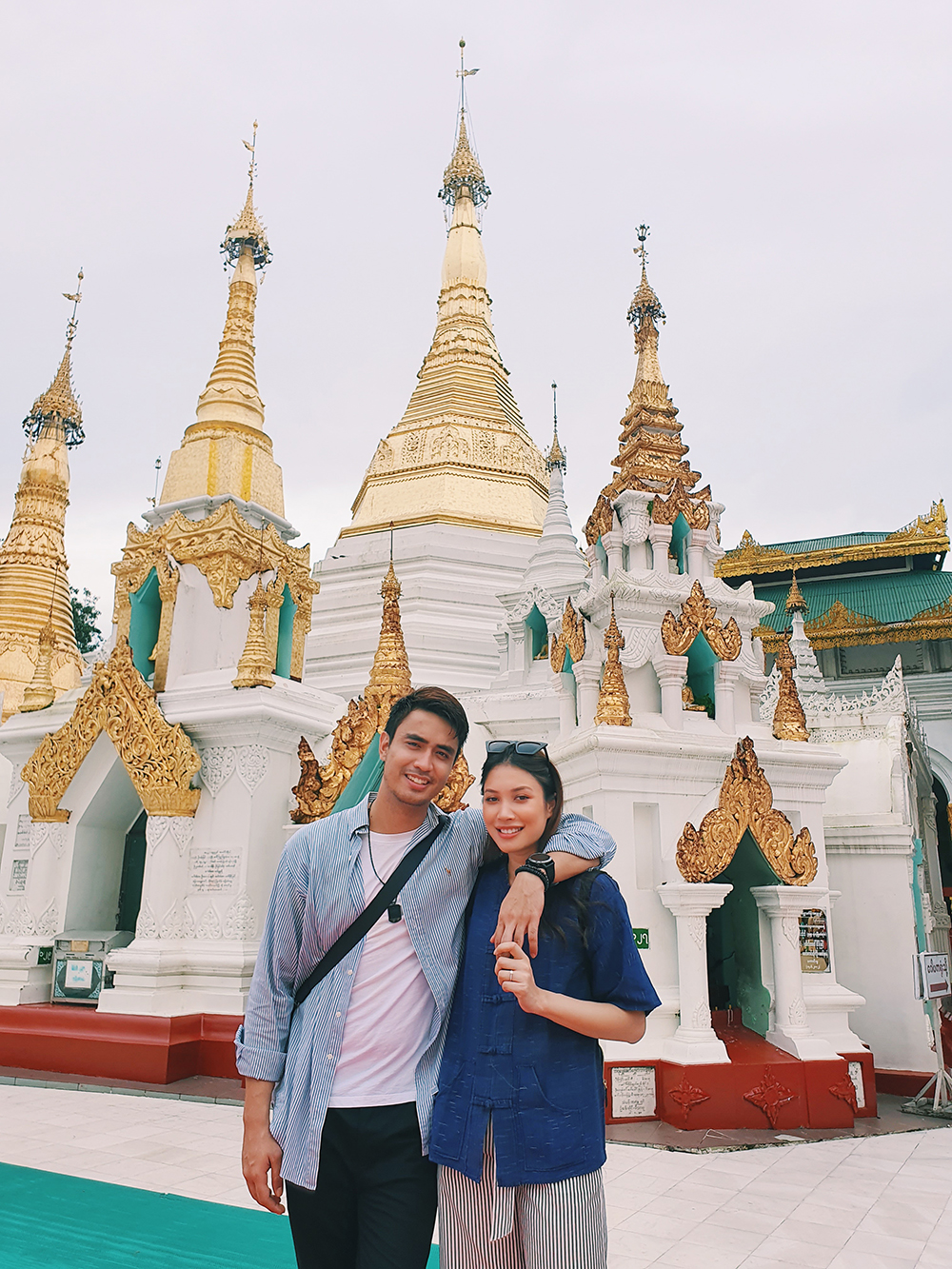 And one more postcard-worthy shot for the books!
(swipe left for more photos)
Our awe-inspiring, leisurely walk around the pagoda grounds naturally worked up our appetites, so we stopped by a popular local tea house for lunch. We weren't disappointed with local dishes such as Mohinga (a national dish of rice noodles with fish soup) and Soft Shell Crab Biryani, accompanied with a hot cup of Burmese milk tea.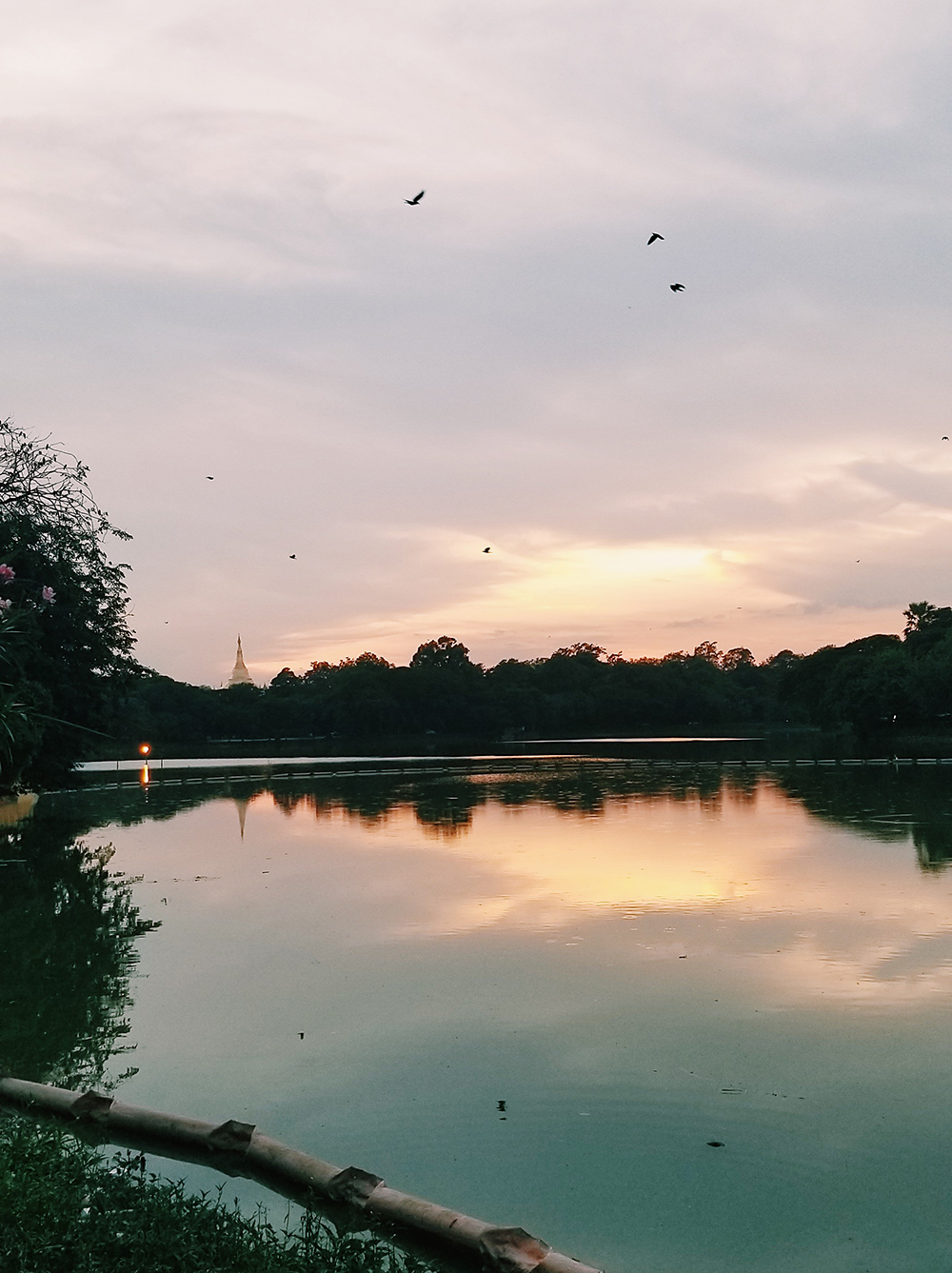 Later that afternoon, we stopped by Kandawgyi Lake.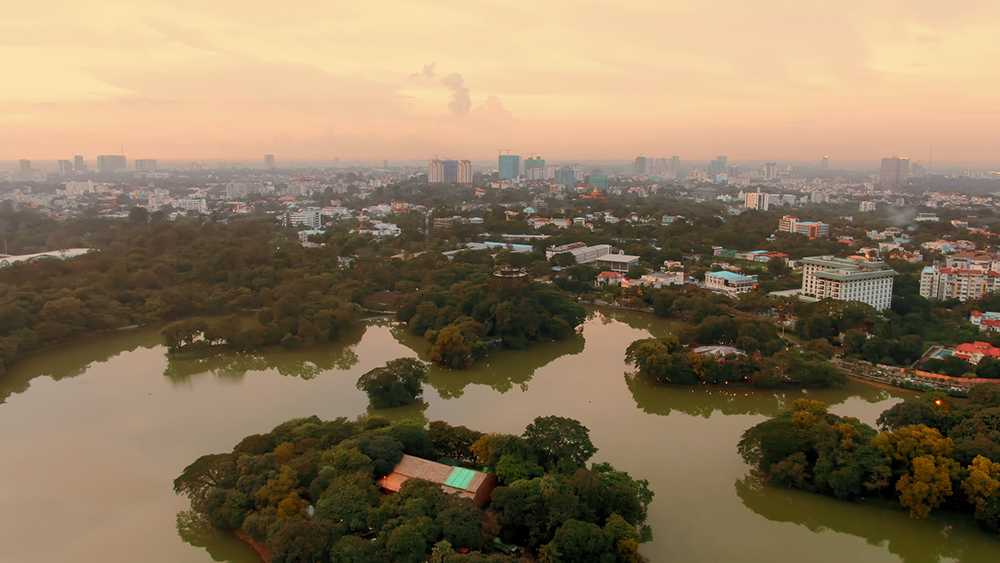 An artificial lake built by the British as a reservoir during colonial rule, it is famed for its picturesque sunset vistas.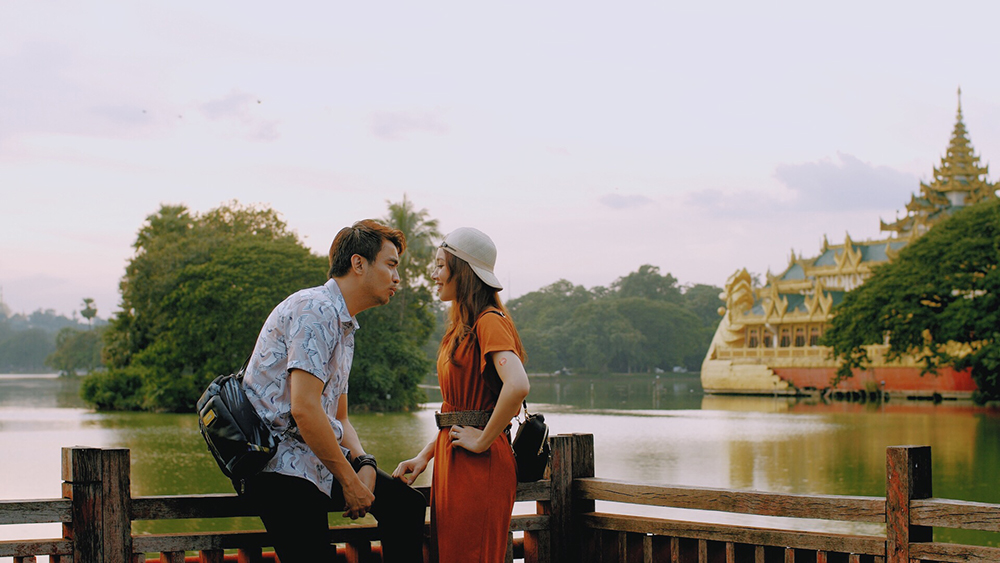 Perhaps one reason the lake became a popular attraction is owed to the iconic Karaweik Palace floating on its waters (peep that large golden barge behind the couple!).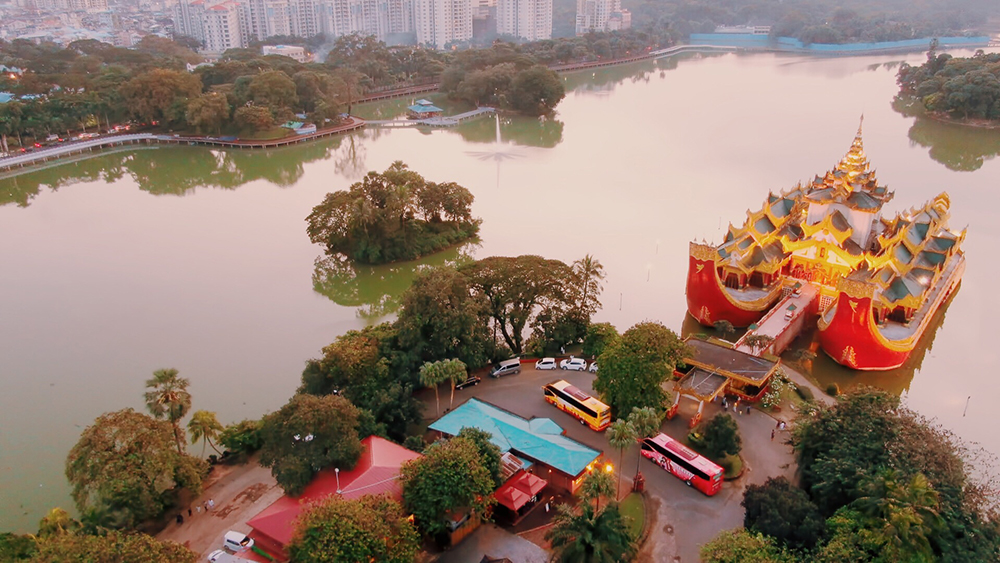 Here's a glimpse of the majestic Karaweik Palace at sunset.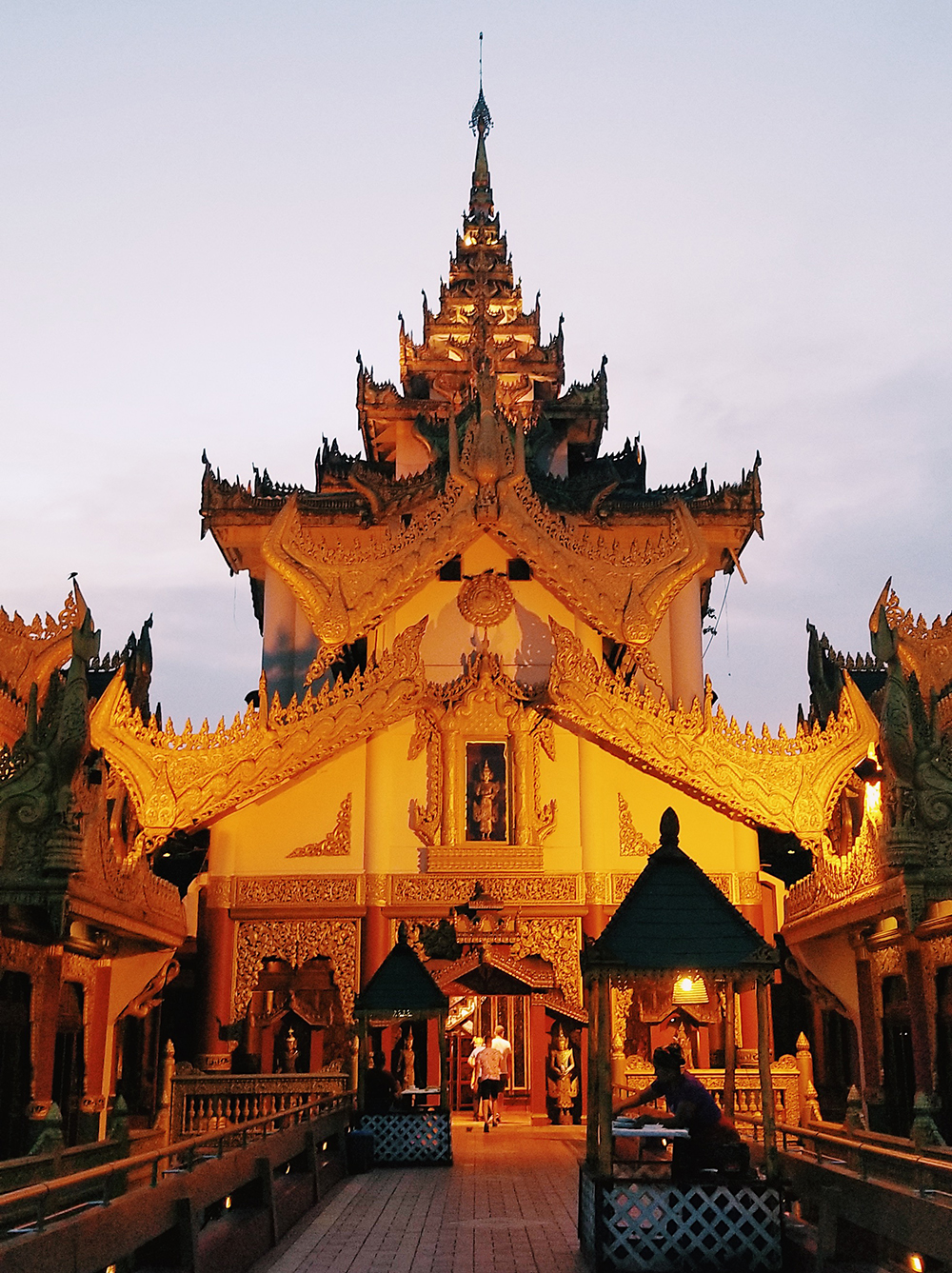 Of course, we couldn't resist dining in the majestic hall after dusk.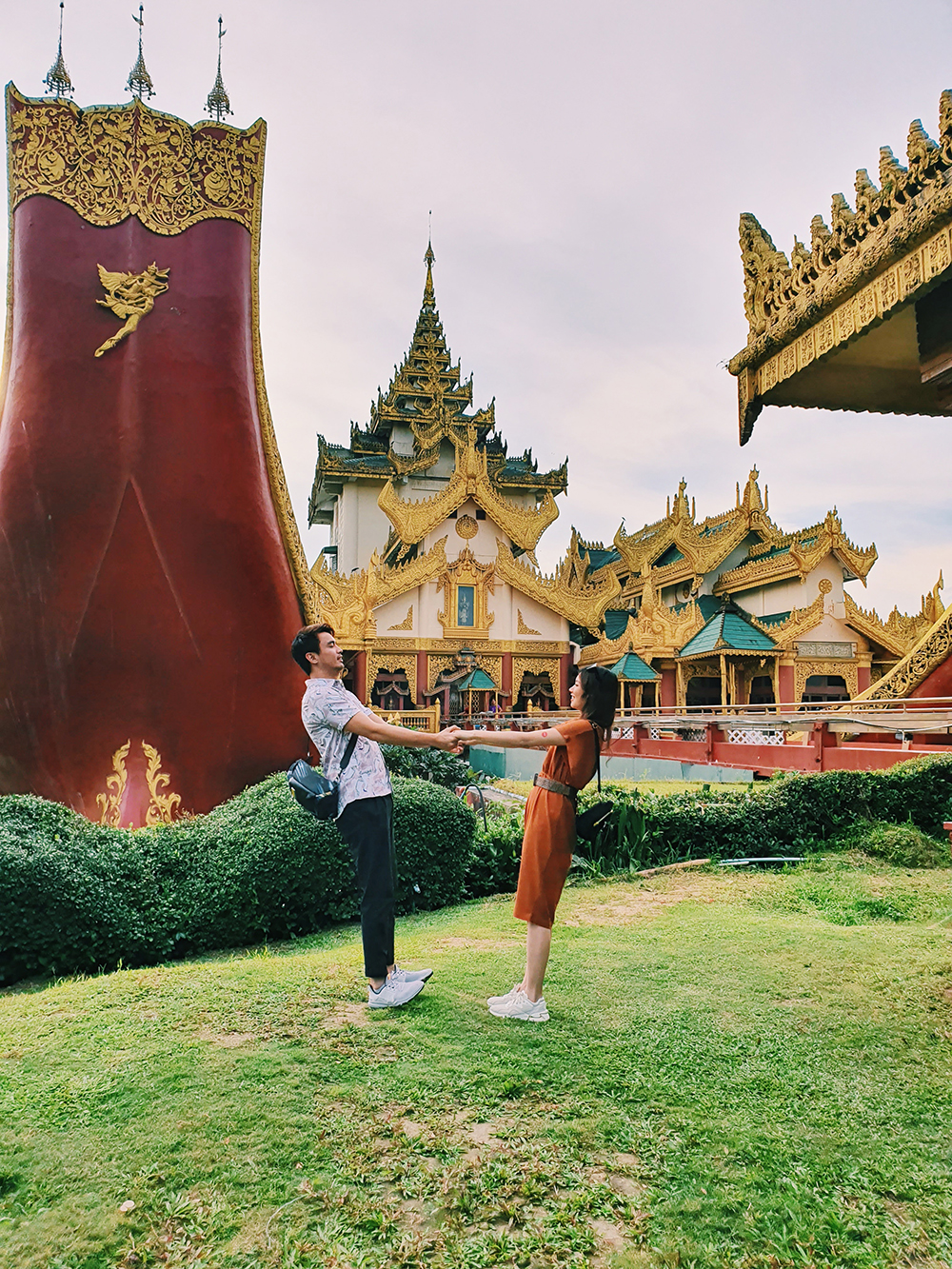 But first, a photo at the entrance!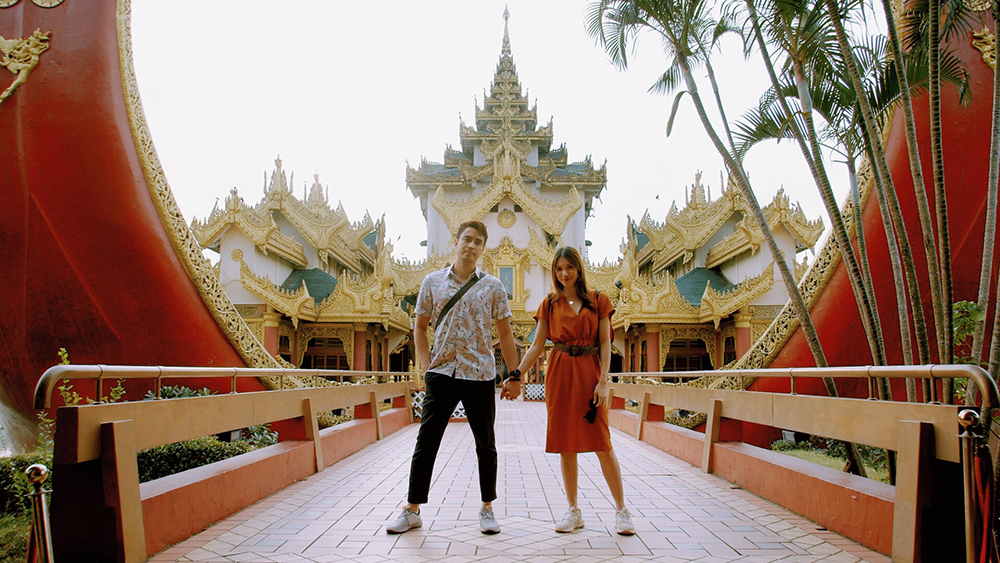 And another one for good measure.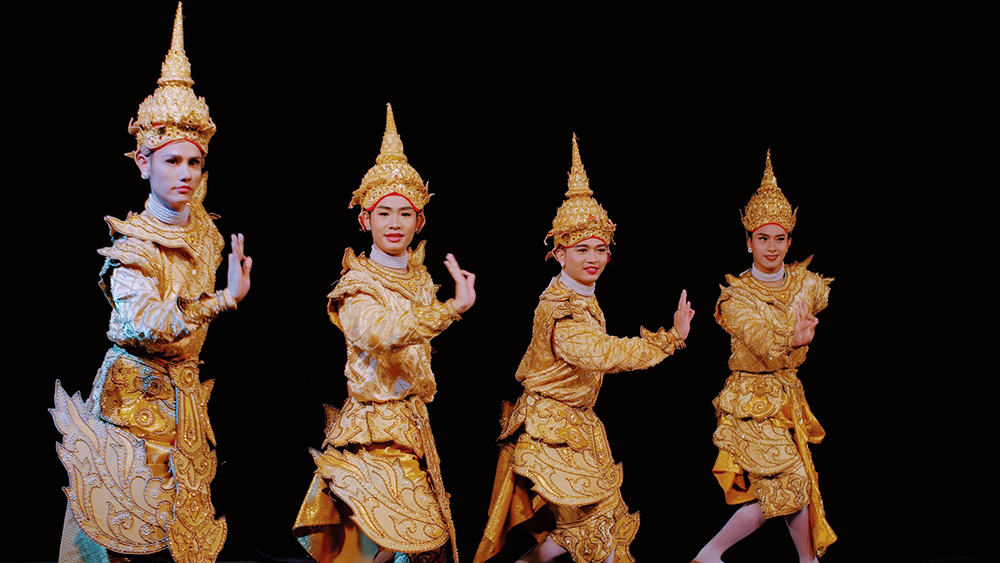 We were kept entertained with various forms of traditional entertainment over a generous buffet dinner, including cultural dances, puppet shows and live traditional music...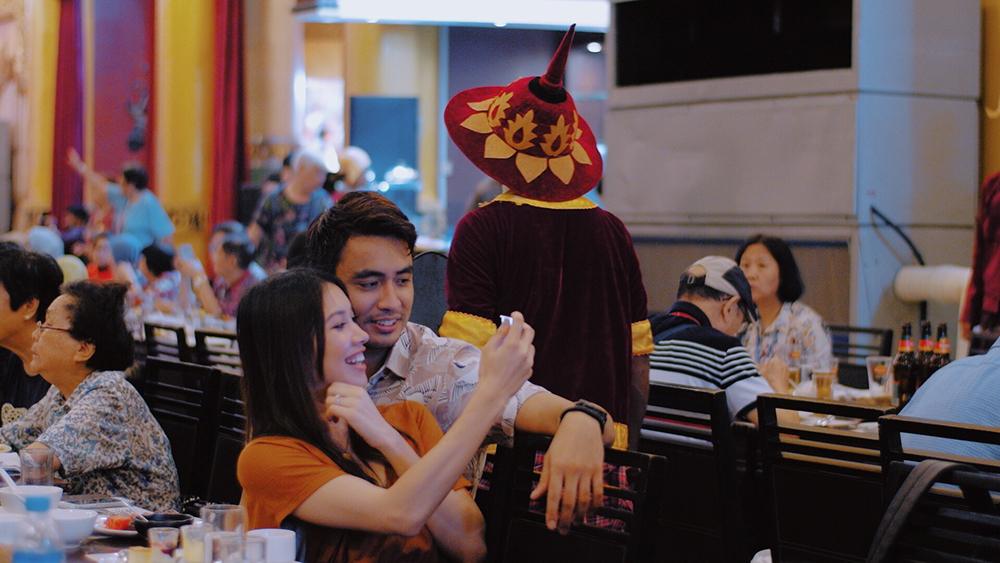 ....ending our last evening in Yangon with joy and laughter.
Day 3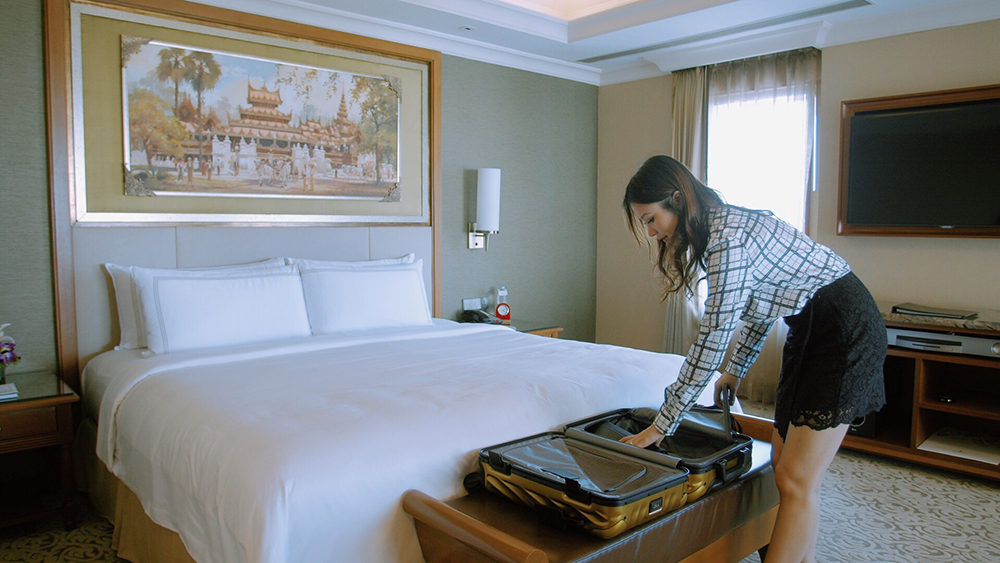 We had little time to spare on our final morning in Yangon due to another early flight. Nevertheless, packing was a breeze thanks (at least for Aiman and Zahirah) thanks to their trusty TUMI luggage bags, personalised with their initials AHR and IRA respectively for a special touch.
Having savoured two full days in the Land of the Golden Pagodas – and visited two of them at that – we all bid farewell with golden smiles.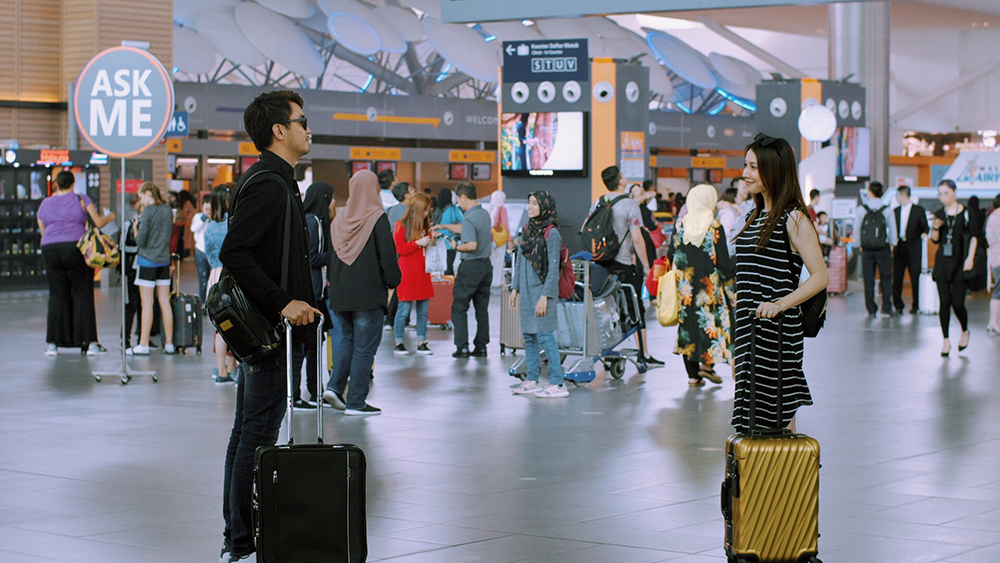 ---
Join our giveaway:
In collaboration with TUMI, we are giving one (1) lucky reader the chance to win a 2D1N stay for two in a Deluxe Room at Sule Shangri-La Yangon (inclusive of breakfast) & a TUMI carry-on luggage worth RM2,790.
To be in the running to win, just follow these simple steps:
Like FirstClasse Malaysia on Facebook.
Follow FirstClasse Malaysia (@firstclassemalaysia) and TUMI (@tumitravel) on Instagram.
Share this story on Facebook (make sure you set your visibility to Public).
Visit tumi.my to browse the TUMI luggage you would like to win and let us know below.
Watch the video above and answer the questions below:
[This giveaway has ended]
This giveaway will run from Tuesday, October 1st, 2019 to Friday, October 18th, 2019. The winner will be announced on our Facebook page and Instagram story on Monday, October 21st, 2019.
Terms & Conditions:
– This giveaway is open to readers residing in Malaysia except employees of FirstClasse Malaysia and their family members.
– By submitting an entry in this giveaway, you are giving your consent to FirstClasse Malaysia and TUMI to collect and process your personal data.
– Submissions close at 11.59pm on Friday, October 18th, 2019.
– The winner of this giveaway will be selected at random.
– The giveaway prize is not inclusive of flight tickets.
– Please leave us with a working email at which we can reach you. The prize will go to the next participant should the selected winner fail to respond within 48 hours.
– FirstClasse Malaysia reserves the right to change the rules & regulation without prior notice.
Videography: Zac Lam