Last week, we had the privilege of indulging in a revolutionary tasting experience with G.H. Mumm in the comfort and seclusion of Temu House. The night highlighted a unique 'Mumm Taste Encounters' experience, which introduced a ground-breaking idea that combined neuroscience and design that altered the aromatic complexity of Maison Mumm's champagnes. We were then treated to a session where we brewed our own champagne concoction followed by a memorable pairing dinner.
Mumm Taste Encounters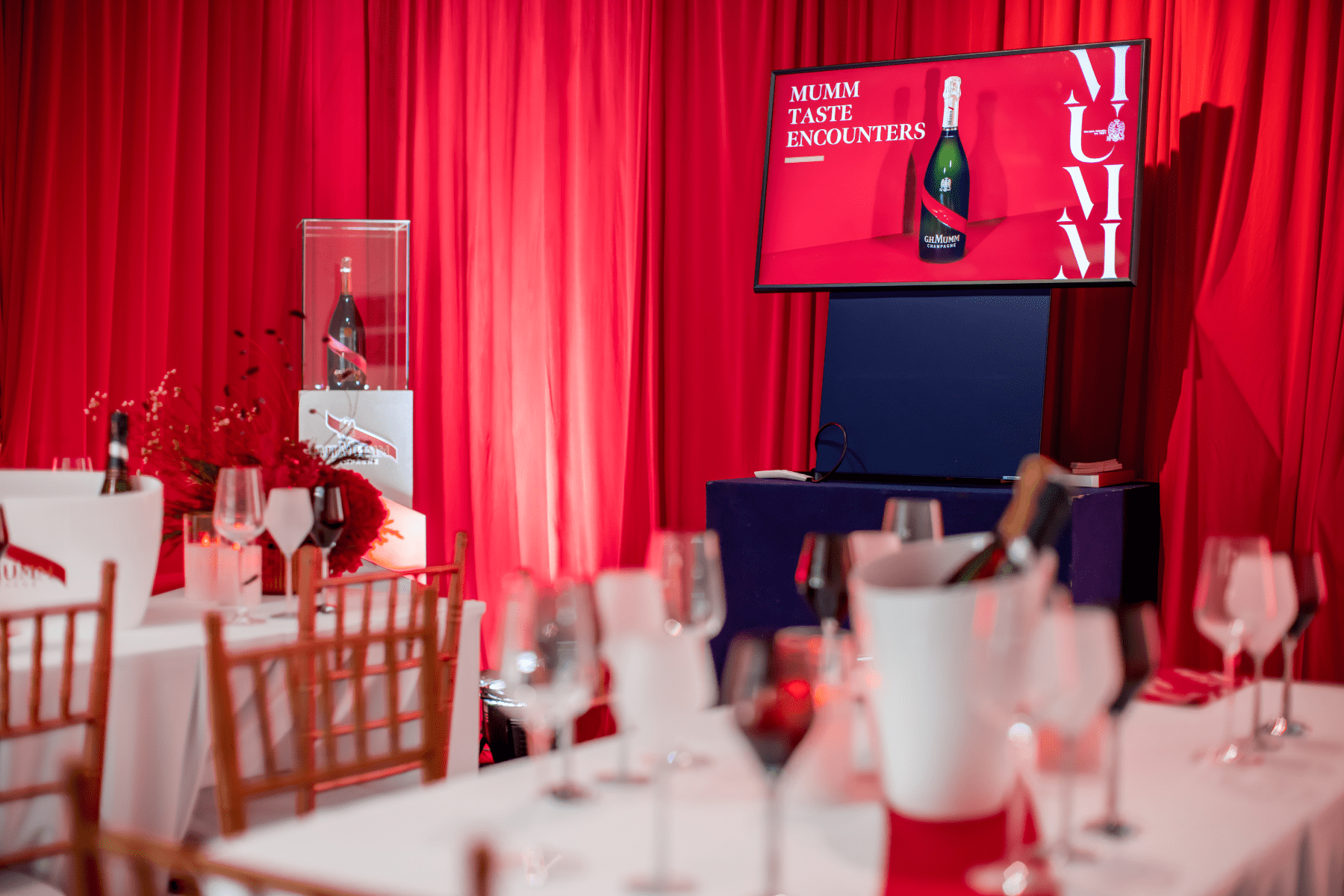 Our night started off with the Mumm Taste Encounters experience, where we tasted champagne in three different glasses. The first glass was a classic wine glass while the second glass was frosted on the outside while the fine stem has sharp edges. The third and final glass featured a glossy and deeply saturated purple-tinted bowl, with a thick, weighted stem on a wide polished stainless-steel base.
With these sensory cue changes, we surprisingly tasted different notes of the same champagne. The Mumm Grand Cordon Rosé exudes a fresh and fruity flavour when tasted in the first glass, but exhibits the depth of red fruit and Viennese pastries when sipped in the heavier purple glass. A similar experiment was done with the Mumm Brut Millésimé 2013, which gave a delicate feel when we drank from the frosted glass. However, when poured into the classic wine glass, we detected gourmet pastry notes.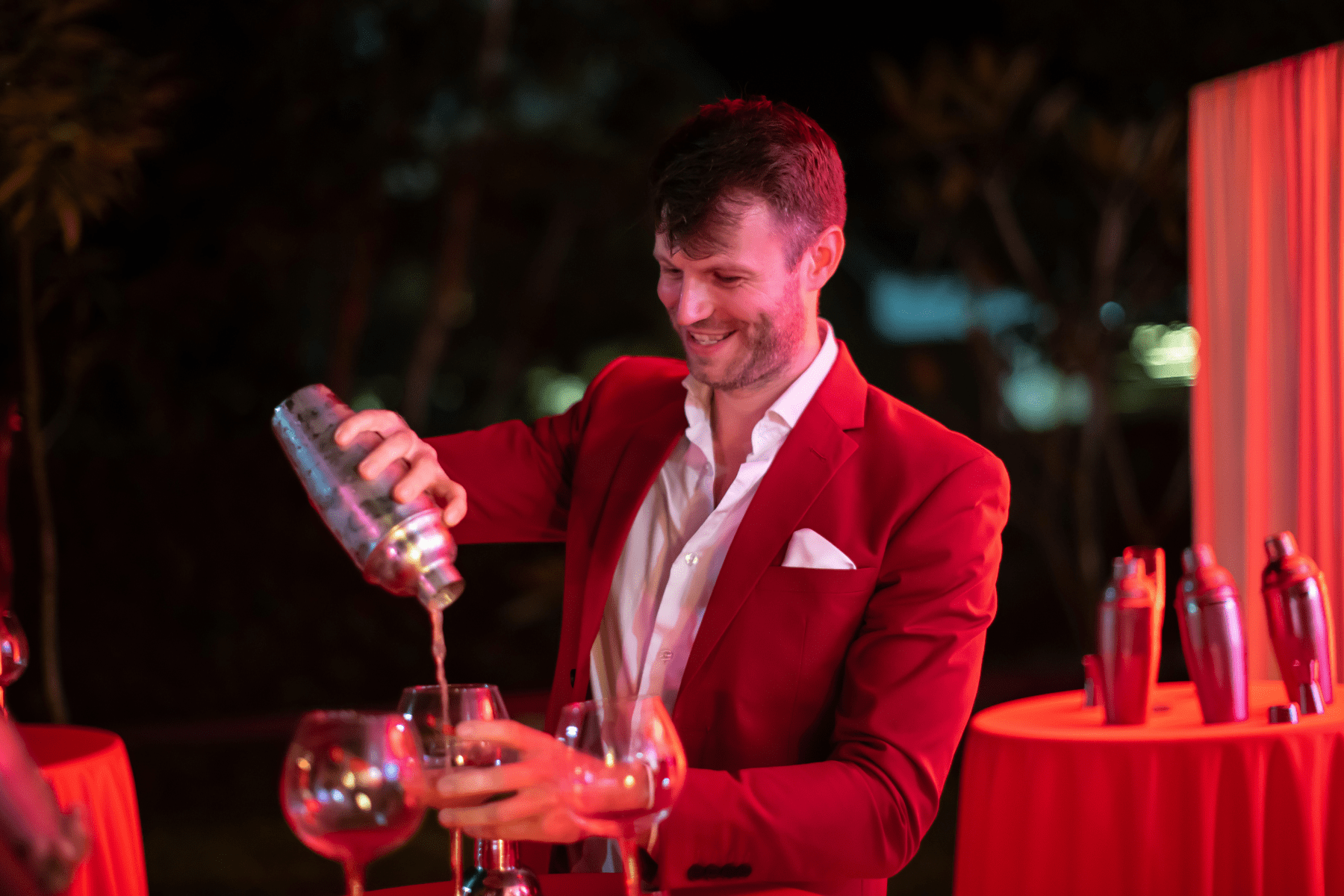 As an added bonus, we were treated to a crash course in mixology where we created a French 75 cocktail with GH Mumm champagne and Martell Cordon Bleu cognac.
Pairing dinner
An indulgent four-course bespoke menu created by French Chef William Ragonneau was served as the night progressed. It began with canapes of fresh figs presented with cheese, pepperoni, and honey, before moving onto a fancy (and strong) Mumm Champagne Jelly.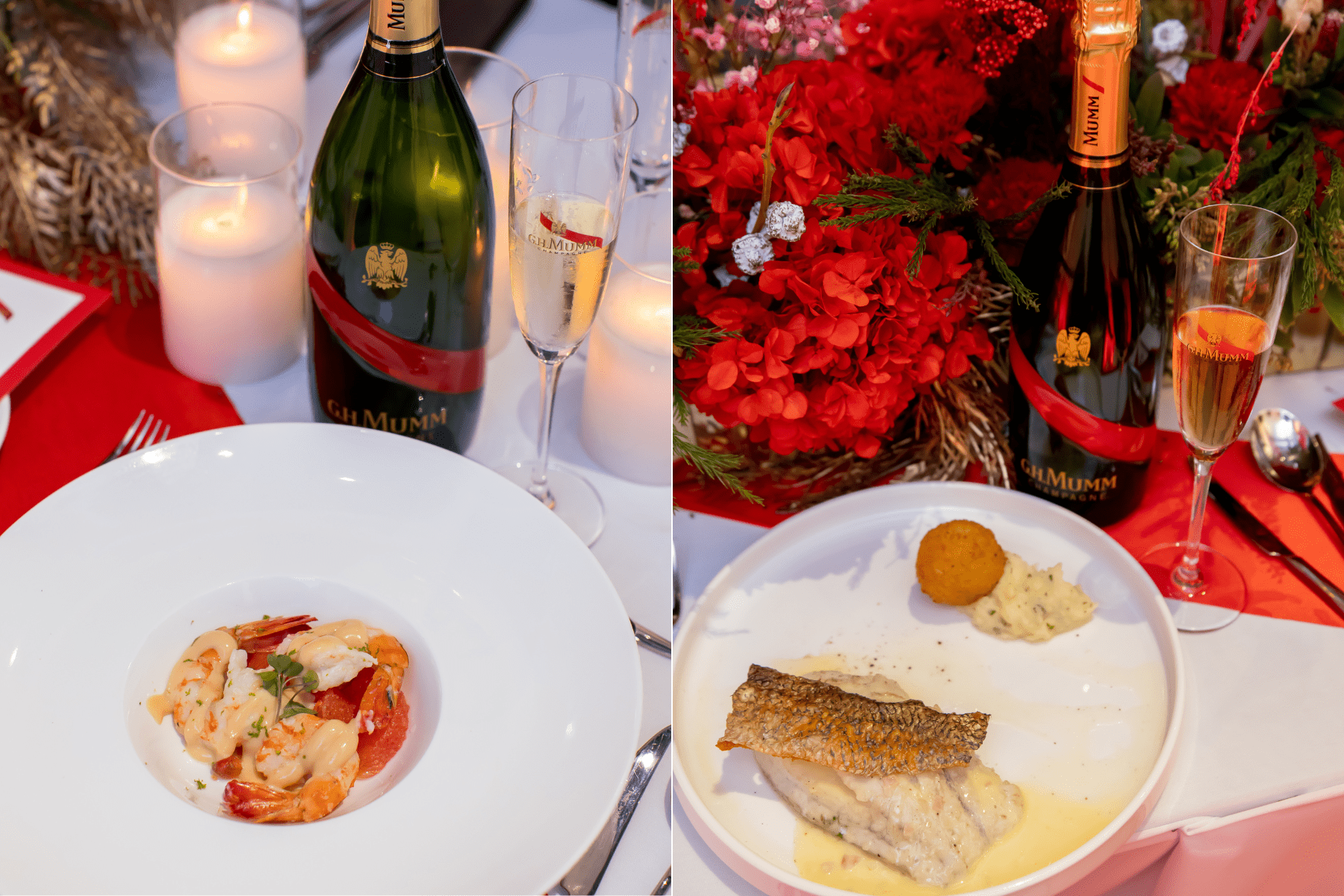 Then, we savoured a foie gras mousse on blinis with figs followed by a cocktail of prawns with grapefruit and pomegranate as a way to highlight the Mumm Grand Cordon. After that, we had the option of a delicate Grilled Seabass with Lemon Butter Sauce or a heartier Magret de Canard with Peach Sauce – which we went for the first. 
Exquisitely paired with Mumm Grand Cordon Rosé, the glistening seabass melted in our mouths while the arancini added a crunchy texture to the meal. The night ended on a Cream Citron Pavlova, paired with a beautiful glass of Martell Cordon Bleu. It was a brilliant combination of sweet and tarty elements with the silky cognac.
Photos by G.H. Mumm.