From Alessandro Michele's "behind-the-scenes" presentation for Gucci to Donatella Versace's first co-ed show, here are the highlights you need to know.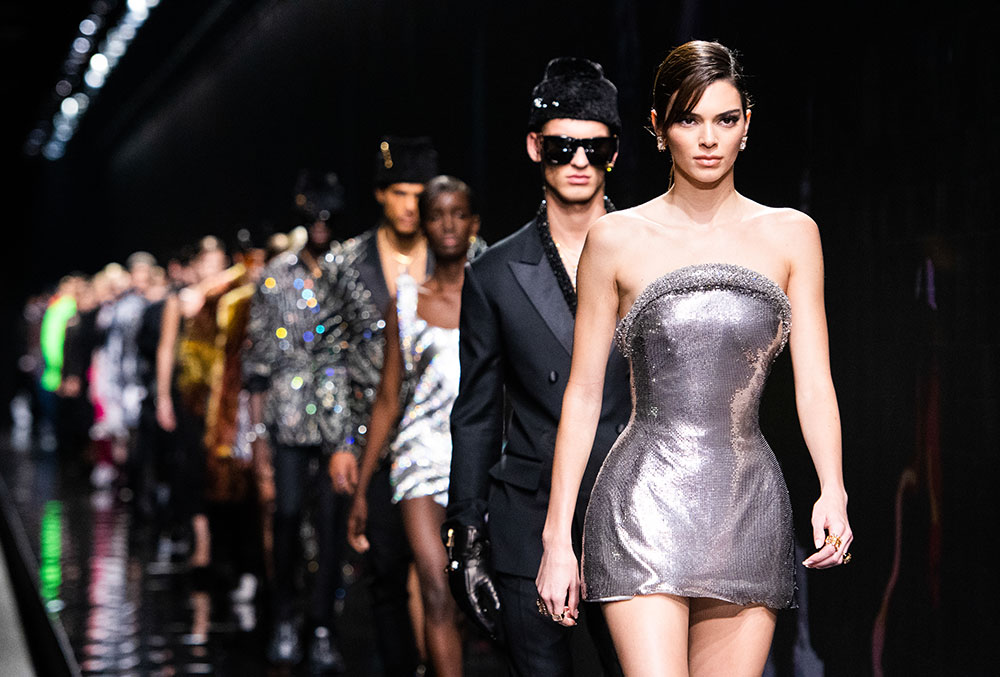 As the fashion world turns to Paris for the last leg of Fall/Winter 2020 Fashion Week, we take a quick pause to look back on some of the biggest shows from Milan.
From Alessandro Michele's "behind-the-scenes" show for Gucci to Donatella Versace's first co-ed show, here are the highlights you need to know.
Bottega Veneta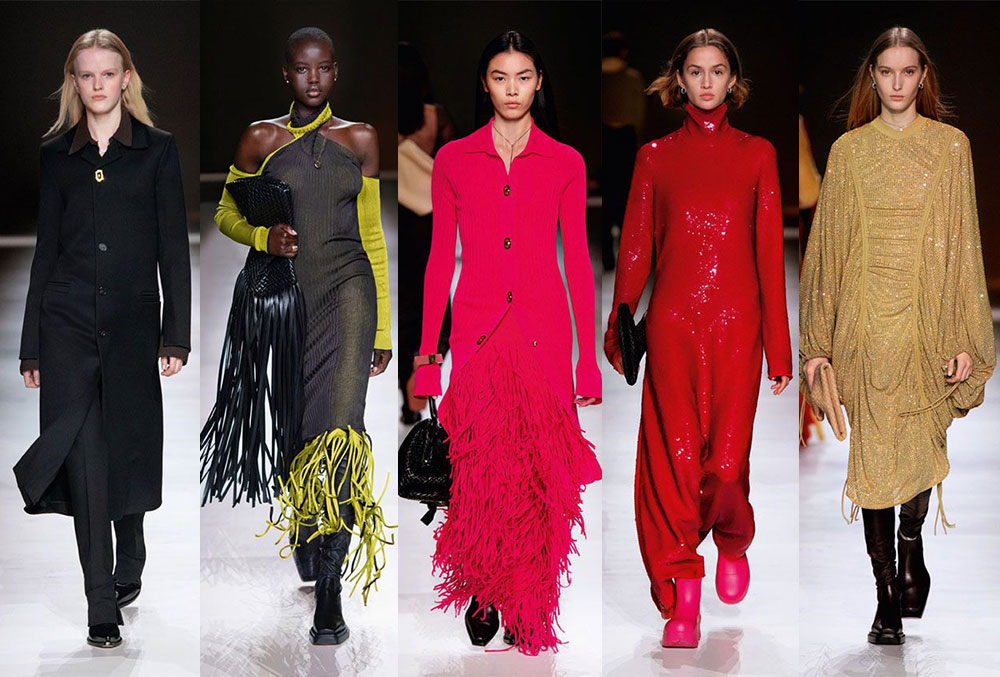 Since taking the reins at Bottega Veneta, Daniel Lee has bagged multiple designer awards and seen to a rise in sales by 2.2 percent in 2019. If that's proof of anything, it's that he's doing amazing things at the Italian house. And he has continued to prove so with his latest collection, which saw intrecciato accessories that will likely come to be as popular as the Pouch bag and padded sandals he introduced last season.
The ready-to-wear pieces embraced comfort and classiness in equal measures, with refined tailoring that were neither too fitting nor too loose; slouchy knits with fringe details; and ruched dresses with sparkly embellishments. This is the evolution of Bottega Veneta as envisioned by Daniel Lee and we're here for it.
Fendi
Delving into the dual personalities of la donna Fendi, creative director Silvia Venturini Fendi showcased a collection exuding "soft power" – a juxtaposition of her assertive and sensual femininity. In other words, the looks went from the boudoir to the boardroom seamlessly, tied together with voluptuous silhouettes, versatile bags and corsetry.
Mixed materials such as brushed wool tailoring and intarsia fur made up coats, whilst lace and fringed beads materialised as sheer dresses. The colour palette was unmistakably made for fall, given by predominantly black and neutral shades, grey tones and the occasionally sunny Fendi yellow or animal print. Tech accessories completed the looks in the form of woven gold mesh smart phone pouches, smart earphones and smart watch keychains designed in collaboration with Charlotte Stockdale and Katie Lyall of London-based brand Chaos.
Gucci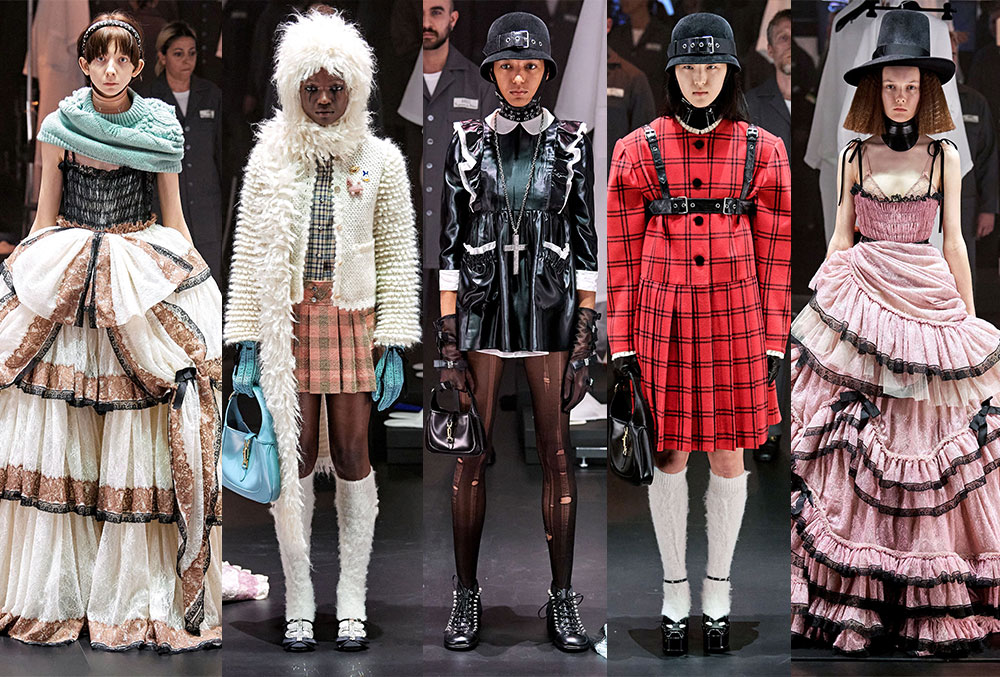 Amidst the mixed perception of Fashion Week today, Gucci brilliantly breathed new life into the institution by bringing attendees behind-the-scenes via a revolving, circular stage where 60 models could be seen getting their hair and makeup done. "I have always considered the fashion show as an event bursting with enchantment," ringmaster Alessandro Michele said in the show notes. And we'd never expect anything less enchanting from his creative genius – not of his show nor his collection.
For the latter, he presented the signature Gucci aesthetic of retro maximalism: Renaissance-style gowns, pinafores, suits and ample doses of prints, ruffles and embellishments. There were religious references including giant cross necklaces and nun-like uniforms on the one hand, and there were leather harnesses and kinky accessories on the other. It's all fresh and familiar at the same time, in a way that will continue to attract loyal Gucci clients.
Moschino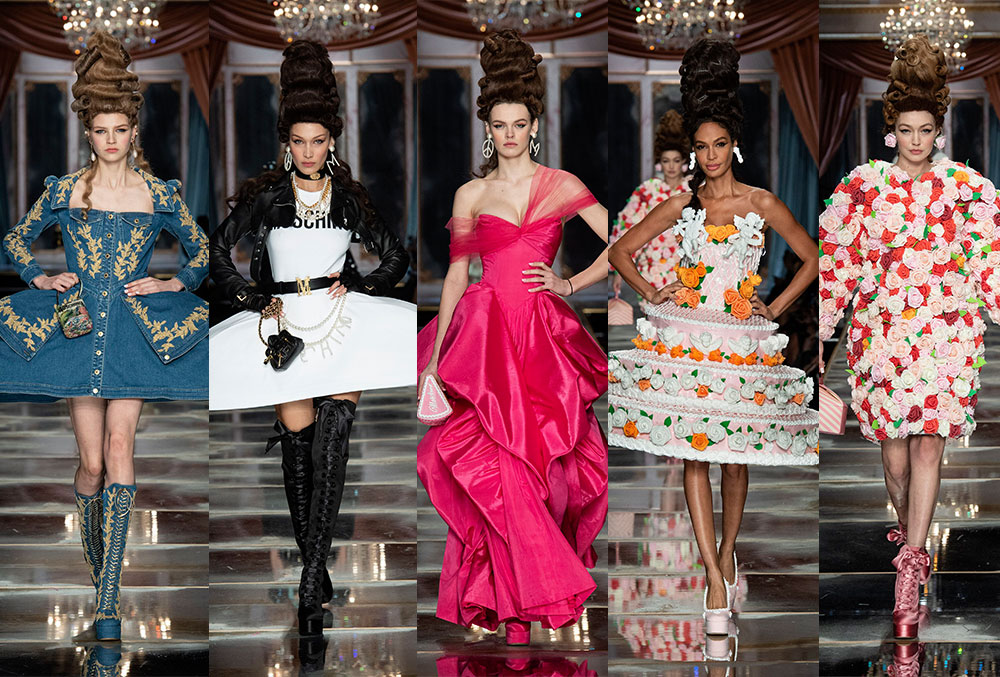 You can't have your cake and eat it too…or can you? Jeremy Scott seems to suggest you can in his Fall/Winter 2020 collection that not only included several looks recalling a multi-tiered bridal cake, but featured confectionary references throughout. And as for the saying, 'a moment on the lips equals a lifetime on the hips', well, Jeremy's answer to that were "hips don't lie" frocks that span almost as wide as the runway.
It wasn't the local pastry shop that inspired the designer, however, but a certain 1780s figure named Marie Antoinette and the candy-coloured scenes of Tokyo. The resulting collection saw panniers under embroidered denim, leather and toile de jouy dresses, alongside biker jackets, jewel-toned velvets and evening gowns. The icing on the cake: those eighteenth century maxi hairdos that nod to the tongue-in-cheek fantasy world of Moschino and Jeremy Scott.
Prada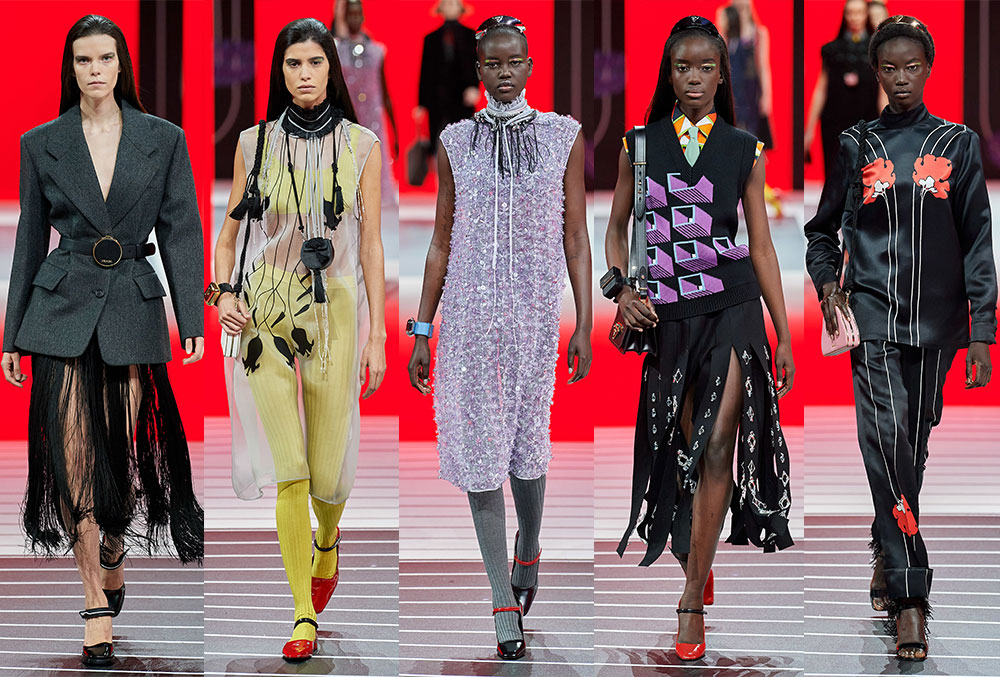 As more and more labels present their modern approach to femininity, Miuccia Prada will not be exempted from hers: "an emphasis on an inherent authority found in that which is intrinsically feminine." For her, this meant traditional tailoring combined with softer fabrics and fringing and sportswear infused with floral prints.
In lieu of diamonds and gems – which the designer calls "clichés of femininity" – Prada opted for silk fringes and beads. These adorned dresses and skirts, boxy jackets and tunics, coats and heels. There were micro bags hanging from the necks of the models, who wore sneaker-boot hybrids, block sandals or Mary Janes for footwear.
Versace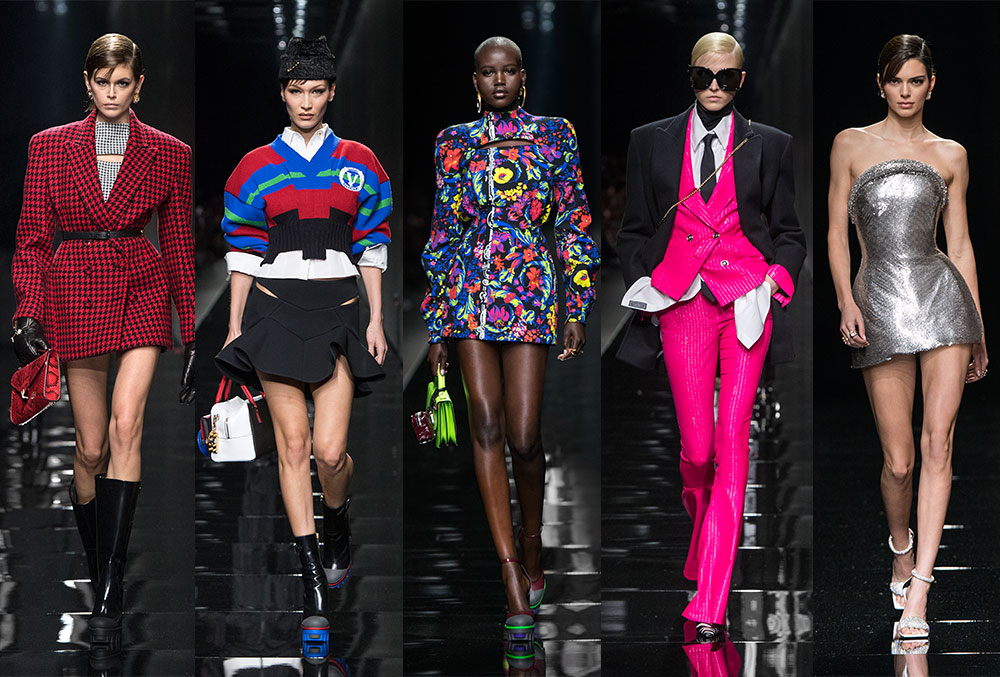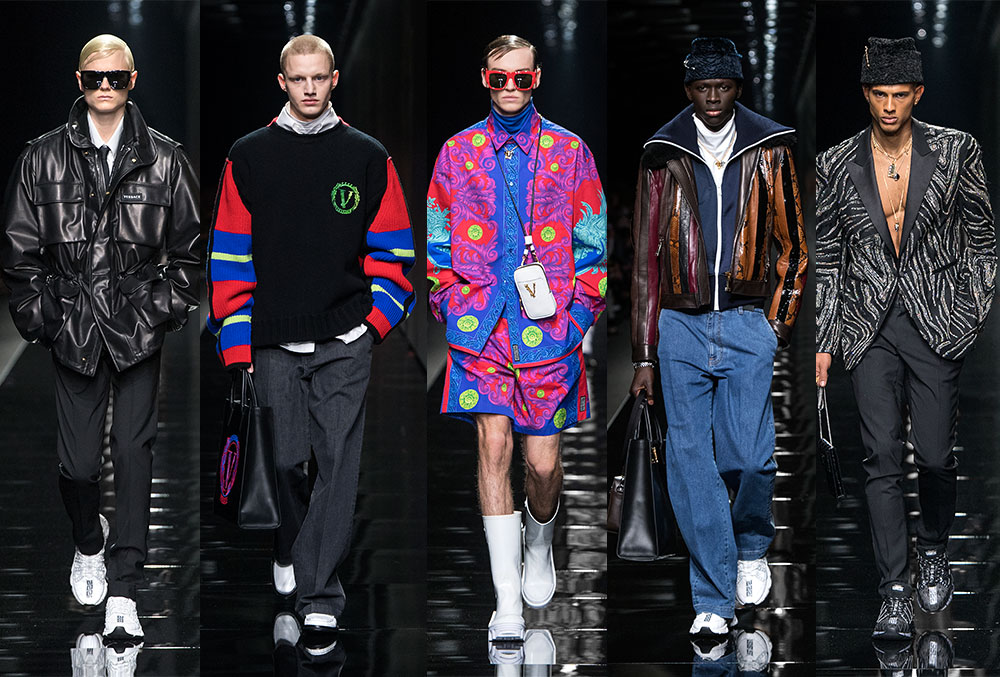 It's not easy to top J.Lo walking down the runway in an iconic jungle dress that broke the internet. But taking cue from its SS20 campaign, Versace followed up on its last attention-grabbing presentation with a show that turned the cameras on the audience instead – signifying how we are all stars of our own feeds. By "we", this includes all genders, as Donatella Versace believes "men and women are equally powerful" – thus presenting both collections on the same runway for the first time.
Focusing on silhouettes, the collections expressed unapologetic sensuality through signature Versace "super-strength" shoulders, structured fabrics and fitted waistlines. Menswear highlighted "bold hypermasculinity", which borrowed inspiration from sports and utilitarianism, fused with tailoring and familiar Versace prints. Meanwhile, womenswear featured its fair share of sporty jackets and pant suits, as well as leather, floral-print and metallic mini dresses.
Photos: Courtesy of respective brands