Epicurean Market 2017 returns to Marina Bay Sands this August 11-13; here's what we're in for.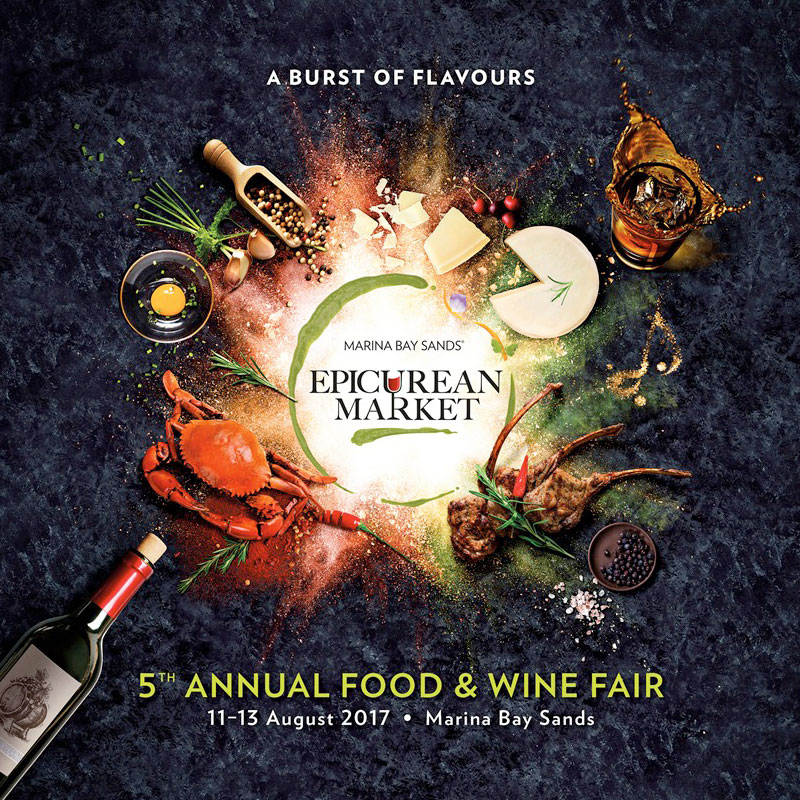 That's right, this food and wine celebration is set to make its fifth edition next month, bringing us delightful culinary experiences with everything from farm-fresh goodness to stellar master class.
Time to book your tickets for what is set to be the best Epicurean Market yet!
Signature bites and fresh produce
Up for a grand culinary tour of over 20 Marina Bay Sands restaurants? Sample signature plates from Adrift, Pizzeria Mozza, RISE, Spago, Waku Ghin and more this year. International buffet restaurant RISE is also celebrating local cuisine in a big way with the new Singapore Street Food experience. Oh, and you get to be among the first to enjoy exciting new spots such as restaurant/ lounge/ bar/ nightclub LAVO and French tearoom/ patisserie Angelina Café (favourite of Marcel Proust and Coco Chanel).
If you prefer to do the cooking yourself, check out the Asian, European and North American fresh produce at the Farmer's Market, where you'll also get to experience a large craft beer and juice selection as well as pastries from renowned Chef Daniel Boulud.
Five specialty bars and 35 wine booths
Liquor lovers are in for a treat at Diageo's five specialty bars: Kampung Bar (look out for cocktails like Singleton Milo Peng, Ketel One ABC, and Laksa Remos), World Class Bar, Tanqueray Garden, Whisky Lounge, and Singleton Sensorium. Wine connoisseurs can't miss the Wine Walk, showcasing a range from TTG Wines, Alfa International, Asia Wine Network, as well as Japanese wines, sakes and beers from Epicurean Nomads and Kirei Japanese Food Supply.
Master classes and Connoisseur Series
Join industry gurus from all over the world (including two-Michelin starred chef Tetsuya Wakuda) as they come together to offer 27 complimentary culinary classes at the two-day market. You'll also pick up pointers on creating an epic bar experience and building a home bar, and watch chefs and sommeliers compete against each other in the Mystery Box Challenge and Sommelier Blind Tasting Battle.
For premium food, wine and spirit master classes, book your spot on the Connoisseur Series. Get up close with Croatian truffle hunter Ivan Karlić. discover the King of Cognacs with Remy Cointreau International, and experience rare, aged Japanese whiskey in three specially-curated sessions by East Asia Company & Far East Whisky.
Get your tickets to Epicurean Market 2017 on the official site. For updates, follow the Facebook event page  and #EpicureanMarket on Marina Bay Sands' Facebook, Instagram and Twitter.